Home

Inn at Great Neck
About this Vendor
Expect to Exceed your Expectations
The Inn at Great Neck offers guests a luxurious environment, as Long Island's full service Gold Coast Hotel. Guests enjoy award winning accommodations & services, along with superior pre & post wedding banquet options. Consider the Inn for rehearsal dinners, bridal showers & post wedding brunches.
Contact Info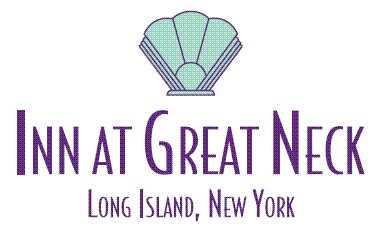 30 Cutter Mill Road, Great Neck, NY
Excellent!!
Reviewed on

5/05/2013
Christina G
My husband and I had a big snafu happen to us a week before our wedding, the original hotel we had our rooms booked called and told us they will be having a power issue the night before our wedding. We called the Inn at Great Neck and they SAVED the day!! Not only could they accommodate all our guests, they gave us world class service, upgrading us to a bridal suite for no extra charge, providing us with a space at their lovely restaurant for our rehearsal dinner, and a wonderful private after party after the wedding. When we returned to our room they had decorated it with rose petals and we had a bottle of champagne waiting for us! We were treated like royalty. Everyone on staff was wonderful and we would recommend them to any bride getting married in the area!
---
My Wedding After Party at The Inn at Great Neck
Reviewed on

10/18/2013
Cathy H
I used The Inn at Great Neck as my wedding hotel and after party venue, and I could not be happier! I booked 50 rooms and my guests had a wonderful experience! The rooms are absolutely beautiful! They even delivered complimentary champagne and spread rose pedals out in our honeymoon suite! I also rented out the bar for the after party, and ordered late night food for our guests. The bar was gorgeous, food was great and my guests were so happy! The staff there was absolutely fabulous throughout the entire process. I highly recommend The Inn at Great Neck!
---
Inn at Great Neck was amazing!!
Reviewed on

7/17/2012
KRISTEN S
The Inn at Great Neck was amazing!! We had our rehearsal dinner here and our out of town guests (and us!) stayed here as well. The staff was incredible and they made our rehearsal dinner so perfect and our out of town guests absolutely loved the hospitality and the luxury offered by the hotel. The honeymoon suite was awesome too! I highly recommend the Inn at Great Neck!
---
Highly Recommended
Reviewed on

10/24/2014
I absolutely cannot say enough good things about the Inn At Great Neck and would highly recommend it. I had my daughter's bridal shower there on September 13, 2014. Everything about this place was great. I could not have asked for more. From the very early planning stages to the day of the shower I was treated with the utmost professionalism and courtesy. Nothing was a problem. I dealt with several different people and each and every person was helpful. I had some special requests regarding food, flowers, cake and everything I asked for was provided to me exactly the way I requested. The day of the shower from the doorman, to "T" who was my Maitre'd for the day, to all of the helpers that were provided to me to set things up and to Vielka who facilitated everything to make this day really special - I thank them. The food was amazing, the service was outstanding and I have never had a party where the venue went out of their way to be so accommodating. My guests said it was the best shower they have ever been to. To not have a party here would truly be missing out. I will definitely be having other celebrations here in the future.
---
Bittersweet
Reviewed on

2/06/2013
Jessica H
I stayed at the Inn at Great Neck for my wedding weekend, and had a room block of 40 rooms for my family and guests. While the actual hotel is perfectly nice, I found the staff very difficult to work with and I had something stolen from me while there. In terms of the staff, they were very difficult with everything from the room block, to the bar rental to the breakfast. We spent a ton of money at their hotel that weekend and it always felt like they were penny pinching us and made things very unpleasant. I had a gift stolen while at our private brunch. It was there and then the staff came to clean up and it was gone. Management didnt care and didnt even bother to get back to me about the incident. While I understand that maybe there was nothing they could do about it I spoke to a manager while leaving and he said he would get back to me and never called back. After spending thousands of dollars with them I just found that really disrespectful and as a result of that I would not recommend staying with them for your wedding. This place is not cheap and if you are spending the money you should get good service in return.
---
Great Value and Accomidations
Reviewed on

10/27/2010
Karen H
This vendor came through last minute after we got let down by our original hotel vendor and they went above and beyond. They accomidated all our guests and made sure everyone was happy and well attended.
---
Send Email