Home

J. Noto
About this Vendor
Father/Daughter Bakery in St. Charles
Family-owned bakery, started in the early 1970s and located in historic St. Charles. Specializing in: CUSTOM wedding cakes, groom cakes, novelty cakes, party favors, dessert buffets & much more. Schedule a complimentary wedding cake tasting with us. We can work with ANY idea!
Details
Cake Tastings, Cakes + Desserts
Contact Info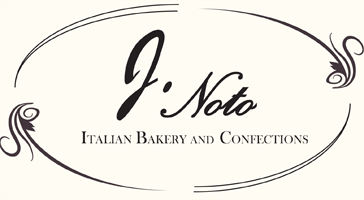 336 South Main Street, St. Charles, MO
Delicious!
Reviewed on

1/20/2014
Andrea H
First off, J. Noto is in the perfect spot, located on Historic Main St. in St. Charles. Jasper was so professional. When we had our first consultation to taste test he asked us what we would like to drink and he had the table and cake ready for us when we arrived. He offers an assortment of cake flavors. My husband liked the idea of cupcakes so we decided to go with a small cake consisting of 10", 8", and 6" tiers and the rest of our servings were in cupcakes. We personally preferred the yellow cake over the white (more moist) so we chose that for our small cake. For the cupcakes we chose red velvet with cream cheese filling and buttercream icing, devil's food cake with chocolate Bavarian cream filling with buttercream icing, yellow cake with white chocolate Bavarian cream filling with buttercream icing, and marble cake with raspberry filling with buttercream icing. We received so many compliments on our cake and the cupcakes went over very well. In fact, two of our friends are getting married in 2014 and after tasting our cake, they are going to go with J. Noto for their weddings! Jasper was truly wonderful to work with. His daughter is in charge of the cake decorating. We started with one design and he was up front with us when he realized it wasn't possible to do that design with buttercream, which would mean we would have to go with fondant. We personally don't like fondant so we chose another design. She was able to replicate the exact design we gave her. Needless to say, we were extremely pleased in every category of our experience with J. Noto, and we would highly recommend them for your wedding!
---
Wonderful bakery!
Reviewed on

6/26/2014
caylie e
Jasper is so creative! We had a beautiful and delicious wedding cake, as well as a an amazing Jack Daniels Groom's cake! It was an amazing price and amazing quality.
---
Best Baker!!
Reviewed on

10/27/2013
Katie Z
During our cake tasting for our wedding we were blown away when we got to J. Noto. He was so organized, cakes were labeled, offered us water, and was so friendly! He also does not freeze his cakes and stays up late the day before making your wedding cake. It was so delicious, we still have guests talking about how beautiful our cake was and yummy. Was so fresh and answered all of our questions in a timely manner. Thank you so much, we will definitely go back for some baked goods!
---
Reviewed on

7/11/2015
Lindsay S
Our wedding cake was not only beautiful, it was delicious and extremely affordable! Jasper was so easy to work with and was extremely accommodating and patient with this indecisive, overwhelmed bride! We chose to do a 3 tiered cake with the rest being kitchen cakes of white with raspberry filling and red velvet; DELICIOUS!! We also requested 2 small figurines of our dogs and J Noto did such a great job of making them look realistic and absolutely adorable; a perfect detail! We taste tested at 2 other bakeries and J Noto's was by far the best experience, the most expertise and the most affordable!
---
Delicious and Beautiful Wedding Cake!
Reviewed on

11/18/2014
Meaghan K
We requested a 3 tier cake and 3 kitchen cakes and it was all so reasonable while being so delicious! It was beautiful and it was delivered in time and arranged perfectly. Our wedding cake was so elegant and the service was spectacular, giving me peace of mind on my wedding day :)
---
Delicious
Reviewed on

11/09/2014
Amber Z
J Noto was a wonderful bakery to work with - from the initial consultation to delivery. The cake was delicious, with so many options on flavors. The cake design was outstanding - far exceeded my expectations! We also use J Noto to make our wedding favors - little bags with a variety of Italian cookies. We received so many compliments on the cake and cookies, both their look and taste. Highly recommend this bakery!
---
Delicious cake!
Reviewed on

11/02/2014
Ellen D
I really loved the cake I got from J. Noto! We ordered carrot cake, because that is both of our favorite cake. Jasper, the owner, made it special for us with walnuts and pineapple chunks added, which made it moist and so delicious. We got many compliments on our cake! We also had some yellow cake kitchen cakes for those who didn't like carrot cake. The cake turned out beautifully and it was exactly what we wanted. It is a really cute bakery too, and I loved that it is a family business. Jasper takes pride in the quality of his work and met with us himself- he also delivers the cakes himself! I would definitely recommend!
---
ABSOLUTE PERFECTION
Reviewed on

10/29/2014
ann j
10-25-14: Absolutely beautiful and exact in every detail that the Bride and Groom requested. Even more importantly the cake tasted AMAZING!!! The dough was moist and the flavors were mouth watering. Sooo many compliments from guests - I was told by the Captain that several guests asked for seconds!!!! The Italain Cookies were a total hit with the guests also - not much to take home for the brunch on Sunday. If that is not enough the GROOM's cake - A big mouth bass was phenominal. Everyone at the Rehearsal Dinner could not believe it was a cake. It too was delicious Can't thank you enough for making their dreams come true
---
Delicious
Reviewed on

10/21/2014
Annie S
Delicious cake and desserts with a reasonable price point. So much to choose from and a great bakery if you want other options besides cake. Very friendly and helpful staff. I would recommend J Noto to any bride and groom. Also great spot for fresh Italian cookies!!!
---
Excellent Italian Bakery
Reviewed on

10/20/2014
Casey D
Wedding cake was absolutely phenomenal and Jasper is such a joy to work with. We have tried the Italian cookies and cannoli's as well and everything is superb. VERY reasonably priced as well compared to some of the other bakeries in the St Louis area.
---
J. NOTO did an AMAZING JOB on our WEDDING AND GROOM'S CAKE!!!
Reviewed on

10/01/2014
Jessica P
BRIDES AND GROOMS, PLEASE LISTEN! J. Noto Bakery by FAR is the BEST VALUE for your WEDDING CAKE! When my husband and I did our cake tasting, Jasper was so kind. He was more like a friend! Before our tasting, my husband said he did not want to commit to anything yet (this was our first tasting), so he was not planning on signing a contract. After tasking the cake and meeting Jasper, my husband ask Jasper where to sign and gave our deposit right then and there. Boy did we make the best decision! From just giving Jasper a picture via e-mail of a wedding cake and groom's cake, Jasper did an AMAZING job! The wedding cake was BEAUTIFUL and the "Batman" themed groom's cake was a hit! Jasper is very talented and above all, his CAKE TASTED AMAZING!!! Everyone raved about how great it was. Jasper also kept in great communication and after our initial tasting, we did everything via phone and e-mail which was very helpful. J. Noto was great and best of all, THEY were the BEST PRICE in ST. LOUIS! I can not believe they do not charge more for the quality of their work. Truly the best! I hope this review expresses how happy I was with J. Noto Bakery!!!!
---
wedding cakes
Reviewed on

8/05/2014
jennifer j
We ordered a two layer cake and several different cupcakes with filling. Our cake was perfect! It was exactly how I wanted it. The cupcakes were amazing. Our guests really enjoyed them. The cost was very reasonable as well.
---
Wonderful Experience from Tasty to Wedding
Reviewed on

6/22/2014
Megan R
We loved getting to work with J. Noto. Every step was enjoyable and Jasper, (The J in the name) was involved in all parts from tasting through the wedding. Delicious cake and great price for kitchen cakes. Great value for your dollar.
---
Best cake ever!
Reviewed on

6/10/2014
Kinsey F
J. Noto made my husband's groom's cake and our wedding cake and it was fantastic. They are very organized and understood everything Matt and I wanted in our cakes. They took the vision we both had and made it come true!! I would recommend this great baker to anyone looking for any type of cake.
---
Cake
Reviewed on

5/13/2014
Melanie B
AMAZING!!
---
Delicious
Reviewed on

3/30/2014
Andrea M
Jasper from J. Noto Bakery was a delight to work with. The tasting was so delicious and made it extremely hard to choose....so we did 4 different flavors in our cake. We had so many people tell us how much the loved the cake. Everything about it was perfect! My husband and I will be going back there for our anniversary for sure!
---
Delicious - and friendly!
Reviewed on

1/22/2014
Danielle M
Jasper was a pleasure to work with for our wedding. We set up a cake tasting and told him we were interested in having a dessert buffet along with cake. He sat down with us while we tasted the desserts, and he was such a joy to talk to! the best part - every dessert was delicious. We are still talking about the macaroons!
---
Amazing desserts, great price
Reviewed on

10/09/2013
Laura S
J Notos really worked with me to get the dessert buffet that I wanted at our wedding. My mom and I had the best time at the tasting and couldn't make up our minds on what to order. We ended up with an array of mini cupcakes and dessert bites and cookies. They worked with us on amounts so we had enough for everyone's sweet tooth and hardly any leftovers. I highly recommend J Notos and I'll be back there soon!
---
Definitely recommend!
Reviewed on

8/18/2013
Whitney F
Jasper and his staff were amazing. I had sent him a detailed document of what I wanted our cake and cupcakes to look like. He went through everything with me to make sure he had it right, and our cupcakes and cake turned out EXACTLY how I wanted them to. Everyone at the wedding kept commenting on the cupcakes that night and saying how great they were. The one that I had was honestly one of the best cupcakes I've ever had. Jasper and his staff were extremely professional, and you won't find a better value for wedding cake/cupcakes anywhere in St. Louis. I will be recommending him to everyone I know!
---
Great Job!
Reviewed on

7/21/2013
Kirstie D
I loved working with J. Noto's bakery for my wedding cake. The owner was so friendly, and so willing to listen to my ideas. He also emailed back and forth quickly, which as a very busy person I really appreciated. I plan to go to J. Noto for any bakery needs in the future. The cake was delicious!
---
Delicious
Reviewed on

7/07/2013
Marian K
Everything they did was wonderful, from the free tasting to the delicious final product. Everything went smoothly, the cake was beautiful, delivery and set-up was on time, and it was delicious. The price was good too. Depending on the design you choose it can be more expensive but mine was about $2.50 a serving (the price includes filling I had added to each layer). Set-up and delivery is extra, of course, but worth it to make sure your cake arrives intact and is set up well. I highly recommend them.
---
friendly and fabulous
Reviewed on

7/05/2013
Kelly M
This is a small family owned Sicilian bakery where father and daughter work with a passion for making decadent treats. We had a positive experience from our tasting to our wedding day. I just wish we stopped dancing to eat cake on our wedding day!
---
Yummy cake
Reviewed on

6/20/2013
stephanie L
I purchased my wedding cake my Jnoto's and it was delicious. I just got white cake and amaretto cake with butter cream icing. The prices here are very reasonable. There are a lot of different options to choose from. This bakery makes there cakes with 4 (or 5?) layers of cake on top of each other with icing or filling between each layer...this really makes the cake good quality. The baker, jasper noto, delivered my cake on time and he even decorated the cake for me with my wedding flowers that we purchased for the cake.
---
Wedding Cake for Wedding
Reviewed on

6/16/2013
Kelli B
Jasper was fantastic to work with. I gave him a picture of exactly what I wanted the cake to look like and he made it happen. During the tasting you are able to try a variety of different cakes as well as icings. Jasper also shows you didn't styles of cakes from weddings they have done in the past. This was probably the best cake I have ever eaten. We also decided to do a dessert bar which included his cannolis as well as mini cheesecakes. These were excellent as well. My guests at my wedding devoured the treats and nothing was left over.
---
LOVE LOVE LOVE
Reviewed on

5/21/2013
DEDE F
I loved my wedding cake. It was everything I wanted and more. We had two flavors, red velvet and carrot and they were both amazing. Our guests had nothing but great things to say about the cake. I would recommend them to anyone!!
---
Send Message