Home

Jacqueline Cicala Beauty Bridal Atelier
About this Vendor
Jacqueline Cicala Beauty Bridal Atelier
I have created this beautiful space, inspired by every woman I have met over a career of beauty sessions: bride-to-be, mother-to-be, getting ready for a photo shoot, a private makeup lesson, all of the most special and important days in a woman's life. My dream was to create a private and exclusive space just for them…and now my dream has become a reality. We would be happy to travel to you on your special day. Please refer to [email protected] for our on location menu of services. Upon entering the Atelier you enter into a magical world of transformation, where everything is possible and everything is about you. An elegant, breathtaking space awaits you—with every detail carefully selected with you in mind, to make you feel like a fairy-tale princess.
Details
Beauty Group Bookings, Hair + Makeup Trials Available, Hair Stylists, Airbrushed Makeup, Eyelash Extensions, Makeup, Makeup Artists, On-Site Hair + Makeup, Beauty
Reviewed on

8/29/2016
Lisa P
Jacqueline and her team are amazing! She took care of hair & makeup for my bridesmaids,mom and myself on my wedding day. She went above and beyond! After my trial with her a couple of months before, I knew she would. We all got such great compliments the entire day/night.... Read More Jacqueline really helped make my day spectacular!
---
Reviewed on

7/26/2017
Julie S
I would highly recommend Jacqueline Cicala beauty bridal atelier to anyone getting married in the area. Although I am sure their on location services are awesome, the atelier is a beautiful space and is more relaxing and comfortable than a conference room (which is the option... Read More for most venues). The staff is knowledgeable, helpful, pleasant to work with and did an outstanding job. It is really hard to please a group of 11 girls but they were able to! We all had hair and makeup done and they were very accommodating with last minute changes (addition of lashes and full makeup for some that signed up for 'just the eyes'). They were able to match the makeup style of every one of my girls and didn't make anyone feel uncomfortable/unlike themselves. There is no doubt in my mind that I made the right decision by choosing to have my hair and makeup done here. I wasn't the only one that was happy, everyone expressed how pleased they were with the services. Well priced, great service, excellent hair/makeup and a beautiful space... what more could you ask for?
---
Reviewed on

6/26/2017
Sarah L
I couldn't be happier with the experience my bridal party and I had with Jacqueline and her team! From the trial to the wedding day, the process was seamless. My hair was perfect and I received endless compliments on the style. The entire bridal party looked stunning. We had... Read More the salon all to ourselves and followed our schedule exactly. There was zero stress involved. Nothing but an enjoyable and relaxing experience on my wedding day. Thank you Jacqueline and your amazing team!!!
---
Reviewed on

2/10/2018
Carla N
Jacqueline is amazing!! Her and her team made me and my girls look and feel beautiful.
---
Reviewed on

1/05/2018
Ashley N
Jacqueline was fantastic! She is amazing at what she does, and she was a pleasure to work with. Everyone loved my hair and makeup (as did I!) - thank you Jacqueline!
---
Reviewed on

12/10/2017
Cassie Y
I had an absolutely fantastic experience with Jacqueline and her team for my December 2017 wedding. Her team hosted myself, 7 bridesmaids and the mothers of the bridge/groom for a very fun day of getting ready. Their team was highly accommodating and welcomed us bringing in... Read More catered food for breakfast/lunch as well as the requisite mimosas and getting-ready cocktails. My bridesmaids were looking for a variety of different styles/looks, and Jacqueline's team was able to seamlessly manage all of the requests and had everyone looking top-notch. Having been in several other weddings, I'm sensitive to the fact that sometimes artists' hear what they want to hear; this is absolutely NOT the case with Jacqueline's team - they listened to everyone's requests and everyone loved them! This was especially important/valuable to me as the bride, as I am someone who prefers a conservative look, and she and her team listened and took my feedback very much into account in the look they created. Regardless of what you are seeking for hair/makeup, I can't recommend this team highly enough - they are hospitable, fun and extremely committed to what they do!
---
Reviewed on

11/21/2017
Elizabeth A
Excellent service!! Would recommend to everyone, beautiful salon but also does an excellent job on site. Jacqueline and her team we prompt, professional and fun.
---
Reviewed on

10/24/2017
Vicky P
First time ever that someone did our hair and makeup just they way we wanted it! We were pleased that we were made up, but not OVER DONE! Thank you Alena. We really enjoyed the experience .
---
Reviewed on

10/23/2017
Krista Y
The entire experience of booking and organizing hair and make-up for my bridesmaids (11) and myself was beyond easy, thanks to Jade and Jacqueline. If I had a question or concern about anything, I got an immediate response, and couldn't have been happier with everything. I got a... Read More complimentary blow out the day before my wedding to prep my hair & the day of my wedding, my girls and I walked out of the salon feeling incredible because of the work their staff did; everyone looked absolutely beautiful. The location of the salon is perfect; there is a courtyard in the back where we set up breakfast and a mimosa bar. I was just so pleased with everything!! 100% recommended!!
---
Reviewed on

9/27/2017
Jennifer G
Jacqueline and her assist did an awesome job on hair and makeup. They arrived prepared and on time. However they are not flexible at all so be aware if you have any bridesmaids cancel services, you will still have to pay for the services not being done. This led me scrambling... Read More for money the morning of the wedding as I only took out enough cash to cover the services actually being done. Thankfully my fiancé helped me pay the high price for the girls that were not able to make it for makeup wedding morning.
---
Reviewed on

9/03/2017
Theresa Z
Jacqueline and her team did an outstanding job'
---
Reviewed on

8/17/2017
Christina A
I had a great experience at Jacqueline's salon! The space is beautiful, definitely a great spot for adorable photos the day of your wedding! The bridal section is gorgeous, and the Blowout Bar is so cute. My girls especially like their selfie station for fun pictures in the... Read More morning! The two salons connect out back to a beautiful courtyard you can take pictures in or wait for your turn in the salon. I thought it was awesome that with my big bridal party I had access to all the salon workers to work on the girl's hair and makeup. The salon coordinated for my party to have matching robes, breakfast in the morning, mimosas during the hair and makeup session! More importantly however, the staff is truly wonderful to work with and are so talented! I loved the results of my bridal hair, my mother's hair, and all the bridesmaids. I felt we all look glamorous and I was impressed with their work. Definitely a great choice for your wedding salon! It will not disappoint!
---
Reviewed on

5/26/2017
Prachi S
Between being a make up virgin and being born and raised in India, I was skeptical about being able to find someone who would understand my style, skintone and hair to be able to do my make up. My search ended with Jacqueline. Apart from being exceptionally talented and... Read More understanding her clients, Jacqueline exudes warmth which helps you ease out. The same holds true for her husband Jade too. I loved my look on the day of my reception - turned out so much better than I had imagined !
---
Reviewed on

10/20/2016
Noelle N
Jacqueline and her team were great! Even after changing my mind so many times leading up to the wedding, she couldn't have been lovelier! The price point was a bit high, so I ended up covering make-up costs for my bridesmaids.
---
Reviewed on

9/01/2016
Morgan L
I couldn't imagine my big day without Jacqueline Circala! She, and her team, did such an amazing job and made all of my bridal party look flawless. She took the time to listen and make sure that everyone was happy with their hair & makeup before finishing.
---
Reviewed on

8/30/2016
Allison S
Thank you!! Jackie did my hair and makeup and her team did hair and makeup for my sister and my mom on my wedding day. They were friendly and professional and we were all very happy with our looks! I would highly recommend them to any bride. I wanted to maintain a more natural... Read More look since I don't normally wear a lot of makeup and I was beyond thrilled with the result.
---
Reviewed on

7/08/2016
Mary H
Great experience with Jacqueline and her team.
---
Reviewed on

7/08/2016
Maria R
Thank you Jacqueline for making my day special :)
---
Calming, Accurate, and Accommodating
Reviewed on

7/27/2015
Looks by Jacqueline Cicala is exactly what I needed for my wedding day. Jacqueline was kind and accommodating when I need to take a quick break for a bite. The trial session with her was exactly what I needed to figure out what I wanted. Jacqueline listened what you wanted... Read More and took great notes. I couldn't even remember what I told her what I wanted, but she pulled if off! She was on time and finished on time (brides, this is very important!). I couldn't ask for a better experience.
---
Amazing beauty team...
Reviewed on

7/06/2012
Jennifer V
Jacqueline and her "team" are really a small beauty "army." The three ladies did hair and make-up on 3 bridesmaids, 6 other women, plus me (the bride) and did a flawless job! They arrived at 7:30 AM and worked (with no breaks) until they finished me at about 3:00 PM. Jacqueline... Read More took on every style each woman wanted (beautifully I might add) and did my full look- complete with airbrush make-up.
---
Memorable service!
Reviewed on

6/06/2010
Lindsay S
Jackie did my hair, plus all my bridesmaids and mother-of-the-bride. We all looked great the entire day, no touch ups required. Jackie is fun, easy to work with, and great at her job. I highly recommend her services for casual or formal events!!
---
Meet The Owner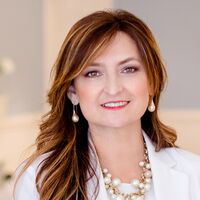 Jacqueline Cicala
Jacqueline is owner and creative director of two locations in Morristown, NJ - Blowout and Jacqueline Cicala Beauty Bridal Atelier. With extensive training and degrees in all aspects of beauty, Jacqueline has years of experience creating looks for brides and on set for film, television, editorials, and runway. At the Atelier, a bride's wedding day dreams can be executed down to the finest details. The breathtaking private space inspired by Paris is the perfect place to have your hair and makeup done for your big day. Your place or ours? We would be happy to travel to you as well.