Home

JMK Weddings
Details
Elopement, Religious Ceremony, Vow Renewal Ceremony
Nondenominational, Protestant, Christian
Contact Info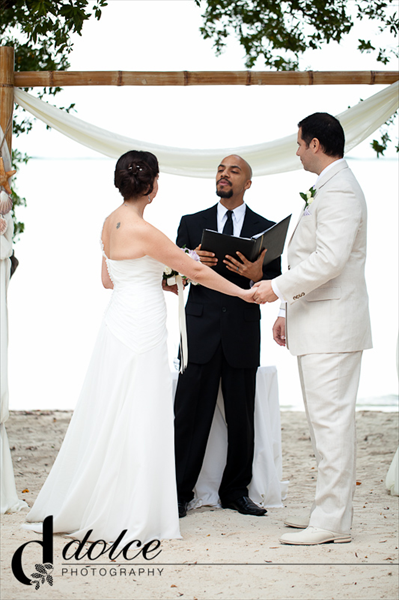 Reviewed on

10/08/2016
Ashlee L
Jamie and Brandon were absolutely phenomenal. Our wedding was on 9/10 at the Coral Springs Museum of Art. For our ceremony, we had a unity candle and we also jumped the broom! I wanted to surprise my husband by saying my vows in Creole and they made that happen perfectly without... Read More a hitch! They are extremely personable and their kids are gorgeous. I didn't have an officiant until about 2 months before the wedding so you can imagine how crazy I was going! From day one Jamie assured me on everything, gave many options, and made sure to get to know a little about us so that it wasn't just a general ceremony. They went above and beyond for us, even blessing the food at our rehearsal dinner. The Ceremony was beautiful, not too long, and just perfect for what we were looking for. I would absolutely recommend JMK!!!! Don't miss out on such an amazing experience :)
---
JMK Weddings Review
Reviewed on

11/07/2015
Deandra S
I used JMK Weddings on October 24, 2015 for my wedding, and the ceremony was absolutely beautiful! Jamie and Brandon worked closely with my husband and I to create a ceremony that was more than we could have imagined. Not only was it intimate, but personal and a bit humorous at... Read More times. Our guests all said it was amazing. I would recommend them to anyone needing their services as they are professional, knowledgeable, friendly, and open to ensuring that one of the best days in a woman's life is a great success.
---
Helado con una cuchara de amor
Reviewed on

11/06/2015
Wonderful service we felt welcomed to Miami all the way from Philadelphia. We had so much fun at our non traditional wedding ceremony at Azucar en Little Havana. Very professional and made the planning process smooth even with custom vows and script for the ceremony.... Read More We plan to return and would love to celebrate with Jamie and Brandon.
---
JMK Weddings Wedding Services Is Awesome!
Reviewed on

10/30/2015
When i say this couple is absolutely amazing, they are! They were very professional, knowledgeable and on time. I had absolutely no idea what to do and they provided us with the wedding ceremony documentation, sample wedding vows and any questions we had regarding the wedding... Read More they were available to answer questions. Their price is very affordable and i promise they will not disappoint! They came from Miami to West Palm Beach to officiate my son and daughter in laws wedding and i must say we were all very pleased!
---
wedding Ceremony
Reviewed on

10/29/2015
denise f
Brandon and Jamie where awesome. Jamie gave me great ideas on my ceremony and unity candle. She patient and stared me the right direction. Brandon preformed my ceremony flawless. JMK are the best. I would recommend them to all my friends and family.
---
Reviewed on

10/29/2015
D'Lea C
I had the pleasure of having JMK weddings officiate my wedding on October 11th. My now husband and are are fairly new to the Fort Lauderdale area and have not yet found a church home, so we found JMK weddings and decided to have them officiate our big day. The fist time we met... Read More Brandon and Jaime there was an instant connection. They are so nice and warm. It was easy to speak with them, it felt as if we'd known them for years. They are very family oriented and that is very important to us. They took care of everything from providing the sand for the ceremony to sending off the marriage license after our wedding. JMK weddings was the obvious choice for our wedding and I would recommend them to anyone needing an officiant for their wedding.
---
Reviewed on

10/27/2015
I used JMK Weddings on September 26, 2015 for my wedding at Fern Forest. When I say that Brandon and Jamie were amazing, I truly mean that. I communicated with them for about a year before actually booking with them. They have do have scripts and questionnaires that they used to... Read More customize a ceremony for you. Everything was done in a timely manner and they communicated every step up of the way. My husband actually said, I didn't expect him to add so much personality into the ceremony but it made everything run smoother because we were both extremely nervous. They stayed throughout the ceremony. Its not just performing a wedding ceremony, you become part of the JMK family. They're friendly, priced very well and work with you every step of the way. Book with them. YOU WILL NOT BE DISAPPOINTED. P.S.- Their family is amazing. You can see the love between them. Relationship goals at its finest.
---
Jamie and Brandon ARE AMAZING
Reviewed on

10/18/2015
Teesha G
My husband and I wanted to be sure to have God be the most important part of our union and Brandon and Jamie were perfect. Jamie sent us lots of options for our ceremony as well as poems and add on services like our unity candle and sand union (which they provided). They allowed... Read More us to play such a huge part in preparing our ceremony that we were at ease on the day of our wedding. I would recommend JMK Weddings 100%! I was blessed to have them be a part of our special day. Bride, Teesha Garcia
---
Daphnee and Evens Wedding
Reviewed on

9/27/2015
Daphnee F
My husband and I got married in August and we were very lucky to have Brandon from JMK weddings for our ceremony. I've made contact with Jaime from JMK over the phone several times and she was very patient with me. Throughout the wedding process we were also starting a new... Read More job and moving to a different city. Jaime provided me with so many pointers on how we can obtain our license. We met with Brandon the day before the wedding for our wedding rehearsal. I was so overwhelm with so many things and Brandon was so nice and patient. He was very charismatic, knowledgeable and very experienced. He gave us helpful suggestions on how to structure the ceremony and even gave us tips on what to do and how to best walk for the ceremony. We are truly happy that we found Jamie and Brandon. They're a beautiful couple that put their whole heart and soul into JMK. Our main priority was to have a ceremony that was not too long. We wanted to make sure that our ceremony was fun and lighthearted. Brandon did a great job getting my husband and I to relax during the ceremony. We wanted an outside wedding but that did not go so well as it begin raining right before the ceremony and the ceremony was moved inside. Brandon delivered a perfectly balanced ceremony that was serious, humorous, cute, and light-hearted, and I was pleasantly surprised at how relaxed he made us feel. After our wedding, many of our guests told us that our officiant was amazing and loved how our ceremony was amazing. I am so thankful to have JMK as our wedding officiant I wouldn't change it for anything.
---
Cannot emphasize enough how amazing they are!
Reviewed on

9/21/2015
Gabriela C
JMK is run by husband and wife Brandon & Jamie. I honestly only have great things to say. I contacted Jamie in late June (our wedding was in 4 weeks from when we first spoke) and they did everything to accommodate us. Our ceremony was beautifully drafted. I was super impressed.... Read More They also worked with me because I needed the ceremony to be simultaneously translated and it came out perfect. Jamie was so attentive through the whole script writing process - always available to talk and share wisdom with me. Brandon officiated the ceremony and it was so heartfelt. We really felt blessed to have him. We watched our wedding video and how passionate he is shows forth. They both really believe in the sanctity of marriage, which was essential for us. Our guests spoke wonders of the ceremony afterwards. Highly recommended team!!
---
Awesome Officiant
Reviewed on

7/20/2015
shawanna t
This family is absolutely amazing!!! Very professional. Jamie was very informative and friendly. I felt very comfortable speaking to her throughout my planning. She always remained in contact making sure my planning was going well. Brandon is really down to earth. And very... Read More professional as well. He delivered our ceremony perfectly!!! I would DEFINITELY recommend JMK Weddings!!!! Thank you so much for being a part of our day and making it even more special! Shawanna & Derek Gibson
---
Reliable, friendly and professional
Reviewed on

6/28/2015
We are so glad that we chose JMK Notary and Services. Both Jamie and Brandon are such a great team - very friendly, responsive, professional and flexible. Prior to our wedding taking place we had numerous email and phone conversations with both Brandon and Jamie which made us... Read More feel very comfortable. Their service was very professional and Jamie was very helpful when taking us through the entire process of completing the couples questionnaire and explaining additional features, such as God's Knot. Coming all the way from London, UK, it was very important that we selected an officiant who we could trust and we had no doubts with JMK Notary. We also did not have any Master of Ceremonies and when we asked JMK Notary if they provided this service, they were so flexible and took this on at the last minute, learning all the facts and features of our wedding very quickly. Brandon led our ceremony and was also the MC for our wedding reception, and he done a terrific job. Everyone commented and praised on how humorous, warm and friendly he was as an MC and Officiant. Overall they are an amazing couple, a great team and we would highly recommend JMK Notary Services to others. Thank you Brandon and Jamie :-)
---
Commendable Service
Reviewed on

12/30/2014
Kendra M
I found JMK Services on The Knot and after reading other reviews I decided that I would also use them for my wedding ceremony. Brandon and Jaime, husband and wife behind the operation, were wonderful. Jaime was extremely helpful in helping me prepare for our wedding ceremony and... Read More Brandon did a wonderful job performing the ceremony. After the ceremony, Brandon received lots of praises from my family and friends who attended. He was wonderful and they both were a pleasure to work with.
---
Great services
Reviewed on

10/23/2014
Keysha W
My husband and I renewed our vows on October 20, 2014 and after talking with many other officiants. I chose JMK and I am so glad that I did!!! Brandon, Jamie, and lil Fibi was a joy to be around!!! My day started a little hectic. But once I met the holt family. I totally forget... Read More about the chaos. Both my husband and I felt the warmth from them. The personalized vows done by Brandon was awesome!!! Choose JMK you won't be disappointed!!
---
Wedding ceremony
Reviewed on

10/04/2014
A+
---
Simple and Beautiful
Reviewed on

9/22/2014
JMK was extremely pleasant.Jamie was very helpful with all the questions I had being that we are from Dallas and had never been to South Beach before our wedding day. They gave us suggestions on where to have the ceremony as well as offered all kinds of options for the ceremony,... Read More including personalized vows and different add ons. Brandon performed our ceremony like a true professional. This was the absolute perfect experience and I'd recommend JMK to anyone!
---
Wonderful couple!
Reviewed on

7/26/2014
Leticia G
Brandon and Jamie are truly delightful people. Brandon performed my wedding in miami and it was amazing! They are very gracious and very professional and easy to work with! They were truly like family. Love you guys Leticia and Demetrius
---
Amazing Ceremony Officiant!!
Reviewed on

7/24/2014
My wedding was July 19,2014 and I came to JMK Notary & Services about 3 weeks before my wedding date. I was so worried in the beginning that I was cutting it close, booking an officiant so late, but they proved to me that GREAT things come to those who wait. I am sooo happy that... Read More I chose to have Brandon officiant my wedding. I felt that once I spoke with him about what I had in my mind he set up the most perfect Ceremony vows that I will never forget. My husband and I truly appreciated the comfort level that Brandon provided us. I would not hesitate one second in referring JMK services for anyone who is getting married! I would like them to know that they made my day so special, I will never forget it!!!!! Thank You!!
---