Home

Josh Mariana Photography
About this Vendor
Professional and creative wedding photography.
We've heard it over and over; how much our clients love their wedding photos, but how much they loved working with Josh and his team even more! We want to hear it from you too, and I can't wait to meet with you in person to show you what Josh Mariana Photography can offer you.
Details
Contact Info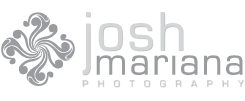 Pittsburgh, PA
Serving Pittsburgh area.
Professionalism, value, amazing end product
Reviewed on

8/17/2013
Anna M
Photographers are unique in that they are providing both a service and a product. Lots of clients end up sacrificing one thing for the other...they work with a really nice photographer who responds quickly to requests and is a joy to work with, only to have mediocre photographs. Or they suffer through working with a rude, overbearing, or unresponsive photographer, all in the name of a great final product. Josh Mariana Photography is one of only a few vendors I've come across who EXCELS at both providing amazing service and a top notch final product. Through the entire process (initial meeting, contract, engagement session, wedding day, and beyond), Josh and his team were the picture of professionalism and efficiency. Josh responded to questions quickly before and after the wedding, and was flexible and accommodating on the big day. We worked with an amazing and enjoyable team, and in the end, walked away with final products that could not have been better (both photo and video). Value is another great selling point for Josh Mariana Photography. I know plenty of people who had similar experiences with their photographers, and were very pleased, but they also paid two to three times what my husband and I paid. I think it would be difficult for one to find a photographer of comparable quality in Pittsburgh at the same price point as Josh. I highly recommend Josh Mariana Photography.
---
Beautiful Pictures
Reviewed on

4/07/2014
Caytlin
Josh and Rebekah were amazing! Not only did they take beautiful photos of our wedding, but they were great to work with! Taking so many pictures can be a long and boring process, but they made it fun and very easy for us! We were able to view our pictures on the website only 3 days after the wedding and there is not one bad photo. I definitely recommend using Josh for any of your photography needs!
---
Mrs.Brown
Reviewed on

9/02/2013
Ashley B
Josh Mariana was one of the nicest vendors we dealt with throughout our entire wedding process. Josh was very responsive to our ideas, opinions, and feedback about different photo opportunities we had in mind leading up to the day of our wedding. On the wedding day, Josh and Rebekah were extremely professional yet super fun at the same time. They didn't stop shooting from the moment they arrived until the moment they left, and it was really nice to have two photographers because they captured every memory of the day/night! We would highly recommend Josh Mariana Photography for any wedding in any season!
---
Captured Our Day Perfectly!!!!
Reviewed on

6/29/2015
Jamie H
Josh and crew blew us away! I was nervous about choosing our photographer because we had a winter wedding and I knew it had to be someone creative. From our first meeting with Josh, we knew he was it! The crew was with both my husband and me throughout the day and captured everything! Moments I thought were gone, except for memories, were right there when we reviewed our gallery! I still get happy tears in my eyes every single time I look through our photos.... Not only are Josh and Rebekah AMAZING and BEYOND TALENTED artists, but they fit right in with our day! They made us laugh and I swear that there must have been 3 of each! They were everywhere! I cannot say enough about Josh Mariana Photography. If you are reading this review, you should just save yourself the hassle and book now! From the photos, to the albums, to the thank you cards, and finally with our beautiful cinematic video- JMP is it. Look no further! Thank you a million times over, JMP! Because of you, our perfect day has been captured forever!
---
We love Josh!!!
Reviewed on

11/02/2014
Alyssa O
My husband and I can not say enough wonderful things about Josh. Photography for our wedding was extremely important for us both so we took extra time and care when choosing our photographer. We could not have made a better choice! Josh was a pleasure to work with and made us both feel so comfortable and relaxed while taking pictures. Josh answered all our questions and emails promptly and took all the stress out of the logistics and preparation aspect of the day. And, as we expected, our pictures turned out absolutly amazing!!!!! We've gotten so many compliments on how beautiful they all are and how they capture the day perfectly. We would book Josh 100x over and would love to have the opportunity to work with him again!
---
Awesome Photographer
Reviewed on

10/31/2014
Kelly D
I got married on one of the coldest days in October (at an outside venue of course lol). Josh was amazing!!! All the pictures were fantastic! Josh was great to work with! He kept both my husband and me laughing. He was just an absolute joy to work with. He helped keep us from focusing on the cold and was overall a fun person. I would recommend Josh Mariana Photography to anyone who would like to have amazing and talented photographers.
---
Josh Mariana Photography!
Reviewed on

10/30/2014
Josh was excellent! Josh was able to help us stay in our budget while providing more then we expected. Josh took all the pictures we asked him to take. I gave Josh a couple of ideas I found on pinterest and he created that same feel with our pictures.Also Josh was able to meet our schedule for engagement photos.Anytime I had questions Josh would reply quickly.I love Josh's work so much I plan to use Josh for all our family pictures in the future.
---
Josh Mariana Photography
Reviewed on

9/27/2014
Brianna O
We got married in the Fall season at a beautiful lodge. One of the most important things to me was capturing our day in photographs and the beautiful day we had! We choose Josh Mariana Photography and worked with both Josh and Jessie. They were fantastic! They had creative photo ideas and captured our day beautifully! We are so excited to get our photos and album from our wedding day! We also used Josh Mariana for our engagement photos. We wanted to include our dogs and we were traveling from out of town. Josh was flexible in scheduling our engagement session and was open to including our dogs in the session, which was important to us! We were so please with every aspect of working with Josh Mariana photography!
---
Memories Captured
Reviewed on

9/25/2014
Leah H
My wife and I were/are very pleased with the work of Josh Mariana and his staff. Our wedding was filled with many details that were very unique to our personalities, and Josh seemed to capture them all. Upon receiving our photos, we were stunned at all of the moments they managed to capture without us ever knowing they were there to see it. They seemed to be everywhere at the right time, but were never pushy or in our faces. On top of that Josh was able to work within our budget, and we feel that among all of the expenses of the wedding this was certainly money well spent. We would feel confident recommending Josh to anyone looking for high quality photography.
---
Enjoyed working with Josh
Reviewed on

9/23/2014
Lindsay R
Josh was our photographer for our wedding in October 2013. He was great to work with and was very accommodating. The quality of the pictures and our wedding book are excellent! I would recommend Josh to anyone who is getting married!
---
Excellent photos/Great price!
Reviewed on

9/22/2014
Christine L
Josh was excellent we loved working with him on our wedding photos. He is a great guy and the pictures turned out just beautiful. The price was also very reasonable. We would highly recommend Josh!
---
Best photographer period!
Reviewed on

9/16/2014
chris w
Josh did our photos, cinematic video and photo booth and everything turned out exceptional. His professionalism and attention to detail is second to none. At the very least u need to sit down for a consultation and get a look at his amazing wedding albums and I gaurantee you will look no further for capturing your special day!!
---
Amazing and talented
Reviewed on

9/15/2014
kaitlin m
Josh is so awesome and talented at what he does!!! He did an amazing job with everything from save the dates, engagement photos and our entire wedding day!!! I would highly recommend him.
---
Fantastic
Reviewed on

9/15/2014
We hired Josh to be the photographer at our wedding and I am so happy that we did. Being the groom, photography was not the first priority on my list, but I quickly understood the photographer's critical role all the way from wedding planning to the big day. Josh was extremely responsive to us throughout the entire process. When we reached out to Josh via email or phone, he got back to us within the day. Josh was also very flexible with our schedules. When we had to re-schedule our engagement pictures due to weather, Josh was very easy to work with and it was clear he was making us a priority. From the engagement pictures, Josh made our "Save the Date," which we loved. We received so many compliments on the picture (photo magnet) and my friends and family continue to keep it on their fridge. The quality of the engagement pictures was very high and it was exciting to get great pictures right after our engagement. We used them for our wedding website and it made a difference utilizing the quality of Josh's work. During the wedding day, Josh was a calming figure to help lead the process before and after the ceremony. He was very organized and was able to capture the critical key moments. I was impressed with Josh's interaction with the wedding party and I appreciated his diligence in getting us through all the pictures after the ceremony. After the wedding, Josh was very accommodating with our requests and was able to turn around high quality pictures in a timely manner. My Dad bought a picture from the wedding printed by Josh of the family for my Mom's birthday. The quality of the photo was spectacular - it is definitely worth going through Josh for printing as the quality of the photo is unparalleled. We enjoyed working with Josh so much that we asked him to take family photos for my parent's 30th wedding anniversary. We will definitely use Josh in the future for photography and we are so glad we chose him for our wedding.
---
A+
Reviewed on

9/15/2014
Todd G
Josh is great and we LOVED his photos. Couldn't be happier!
---
Josh is the man!
Reviewed on

9/15/2014
Elaina T
I feel like I hit the wedding photography jackpot by booking Josh Mariana! When we began the hunt for a photographer, I contacted multiple vendors through their websites and Josh was the first to respond. After our initial meeting with Josh, my husband and I knew that he was going to be our photographer! He also provided us with recommendations for other vendors and each one was a great addition to our wedding! As for the photos, they were absolutely stunning! He captured so many great pictures that it seemed hard for us to pick our favorites! I highly recommend Josh. You won't be disappointed!
---
Easy going, and most importantly GOOD!
Reviewed on

6/14/2014
keirstin k
Josh Mariana Photography did an excellent job preserving my wedding experience in many ways! From the initial meeting, Josh made me feel comfortable with his laid-back attitude. Our engagement session was so fun, and he really captured our relationship in it's genuine state rather than posing us in unnatural settings or positions (very important to me!). Josh also provided services for videography and a photo-booth on our wedding day. The photo booth was a blast! The guests really enjoyed it. As far as videography goes, he was very accommodating in terms of capturing what was most important to us, rather than forcing me into a cookie-cutter end product. There was a very sad, unfortunate technical issue with the memory card that contained an un-cut version of my ceremony. The team did make an effort to re-create the ceremony through audio and photo slideshows, with a few video clips from another camera. Ultimately, the ceremony "video" exists in some form, which required extensive effort on Josh and his team's part (thank you!). The photography on our wedding day was exceptional. Josh and his team were very professional and worked closely with our wedding planner to meet the logistical demands of capturing all of the special moments we shared. We never felt bombarded or interrupted by the photographers or videographers, which allowed them to capture really sweet moments that I'll treasure forever. Following up, Josh's turn around time was great. His website for accessing photos and proofs of our album is very easy to use. Our album is awesome! I also love the little parent albums and mini-album for me. We also ordered thank-you cards, which were surprisingly customizable and unique. Our DVD with all of the videography and the cinematic video is also amazing. We plan on watching it every year on our anniversary. Overall, I would definitely recommend Josh Mariana Photography to Pittsburgh brides looking for both a great product and service!
---
Awesome Photography
Reviewed on

8/09/2013
Lori T
Josh Mariana Photography was a perfect fit for our wedding. Josh listened to what we wanted and delivered beautiful pictures that captured our day. Both him and Rebekah were professional and fun to work with. Their creativity was amazing and we couldn't be happier with our images. From start to finish, they delivered true quality. I would highly recommend them for any event.
---
Best Photographer in the WORLD!!!
Reviewed on

8/09/2013
Tami O
When we were looking for a photographer we wanted someone that was fun, good personality, unique, and also would be good with our large wedding party of 20 people plus 6 flowergirls and 2 ringbearers. The moment we met Josh we knew right away he was awesome for our wedding!! He has 3 beautiful girls of his own and knew he would be good and have patience with our big wedding party!!! He was great from the start, coming to our house for our save the dates, then walking all over north shore for 2 hours for our photo book then to our amazing wedding day where he even showed my sisters how to lace up my dress!! hahah His personality shines through his work. His pictures and Ideas are incredible. I did not have to worry about a thing on my wedding day he took care of EVERYTHING (even making sure the limo driver knew the directions) Amazing team! Amazing Photography and Videography!!! Justin and I could not have asked for a more perfect day and Josh and his team made it easy to relax and enjoy our wedding with out worrying about a thing!!! We look forward to using Josh in the future!! Thank you so much Josh, Jessie & Jim for EVERYTHING!!! - Tami & Justin O'Rourke :)
---
Captured the most important day of our lives!
Reviewed on

8/05/2013
Anna K
Josh was a FABULOUS photographer and we were thrilled with the pictures and album he created! He captured all the right moments and feelings on our special day and didn't leave out any little details. The album he created was beautiful and I am so grateful for all the work he did for us. There was never a time Josh wasn't available to answer a question and he always made sure to go above and beyond our expectations.
---
Absolutely incredible!!!
Reviewed on

8/05/2013
Aubrey Z
Josh Mariana Photography was amazing! I could not have been more pleased with everything. It was the complete package! Josh and his 2nd photog were the best! He had fun with our wacky group though still remaining professional and the photos could not have turned out any better! I love bold colors, and with our wedding colors being royal blue and orange, the quality was superb. Every perfect moment was caught and our story was told through his photography. The price was right too for JM Photography! We paid for the photography ourselves and found that for all of the local Pittsburgh options, Josh was the best value. Some others cost up to 2K more and their portfolio wasn't any better. You can't go wrong-BOOK JOSH MARIANA PHOTOGRAPHY! You won't regret it!
---
Best photographer
Reviewed on

6/01/2013
Lisa D
Josh Mariana was definitely the right choice for my wedding. He and Rebekah did such an amazing job. I couldn't be happier with the photos we recieved. His prices are a little steep, but so much is included in his all inclusive package. And all the little things add up in the end. I highly recommend him!
---
PICTURES WORTH MORE THAN 1000 WORDS
Reviewed on

5/29/2013
KRISTINE S
I CAN'T BEGIN TO SAY HOW PLEASED MY HUSBAND ZACH AND I ARE WITH JOSH MARIANA PHOTOGRAPHY. WHEN WE STARTED TO PLAN OUR WEDDING THE ONE THING I WAS FIXATED ON WAS HAVING A GOOD PHOTOGRAPHER. I KNEW I DIDN'T JUST WANT A PHOTOGRAPHER WHO SHOT THE "POSEY POSE" PICTURES. I WANTED MY WEDDING ALBUM TO BE A PIECE OF ART THAT WOULD REMIND ME OF THE ENTIRE DAY. EVERY ENGAGED COUPLE HEARS THAT THEY SPEND ALL THIS TIME PLANNING THEIR BIG DAY BUT WHEN THE WEDDING DAY COMES IT FLIES BY SO FAST YOU DON'T EVEN REMEMBER IT. IF YOU WANT TO REMEMBER YOUR WEDDING....CHOOSE JOSH MARIANA PHOTOGRAPHY! THEY CAPTURE EVERY DETAIL WHETHER SMALL OR BIG SO YOU NEVER FORGET THE DAY YOU MARRIED YOUR BEST FRIEND. I AM NOT ONE TO POSE FOR A CAMERA BUT JOSH MADE US BOTH FEEL COMFORABLE AND NATURAL. HE WAS ALWAYS OPEN TO OUR CRAZY IDEAS BUT WOULDN'T HESITATE TO GIVE SUGGESTIONS OF HIS OWN. FROM DAY ONE WE KNEW WE CHOSE THE RIGHT PERSON TO CAPTURE THE BIGGEST DAY OF OUR LIVES BECAUSE JOSH HAD A PERSONALITY WITH A GREAT SENSE OF HUMOR. HE WASN'T JUST THE GUY BEHIND THE LENSE. ZACH AND I BOTH HAVE EXTREMELY HECTIC AND INCONSISTENT WORK SCHEDULES WHICH MADE COMMUNICATION TOUGH. WITH THAT BEING SAID, JOSH WAS ALWAYS ON TOP OF THINGS AND HIS RESPONSE TIME WAS UNTOUCHABLE AND HIGHLY RESPECTABLE. WE HAVE ALL DELT WITH A VENDOR WHO SEEMED TO NEVER ANSWER EMAILS OR RETURN PHONE CALLS UNTIL YOUR 10TH ATTEMPT TO CONTACT HIM/HER...JOSH ON THE OTHERHAND RESPONDED QUICKLY AND ADDRESSED ANY QUESTIONS OR CONCERNS I HAD. FURTHERMORE THE WHOLE STAFF WAS WONDERFUL AND SEEMED TRULY EXCITED TO BE A PART OF MAKING OUR WEDDING DAY SPECIAL. THEY ALL HAVE AN AWESOME EYE FOR DETAIL AND ARE ALL JUST GENUINELY COOL PEOPLE. THE BEST PART OF THE WHOLE EXPERIENCE IS THAT WE GOT TO KNOW JOSH MARIANA AS A PERSON AND NOT JUST A COMPANY. IVE HEARD SO MANY MARRIED COUPLES SAY THAT THEY SPENT X AMOUNT OF DOLLARS ON A WEDDING ALBUM THAT THEY LOOKED AT A HANDFUL OF TIMES AND IS NOW IN A CLOSET OR UNDER THEIR BEDS COLLECTING DUST; THOSE MARRIED COUPLES OBVIOUSLY DIDN'T CHOOSE JOSH MARIANA PHOTOGRAPHY.
---
Wonderful Experience!
Reviewed on

5/23/2013
Ashley D
My husband and I had the chance of meeting Josh a year ago after attending a wedding show and from the minute we met him we knew he had to be our photographer. He took the time to get to know us and work out a package that suited our needs. Working with Josh and Rebecca the day of the wedding was amazing. They are such a professional and fun team to be with! They made our day stress free when it came to photographs! Since seeing the pictures I cannot be more pleased! I have had calls daily asking how I found such a amazing photographer and that they have never seen such GREAT wedding pictures! I have to quote Josh on this one - Josh Mariana Photography "YOU ROCK!"
---
Great!
Reviewed on

4/23/2013
Karin S
Josh was really great to work with. We felt that communication was very good, and despite being located far away from Pittsburgh, he made everything very easy. Our album is absolutely GORGEOUS and everyone comments about how beautiful/high quality it is. We got to view all of our images very quickly after the wedding (about 5 weeks), and the whole process was very timely on his end. As for us, we were a little slow in picking out what we wanted, but Josh was very flexible and willing to work with us! All in all, we have some awesome images that really captures our amazing wedding day, and we couldn't be happier. Highly recommend.
---
Send Message