Home

Joyful Unions
About this Vendor
Non-religious officiant; what's your love story?
"Non-religious" means just that. I won't impose any religious references or rituals (though I'm happy to provide if you specifically ask). My ceremonies instead speak to the spiritual yet very tangible connections that people in love make with one another. I am a strong listener, creative ceremony planner, intelligent writer, and warm and confident speaker with more than 20 years experience guiding couples at their wedding altar. I promise that you and your guests will feel welcomed within my 15-20 minute contemporary ceremonies. Whether you are looking for something simple or elaborate; elegant or high-spirited; traditional, not, or somewhere in between, contact me and let's talk. Modern weddings have no rules, so let's work together to create a ceremony that's right for you!
Details
Civil Union, Commitment Ceremony, Elopement, Interfaith Ceremony, Non-Religious Ceremony, Same Sex Ceremony, Second Wedding , Vow Renewal Ceremony
Reviewed on

5/09/2017
Alexandra P
Maya Angelou hit the nail on the head when she said, "I've learned that people will forget what you said, people will forget what you did, but people will never forget how you made them feel." This is something that Liz O'Brien innately understands. She achieves a uniquely... Read More personal and inviting ceremony that allowed our guests to connect with us and feel our relationship by combining beautifully crafted words, thoughtful intonation in her speech, and full emotional investment in our relationship. She respects the institution of marriage and the importance of the occasion with her professional appearance and body language. When we first met Liz, months before the ceremony, she was full of enthusiasm. She wanted to hear everything we had to say about our relationship. She asked thoughtful questions and we both felt comfortable sharing with her the inner workings of our relationship. We chatted for over two hours. My husband and I felt even more connected and in love after sharing our story with Liz. As the ceremony got closer, Liz would occasionally check in with little reminders and words of encouragement. She did a great job of keeping us on track. When the day finally came, our ceremony was deeply moving to not just us, but to our entire audience. Half the room was in tears by the end. It was intimate and honest and exactly what we were looking for. Thank you Liz!
---
Reviewed on

2/13/2017
Whitney A
I cannot say enough wonderful things about Liz. She took the time to get to know my husband and I so very well, and gave us such a perfectly tailored and beautiful ceremony we will treasure for the rest of our lives. She wove in the readings we chose to her ceremony address, and... Read More so perfectly captured what we meant to each other and what our marriage meant to us (due in no short order to her diligence and quest to get to know us!). Liz is a bright, beautiful, and insightful presence--everyone kept asking if she was a family friend and commented that we had the best ceremony they had ever witnessed. She truly loves helping couples find the words and path to marriage, and does so with grace, wit, and joy. If you are in need of spiritual and deeply personal, but perhaps not religious, ceremony on your wedding day, I cannot recommend Liz more wholeheartedly. She truly is a gem, and my only hope is that we can stay in touch!
---
Reviewed on

5/25/2017
Grace K
Liz was incredible! We had so many people come up to us after the ceremony and say how beautiful and how wonderful it was. One of our guests was an officiant herself and said to me "Thank goodness you didn't go with me, I could not have done that good". It was exactly what we... Read More wanted, personal, fun, and completely us. Thank you!
---
Reviewed on

4/24/2017
Vince L
Liz was great! She is very professional and she communicates in a timely matter. She has a variety of ways to help you with your ceremony. From I Do's , Echos, or customized Vows. She is a terrific speaker! She added a dash of humor during my ceremony. She asked if the... Read More person who introduced us was here and if she can call him out. I said yes and it made a very memorable shout out to my friend who had to stand up and wave to everyone during the ceremony. Her prices are very reasonable and worth it.
---
Reviewed on

4/03/2017
Jessica G
Liz was absolutely wonderful. Many of our guests had asked us after the ceremony how we knew Liz as it was evident she knew our story well. Liz put together a beautiful ceremony that we will remember forever-- it was special, personalized, and perfectly reflected our love story.... Read More We met with Liz twice before our ceremony and in those meetings + research on our wedding website, she was able to tell our story in detail. I would recommend Liz ten times over and am so grateful she was our officiant.
---
Reviewed on

3/27/2017
Kayle W
Liz was so warm and welcoming from the minute we first met her! She's easy to talk to and you can tell that she genuinely cares. We found ourselves telling stories and laughing with her way longer than we expected! :) She really went above and beyond to make sure she got a sense... Read More of us as a couple and did an amazing job writing a personal ceremony! Everyone loved our ceremony and loved how she incorporated so many personal touches.
---
Reviewed on

3/09/2017
Peter A
Liz did an amazing job with our ceremony I can't even put it in words. She took the time to get to know us and put our story into a wonderful worded ceremony. When talking to our guest on of the first things they would say was have wonderful the ceremony was. She was a joy to... Read More work with and would recommend her in a heart beat.
---
Reviewed on

3/04/2017
Bridget H
I have to say I am so grateful for The Knot for helping me find Liz (Joyful Unions). I watched her videos and thought I really like her style and warmth. Here I was in snowy Boston, looking at wonderful warm views of Arizona. Without this service, it would have been hard to... Read More find her. I am so glad we did! I wrote to Liz and she reached out to me to answer any questions I had. When we spoke, I knew she would be perfect for our elopement. Liz was perfect for us, the time we spent chatting, she really connected and delivered a lovely ceremony for me and my now husband. I didn't worry a second knowing she would guide us. In about 20 minutes time, I smiled, laughed, cried a bit and was filled with so much gratitude and love for my husband. Liz was making it so special for us, using our sentiments and her words on love. It was such a beautiful ceremony that touched our souls. She made it the perfect length and really listened to us. I cannot gush enough about how present I was, because, it's clear this just isn't a job for Liz with Joyful Unions, it's her calling. Forever grateful, I will remember our short time together, but I cherish it so much. Be well Liz. May you always be surrounded by love, it makes you flourish. xo
---
Reviewed on

3/01/2017
Adriana O
We are so grateful Liz was part of our wedding. We felt very much at ease with her and easily opened up to her about our relationship. I think we were a bit worried that hiring an officiant would come across as impersonal, but she was able to tell our story beautifully in a way... Read More that felt very personal. We loved it, as did our guests -- we had many guests tell us how meaningful and beautiful the ceremony was. We also had many guests tell us they thought Liz was a family friend given the way she spoke about us. Also, Liz was very flexible and handled us adding things at the last minute (because we're procrastinators) without making us feel bad about it. My husband and I would enthusiastically recommend Liz to anyone!
---
Reviewed on

1/20/2017
Nicole N
Liz did a wonderful job! I don't know what we would have done without her. She guided us through the whole process and made us feel comfortable during this nerve wrecking time. The ceremony was beautiful and she told our story perfectly. Thank you Liz for such a memorable day!
---
Reviewed on

1/16/2017
Allise F
The entire process with Liz was easy and stress free. She tailored our ceremony to be exactly what we wanted and actually to be honest was so much more. It feels really good when your guests reach out to let you know how wonderful and meaningful your wedding ceremony was to... Read More them. Liz was able to capture all audiences at our ceremony - that there says a lot! I would highly recommend Liz, she is easy to work with and is very passionate with all she does. My husband and I are forever thankful to her and her involvement in our wedding day! Thank you Liz!!!
---
Reviewed on

1/10/2017
Colleen G
We wanted a wedding that was meaningful without being especially religious, and Liz absolutely blew us (and our wedding guests) away. She took time to get to know us as we were planning everything, sitting down with us via FaceTime for over an hour to learn our story and why our... Read More marriage matters to us. From that, she wove together a beautiful ceremony that was articulate, heartfelt, and--most importantly--a reflection of us. We're still receiving compliments from friends and family about what a great job she did! Thank you so, SO much!!
---
Reviewed on

5/02/2016
My Husband and I are so thankful that we found Liz. She was a joy to work with. She loves what she does, she loves couples in love and it shows. She was responsive and listened to everything we had to say. She wrote and performed ceremony for us that was intimate and... Read More personal. We felt like she had know us for our entire lives with the words she said. But really, she just listened and created a ceremony tailored to us and our story. She has a warmth and ease about her that is calming and she brings so much love to the moment. I can't say enough positive things about Liz. She truly has a gift and we are so thankful that she shared that gift with us on our wedding day.
---
So special
Reviewed on

2/20/2015
Brittany B
Liz was such an amazing woman to work with!! From the beginning she listened to us and got to know my husband and I well and was able to make our ceremony so unique and tailored to us. Out of all my vendors I received the most compliments about Liz! Our guests were blown away... Read More about how thoughtful and personalized our ceremony was. We cannot thank Liz enough for her hard work and the thoughtfulness she put into making our wedding ceremony so special.
---
Meet The Owner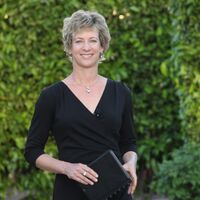 Liz O'Brien
I presided over my first wedding in 1994. Since then, I have honed my writing and speaking gifts, offering them to a multitude of couples in an enthusiastic, authentic, and meaningful way. Let me offer them to you, too. On a personal note, I am a native Tucsonan who has lived in Phoenix since 1990. I hold a B.A. and M.A. in Communication, and have nearly three decades of college teaching experience. Marrying my husband was unquestionably one of life's best decisions, so when I speak to you and your guests about love and marriage, I speak from my heart and experience. I love what I do!