Home

Just Jill Beauty & Wellness
About this Vendor
Providing superior makeup & skincare services
Just Jill Cosmetics brings to you luxury makeup & skincare services. Just Jill is dedicated to serving your wedding. Jill's approach to beauty is simple, yet classic which is evident in her work. Her knack for bringing out the inner beauty of her clients is the core of her makeup practice.
Details
Beauty Group Bookings, Hair + Makeup Trials Available, Hair Stylists, Airbrushed Makeup, Eyelash Extensions, Makeup, Makeup Artists, On-Site Hair + Makeup, Facials, Massage, Waxing, Spas, Spray Tan, Tanning, Beauty
Reviewed on

1/14/2016
Aimee C
I visited Jill in the year leading up to my wedding when a recently married friend recommended her. This was the best decision I made in all the planning that went into our wedding. She completely transformed my skin over the course of my visits to her; shrinking my pores,... Read More managing breakouts, and reversing multiple spots of sun damage! Throughout my visits to Jill we discussed the look and feel of makeup I wanted for myself and our wedding party (which she knocked out of the park). We settled on a more camera ready version of my favorite natural day-time look. She gave me the most wonderful golden smokey eye with beautifully framed brows and naturally rosy cheeks and lips. I definitely did not feel overly "made-up" despite my original concerns about air-brush make up. She did a flawless job and was even able to expertly conceal some severe scarring that one of my maid's was concerned about revealing. She was able to make three different generations feel beautiful in one day! On top of her artistry, Jill is one of the nicest people you'll ever meet. Her skincare room is something of a sanctuary and was a much welcomed calm within the storm of wedding planning. Her sweet pup Stella will cuddle up in your lap like an anti-anxiety super hero, and all your cares will melt. On my wedding day Jill brought that same peace and calm to my home as she celebrated with my party and I in the rituals of bridal beautification! She even helped me to sneak a few moments of silence amidst the buzz of family. On this most time-honored day, you couldn't ask for a better more professional artist than Jill Ventimiglia!
---
Do you want to have beautiful looking skin for your wedding?!?!
Reviewed on

4/22/2014
Just Jill Cosmetics not only did my make-up for my wedding party. She also help me get beautiful looking skin before my big day!! Jill has a holistic approach to face care and she took the time to inform me of the proper way to take care of my skin. She is knowledgeable and my... Read More skin has never looked so amazing!!!
---
Just Jill
Reviewed on

4/11/2014
Lindsey D
Jill did my wedding makeup and all I can say is WOW! I have never felt more beautiful and it stayed the ENTIRE day, despite all the happy tears! I also had my makeup done by her for my bridal shoot and was just as happy! One thing I love about Jill is that not only is her work... Read More amazing, but she is completely professional in every aspect. She's super organized and creates a beauty timeline for your wedding. I LOVED working with Jill and would definitely recommend her for any occasion!!
---
Reviewed on

10/30/2017
Caryn S
Choosing Just Jill for my wedding hair and makeup was one of my best decisions in this planning process. I was so thankful that it was affordable enough to get not only my hair and makeup done but my mom, bridesmaids, and flower girl done as well! Jill is so sweet and did such... Read More an amazing job making me and my bridesmaids look and feel glamorous without the makeup being over the top. Between Jill and her dog Stella there was the perfect calm atmosphere every bride needs the day of her wedding. Becky is a hair wizard and perfectly captured our personalities without even knowing us personally or seeing all our dresses. She even did a touch up trim on a bridesmaids bangs that had gotten an unfortunate cut elsewhere! Not to mention she was so patient with my flower girl being a total spazz while trying to get her hair done. Furthermore, I had a weird schedule to stick to on my wedding day and Jill made that happen for me when no one else I spoke with could! I am so incredibly grateful for all their hard work and they have my highest recommendation for anyone looking for a fantastic wedding team or skincare services!
---
Reviewed on

11/13/2016
Rosemary F
Jill and her team did an amazing job on our hair and makeup for the wedding. I had never done airbrush before, and was very pleased with the results. The hair was also amazing - I have had professional updos done many times, and this was by far the best. Just Jill made my... Read More bridesmaids, mom, mother-in-law and me look great for the photos. Very professional, responsive, and easy to work with. I also used Jill for facials and other treatments before the wedding, and her work is excellent. Thank you, Jill and Ashley!
---
Reviewed on

8/02/2016
Nichol F
I met Jill at the Bridal Extravaganza in Austin and I am absolutely grateful that I did. I ended up using her for my wedding and everyone look amazing. She was extremely patient through my trial and really wanted me to have what I wanted. The day of the wedding her and Ashley... Read More came and started right away and from the first person to the last person they all looked great. We had to do a few edits from the trial when it came to the makeup but Jill made the whole thing seamless and perfect. Ashley (hair stylist) was wonderful as well. I just let her decide on what she thought would be best since the weather kept fluctuating the whole day (rainy to sunny to humid to windy ... summer wedding). I would definitely recommend Jill and her team.
---
Reviewed on

6/29/2016
Carolyn L
Jill is absolutely amazing! I used her for my wedding hair and make-up and I couldn't have been happier. As soon as I spoke with Jill I knew she was exactly what I was wanting... someone who would make me look like me on my wedding day and not some overdone Barbie doll. She... Read More is extremely talented and amazing at what she does. Jill used her airbrush make-up and it lasted all the day and I mean tell the bitter end despite the 100 degree weather, outdoor pictures and hours of dancing. I got non-stop compliments, all day long, about how amazing my makeup looked. Due to the size of my bridal party, I was able to purchase a package which included 3 pre-wedding facials for me to help prep my skin for the big day. I loved this option as I felt more confident not only on my wedding day but about my skin in general. Another amazing bonus was that my bridesmaids all got free spray tans- which they absolutely loved. Plus, I loved that she was willing to travel to me for the wedding day prep. I would highly recommend Jill to anyone looking for amazing and natural looking wedding hair and make-up.
---
Radiant skin
Reviewed on

3/03/2014
Emlyn P
Jill did not do my makeup, but she did a series of peels before my wedding. My co-workers commented on how clear my skin looked before wedding day, and my bridesmaids also commented on my clear skin before I had makeup on! Go get your skin prepped an ready for your big day with... Read More Jill. I was seriously skeptical about peels, but they really helped with my skin tone and clearing up my minor blemishes.
---
Meet The Owner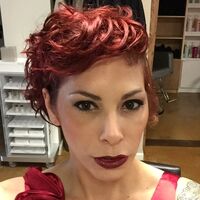 Jill Ventimiglia
Jill's approach to beauty is simple, yet classic which is evident in her work. Her knack for bringing out the inner beauty of her clients is the core of her makeup practice.