Home

Kakes By Karen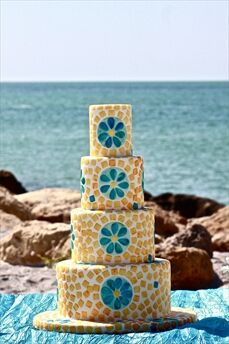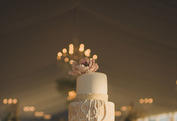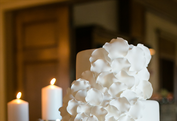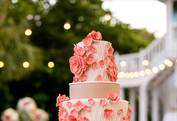 About this Vendor
Sweetening your special occasion
Amazing hand-elaborated, custom-made cakes baked fresh to satisfy each order. Karen specializes in the art of baking exceptionally delicious cakes, beautifully decorated in rolled fondant using traditional and contemporary techniques. Incorporating only the freshest, top quality ingredients, Karen t
Details
Contact Info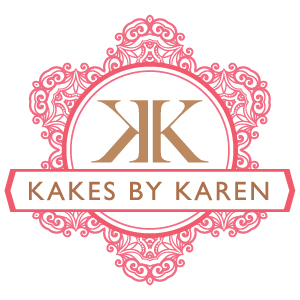 1030 Collier Center Way, Naples, FL
Delicious
Reviewed on

2/17/2014
Christina S
These cakes and cupcakes were absolutely delectable! She does such a wonderful job and everything and her staff is so friendly and hospitable!
---
Delicious!
Reviewed on

11/04/2013
melissa b
Kakes by Karen created a beautiful japanese cherry blossom cake. TShe has won so many awards and as soon as we went for our tasting - we were hooked. the cakes are all made fresh NEVER frozen and on your anniversary she will make you a mini cake fresh at no charge! Unlike any... Read More cake I've ever seen or tasted. Frosting all homemade too!
---
Beautiful!
Reviewed on

10/15/2013
Lisa R
I used Kakes by Karen based on many recommendations from other vendors in the Naples area and they did not disappoint. The cake looked beautiful and tasted delicious! They were very easy to work with and responded promptly to all inquiries. I highly recommend!
---
Reviewed on

1/22/2016
Emily S
Kakes by Karen and her team were absolutely amazing to work with during our entire wedding planning process. They took the time to answer each question promptly leading up to our big day. Our initial tasting was so organized and they really helped narrow down different flavors... Read More and pairings. I could not get over how beautiful our cake turned out the day of the wedding. It was PERFECT! Our guests continue to talk about how great our cake was. I highly recommend them to anyone getting married in the area! You won't regret it.
---
INCREDIBLE ART
Reviewed on

8/10/2015
josephine s
Made a big mistake first time around with my first wedding cake so I was not going to make the same mistake twice. Loretta Bridal Salon recommended her and given her resume, that's all she wrote! It was on the expensive side ($7.50 SLICE with a $500 minimum order) but well... Read More worth it! Her designs were so artful, guests asked if that was the real cake or were we eating something else. The cake flavors were overwhelming and a harder choice than the entrees but whatever you choice is you won't be disappointed. The fillings were all so decadent, and unique it was outstanding. Very flexible as they allow different flavors and fillings in each layer. You also get a fresh one year anniversary cake!
---
Reviewed on

7/15/2015
Kate P
Karen and Courtney of Kakes by Karen are professional, accommodating, and fun to work with! Karen created a gorgeous cake for my June 6, 2015 wedding on Sanibel Island. I chose a very specific design and a couple variations of cake flavors and Kakes by Karen delivered a gorgeous... Read More and delicious cake! Our guests had many good things to say about it, too--best wedding cake ever! Kakes by Karen also provided delicious red velvet cupcakes for my bridal shower. Again, excellent quality and service. I was extremely happy with the service and products I purchased from Karen and Courtney. They are top notch and offer superior custom cakes. I would recommend Kakes by Karen without reservation.
---
Reviewed on

6/01/2015
Denita B
Love! Love! Love! kakes by Karen. I now feel as though I am family with these awesome folks. We kinda hit it off from our tasting. They are the best, and most loving people to work with. The cake was awesome! super moist and delish. All the guest were happy, we had left over and... Read More my hubby took some to work for his team and they could not stop raving about how moist the cake was. Thanks guys for making our day very special and for being such kind and loving people.
---
Disappointment
Reviewed on

10/29/2014
Michael F
After all the reviews on this site and others, I am disappointed. The top layer was Styrofoam with icing that was not communicated. the cake was stale on the wedding day it was late being delivered there was no way for us to communicate with them on the day of the wedding. We... Read More should have went with the reception host suggestion and did a Publix cake. Do not make the same mistake we did. This is not worth the cost.
---
Karen makes beautiful cakes!
Reviewed on

4/12/2014
Lori C
Cake was beautiful! Tasted delicious! Guests were very happy and impressed!
---
Delicious Cakes
Reviewed on

10/28/2013
Ashley A
Kakes by Karen presented a beautiful cake from a photo that we had shown Karen. It was exactly what we wanted! I did not get a chance to eat the cake by everyone of my guests raved about how good each layer tasted. The Vanilla cake with nutella filling seemed to be the biggest... Read More hit! We highly recommend Kakes by Karen for anyone looking for a beautiful cake that tastes phenomenal.
---
Great Cake
Reviewed on

9/30/2013
Very nicely done. Great cake.
---
Delicious & beautiful!
Reviewed on

7/02/2013
Christina P
The cake was exactly what I asked for. Yummy! Karen was so great to work with, too!
---
Fort Myers Beach, FL Wedding
Reviewed on

6/02/2013
Johanna S
We did a destination ALL-WHITE beach wedding and wanted cupcakes for the special event. Everyone was very professional, knowledgeable, and creative when trying to figure out what we wanted for frosting and cake flavors. Everything turned out AMAZING and our guests raved on how... Read More the cupcakes turned out. We loved their service so much we decided to order another cake for my parents 40th wedding anniversary (which was the day after mine!). We weren't really sure how we wanted it to look or what flavors. There was no time to do another tasting and we live in Virginia! We explained the event and they were able to put together an elegant and meaningful cake that symbolized their marriage. Again, they nailed it and it was gone in an hour (lemon/raspberry, definitely their signature) Whatever you want in a cake they can do!
---
Delicious!
Reviewed on

4/05/2013
Charice B
Elegant and beautiful cakes and cupcakes! Karen is a creative artist and has the most delicious cakes I've ever tasted! We had a two-tiered wedding cake and 125 cupcakes in 5 different flavors. Our guests, even our photographers, said they were the best-tasting cupcakes... Read More they've ever had! Thanks Karen!
---
Moistest Cake Ever
Reviewed on

2/05/2013
Heather K
Our cake turned out fabulouse!! We had three different flavors which everyone enjoyed!! The design was beuatiful!!
---
Wedding Cakes
Reviewed on

12/03/2012
Amber V
Karen and her staff did an amazing job with our wedding cake. We were able to create just the look we wanted with a small wedding cake and then an assortment of different jumbo cupcakes. The cake tasting was amazing, and we received so many compliments on our cake/cupcakes and... Read More how delicious they were. Karen was also very professional, and got back to us with questions very quickly. I would recommend her to anyone looking for a special occasion cake in SW Florida!
---
Amazing cupcakes
Reviewed on

11/13/2012
scarlett r
Cupcakes were affordable and very moist! Great staff to work with!
---
THE BEST!
Reviewed on

10/11/2012
Joshua V
If you are getting married and looking for a cake/cupcakes, this is the only vendor to work with. She even sends you a cake on your 1st year anniversary. Very creative and detailed. Contact Kakes by Karen to receive the best service and quality! Joshua Minnesota
---
Wonderful!
Reviewed on

10/02/2012
Karina D
Karen was so wonderful to work with. She listened to what we wanted, answered all of our questions and was just generally great. The cake and cupcakes were delicious and we enjoyed them for the entire week following our wedding. She was able to make us a beautiful cake to match... Read More our vision and we were able to stay within budget. To top it all off, Karen went out of her way to deliver the cake and cupcakes to us the day of our wedding. Such a wonderful person and baker!
---
Karen does simply stunning work!!!!!!!!!!
Reviewed on

9/15/2012
Tonya L
Karen was an absolute dream. Our first meeting couldn't have been better - Karen's shop is adorable, and displays multiple examples of her exquisite work all around - you instantly get a feel for the artistry she brings to her craft. She is the sweetest, most friendly woman,... Read More completely open to all of our ideas, had great suggestions, and was able to show us many examples of stunning projects she had done in the past, so we had full confidence in her ability to create our concept. The final product was absoutly AMAZING! It broke my heart to have to cut into a masterpiece. Of course, the review wouldn't be complete without mention of the taste! During our first visit, Karen arranged a full tasting of her flavors - each one was truly to die for, and the hardest part of the process was deciding which flavors we wanted. Our wedding cake flavor was identical to the ones we fell in love with at the tasting. Thank you so much Karen.
---
Spectacular cake and delicious!!!
Reviewed on

6/10/2012
Allison W
Karen did an outstanding job on my wedding cake and being from out of town she made the process stress free. I was able to send her pictures which she then transformed into a sketch of exactly what I had envisioned my cake to look like. She was on point with all features down to... Read More the sand feature that I wanted with our initials and wedding cake. We were even happier after we met with Karen. She was so friendly and personable and I couldn't have picked a better person to do our wedding cake. Unfortunately I live out of town however, if I need a cake for any other event I would highly recommend Karen to all brides in and outside of Naples. Just check out her website her cakes sell themselves I am sure you will be wowed just like I was. After looking at her website one time I knew I had found my cake designer. Thanks again Karen!!!!
---
Karen is the best of the best!
Reviewed on

3/29/2012
Janell K
Karen and her staff are beyond talented and very highly recommended. Every experience we had with her, from tastings and picking out a design, to phone calls and emails were handled in a positive, professional, and kind way. She truly loves what she does and genuinely cares for... Read More her clients, obviously wanting the very best for their wedding day. We changed our guest count many times, ended up with a very early delivery time on Superbowl Sunday, and changed the amount of detail decorations and she always handled things wonderfully! She was great about working within our budget when I feel that any other baker would have told us what we wanted couldn't be done for the amount we could afford, but Karen was willing to work with us! She even ended up delivering a little more wedding cake than we paid for on our wedding day which worked out great because we were able to take a little home with us afterwards. :) The details on our cake were beyond what I could have ever imagined and you could see just how much time, effort, and LOVE Karen puts into her product. We chose a four tier wedding cake with red velvet & cream cheese, almond amaretto & almond buttercream, and lemon cake with raspberry buttercream. She even asked us not to freeze the top tier so that she could make us a fresh one to celebrate our year anniversary. We also had a fish shaped grooms cake made. The cake flavors were exceptional. The cake was moist and fresh and had just enough frosting to compliment the flavors without overpowering the cake. Karen definately knows what she is doing. The sugar flower work on our cake was breathtaking. I could hardly believe that it was even possible that she could make something like she presented us with. Everyone said that it was the most beautiful cake they had ever seen. Our grooms cake was also a huge hit. The colors were bright and fun and my husband could barely bring himself to cut the cake! I can't wait until the next friend or family members wedding just so that we have the opportunity to work with or try another one of Karen's cakes. If you are looking for a baker, look no further, Karen is the best you will find.
---
A+, Wonderful Experience
Reviewed on

3/29/2012
Amanda B
Kakes By Karen was great! From start to finish their work and customer service was impeccable. I received multiple compliments from guests at the wedding on how delicious the cake was too! I highly recommend Kakes by Karen, I promise they will exceed your expectations!
---
Talent beyond talent
Reviewed on

3/20/2012
Lindsey M
Karen and her team are absolutely beyond talented! They created our wedding cake and groom's cake which we both had a vision for; they made our visions come alive! Not only were the cakes perfection but they tasted amazing! Very professional and absolutely talented!
---
Delicious Masterpiece
Reviewed on

1/05/2012
Caitlin L
Kakes by Karen made our wedding cake and cupcakes for our guests and not only were they so beautiful to look at they were so delicious!
---