Home

Karen Hall and Company
About this Vendor
Indy's premier on-site hair and makeup provider
Karen Hall and Co. will meet every bride's need on her wedding day. Licensed cosmetologist and makeup artist for over 26 years, Karen Hall and Co. continually bring premier bridal beauty experience to the industry.
Details
Hair + Makeup Trials Available, Hair Stylists, Airbrushed Makeup, Eyelash Extensions, Makeup Artists, On-Site Hair + Makeup, Spray Tan, Tanning, Beauty
Contact Info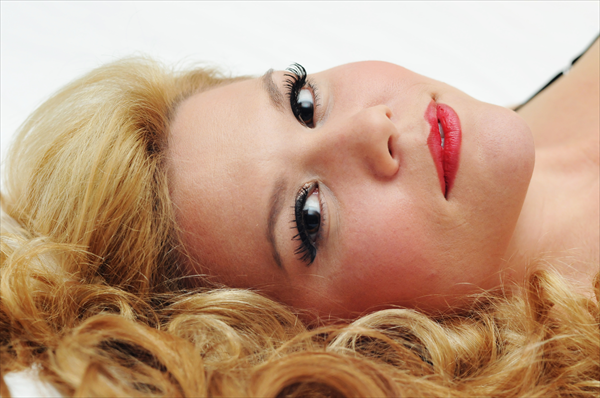 120 E. Market St., Indianapolis, IN
HAIR AND MAKEUP FOR MY WEDDING!
Reviewed on

9/16/2014
Tiffany W
I would recommend Karen and her team to ANY bride and wedding party. They exceeded my expectations more than I could have imagined. I received SO many compliments on my hair and makeup and how I looked like a Bride out of a magazine! It was amazing. My bridesmaids also looked SPECTACULAR. Karen and her team were prompt, on time, prepared and SO KIND. It made the day getting ready better than I would have imagined. SHE IS HANDS DOWN THE BEST HAIR AND MAKEUP COMPANY FOR WEDDINGS IN INDIANAPOLIS. I had a hair and makuep disaster in my trial and Karen saved the day by taking my wedding date on. I don't know how much more I can stress how HAPPY I am with Karen's services. PLEASE USE HER, I GUARANTEE YOU WILL BE HAPPY and SATISFIED. Thank you so much Karen and your team to making my special day even better than I imagined =) !!!!!!!!!!!!!
---
Karen and team are the best!
Reviewed on

10/07/2014
Kristen K
Karen, Dani and team went above and beyond to make sure we (bride, bridal party and moms) all felt beautiful on my big day. After an initial trial run that didn't quite match my vision, Karen insisted that I return for another trial so they could get it right. I'm so glad I came back because the second go around was all I could have hoped for and more! Karen and Dani took the time to make sure they knew exactly what I had in mind and they nailed it! I They are true professionals. On the day off wedding, they were prompt and created such a fun and relaxed atmosphere. Everyone was beyond thrilled with both their hair and makeup! I would encourage any bride to work with Karen and team. From my hair, to my makeup and even my airbrush tan, I felt beautiful and flawless and owe it all to Karen Hall and Co.
---
Karen is awesome!
Reviewed on

10/20/2010
Erin H
Karen Hall & Co. provided my on site hair & make-up for my wedding and they did a FABULOUS job! I've never felt more beautiful than the day I got married. Look no further, Karen & her staff are AMAZING!
---
Absolutely Amazing!
Reviewed on

6/08/2015
Monica K
Karen and her team were wonderful! We had a long day ahead of us and she along with her team came to our room at 7 am and stayed until 6 pm. She touched up everyone's make up and Dani touched up everyone's hair through out the day. Everyone was super friendly and all of the ladies looked beautiful. Many of the bridesmaids were nervous because they do not wear much make up. But they looked and felt great because the make up looked so natural but complimented everyone's best feature. My make up... was stunning. I was sad to take it off before I went to bed. I wouldn't hesitate to go to KHC again. If I lived in Indy, I would be tempted to go there for every occasion to have my hair and make up done!
---
Best Wedding Vendor Ever!
Reviewed on

10/16/2014
Kelli W
Karen and Leanna were the best hair and makeup team I could have imagined! I was so happy with my looks both for the trial and the day of! Great work, professional, and my family/friends loved their services. This is a no-brainer. Use Karen Hall!
---
Absolutely Wonderful!
Reviewed on

10/07/2014
Jessica C
I couldn't have asked for better! Danni did my hair and she was awesome. During my trial she took it down and redid it 3 times, until I was happy with it, then I changed it on her again the day of (I have a hard time making decisions!) And she never got frustrated with me and made my hair look amazing! Then Karen did my makeup and she is wonderful! She really made my eyes pop and the makeup lasted all night with no touch ups at all! All of my bridesmaids had their hair and makeup done and every one of them were happy with it.. Which is not an easy thing to accomplish with my group. I am so very happy with how everything turned out and I would change absolutely nothing if I were to do it all over again!
---
Amazing!
Reviewed on

9/19/2014
Karen is absolutely the best at what she does! She is the best person to book for your wedding day! You will look amazing. Dani does amazing hair! I have never felt more beautiful! They even do tans! I would recommend them to everyone!
---
Awesome!
Reviewed on

9/17/2014
Maria R
Karen Hall did my hair and make up for my wedding and he team did all my bridesmaids and my mom and MOL hair and makeup. Karen and her team did an AMAZING job. She does a great job listening to what you want and working miracles. Would highly recommend. She is very experienced and super sweet. I enjoyed working with her.
---
You want Karen to do your wedding
Reviewed on

9/11/2014
Anne H
Karen and her staff are incredible. I went for my trial, and they nailed it so I knew I'd have nothing to worry about on the wedding day. My hair and makeup even made my mom cry. We had 11 women getting hair and makeup done, and Karen organized the entire morning for us. Her staff were very professional and super nice about all of our requests. The makeup was stunning and brought out natural beauty in each one of us. The team stuck around until we were leaving for touch ups, making sure we looked and felt perfect as we were walking out the door. Could not recommend Karen enough! And also ask her about spray tans for that bridal glow, SOO glad I did :)
---
YES!!!!
Reviewed on

8/25/2014
Miranda M
I looked like a princess! Karen was wonderful and helped me cover spots on my face that I have been trying to cover for forever! HIGHLY recommend!
---
Awesome
Reviewed on

8/08/2014
Caroline S
Karen hall and co did an amazing job. I had 14 people needing hair and make up done before 11am. They came promptly to my house with 4 make up artists and 4 hair artists. All my bridesmaids, mother, and myself (bride) loved our hair and make up. I would 100% recommend her to anyone, for any occasion! Caroline Wedding July 26, 2014
---
Great team and great results
Reviewed on

7/15/2014
Amy S
Karen & team were great to work with. Karen is great and made me feel very comfortable. I was extremely happy with how my hair and makeup turned out for the wedding day, and my bridesmaids felt the same way. They really listened to what we wanted, and did their best to make it happen. Very convenient that Karen & her team came to our hotel day-of, and Karen was very knowledgeable about the venue. I'd definitely recommend Karen & her team to anyone looking for a great look and convenience on the wedding day.
---
Karen Hall
Reviewed on

7/06/2014
Kiley R
So happy I chose Karen Hall for my wedding day make up. I wasn't sure if I should go for the airbrush but I'm so glad I did. It looked flawless and still very natural. Karen listened to what I wanted and did such a great job. It was also so nice that she came to my suite day of so I didn't have to stress. Highly recommended!
---
Amazing make-up artist
Reviewed on

6/09/2014
Katie K
Karen Hall did an excellent job on the makeup for my wedding. I received so many compliments on my makeup. I had two areas on my face that needed some "concealing" and she did a wonderful job covering them up. My skin looked flawless! Karen Hall is a makeup wonder-woman! I would highly recommend using her for your wedding or special event.
---
Wonderful
Reviewed on

6/08/2014
Adrienne C
Karen and her assistant did an amazing job on my hair and make-up for my wedding! They traveled down (over an hour drive) to do the hair and make-up in my room. I already have some photos back and everything is perfect1 Thanks Karen Hall!
---
Disappointed...
Reviewed on

12/28/2013
Laura S
After loving my hair and makeup from the "trial run", I was looking so forward to my wedding day experience. Unfortunately, it was not what I expected! The stylists/artists were over 1 hour late arriving at our house, and a few NEVER arrived, because they had been at another wedding party appointment and were running behind schedule. I was a nervous wreck waiting for them, making phone calls to track them down, etc., when I should have been enjoying my wedding morning with my bridesmaids and family. Once some finally arrived, they were rushed to get everyone done and it was a frantic day. Karen worked on my makeup as the hair stylist worked simultaneously on my hair, which turned out messy due to the rush. It was nerve-wracking! We were 45 minutes late arriving at the church and missed some pictures as a result. My feeling is that Karen is overbooking brides, without the staff to handle the business. This is unfortunate since they are a talented group.
---
Better than I could have imagined!!
Reviewed on

10/05/2013
Lisa G
Karen and Dani and the rest of the team was absolutely excellent! Not only did they do a fabulous job on the hair and makeup, but most importantly, their personalities were awesome, a must have to ease your stress on the day of. I would unconditionally recommend their work any time you need any hair or makeup done!
---
Not Worth The Anxiety
Reviewed on

9/24/2013
Alexandra J
-only 3 of the promised 4 artists showed up -all artists were between 1 - 1.5 hours late -very unprofessional and very rude!! -triple booked my wedding date I contacted Karen around 7 months prior to my wedding, she was easy to schedule and I booked her for my 5:00 ceremony. I had a run through that went well, I didn't love the lips but she was happy to change it. I was slightly turned off that everything had to be paid for up front but went along with it given the great reviews. Karen did myself, my mother, and 6 bridesmaids. Turned out that Karen's team had 3 weddings that day... which really wouldn't be a problem if they had that amount of capacity. Karen and her team of 3 other artists were to show up at the hotel by 11 to do makeup for 8, finishing by 2. The first artist showed up an hour late, the other two (including Karen) were an hour and a half late. We left the hotel late and in turn missed out on time with the photographers that were waiting at the church. I was literally crying because I was so stressed. Not only was Karen's team late, they were also rude and told me my tears were not helping and I needed to pull it together. Not once did they apologize... makeup looked beautiful but the bad attitudes and tardiness made me truly hate the getting ready experience. I would have never believed a vendor could be so unprofessional... not worth it!
---
Outstanding
Reviewed on

9/02/2013
Valeri G
Karen was amazing, my make up looked great and lasted through my whole wedding! I looked like the most beautiful version of myself! Thank you!
---
Review
Reviewed on

8/18/2013
Courtney E
Karen Hall and Co did a great job with me and my entire bridal party. She helped calm my nerves and made me feel simply beautiful. Dani is amazing and is the most talented hair stylists I have ever come across- plus she is so sweet! My only issue was having to pay ahead of time, which was a lot of money for an entire bridal party and I was very skeptical of this. However, in retrospect, I am glad we did it that way so we did not have to worry about payment the day of the wedding. Karen is very busy and for a type A personality like me, it made me nervous; however , she was professional and organized and everything went great! Plus, you know she is good if she is that busy :) Her ability to make your eyes pop is unbelievable! I have seen a few of our photos already and the makeup photographed SO well!!! Our hair and makeup lasted all night. My groom said he had never seen someone so beautiful in his entire life, and that Karen Hall gets a lot of that credit! My bridesmaids all loved their hair and makeup as well. The only thing is to make sure you don't expect Karen to do everyone- she just does the bride. This ended up being fine as well but I think it could be more clear, because I know several of my bridesmaids wanted her. Their artists did fantastic as well, though. Thank you for making me feel so beautiful! It helped make it a day I will remember for the rest of my life.
---
a family affair
Reviewed on

8/15/2013
brittney w
Karen and her team did a fantastic job. I would hire them again.
---
I would use them again!
Reviewed on

8/08/2013
Shawnda C
They did a great job! The makeup was beautiful and lasted the entire day and night. I only had to touch up my lips and occasionally powder my nose. Everyone was very friendly and we had a lot of fun. They came to my house and helped make the morning memorable. The hair was also very pretty. In addition to me, they did makeup and hair on four people and did it quickly. I would definitely recommend them.
---
Highly Recommend
Reviewed on

7/27/2013
Emily C
Karen Hall and all of her staff were wonderful! They listened to what I wanted and were able to add additional people for both hair and makeup pretty close to the wedding date. Everyone looked beautiful as Karen has an amazing way of enhancing people's natural beauty without making them appear overly made-up. She also is genuinely a nice person and easy to talk to, and she seems to get a great sense of who her bride is and how best to provide her services so that it individualized and truly represents the person she's working with. At my trial appointment, she and her team did one test makeup and one test hair style and both were perfect for me. She absolutely got my vision right away. Overall, I had a great experience working with her and her team and I would highly recommend them for other brides and bridal parties.
---
Wonderful!
Reviewed on

7/19/2013
katie m
Karen and her team did a wonderful job with hair and make-up for myself and my bridesmaids. Everyone looked and felt great! I loved my hair and make-up and felt like the best version of myself. Karen and her team arrived on time and kept us on track, and I loved that they came to us. We all felt comfortable and relaxed with them. I would highly recommend them to any Indy bride!
---
Love Karen!
Reviewed on

3/06/2013
gillian d
Karen did an amazing job on my wedding day makeup! She is truly an expert and made me look amazing on my big day!
---
Send Message