Home

Kathryn's Bridal, Dress Shop & Invitations
About this Vendor
Kathryn's Bridal, Dress Shop & Invitation Studio
Kathryn's Bridal & Dress Shop is the area's premier bridal, special occasion & invitation destination. Our outstanding collection, personal service & attention to detail is what every woman expects & deserves. Our beautiful location will enhance your experience, & we look forward to assisting you.
Details
Bridesmaid Dresses, Flower Girl Dresses, Mother of the Bride Dresses, Wedding Dresses, Dresses, Alterations, Fashion
Contact Info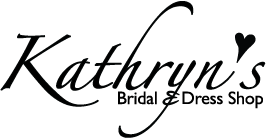 3807 W Elm St Rte 120, McHenry, IL
Kathryn's Rocks!
Reviewed on

12/15/2014
Maggie H
Kathryn's was my second stop for a dress shopping day with my "entourage." My first stop wasn't horrible but gave me the feeling that I wasn't going to find my dress. We walked in and I stopped by the check-in area and filled out the needed paper work. We were about 20-30 mins early and they took us early, which was great! My consultant was Lana and she was absolutely amazing! and that's an understatement! She got us all settled in and I described to her what I was looking for and off she went! I love that the dresses are all out for everyone to see. My group was a little bit rowdy and Lana did great with them. She understood our humor, joked around, but kept us on the right path so we didn't derail too far. She recommended one dress that was over budget but was on sale since it was a sample gown, I decided to pass. I tried on a few dresses and she was very honest with how something looked on me, which I value. I like the opinions of my friends and family but someone who works in the business is really going to know. After trying on a few great picks by myself and Lana and some not so great picks from friends and family she brought in the original dress she told me about. She let me know that with the discount it would be under budget so I gave it ago. It was PERFECT! I got in front of the mirror and just started to tear up. She brought over a veil and I knew it was the one. It was so beyond perfect, everything I said I wanted, and under budget! Lana hit the nail right on the head! And the fact it was the first dress she even recommended is amazing! I cannot say enough good things about Kathryn's and Lana! Thank you so much for everything, for dealing with my group, and for showing me it can be fun. The girls and I can't wait to book the bridesmaid appointment!
---
Superb Experience
Reviewed on

10/28/2014
Kristina S
When searching for my bridal gown, Kathryn's was my second dress shop. At Kathryn's, they let you go out looking at the different styles, ensure you stay within budget (I actually came in under budget), really take the time and work with you and they truly listen to your feedback. Anna was assigned in helping me find the perfect dress. Anna was extremely knowledgeable, attentive, patient, and really easy to work with. She would ask what I liked and didn't like with each dress and she would pull different options based on my feedback. Anna ensured her focus remained on me and what I was looking for. Anna suggested a dress based on all my feedback and it was the PERFECT dress. It had the right amount of detail, design, and sparkle. I truly didn't want to take it off and knew from the moment I put it on it was THE dress. I can't wait to see my fiancé's face the moment the church doors open and he sees me in it. It was surprisingly light and quite comfortable; I don't have any worries about wearing it all day and night! Anna had really great ideas when it came to accessorizing my dress, but wasn't pushy at all. Not only did I get my dress here, I purchased a belt to be sewn into my dress, my veil, and a tiara. I was quite pleased with Kathryn's overall. Kathryn's has a great layout that ensures you have enough room to view each dress on the rack. They had at least two designated large dressing rooms and viewing areas that accommodated my family that accompanied me, for wedding gowns solely. I was advised that the bridesmaids and mother of the bride areas were located on a different floor. They have a large collection of gowns to choose from and carry most designers. I went to two other bridal shops and have to say the customer service was the greatest here. Everyone I have spoken with at Kathryn's was extremely nice and friendly, but I can't thank Anna enough as she made the whole experience really enjoyable!
---
Kathryn's is the best!
Reviewed on

6/24/2014
Kali R
From the first time I walked into Kathryn's in McHenry, I knew that I was going to have a special experience. On my first visit, my consultant Laura and Kathryn, the owner, spent more than 2 hours with me to make sure that I would be 100% happy with the dress that I chose! While Laura pulled dresses for me, I was able to walk around the shop to look at the dresses. Ultimately, I told her what type of dress I was hoping to find, and it was the first dress that she pulled. I was nervous about sizes because I am a size 18, but they had plenty for me to try on! Even though I knew I found my dress early in the appointment, the ladies were patient with me as I tried others on to help confirm my decision. I love all of the personalized attention that I received, and I loved that there was only 1 other bride in the shop at the same time as me. The shop was clean and the fitting rooms were spacious and private. Everything was great! My dress was the easiest decision to make in the whole wedding experience! I purchased my dress more than a year before the wedding, and it came in rather quickly! About 2 weeks sooner than anticipated. They stored my dress at the shop for me without charging a storage fee, and without any problems. When I went for a fitting two months before the wedding, I found that I had gained some weight and my dress did not fit. Kathryn and Deb, the seamstress, did not make me feel bad about my weight gain at all! They encouraged me through multiple fittings, and I'm pretty sure they worked some magic so that it fit beautifully for my wedding! Deb even added some extra touches using extra material from the dress so that the bustle looked beautiful. I cannot thank Deb enough for making my difficult-to-alter dress fit perfectly! There were so many beads and so much delicate lace on my dress, but she did a fantastic job with the alterations. She is such a professional! In addition to my dress, I also purchased my veil and earrings from Kathryn's. They had a great selection to choose from at great prices, and I received a discount on top of that because I purchased my dress from the shop! Everything was of such high quality. There were no disappointments from this bride! When I walked into the church on my wedding day, I could hear people gasp at my ensemble. I felt so special and beautiful on my big day! Kathryn's made sure that I had everything I needed to look and feel amazing on my wedding day. They were the only vendor that gave me exactly what they promised, with genuine smiles along the way! Thank you Kathryn's for an amazing experience! Kali
---
Reviewed on

6/08/2015
Jen B
I had no idea what I was doing whatsoever when I went dress shopping for our wedding, we had been to a few other places first, and our last stop was Kathryn's. We worked with Lana and she was AMAZING! She knew what would work for my body type and what wouldn't, and when I asked her to be honest as far as what looked good and what didn't, she was, and I loved her for it. You could tell that she cared just as much about finding my dress for our wedding as I did, and she was in tears along with the rest of us when we found THE ONE. We were absolutely thrilled with our experience there, so much that we went back to her for the bridesmaid dresses, the flower girl dresses, rehearsal dresses, mother's dresses, and the men's suits as well. The ladies at Kathryn's take care of you like you are family and go above and beyond to make sure that everything is just right for you and your wedding. I wouldn't go anywhere else and have referred all of the fellow brides I know to go see them as well!
---
Fabulous Customer Service & Experience!
Reviewed on

5/11/2015
Allee P
I really felt like I was on "Say Yes to the Dress" when I had my bridal appointment at Kathryn's. Annie, my consultant, was the sweetest and really worked to make my experience great. I had another bridal appointment at another salon later that same day and it was absolutely horrible! Complete night and day difference. I highly recommend going here if you are looking for beautiful dresses that are not outrageously priced and would like to be treated like a queen while shopping.
---
Found my Dress!
Reviewed on

5/05/2015
Katie O
I had a wonderful time with Kathryn's finding my dress. I will say that their selection is really small, so don't go here expecting a warehouse of dresses. But it was the NICEST boutique out of the one's I tried in Northern Illinois.
---
Wonderful place to find a dress!
Reviewed on

2/07/2015
Morgan J
I went to Kathryn's Bridal on December 30th to look for a wedding gown. It was so easy and quick to make an appointment. I worked with Lana and she was wonderful! I told her my price range and what I was looking for and she found so many dresses for me to try on. She was never pushy, and helped to make it such a wonderful experience. She also has a talent for picking out belts and veils. The store itself and all of the other employees were great as well! I can't wait to go back there for my fittings!
---
Awful Service
Reviewed on

1/02/2015
Rachel K
Went in today to find bridesmaid dresses and the staff was RUDE RUDE RUDE!!! Awful service, unhelpful, and rude!! We will be getting the bridesmaid dresses somewhere else!
---
Friendly, Lots of Options, Wonderful Seamstress
Reviewed on

11/13/2014
Erica W
My whole bridal shopping experience at Kathryn's was great. I had an hour appointment and was given full attention the entire time. I had an idea of what designer and style I wanted already, which made it easier, but the staff was great nonetheless. I ended up buying the dress from Kathryn's and everything went great, the dress was delivered around the time they said it would be and setting up alteration appointments was easy. I LOVED my seamstress, Laura. She really helped me make the dress even more beautiful than it was already; she suggested to bustle a certain way and even fixed a bead that was missing on the sash that I had bought separately. I highly recommend this bridal shop, it's the best one that I found in the western burbs and Laura alone makes the drive well worth it.
---
A Family Affair
Reviewed on

10/20/2014
Theresa T
Kathryn's has the most amazing selection of gowns, I thought it would be impossible to choose just one. I was amazed when I found "the dress" - I just knew it would be the one I'd wear down the aisle. I will never forget trying on so many gorgeous gowns that day but absolutely falling in love with the one my sister chose for me. I wore the dress this June and, just as I had imagined, it was perfect. Kathryn helped me choose the perfect veil and accessories and my seamstress was wonderful. Kathryn also helped me find a complimenting bridesmaids dress and my attendants looked stunning. I wanted a timeless and elegant look and she helped me find all the perfect pieces. My parents and grandparents shopped at Kathryn's for my wedding and they were dressed to the nines! My dad and grandpa rented tuxedos and my mom and grandma got gorgeous new dresses. I can't recommend Kathryn's Bridal enough!!!
---
Kathryn's is simply the best!
Reviewed on

10/14/2014
Melissa K
My experience at Kathryn's Bridal was so wonderful! I chose to plan most everything with Kathryn's-- my dress, bridesmaids dresses, tuxedos, alterations, invitations and wedding accessories. I remember the night I said 'yes to my dress' I really thought I would wear a tulle ballgown- nothing says bride like tulle! But Kathryn pulled a lace mermaid for me to try and I had made up my mind. I felt so special to have Kathryn help me find the right wedding dress. I wanted to be sure my bridesmaids all felt comfortable on the day of the wedding. It was so nice to have the upstairs space to ourselves to make our decision without pressure. There were more than enough options for each of my bridesmaids to choose from. Plus the price point couldn't be beat. We were on a tight time frame. I was worried we would have to pay rush fees to get the dresses in on time. But I was assured there was plenty of time, even for alterations! When the dresses arrived, they were flawless. For the tuxedos we selected the Slate Blue tux right off the mannequin. This was totally different from what I went in wanting and anything I had been seeing, it was new and I was excited to do something different. The consultant helping me definitely caught my vision and was very helpful. All the men looked so sharp! I am not a do it yourself kinda girl. Therefore, I wasn't going to make my own invitations. Anna walked us through from beginning to end and it was so easy. And also within budget! Every time I was at Kathryn's, the consultants were so genuine and helpful! They truly did everything they could to ensure my day would be perfect. I loved being there and having my wedding experience with them. I will insist anyone getting married needs to go to Kathryn's.
---
Great time and I found my dress!!!
Reviewed on

9/11/2014
Maura B
I had a great experience at Kathryn's Bridal! My consultant Kelly was extremely helpful during my appointment and a pleasure to work with. I came in to the appointment without a clear picture of what I wanted but Kelly asked me some questions and helped me find "the dress". I didn't feel rushed during the appointment, was able to try on lots of dresses, many different styles/designers and price ranges. I didn't wake up the next morning with any regrets and cannot wait to see my dress when it comes in. The communication after my appointment to answer any of my follow up questions have been responded to promptly and have been professional. I'm also so happy to have been able to find my dress at a non-chain store and to be able to support one of my town's businesses.
---
Just Good
Reviewed on

9/03/2014
Heather L
Kathryn's was a good place for me to find my dress, but not great. Pros : Lots of variety to choose from, reasonable prices, and a pretty place for family and friends to sit and relax and watch you try on dresses Cons : It took 8 months to get my dress, which was never really explained to me. The women that worked there were nice enough, but some had a bit of an attitude that left a bad taste in my mouth. Also, I was unable to take pictures of any dresses I tried on until I agreed to purchase one. I hate this practice, because I had a lot of friends from out of town that I wanted to get an opinion from. Cons aside, I did get a beautiful dress at a very reasonable price. And that is what matters most, right?
---
Loved my dress!
Reviewed on

8/26/2014
Elizabeth D
Kathryn's bridal was a joy to work with. The staff was absolutely wonderful. I would highly recommend this shop. My dress was so beautiful and the staff made me feel special.
---
Highly Recommended!
Reviewed on

8/11/2014
Emily H
Absolutely loved working with everyone at Kathryn's! They were always there to help from the largest to the smallest details. Being able to get my dress, the bridesmaid dresses & invitations there was great- everything turned out amazing! I highly recommend Kathryn's to everyone.
---
Wedding Dress
Reviewed on

7/18/2014
April C
Lana is the most helpful consultant out there! She made my experience feel amazing!
---
Fantastic experience!
Reviewed on

7/17/2014
Stephanie F
I loved every minute of my bridal appointment at Kathryn's!! The staff is warm and welcoming and it's a very comfortable atmosphere. I was able to browse the inventory and pick out the dresses I liked. My bridal consultant was helpful and laid back which made the appointment a great experience. They have a HUGE selection and they are very affordable for the quality of dresses they carry. I wish I could do it all over again!! I had a wonderful time. You need to go there for your wedding dress experience!
---
Worst Service
Reviewed on

6/25/2014
Angela W
I had a bad experience here. The woman that was suppose to help me try on dresses didnt do much but tell me that the dresses I picked arent a good choice for my size. Im not huge but Im not tiny. Unless someone wants to be criticized on their size and what dress you pick I highly suggest to go somewhere else.
---
Disappointed
Reviewed on

11/19/2013
Briana B
I was very disappointed with my experience here. Upon arriving, they asked me to fill out a sheet that contained questions like my fiancé's name and our wedding date. I handed it back to my consultant. She glanced at my answers and then left to look for dresses. That whole part of it seemed very impersonal and awkward, I would have much rather had an actual conversation with her. My family/friends and I began to look through some dresses while she was gone and found a few I wanted to try (about 3 dresses). When she came back, we went into the fitting room and she left as I changed. Another lady helping my consultant came with a dress my family had picked out. I heard my consultant come up to her outside of the curtain of my dressing room. While she attempted to whisper, I could hear most of what she was saying. Something along the lines of "I can tell this is going to take a long time, we can't have them continue to be picking out dresses, I don't want this to take forever." EXTREMELY unprofessional. I felt like I was not wanted there and that I was wasting their time before I even began trying on any dresses. Definitely ruined the entire experience from the beginning. I fell in love with the first dress I tried on, but since I had never even looked at any before this I was very hesitant to make a decision right away. She was very pushy and wanted me to say yes before I left the store. We made an appointment to come back and get measurements taken the next day so that I could think about it (even though I felt like I needed more time than just one day). She held up the store's calendar/schedule and said, "Just so you know, we are fitting you in" as she pointed to how busy they were. I was a little offended by this, as I felt like I didn't even need to be fit in tomorrow and that I was actually doing THEM a favor by deciding so quickly. I ended up going to a different dress shop that day and ordering the same dress (for a much much cheaper price). I was very glad I didn't have to give them my business but could still get the dress I fell in love with! The consultant's name was Sue. The other lady helping her was very friendly, although I didn't get her name.
---
Love Kathryn's!
Reviewed on

8/04/2013
Kristin B
I bought my wedding dress and hair piece as well as my bridesmaids dresses at Kathryn's. The quality of everything was wonderful and the service was fantastic!
---
Beautiful
Reviewed on

8/02/2013
Elizabeth A
The Salon was GORGEOUS! The staff was so friendly and made everything so fun. It was a great experience and I found a wonderful dress.
---
Would never shop anywhere else
Reviewed on

6/23/2013
Tiffany T
This bridal shop is beyond the best. They gave us the wedding of our dreams! Everything was perfect
---
Charming Atmosphere and Great Value
Reviewed on

1/08/2013
Karen A
We visited Kathryn's to choose my daughter's bridal gown. She tried on several dresses and the one she chose turned out to be a sample that was priced to sell. We were thrilled. Kathryn's is a darling bridal store and you can have a very nice bridal experience there. They offer a large assortment of bridal gowns, jewelry and hair accessories. We purchaed her earrings and hair clip that day as well. I was VERY impressed with the reasonable pricing of the alterations. The lady who did the alterations really knew her stuff and was obviously very skilled. All in all very pleased with our experience.... the dress choices, the service and reasonable alterations
---
Very good!
Reviewed on

11/04/2012
Lauren L
Kathryn's was great, very helpful. However, I did see my dress at another store for less price
---
Not Impressed
Reviewed on

10/30/2012
Jaime G
Found my dress at Kathryn's during an Allure Trunk show. I was pretty happy with the discount. Of course when you try it on it's way too big and you hope for the best when it comes in. I live over an hour away from the shop so when it came in I did my best to get there ASAP. Made an appt to try on and get alterations to dress and the seamstress was suppose to be there. Guess what?? I take a Tuesday off work, drive and hour to get there only to find out there was some sort of "schedule conflict" and the seamstress was not there . But the woman helping us says " you can come back on Thursday". Unfortunately for them I took my dress that day and got alterations done elsewhere.
---
Send Message