Home

Kimpton Hotel Palomar Chicago
About this Vendor
The Art of Ever After
Surround yourself with a rare level of style and artful sophistication that exists only at the Kimpton Hotel Palomar Chicago. Our sleek urban sanctuary, elegant décor, encompassing windows, 18-foot ceilings, and outdoor terrace promise a memorable wedding unlike any other. Our award winning Chef is happy to help customize your menu to fit your vision for this milestone event! We also can accommodate your friends and family in our luxurious guest rooms and suites.
Amenities + Details
Amenities
Handicap Accessible

On-Site Accommodations

Indoor

Outdoor - Not Covered

Reception Area
For more details about amenities, please message the Venue.
Ballroom, Hotel, Restaurant
Bar + Drinks, Cakes + Desserts, Food + Catering, Service Staff
Contact Info

I LOVE Hotel Palomar
Reviewed on

1/30/2014
Jen O
All I can say is AMAZING AMAZING AMAZING - from the staff to the food to the ambiance, Hotel Palomar made our wedding day wonderful and stress free - had a delightful ladies brunch in the bridal suite...check out the rad zebra and leopard print robes - then cocktails and the... Read More most amazing dinner and dancing party ever. The service/attention to detail in the planning was incredible and perfect for my type A, way over-organized personality. We had a 3 month engagement and Palomar pulled it off with ease. Then when the time came, it went off without a hitch. Personnel at the hotel treated our guests phenomenally, accommodations were great and reasonable for guests particularly in downtown chicago. How they managed to cook 75 filets to perfection is beyond me but EVERY person came up to me at brunch the following day (yes - hosted at sable - delightful of course!) and said it was by far the best wedding food they have ever had...yes, everyone "says" this by my now Husband :) and I first looked at the palomar because Sable is one of our favorite restaurants...the chef at Sable actually does their banquets as well. The chandeliers, windows, and ambiance make it the perfect venue for dancing the night away. It is the perfect downtown setting and exactly what we were looking for.
---
Amazing food and decor
Reviewed on

8/04/2013
Kristy C
We had our reception at Hotel Palomar in July. Everything was amazing. The staff was extremely professional and helpful. Our guests cannot stop talking about how delicious the food and signature cocktails were. The room was decorated perfectly. We were extremely happy with... Read More every aspect of our wedding there.
---
Five Star Quality Service from beginning to end!
Reviewed on

7/10/2013
Nicole A
Alyssa and her team at Hotel Palomar brought our ideas to life for our wedding reception at Hotel Palomar in Chicago. The entire staff ensured that our wedding weekend went off without a hitch, and provided exceptional service. Alyssa is highly professional, incredibly... Read More friendly, and knows just how to put brides at ease with her confidence and experience. My husband and I highly recommend Hotel Palomar in Chicago for your wedding venue needs!
---
Reviewed on

5/21/2017
Amy S
I did a LOT of research for our wedding reception venue. The minute I met Alyssa, Director of Catering at Hotel Palomar, my search was over! Alyssa was a total Godsend for our wedding planning. And that was just the beginning of our flawless experience with Hotel Palomar. Every... Read More step in the planning process Alyssa and the team at Palomar were there to make things easy, fun, and memorable. They were also very accommodating to all of our requests. Many of our guests were coming from out of town so we wanted them to experience what downtown Chicago is all about. The location of Hotel Palomar couldn't be better in the heart of River North with a plethora of restaurants, bars, and shopping within walking distance. The ballroom is also amazing. It has floor to ceiling windows on three sides of the room so you get amazing city views, which was key for us. No stuffy conference room feel. There is also a balcony off the ballroom so your guests can get a breath of fresh air or take a break from dancing without leaving the party. Finally, the upgraded features that come standard with your reception package such as satin table linens and beautiful gold plate chargers make the need to decorate the space minimal. Bonus, the staff will set the tables with your décor. One less thing to worry about! The food!! I think our favorite part of wedding planning was our tasting at Sable - Trying all the amazing appetizers and entrée options and creating our signature cocktail. So. Much. FUN! The food is absolutely phenomenal. Definitely not your typical "wedding food". I can't tell you how many guests commented on how much they loved our meal. The bartenders bring the party! They were so much fun! Our guests LOVED Gonzalo and even took pictures with him. He can shake a mean cocktail! All of our guests continue to tell us how much they loved every aspect of our wedding and we couldn't agree more. The team at Hotel Palomar truly made our dream day a reality. If you're looking for a chic downtown wedding and to work with an A-team, Hotel Palomar has it all. We can't wait to go back for our next staycation.
---
Reviewed on

10/03/2016
Lori R
Overall, my husband and I are absolutely thrilled with how our wedding turned out. We will always look back on our day with extremely fond memories- it was magical. However, I want to give an honest review to those considering the Hotel Palomar for their wedding. Over our... Read More wedding weekend, we had planned two welcome events for those in town. One Friday night, and one Saturday night- both scheduled to take place in a private room in Sable (restaurant at the Palomar). The Friday night event was great-the reserved room was a perfect space for the gathering. Saturday night, hours before the gathering was supposed to start, the Palomar wedding coordinator informed us that we were getting kicked out of the private space, but we could "use the bar area". How were we supposed to let our guests know that the location had changed on such short notice? My relatives had to stand in the middle of a hot, cramped bar with nowhere to sit down and loud music playing. What made it worse was that I looked into the private room, and nobody was in it!! So upsetting. Most upsetting, though, were several requests we had specifically made were not followed through. We had asked for leftover food, cake, desserts to be packed up after the wedding. They were thrown away. We asked for there to be enough hors d'oeurves for cocktail hour. There weren't. We expected our Welcome Bags would be delivered (with an additional fee paid for delivery!)- a large number weren't, or were delivered too late for guests to use them. We were proactive in telling the coordinator at the Hotel what we wanted, and asking very specific questions. She would say yes, but not follow through. You expect things out of your control may not go your way, but not the things in our control that we had thought through carefully and requested.
---
Loved, loved, loved the Hotel Palomar!
Reviewed on

6/20/2014
Annie N
Hotel Palomar was incredible for our wedding! Everything was perfect and we have no complaints! The venue is wonderful and has a nice city feel to it with all of the windows – the balcony is a great feature as well. Our out of town guests loved the location since it made easy... Read More for them to explore the city and we loved the options nearby to host other events like brunches and the rehearsal dinner. Guest rooms were great as well. Since it is a smaller hotel, it was easy and fun to run into our family and friends throughout the weekend. Alyssa (the catering manager for the hotel) is amazing to work with - she was so on top of all of the details during the planning of the event all the way through the day-of execution. She was able to customize everything to fit our priorities and we felt like it was a very personalized event. The rest of the staff was amazing as well. Everyone from the front desk to valet drivers to the waiters and bartenders was so kind and helpful. We also enjoyed that we were the only event for the day since the hotel only has 1 large ballroom– it allowed all of the staff to really focus on our wedding rather than being 1 of many events like some of the larger hotels. We highly recommend Hotel Palomar to anyone!
---
Made my life easier!
Reviewed on

4/09/2014
Annie K
I worked with Alyssa at Hotel Palomar. Let me say...for the busy bride (and who isn't busy?!), Alyssa was a God send. She took care of everything and answered all of my tedious questions within 24 hours and never made me feel as though I was a burden. I'm sure she was dealing... Read More with lots of other brides, but she always made me feel like I was only one. Food...Sable catering. In a word. Amazing. Room...beautiful. Full floor to ceiling windows with views of downtown Chicago. Now, for the negative and the reason I couldn't give 5 stars. Valet parking is a bit of a nightmare. We had our ceremony in a church and the reception immediately followed, so we had a lot of guests needing to park all around the same time. My dad dropped my mom off at the door and then waited 50 minutes to get up to the valet. He missed the 1st hour of his daughter's reception! Part of the problem is the valet circle is VERY small, so I understand it's hard to get people in and out, but they also only had two people working.
---
Palomar Best Boutique in Chicago
Reviewed on

5/07/2013
Jennifer H
Sable caters the food and mixed cocktails for the wedding package and it all tasted as good/the same as it would have been served at the restaurant on a normal night. The staff at the Palomar was inviting, hospitable, and on point. Alyssa, the coordinator, was so organized... Read More and patient with all of our out of town family members. She also set up all the details for the reception I had planned so I did not have to worry about any of the set up on the day of the wedding. The staff was very helpful the whole weekend and I think we were all hugging when we left on Sunday!
---
AMAZING
Reviewed on

1/16/2013
Lindsey T
I can't imagine any other place but the Palomar to have our wedding. It was the most amazing day. Alyssa and her team went above and beyond our expectations. As the bride, I didn't have a care in the world on the actual day because Alyssa had everything under control. I was... Read More able to hang out with friend and family and take in every moment. The staff and the hotel were very professional and accomodating to all our guests. Guests kept commenting on how amazing the venue looked and how delicious the food was. We were planning everything from New York City so I had to trust and rely on the Palomar for all our needs (ambiance, tasting, coordinating with other vendors, etc) and they did not disappoint. I trusted Alyssa so much that the entire process was stressfree. I would recommend the Palomar a million times over. AMAZING!!
---
Beautiful hotel and stellar service!
Reviewed on

12/19/2012
Julia L
My experience at Hotel Palomar was great! I have to admit I was beyond frustrated when the previous catering coordinator, Kerry Craig, left the hotel and moved out of state a month and half prior to my wedding and neglected to tell me, however, her replacement Alyssa Alexander... Read More was a blessing! She was so interested not only in my wedding but getting to know my husband and I as a couple. She was extremely attentive to every need and never made me feel as though I was a burden. She was equally exceptional on the wedding day and ensuring things ran smoothly! On top of that, all hotel staff were polite and efficent as well. Great experience!
---
Dream Wedding
Reviewed on

7/19/2012
Jessica M
I recently had my wedding reception at Palomar Chicago. It was the most perfect day of my life. I have been showered with compliments from all my guests about how accommodating everyone is from the valet guys outside to the front desk to the wait staff! The room was... Read More beautiful, Kerry Craig, the coordinator, is on top of EVERYTHING, and it just couldn't have gone better. The food is DELICIOUS! You will feel pampered and like a true queen if you have your wedding at Palomar!
---
Gorgeous venue, great value
Reviewed on

4/05/2011
Peta M
The hotel opened under a year ago, so it is new, and sparkling. The Ballroom is gorgeous with 3 walls of window looking over the city to the west. Unlike many hotel restaurants, Sable Kitchen is foodie heaven. Our meal was amazing, and coordinator Kerry Craig was flexible in... Read More creating a unique menu and format for our wedding. The guest rooms are spacious and luxurious too. We were able to arrange a kid's lounge in the hospitality suite, which was a huge success. We got so much more, and the quality was much better that other venues at the same price. (Don't confuse great value with low cost though!) Certainly there were some minor glitches as all wedding have. Kerry worked hard to make sure it all turned out as we wanted. For a girl who really didn't want the same old "hotel wedding", I was really happy with the way the wedding turned out.
---
Great hotel with fantastic people
Reviewed on

11/20/2010
M S
Our wedding reception was at the Palomar in August and we could not have been more pleased. The rooms were all perfect for our event. Our cocktail hour on the 17th floor terrace provided great views of the city. Our reception room with balcony overlooking State St. was the... Read More perfect size and provided plenty of space for dancing, dinner and a lounge area for our guests to relax. The patio was a great way to take a break from the festivities as well. Many of our guests stayed at the hotel were big fans of both the rooms and the friendly and accommodating staff. We worked with Kerry Craig who was fantastic. She kept us informed about the hotel, as it was still under construction when we were doing planning, and worked with us to make sure everything was just they way we wanted. She was friendly and great to work with. The food also deserves a special mention because it was wonderful! Our guests raved about all the courses including the wonderful dessert bar at the end of the meal. Chef Terhune worked with us to make sure the menu was just as we wanted it. She was very friendly and flexible as we planned our day. Both Kerry and Heather checked in on us multiple times during our weekend, we can't rave about them or the Palomar enough. Our guests still compliment everything about the reception. We couldn't imagine a better place for our wedding weekend.
---
City Chic
Reviewed on

11/18/2010
Cherise B
I was a bit nervous as my fiancee & I had booked the Hotel Palomar for our September wedding site unseen! During the months before the official opening Kerry Craig kept us up to date with the progression & when it opened in April it far exceeded our expectations! The... Read More hotel itself is amazing but the ballroom....absolutely beautiful! From the gorgeous chandeliers to the amazing view of the city the Palomar Ballroom was a stunning backdrop for our wedding. The food was fabulous, we are still getting compliments! But beyond the esthetics and probably most important is the way both my fiancee and I and our guests were treated by the staff. It's stressful planning a wedding & Kerry kept in contact with us every step of the way. Not only was she professional and always on the ball but she had amazing ideas and references for venders that were just as wonderful. This is how great Kerry is-I met with her the afternoon before our big day and in going over last minute details I decided I preferred "silver" table frames instead of black....I would have been fine with it but she could tell I was a bit disappointed....she went out that night and purchased silver frames for me because she wanted everything to be perfect! If you are having a lot of out of town guests (we had approximately 40 of their rooms booked for the out of towners for 4 days!) this is definitely the hotel to check out. The valets, doormen, and desk staff knew most of our wedding guests names by the second day. I honestly cannot say enough about the beauty of the hotel, the amazing food, and the kind and professional staff! If you are looking to give your guests (especially ones from out of town) a fabulous Chicago experience check out the Hotel Palomar...you will not be disappointed!
---
The most beautiful hotel for a wedding in Chicago!
Reviewed on

11/18/2010
Andy C
What an amazing hotel! We had our wedding at the Palomar in October and it was beautiful!! The ballroom was stunning from top to bottom and the adjacent terrace allowed our guests to cool off after dancing. Not only is the hotel beautiful during the day, but the glows in... Read More evening. We took photographs on the 17th floor rooftop at night and the pictures were marvelous! And the food couldn't have been better! Everyone is still talking about the pasta station and mashed potato bar. Kerry Craig (Director of Catering) did such an incredible job and made planning for the wedding a breeze. We met with other hotels, but she was by far the nicest and most accommodating. Thank you Kerry!! You made the wedding flawless! And a special thank you to one of Kerry's staff, Gonzalo Vega. He was so friendly made sure we were comfortable throughout the day. He frequently checked in on our guests in the hospitality suite and kept everything running smoothly.
---
nrs
Reviewed on

11/18/2010
Nicole S
We had our ceremony and reception at the Palomar and could not have asked for a better venue. Kerry & KT were fantastic, the hotel was amazing and we are still receiving compliments on the food!
---
The first rooftop wedding at the Hotel Palomar
Reviewed on

10/04/2010
Nanette G
My wedding was the first rooftop wedding ever at this new Hotel Palomar. It was a spectacular venue for our wedding. It was 6:30pm on Friday August 27, 2010. The weather was perfect for our amazing wedding. This hotel is highly recommended!!!
---
Meet The Director of Catering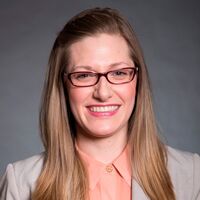 Allison Shuldhiess
With years of wedding event experience I am here to help create the perfect day for your and all your guests! From the moment we connect, through the planning process, and into the day of your event I am here to help advise, plan, and communicate all your needs within the hotel. You can rest assured that we will handle the heavy lifting so you can relax and enjoy your day!