Home

Kristen Kaiser
About this Vendor
Kristen Kaiser | Elopements + Weddings + Boudoir
Elopement, wedding, engagement and boudoir photographer based in central Illinois, but will happily travel to wherever your sweet love takes you. Focused on the candid and unplanned moments that are authentic, sometimes messy, but beautifully and uniquely you. Most of my clients become good friends because I don't just show up on your wedding or elopement day, take a few photos and jet! I get to know all of my clients, because knowing what makes your heart skip a beat and your love deepen leads to even more beautiful, meaningful images. A few of my favorite things: stormy days + Michael Scott + traveling + loud laughers + road trips + oldies music + camping + fruit + henna + trail running + mountains + open spaces + ginger
Details
Artistic, Documentary, Lifestyle, Vintage
Bridal Portraits, Day After Session, Engagement, Trash The Dress
Destination Wedding Packages, Destination Weddings, Digital Files, Online Proofing, Photo, Printed Proofs, Second Shooter Available, Social Media Sharing, Wedding Albums, Photo + Video

Contact Info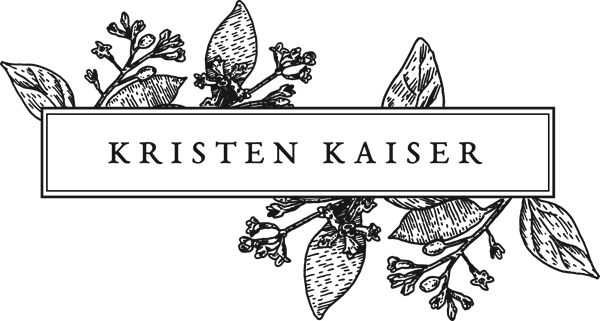 Reviewed on

7/30/2017
Natalie C
I first came across Kristen as a reference from a string of endless photographers that were either unavailable on our wedding date, out of our budget range or weren't able to travel to Northwestern Illinois. When I came across Kristen, she was one of the only photographers to be... Read More flexible with our date, budget and wedding destination. But one of the things that stuck out most to me during my first interactions with Kristen was her desire and passion to just capture us being us. Because after all is said and done, the wedding is planned and the day as passed, all you have left is your memories and your photos of you and your spouse and all the emotions that were flowing that day. Somehow, Kristen captured every single memory, feeling of joy and pure love perfectly in her each photo. I could go on and on about how amazing each shot was and the endless compliments we still receive on all our photos, but no amount of words will be able to describe the beautiful work-- you'd have to check her work out for yourself. And while there are many other photographers out there who are beyond talented, there is only one Kristen who's heart is made of gold! She cares for her clients more than any of my other vendors could have dreamed about. From your first email to the engagement session to the wedding day to 2 months post the wedding, she continually follows up with you to make sure you're happy and stress free because she CARES. It's more than a client relationship, she makes you want to be her friend, stalk her Instagram and hangout on weekends to binge watching The Office--because she's that cool. We are just so beyond bless and excited and grateful we choose Kristen (and she choose us) for the best day of our lives and we're so excited to continue working with her for all our future sessions!! I just feel bad for anyone who doesn't get her as their photographer!
---
Reviewed on

5/12/2017
Ali + Cam H
Everyone desires to have their story told in a way that truly portrays the value + emotion of their life at a given time – and ours, in this season, happens to be a story of redemption, freedom + love. We had seen, followed + admired the work of photographer Kristen Kaiser for... Read More over a year + had fallen in love with her talent. The way she tells stories through her lens is remarkably captivating + there was no question that we wanted our day to be captured + shared through her perspective. Now, if you're soon-to-be married folk then you probably know it would benefit you to not only have a "plan A" but a B, C + D… for the just in case scenarios. We didn't do that. Then again, we had a small, intimate wedding with about 10 family members present… what could go wrong? • A "winter storm" shut the city down • Hair stylist for the Bride cancelled 5 days before wedding • Groom-to-be visited the ER + walked out though the doc wanted to admit him to the hospital the day before the wedding • Cake vendor cancelled DAY OF • Brunch vendor cancelled DAY OF Plans and expectations changed due to conditions out of our control, therefore I had to be realistic in thinking that if a local vendor has to cancel due to inclement weather conditions, I seriously can't expect my photographer to travel to Central Alabama from Central Illinois. But she did - along with her second shooter. Multiple flights cancelled + a spontaneous road trip later… they showed up. This spoke VOLUMES! Not only are Kristen Kaiser's photographs a true work of art, but the integrity + client-centeredness of their business is unsurpassed. From the skype coffee date to the unpacking of my wedding photos in hand, the experience was a relaxed, fun + exciting one. We knew we weren't just 'hiring' Kristen, but choosing to make an investment... in us, for our day. Our wedding day photographs are a treasure. Now those precious once-in-a-lifetime moments aren't just memories running through our minds but moments captured. Tangible reminders of… redemption, freedom, + love. Our story was a story well told. #kudosforkaiser
---
Reviewed on

1/10/2018
Mary H
Finding the right photographer was the most important decision to me when planning for our wedding. I wanted our pictures to be a real reflection of our day, to help us remember it forever. Kristen captured every important moment, as well as details I never knew I wanted, but am... Read More now so happy to have! Having her there made us feel relaxed and nothing felt forced or too posed. I could not be happier with our photos- I have looked at them every day since our wedding and I always notice a new beautiful detail. I would recommend Kristen for any event and I hope I get to work with her again some day.
---
Reviewed on

12/13/2017
Chelsi A
I would 1,000% recommend Kristen for any and all of your photography needs. We had her for our wedding, but we plan to book her in the future if we are ever going to do professional photos for anniversaries. I think the fact that we want her to capture every big moment in our... Read More lives past our wedding says volumes. Like most people, neither my husband and I are naturals in front of the camera and in a lot of cases the photos suffer because of it, but Kristen and her husband Eric make you feel so relaxed and at ease that you kind of forget that they're there pointing cameras at you. This is how they are able to capture the most beautiful and real moments. All while making you look incredible, of course. Seriously, do yourself a HUGE favour that you'll never ever regret and book her now.
---
Reviewed on

12/09/2017
Sarah T
I first met Kristen back in mid July when I spontaneously decided to drive 7 hours to Devils Lake to attend a photography workshop she was teaching. She was an absolutely amazing teacher, and her work was so unreal, and I knew then I wanted to keep in contact with her about... Read More photographing my elopement. Little did I know, the elopement I had been planning for next year would be moved up drastically by my fiancé's decision to join the USMC. I reached out to Kristen right away because everything was changing so fast and suddenly, and I knew she would be able to help me. And she definitely did. She helped me plan out our photos completely last minute and spur of the moment. She reassured me, directed me, and helped me through some of the most stressful weeks of my life as we waited to figure out how our lives were about to change forever. When it came to the actual day of the photos, Kristen and her husband Eric were amazing. The last thing you want to be on such a special day is stressed, and with the two of them there, my fiancé and I spent the whole time laughing, joking, and reminiscing on our love for one another. And now, actually having the photos in my hands to look at, I am in so much awe of what an amazing job she did. Every time I look at our photographs, I feel everything from that day all over. Which is a truly amazing feeling. The cold air, the nerves, and all the love. In the end, you HAVE to pick a photographer whose work moves you. Speaks to you. Someone you can get along with. Someone who will be a friend. And I know that person will be different for everyone. But for me, I couldn't have found two more perfect souls to accompany us on the beginning of this adventure. I will be forever grateful. Thank you guys a million.
---
Reviewed on

11/17/2017
Barbara E
When my husband and I decided to elope in Chicago, I felt completely lost booking a photographer because there are so many to choose from and I lived in a different country! I enlisted my wedding photographer friends to find someone for me, and they raved about Kristen's work.... Read More Even though all of our correspondence before the big day was through email, I felt like I had already met her and made a new friend because her genuinely warm and caring spirit was shone through in every email. When it came to the day of our elopement, Kristen was FLAWLESS! I was worried that having a photographer might put a damper on our elopement because my husband dislikes having his picture taken, but Kristen reassured me that she loves authentic moments, and we'd never hear, "look at the camera and smile." She was right!! Kristen's playful yet relaxed and professional vibe was just perfect for us to stay in the moment and not be distracted by having our pictures taken. We adore the final photos. Kristen's work precisely captured the excitement and happiness of the day!
---
Reviewed on

10/30/2017
Jessi I
I don't feel there are enough adequate words to express just how AMAZING Kristen and her husband Eric are! They were the most encouraging, kind people on our wedding day, not to mention, they are extraordinaryly talented behind the lens! The images that we've received have blown... Read More us away and were truly beyond what we could have ever imagined! If you want a genuine, down to earth, fun loving couple to hang out with on your wedding day and get bad to the bone images on top of it all, book these two! They are ROCK STARS!!!!
---
Reviewed on

9/22/2017
Laura M
Kristen and her partner were so great. They shot my sister's wedding last weekend and already have a beautiful collection of completely edited and stunning photos (that's super fast, right??). They were also very laid back and easy to work with + very comfortable to be around.... Read More Would totally 100% recommend to any couple looking for unique and timeless photos.
---
Reviewed on

8/04/2017
Julie W
Kristen took pictures of our husband and I a few years after we got married (we had a different photographer for our wedding and we were NOT happy with the quality we received). I didn't even want to print our wedding photos to display in our home... now we have beautiful... Read More artistic images that we're proud to be able to see daily and show others. She truly does beautiful work, and makes sure your final images are ones that are flattering and dynamic. Thank you, Kristen!
---
Reviewed on

5/09/2017
We could not be happier with our pictures!
---
Reviewed on

5/09/2017
Devyn F
"Picking Kristen to photograph our wedding day and the moments leading up to it was one of the first and best decisions I made regarding our wedding. The minute I met with Kristen I KNEW she was the one we wanted to be a part of our wedding! She was so relaxed but focused, and... Read More was more than a photographer. She was a friend, a fresh eye to give wedding thoughts, someone I could count on and trust. When Kristen took our engagement photos we instantly felt so comfortable, she didn't make us do weird or cheesy photos. She simply captured us in our element, just loving and interacting with each other. Leading up to the wedding she created our timeline, helped me decide times for ceremony, pictures, sunset pictures, everything. She was never pushy or bossy, always very loving and encouraging with her advice. The best part was I fully trusted her, because of that I felt no stress going into the big day, because I knew she would take that on for me. I am so thankful we chose her and now I have a lifelong photography friend, which always comes in handy! Even looking back a year later I am in awe of how beautifully she captured our day and I will remember that beautifully forever."
---
Reviewed on

5/08/2017
Erika A
Kristen is truly the best, ever! Her work reflects her unique style beautifully, while capturing true love and intimacy. We were so lucky to get to work with her, and I definitely recommend Kristen to anyone!
---
Reviewed on

5/08/2017
Kristen was so great and I would love to book with her again! Booking the session was easy, she responded to questions promptly and was not only very professional she makes you feel totally comfortable in front of the camera! Not to mention her work is absolutely beautiful!
---
Reviewed on

5/08/2017
Ashley M
Kristen was super easy to work with and took amazing photos for our engagement session. My favorite part about working with her was that she was willing to step outside of her comfort zone and took some of our engagement photos in a gymnastics gym- not your typical setting! She... Read More definitely rose to the occasion. I would absolutely recommend her, and would be happy to work with her again.
---
Reviewed on

7/26/2016
Kaitie R
I initially reached out to Kristen because I wanted to gift my fiancé with something I knew he'd love—boudoir photos. I had been following her work and knew she was the perfect person to shoot something so intimate. However, as Kristen and I communicated about the shoot, she... Read More transformed my perception of the session completely. I went from thinking about the photos as something only for my fiancé, something I was happy to do for him, but something I was nervous about nonetheless— to viewing this opportunity as a celebration of my body and femininity. During the shoot, I felt so comfortable with Kristen, even shooting a few photos completely nude, because she was so professional, complimentary and overall, just made me feel beautiful. The photos she shared were so tasteful and artistic to the point where I was showing my girlfriends (and anyone who mentioned boudoir photography) because I loved them so much, as did my fiancé when I gave him an album before our wedding. I have recommended Kristen to anyone and everyone who has even mentioned boudoir photography in my presence because I absolutely loved working with her and treasure the photos she created so much.
---
Meet The Owner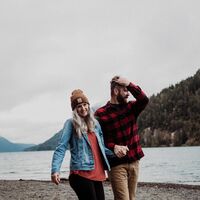 Kristen Kaiser
Oh hey! I'm Kristen. I'm a lifelong midwesterner from Illinois who is sarcastic, easily distracted, and loves connecting with new people. Three years ago I married the quirkiest and most wonderful human being I've ever met. When we're not shooting weddings together, we LOVE to travel and explore new places. Some of my favorite things in the world are re-watching The Office, ginger in any form, music, being barefoot, watching the sun rise and set, and anything outdoors. I quit my corporate gig a couple years ago to travel around the world documenting couples in love and I couldn't be happier.