Home

Kristin Ashley Events
About this Vendor
Kristin Ashley Events
Creating St. Louis weddings that specialize in a Midwestern vibe with a big city twist.
Details
Getting Engaged, Rehearsals + Parties, Wedding
Day-Of Coordination, Full Service Wedding Planning, Planning
Contact Info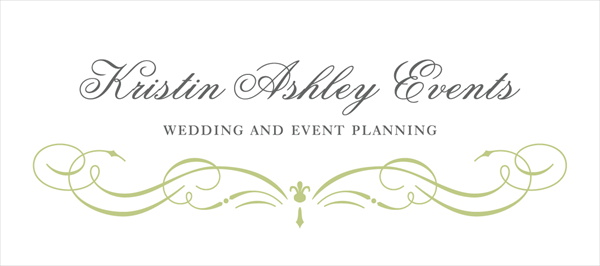 So Impressed!!!
Reviewed on

2/25/2014
Vivian C
I hired Kristin Weis of Kristin Ashley Events for day of(or month of) coordination. It was the best decision I made with this wedding. I wanted to do a lot of the planning myself, but knew that I was going to need someone to coordinate everyone on the wedding day. Kristin was fantastic!!! She was always very professional. She had great ideas, and lots of advice and recommendations of other vendors from the moment I talked to her 6 months out. She was very easy to contact, and answered all my questions so quickly. She was always friendly and upbeat. If I had it to do over again, I would have hired her to plan the whole thing!!! On the day of the wedding, she and her team were on top of everything. She even had arranged some surprises, which my husband and I thought was so sweet, and such a personal touch. The best part of the day was that my husband and I didn't have to worry about anything, because Kristin was always one step ahead of us. They were putting out fires, keeping the wedding party and our families in line and where they are supposed to be on time, and on top of every last minute detail. Kristin Ashley Events is a top notch wedding coordination team that I was so lucky to have in charge of our big day!
---
Wonderful experience!
Reviewed on

2/07/2014
Katharine P
We had a great experience with Kristin. My husband and I were a total mess when it came to planning our wedding - we were really behind. Kristin got us on track immediately. She understood our vision and made it happen. The two most helpful things she offered were (1) connecting us with vendors to make our dream ceremony and reception come to life and (2) taking care of absolutely everything on wedding weekend. The vendors Kristin found us perfectly fit our needs and our style - we'd never have found many of them on our own and we loved all of them. Day-of, Kristin and her team were magical. They ran interference with family, made sure everyone was where they needed to be at the right time, and that the reception was set up exactly the way we had hoped. I plan events for a University and know how much hard work goes into the little details and making an event seem flawless. At the end of the night, I realized I hadn't had to stop and think about anything and for someone who is OCD, that's a big compliment. Kristin Ashley Events is incredible and the service is absolutely worth the cost.
---
Type-A personality's dream wedding planner :)
Reviewed on

10/22/2013
Laura K
Kristin and her team were amazing! We hired her for the month- before package because my mom and I wanted to plan most of the event together, but wanted someone to help us tie up loose ends and execute the day without our type-A personalities worrying. She allowed us to be a guest at our own wedding and run the entire day without a worry in the world! She and her assistant even sewed a bridesmaid into her dress because her zipper broke when she was putting on her dress before pictures! She tko care of so many things for us and I would recommend her to anyone!
---
Reviewed on

7/14/2015
Jessica O
I hired Kristin and her team as our month of coordinator. That was the BEST decision we made!! Kristin and her team helped ease the stress of the overwhelming to do list that often comes during the month of your wedding. In addition to being helpful the entire month - Kristin also made our wedding day go off with out a hitch and was a big piece in making it our Best Day Ever! We are so grateful for Kristin Ashley Events and all they did to make our special day and the time leading up to it so very perfect.
---
The Best Money I Spent On My Wedding
Reviewed on

7/01/2015
Mollie S
Hands down, the best money I spent on my wedding was for Kristin and her team. I really don't know how I would have done it without her. While I did not pay for a full planning, only the month of, Kristin also has a great package where she will recommend vendors for you based on your budget and what you are looking for, set up meetings with a few of them for you, and help you work out the contracts. This was invaluable. We got married in St. Louis, but as I am not from there, I had no idea as where to even start looking for wedding vendors. Even if you are from a city, I cannot recommend this enough. You only get married once, but Kristin and her team does this every day. She helped us find and AMAZING team of vendors which truly made the wedding as special as it was. We worked with the nicest people who were all about giving us the wedding we wanted, not about doing what they like to do. Kristin also helped us put a budget together and was a great help in helping my parents and I understand what the range of prices were for things and what we cared most about. Although the real work didn't kick in until 6 weeks or so before the wedding, Kristin was there to answer questions and give us suggestions the entire way through. Starting 6 weeks before the wedding, Jessie became our main planner and we could not have loved her more. She was so professional and made the entire day run so smoothly. She was in touch with all of our vendors, she made a detailed schedule, and she was there to help with all of the hiccups that come with a wedding (like uninvited guests). Jessie came to our run through and made sure that we were all on the same page, and took all of the extras that we wanted put up on the day of the wedding. On the day of our wedding she was there for over 15 hours, and there was not a hitch in anything. We had a beautiful, fun, amazing day because of Kristin and Jessie and the whole team. We owe all of the amazing vendors to Kristin's recommendations and the smooth perfect day to Jessie's professional planning. If I have one recommendation for brides, it is to get a planner, and I could not recommend Kristin Ashley Events more.
---
Reviewed on

7/01/2015
Rachel L
Kristin was so amazing!! I was a bit worried during the planning process because sometimes she was slow to answer emails, but I shouldn't have worried at all. She handled everything that came up during the day, which let me relax and enjoy it. She did an amazing job with our wedding which was fairly complicated logistically. She has such a great energy and can literally do everything! She taught an excellent yoga class in the morning and helped me with my make-up. She is everything you want in a wedding planner.
---
Reviewed on

6/27/2015
jill a
Kristin is the absolute best wedding planner! I hired her for the full wedding planning experience and wow did she deliver! She did all the leg work, set me up with the best vendors and venue... co-designed the whole look and feel of the wedding and OMG was it gorgeous! Couldn't have done it without her!! Definitely worth it. She was there for the day of coordination and even led a "morning yoga" session in the AM to put me at ease and calm my mind for the day. It was fabulous! Everyone said it was the best wedding they have ever attended! I am bias, but totally agree! They were all so impressed with Kristin and you will be too!! She is a gem of a person and the perfect combination of planner, advocate, designer and friend! Bravo Kristin and Team! You nailed it!
---
Making Unforgettable Moments and Memories
Reviewed on

11/10/2014
When my husband and I were first engaged, one of the first decisions we made was to hire a wedding planner. But who do we choose? I did my research, poured over St. Louis magazines, reviews, and kept running across the same name over and over... Kristin Ashley Events. When we met for our initial interview, there was absolutely no hesitation in signing a contract with Kristin. Rather than repeating the reviews already here, because they're all very true, I'll keep it straight and to the point. I gave Kristin and her team just a few ideas of our vision and she created an unforgettable moment in our life. Kristin isn't just a wedding planner... she truly creates moments and memories. I don't just recommend a wedding planner, I recommend Kristin Ashley Events.
---
Worth the cost!
Reviewed on

10/29/2014
Nisha S
We hired Kristin Ashley Events to help with month of wedding planning. Initially, we weren't sure if we wanted to spend the money for a planner - but as we started our planning - we realized we needed someone to help with last minute details/planning. We looked at a few wedding planners and decided to go with Kristin Ashley Events for her month of planning -- and it was a great decision! She was so helpful with those last minute details and helped to take the stress off of me and my family. She helped with our wedding day timeline and other things that I didn't really want to worry about the week of my wedding! Would highly recommend her!
---
A great experience!
Reviewed on

10/29/2014
ANNE C
We chose Kristen Ashley Events to help with our daughter's wedding and it was a great decision. We chose the full coordination services so we worked with Kristen for almost a year. She is knowledgeable, professional, fun and personable! What we liked best about Kristen was that she really listened to what our future son-in-law and daughter's vision was for their wedding and she did everything possible to make sure they had the wedding of their dreams. She far exceeded our expectations and the wedding was wonderful! Our daughter lives out of town so her planning time was limited. Kristen organized our visits to make the best use of that time. Her vendor knowledge and expertise were awesome. She gave our daughter plenty of options but not so many that it was overwhelming. Everyone commented on the day of the wedding about how smoothly everything ran. That was due to Kristen. Even when little issues came up, she and her staff handled them beautifully. We felt that having Kristen there really allowed us just to enjoy the day! We would highly recommend her!
---
Excellent!
Reviewed on

10/08/2014
Laura G
I really enjoyed working with Kristin! She made sure everything went smoothly on our big day, and the months leading up to it! She is kind, professional, organized, and very passionate about weddings! I would recommend Kristin Ashley Events to any bride-to-be!
---
I LOVE KRISTIN!!!
Reviewed on

10/08/2014
Laura I
Hiring Kristin as my "month of wedding coordinator" was definitely the best decision I made during the wedding planning process! In addition to being super laid-back, fun, and crazy cool, she is hyper-organized and always in control (not a typical combination.) Kristin has incredible event design experience as well… I didn't think of this before my wedding, but having a planner with a "designer" background, is absolutely necessary. Not only will they facilitate your event, they will meticulously create your vision down to the last detail. My wedding went seamlessly thanks to Kristin's help, guidance, support, and friendship! If you want a beautiful wedding and do not want to be stressed out throughout the process, hire KAE!!!
---
Do yourself a favor...
Reviewed on

7/28/2014
Jillian K
And hire Kristin! Where do I start? Hiring Kristin as our wedding planner was by far the BEST decision we made when planning our wedding. When planning I had this visual in my head but didn't know how to make it come to life. I wanted to remember every second of our day, I wanted it to be all about Greg and I, and I didn't want to have to worry about one thing. Every single one of my "wants" came true not only on our day but through the entire planning process. She was extremely professional, patient, caring and knowledgable! I will close with this quote my Maid of Honor said to me the very next morning afterour wedding... "I always thought wedding planners were a waste of money but Kristin was money well spent! The day was literally flawless and super organized! I didn't have to do anything! Everyone should hire a planner and not just a planner, HER!" I couldn't have said it better! With love, Jillian
---
Kristin saved my wedding!!!!
Reviewed on

7/08/2014
Megan Q
From day one, Kristin was amazing! She kept ALL the stress out of wedding planning. She assisted in choosing all of my vendors. She gave me 2-3 options of vendors that she had worked with then I was able to research each and make a decision. She made sure all of the little details were taken care of and PERFECT! I knew she would make sure my wedding was perfect and she did! I'm a little bias, but it was the most beautiful event I have ever seen! Now, on to how she saved my wedding. I had an outdoor tent wedding in June. I made the mistake of thinking that IF it rains in June, it'll just be a little shower... Boy was I wrong! A severe thunderstorm rolled through just as guests were taking their seats. (Luckily their was a large pool house on property so we were able to take shelter as the storm rolled through) As the wind howled I heard glasses breaking, saw napkins flying, and realized quickly all of the beauty that Kristin and our vendors had created, was quickly being blown away. I went in the pool house knowing that my tent would be a wreck and who knows what would happen with the rest of my wedding. Little did I know, Kristin and my AMAZING vendors (that she had recommended) were out there being battered by rain, risking their own safety to save my day. 2 hours later, when guests were allowed back out to the tent, it looked as perfect as it had before the storm came. It was as if nothing had happened. Our day could have been blown away by mother nature, but Kristin stepped up, and saved our day. Even with a storm that would have ruined most people's perfect day, I still had the most beautiful wedding day. I look back on that day as the most perfect day, and I owe that to Kristin. Please, please, do yourself, your husband and your wedding a favor, and choose Kristin. She is the absolute best money we have ever spent, and the best decision we ever made. We love Kristin, and so will you!
---
A DIY'ers dream come true!
Reviewed on

8/04/2013
kara r
My fiance' and I hired Kristin to coordinate our wedding, choosing her "month of" package. I planned a cocktail and dessert only reception in an outdoor space in July that was full of my DIY projects, Etsy purchases and a "vision" that was definitely not traditional. We wanted an awesome party...not a typical reception...no slow songs at our affair! Kristin was in and fully supported our decision and worked her butt off all day. I felt like we became friends! She was super personal, laughing and joking with me and my family and supporting me when my own family was not thrilled with our reception idea. She put up all of the decorations and made some command decisions to spice up the space; it was perfect. I would use her again and again if I had to get married a few more times and will recommend her to everyone that I meet who needs a wedding planner.
---
The best wedding decision I made!
Reviewed on

6/30/2013
Sarah P
Kristin was so great to work with! She is very down to earth and easy to get along with! She made me feel at ease about everything throughout the entire process. I used Kristin for month-of coordination and design, and it was worth every penny! Kristin went above and beyond what we expected, and she also gave me a lot of amazing recommendations for other vendors! It made my wedding so much more enjoyable knowing that I had someone to trust that would take care of all the behind the scenes things. I honestly have no idea if anything went wrong on my wedding day! I would definitely recommend Kristin to any bride!!
---
Best in St Louis!
Reviewed on

6/21/2013
Courtney g
Kristen Ashley Events came highly recommended from everyone we asked. Kristen has great relationships with most of the St. Louis vendors, great taste, great ideas, and most importantly fun to work with! Kristin is very organized and remembered every detail so we didn't have to. She has the logistical part of the day down to a science. She took care of everything for us on our wedding day so all we had to do was sit back and enjoy it. We are happy to have her be a part of our special day. -Hank & Courtney
---
Cool, Calm, and Wonderful!
Reviewed on

5/30/2013
debbie g
I was the mother of the groom and didn't know a lot of the plans. I did know there were several problems, and that the wedding planner was taking care of them. When we arrived at the venue her workers were putting on the finishing touches. I think it had the look and feel the bride wanted. There was a problem at the start of the reception, and that's when I got to meet Kristen. She handled everything so calmly; she made one feel at ease and confident all would work out fine. Thanks to her and her expert helpers, everything did. When I asked if she would be there later, she said she'd be there probably till 1:00AM. What a worker! I would highly recommend her for any event planning. I know the bride was happy and loved working with her. I do not know what the cost of service was, but the bride thought she was worth every penny.
---
Wonderful service, so talented!!!
Reviewed on

5/29/2013
Jennifer D
I was a bridesmaid in the wedding and when I arrived form out of town, everything appeared to be in order down to the last detail. Kirsten was so warm, pleasant, calm and cool. She listened to the vision of the very creative bride and created a fairy tale experience. She was absolutely wonderful on the day of the wedding, despite some last minute and unexpected venue surprises. The ceremony and reception went along beautifully with the help of Kirsten's direction! She was fabulous and comes very highly recommended, as I am sure the bride would agree:).
---
Well done!
Reviewed on

5/29/2013
Rebecca D
As the maid of honor, I did not work with Kristen in the planning stages, but was highly impressed by her work the day of the wedding. She managed to coordinate all elements of the wedding with just a few hours, due to scheduling issues. The bride was at no point stressed about the outcome of the event, as Kristen had it covered. The ceremony and reception turned out beautiful! Highly recommended!
---
The ABSOLUTE BEST money I spent on my wedding
Reviewed on

5/28/2013
KASEY J
Where do I even start? Kristin is honestly the most incredible, professional, kind, creative and supportive woman I have ever worked with and met. My wedding ran into roadblock after roadblock in the planning process. The only thing I could count on to get me through all the drama and problems was Kristin. She went above and beyond her call of duty. She fixed every single problem I had and did it with an amazing sense of humor. My now-husband and I loved her so much, we actually brought her on stage at our reception to thank her. Because of all the insane planning problems I ran into with my wedding, I had to turn all the set up and decoration over to Kristin. I didn't even get to see any of my wedding venue until the second I showed up for the ceremony. I was blown away. She surpassed every single one of my expectations. She is incredible. I trust her 110% on her decision making. I know that anything I left up to her would be perfect-- absolutely perfect. And it was. If you are considering whether or not to get a wedding coordinator-- do it. AND seriously, look no further. This woman is absolutely incredible. Other than making the decision to marry my husband, Kristin was the absolute best decision I made on my wedding day. Hire her. Right now. If you want references, I can put you in touch with any of the 240 wedding guests we had at our wedding who said it was the best wedding of their lives. And that's thanks largely in part to Kristin!
---
BEST CHOICE EVER!!!
Reviewed on

5/09/2013
Lindsey S
Kristin was the absolute best thing that happened to me on the day of my wedding, except of course for marrying my best friend. When starting the wedding planning process it was clear that there was a lot more that went into the wedding then first met the eye. I was able to start planning the larger details, but soon knew that I was going to need help when we got closer to the big day since we were planning a wedding in St. Louis but living in Kansas City. We started our search and contacted several wedding planners, and as to my surprise none responded back, except for Kristin. She was prompt, with a response within one hour, and very thorough with information. We met with Kristin soon after and I absolutely was convinced that she was exactly what I was looking for. Kristin was energetic, truly excited to hear about our story and very detail oriented. We decided to use Kristin for the weekend of coordination, and it turned out to be the absolute best decision I could have ever made. One month out from the wedding, Kristin got started right away assisting us with our final details, which was exactly when I began to get frazzled with all the wedding chaos. Kristin immediately took control of all the finer things and made sure that I knew it was all taken care of. There were a lot of little things that I would not have even considered in which Kristin took care of, considering I would have not thought of them in the first place. Any time any issues came up with vendors Kristin also took care of those immediately with no sweat. She also coordinated linen colors with up lighting, and worked closely with all the other vendors to coordinate the design. On the day of the wedding I could not have asked for anything more from Kristin and her staff. Looking back I am not completely certain about how all the details were put into place, but that's exactly what Kristin wanted and made happen. From the cocktail tables set up, cake table, place card table, menu cards and tables linens plus hundreds of other little things I am sure I don't even know about. She was more than willing to take care of the things I requested to make our day extremely special. There were a few hiccups along the way with dress malfunctions and catering concerns but with Kristin was there to never allow a concern on our behalf. The day went off so smoothly and I absolutely know that without Kristin it would not have turned out like my fairy tale wedding day. Thank you so much Kristin If you want to have the most amazing wedding day and be left with no stress, PICK KRISTIN :)
---
Best Money Spent
Reviewed on

11/03/2012
Brian S
I made my wedding as complicated as possible. We had a tent wedding on our family's property in the middle of NOWHERE. Not near any big town. It became clear early on that I could not plan this on my own. Kristin was recommended to me through two different vendors I had talked to, and I am so grateful they did! We hired her for the full planning package. Kristin immediately got working finding me possible vendors from all over the state. I had vendors from Kansas City, St. Joesph, Columbia, and St. Louis. She even planned out and scheduled our trips so we could meet the vendors in the same trip, since many were over 4 hours away. She even convinced some of them to coordinate deliveries, so I did not have charges from each vendor. She used her connections and know how to find me some truly fabulous vendors to give me a wedding more spectacular than anything I could dream up. Kristin has tons of great ideas and is a pleasure to work with. Don't let her sweet and bubbly personality fool you into thinking she is a push over. She will get things done and fight for you if needed. We had one bad apple of a vendor, the tent company, which was only chosen because our first choice told us to go with them because of time, distance, and money. There were more problems than I could begin to explain, but I only knew a few of them before/during my wedding. Kristin handled everything, kept calm, and kept me from worrying, and documented everything. We ended up not having the help we were promised in setting up. Kristin and her assistant 'worked like men' (as my Dad put it) in the cold and rain for two very long days. These ladies were hanging tent walls the morning of! Kristin worked her butt off to say the least. She went above and beyond to make sure everything got done and was the best it could be. She is even working now to get me some sort of refund which is only possible because she took pictures of everything wrong. Kristin did all the normal stuff too, planned the day down to the minute, organized my crazy wedding party, helped me with anything and everything including figuring out my bustle. Hiring her was the best decision, I thoroughly enjoyed my wedding day and did not worry because I knew I was in good hands. If you are even slightly considering hiring a wedding planner, hire Kristin Ashely Events immediately! She is worth every penny and then some. What I loved most about her was that I forgot she had many other weddings she was planning. She made me feel as if mine was the only one she had, she is always quick to respond and address anything you bring up. She will give your wedding all the attention it deserves and then some!
---
Best Decision for My Wedding
Reviewed on

10/31/2012
Elizabeth H
If you want to enjoy your wedding day then I would highly recommend using Kristin to plan your event. I hired Kristen to help with the wedding weekend coordination and she delivered service above and beyond that arrangement. I planned my wedding from out of town so I needed help with a few things prior to the actual weekend. She helped me organize my hotels and even went to the different hotels that I was deciding between and took video of the suites so I could decide which one I wanted. She met with my entire family including my groom to make sure that we were all on the same page. She contacted me when she could tell I was overwhelmed with certain decisions. As the wedding weekend neared she ramped up her support and was on the ball about the different things I needed to do prior to the event. The actual weekend was a dream. She helped steer my bridesmaids and myself throughout the day. She kept everyone calm and on track in such a professional and positive demeanor. People in our wedding party could not stop talking about how marvelous and helpful she was to everyone. My wedding would have not been the same without Kristin. I am so thankful that I had her with me on my special day. It was one of the best decisions I made about my wedding. -Liz
---
Simply the best!
Reviewed on

10/26/2012
Robin N
After spending many months of planning my daughter's wedding it became clear that I would not be able to "do it all". So, we hired Kristin to handle the weekend details. Boy did she go above and beyond! I literally dropped everything in her lap and she picked-up the ball and ran with it. A huge weight had been lifted and I was able to enjoy the day with my daughter! Kristin took care of all the inevitable glitches with ease while keeping the bride as her focus the whole time. She was a godsend! Read all the rave reviews for Kristin Ashley events and believe everything! My only regret is that I didn't hire her to run the whole event!
---
Send Message