Home

Krustallos Couture Bridal Atelier
About this Vendor
Hard to Find High Fashion Designer Gowns
Krustallos Couture Bridal is a locally owned and family operated bridal boutique. We pride ourselves in the design and creation of quality bridal gowns and accessories. Call us to set up your free one on one consultation at our gorgeous boutique located in Altamonte Springs. Our designer has been designing and constructing high end garments for more than 25 years. Krustallos gowns are a step above the average retail gown because of their comfort, high fashionn design and fit. Read our reviews and see why many brides choose Krustallos Couture. _________________________________________________________________________________ BE YOUR OWN KIND OF BEAUTIFUL- "Create your own kind of style... Let it be unique for your self and yet identifiable for others." - Orson Welles.
Details
Bridesmaid Dresses, Shower + Party Dresses, Wedding Dresses, Dresses, Bridal Stylists, Custom Designs, Online Ordering, Private Appointments Available, Fashion Services, Fashion
Contact Info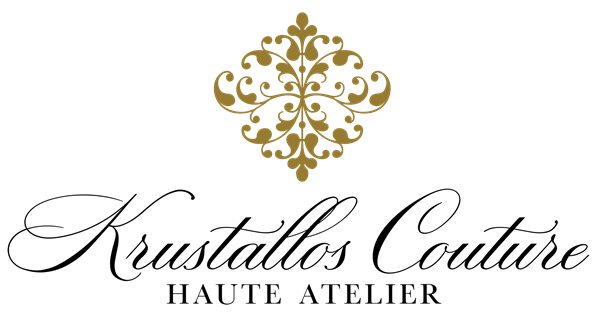 Reviewed on

12/08/2016
Allie G
I absolutely loved working with Celeste and Natalie. Not only are they very talented at what they do but they give honest opinions and suggestions on how to make the dress look better! Very friendly and professional.
---
Incredible Custom-Made Dresses - Made with Love
Reviewed on

10/11/2015
Andreina P
Celeste is an amazing lady with a deep passion for her work and the beautiful dresses that result from it. She made me a dream of a wedding gown. She listened carefully and made great suggestions along the way. In the end I wore a completely unique, satin dress with every detail... Read More carefully placed by Celeste down to the hand cut and sown lace on the bodice. It's an incredible experience I never imagined having in my life and I feel blessed to have had Celeste cross my path! I'm every grateful for her work and highly recommend her to any bride in search of creating their perfect gown. When I started my dress search, I had only the idea of a mermaid silhouette and none of the "you'll know" when it's the right dress happening. I was not excited about the ongoing search but had the amazing opportunity to speak with Celeste, which gave me hope that I might have the right dress to wear on the big day. She took her time to explain fabrics and the pros and cons of the dress stores I would visit. In the end, every word she said was true - the dresses would be heavy, cheaply made, expensive, hot and still require hundreds of dollars to alter. Her pricing is incredibly reasonable when compared to the box stores, particularly when you consider the amount of work she pours into each one. She listens to every special request and is always excited to share the story o how the dress is coming along.
---
Reviewed on

8/05/2017
Louise C
First, I want to start off by saying when I first began looking for a wedding dress it was very frustrating. It seemed like every store I went to had beautiful dresses but they were all missing something and way out of my price range then with just months to go a coworker... Read More recommended Krustallos Couture to me and when I say it was the best recommendation ever I mean it! I was able to set up an initial appointment, sat and discussed my dream dress, chose the lace I wanted, had it ordered then waited for it to be shipped. It wasn't long until my first measurement appointment at which point I had a sample of my beautiful lace which I could use to purchase the perfect shoes and accessories.Celeste and Natalie are wonderful, very attentive, supportive and keeps you excited for your upcoming special day. I loved everything about my experience and my dress well it was everything I dreamed of and more not to mention within a great price range😍😍. I highly recommend this extremely talented vendor, you definitely won't regret it!👰🏽👰🏼👰🏻👰🏾🎶🎶💕💕
---
Reviewed on

7/26/2017
Jane K
Krustallos is the best thing that happened to me! My mom met Celeste at a wedding vendor meeting. When it came time for me to find my wedding dress, I searched many local bridal stores, but I didn't find anything that i loved in my budget. I went back and forth trying to decide... Read More if I should go over budget or continue looking. My mom suggested taking a look at what Celeste does in her boutique. We made an appointment and she went over the entire process with me. And as they say, the rest is history. The process sounded great but to be completely honest, I was a little hesitant not being able to see my dress until I was done. However, the trust, honesty, knowledge, and friendliness of Celeste and Natalie won me over. They truly want you to feel and look great, and they reassure you they will be there every step of the way. Once Celeste sketched a picture of my dream dress, I picked the fabric! From there we kept in contact via email and phone over the course of 7 months...YES you heard me 7 MONTHS...with updates and fittings. Every time there was something that came up, they called me and we discussed it. They were also very patient with me during this highly stressful time of wedding planning. Even though I saw my dress multiple times and the girls reassured me that the dress would be amazing, nothing describes the feeling of putting it on for the final fitting. The lace was hand sewn into the top and the connected to the bottom, the straps thickeness was altered after we decided they were too thin, and the bottom layers were carefully chosen, cut and structured together ALL by Celeste. I didn't want to take it off, it fit so perfectly. I literally am tearing up at how beautiful it looked and how it made me look!! Seriously, everyone, this was such an amazing experience and I hope that you do your research before choosing a gown that many others have. Why pick something that you can find online or try on at the store, when you can have your gown CUSTOM HAND MADE?!? I had SO many people coming up to me and asking, "Where did you get your dress? It's the most beautiful thing I have ever seen!" Of course I said it was hand-made and all jaws dropped. Thank you Celeste and Natalie. This dress made wedding that much more special.
---
Reviewed on

7/23/2017
Shay T
Celeste and Natalie were amazing! Celeste took my idea and created the most beautiful dress. I received so many compliments and I felt absolutely stunning
---
Reviewed on

6/20/2017
Darian L
My experience at Krustallos Couture Bridal was more than I could have ever dreamed of. I had visited a couple of different bridal salons, but I had something very simple, but specific in mind. My maid of honor had been doing research on where to go and she found Krustallos. When... Read More I looked at the website, I immediately thought, this could be really cool! I was worried about the price tag however. We made an appointment anyway and my mom, maid of honor and I went in and I am so overly pleased that we did! I briefly explained what I wanted, showed her pictures of what I had tried on and showed her what I didn't like specifically about what I had tried on and showed her pictures of what I had seen on Pinterest that I like. Celeste sat there and actually drew my dress right in front of me. We talked fabrics, fit, beading and when she was finished drawing, I knew that was it. The price was right on and how cool that I got to basically design my own dress. She got the fabric from England and I was able to keep her original drawing. I went in for a few more meetings and fittings and everything remained totally on schedule. I saw my bodice as just a bodice, my skirt as just a skirt and when it all came together, I was overwhelmed with joy. The dress was light and comfortable and held up incredibly through my long day in Key West trekking through the dirty streets. I can't even imagine choosing a different dress. I recommend Celeste and Natalie with all my heart. Celeste is totally going to make it big and I'm so proud to be wearing a dress designed by such talent.
---
Reviewed on

4/10/2017
Alexandra P
I was having the HARDEST time finding a dress! I was looking for something simple and every dress seemed to have lace and bling on it. My planner suggested I go to Krustallos and Celeste and Natalie were LIFESAVERS!! They gave me exactly what I wanted, and it was a much... Read More better value than anything I had seen in the bridal boutiques. It was amazing to have a dress than truly matched my personality for the big day!
---
Reviewed on

4/04/2017
Sarah M
I had the dress of my dreams thanks to Celeste. I was so worried about finding a dress to fit and make me feel beautiful, I am a plus sized girl. From the first day I met with Celeste I knew I had made the right decision on getting a custom gown. She was able to accommodate my... Read More 70lb weight loss thought the entire process. I was losing weight until the day of the wedding and my dress fit like a glove! I had so many compliments on my dress and how classic and elegant it was. The best decision I made for my wedding was going to Krustallos to get my custom dress made! I am actually in the process of getting a bridesmaids dress for my befriends wedding made by her! She is the best, you wont be disappointed!
---
Reviewed on

10/25/2016
Stephanie F
Truly one of the best decisions I made for my wedding. I met Celeste and Natalie about 18 months before my wedding at a bridal show and knew that they were who I wanted to work with to create my custom gown. About 6 months before our day, I contacted them and we began the... Read More amazing process of making my dress. I felt so incredibly involved and informed the entire time. From deciding on a style, to choosing my lace, and every fitting, it was so easy and these ladies made me feel so comfortable. Having it custom made, my dress fit like a glove. It was absolutely perfect! Everyone said that it was the most beautiful wedding dress they'd ever seen and I felt absolutely stunning in it. I would suggest Krustallo's to every bride!
---
Reviewed on

9/18/2016
Tiffany K
I won a custom wedding dress at a bridal expo and was really nervous about everything designing a dress entailed. The moment we booked our appointment and started working with Celeste I started to feel so much better! She seemed to know exactly what I wanted without me even... Read More having to tell her! Celeste and Natalie really made my wedding dress dreams come true, and I hope they continue doing what they do for every other bride. They are truly amazing and I had the best experience with them!
---
Reviewed on

6/23/2016
When we walked in to Krustallos, we were briefly confused. There were only eight or ten bridal gowns displayed on racks, and no commercialized atmosphere. Having had a mother who made my own bridal gown, however, we quickly understood what we had found—a custom bridal shop!... Read More Celeste, in her friendly and approachable manner, explained that she would sketch the design the bride had in mind, and create a gown custom made to the bride's specifications—in terms of both style and size. We were instantly transfixed. This would be an entirely different experience than those giant clips. Spending the kind of money a bridal gown costs made a lot more sense now! Before we left that first day, Celeste had sketched my daughter's ideas, and given us a basic idea of the cost. We were very surprised to learn that the dress she had in mind would be less expensive than the off the rack ones we had seen at the other stores—and it would be one-of-a-kind! We brought the dress home two weeks before the wedding, which gave me time to show it off to plenty of admirers (women only—my daughter was of the firm conviction that no men could see it until the wedding day!). On the morning of her wedding, my daughter, hair and makeup complete, easily slid into her gown, and turned into a princess. The purchase of a bridal gown is a once in a lifetime expense. It should also be a once in a lifetime experience. There is no comparison between the type of experience provided by Celeste and Natalie, as they designed and created my daughter's gown, and purchasing a gown "off the rack" from another store. No one else will ever have a gown just like my daughter's, and no one should. Her marriage is unique, and custom made for her. So was her dress. This review has a character limit, but I have a lot more to say! Please contact vendor for my full review.
---
Reviewed on

3/05/2016
Connor B
If you or anyone you know is getting married, go see Celeste and Natalie before you do anything else! You will be so happy that you did. I was intimidated by dress shopping, but I was lucky enough to meet with Celeste and Natalie first. Complete with chocolate covered... Read More strawberries, Fiji bottled water and the scent of eucalyptus mint candles; the boutique is lovely and these 2 women are even lovelier! Knowing that Celeste would be able to create a unique dress for me using the highest quality materials is a bridal miracle! It relieved the stress and pressure of finding "THE dress" off of a retail rack. I had a blast going to 3 different bridal stores in Altamonte, trying on 20 different dresses and making notes of what I did and did not like so that I can give that info to Celeste for her to sketch my customized dress.Natalie has been great with answering all of my questions, communicating quickly and with a friendly, positive attitude. And the cherry on top? They are actually very affordable! They also offer charming, unique jewelry and accessories. I am so excited to proceed with Krustallo's Couture Bridal!
---
Reviewed on

2/27/2016
Joelle P
I couldn't find my wedding dress anywhere and when I did it was way out of my budget. Then my wedding planner introduced me to Krustallos and Celeste saved the day. She is a perfectionist and understood my vision. The dress was more beautiful than I could have asked for and... Read More everything was perfect, in fact my mom also had her dress made by Celeste as well. She is a genuine person who will make sure your Cinderella dreams come true.
---
Exceptional service and product!
Reviewed on

1/09/2016
Lisa M
I arrived at Krustallos with only a vague idea of I wanted; I had a beautiful skirt that I purchased and loved but I couldn't find a top that I liked. Celeste and Natalie helped me design the perfect piece! I was a little nervous that the cost of a custom made piece would be way... Read More outside my budget (which was modest); but the quote Celeste gave was very reasonable. Now that I know the time and effort that actually went into making my top, the price was VERY, VERY good. Service was exceptional, the product was perfect and absolutely beautiful. The quality of Celeste's sewing was top notch! I couldn't have been more happy with the experience and the end result of collaborating with Celeste and Natalie. I would absolutely recommend their services for brides who are looking for something unique and special.
---
Excellent work and customer service!!
Reviewed on

6/18/2015
Let me start off by saying, that I never wanted to get married and it was not a dream of mine growing up, so I would never expect to fall in love with mine as well as my bridesmaids dresses as much as I did. I just happen to win a custom made silk gown up to $1,500 from... Read More Krustallos Couture Bridal at a wedding expo I attended. I didn't know what to expect until I actually met with Celeste. When I went to my first appointment, she not only sat with me one on one (no interruptions, because the store was closed), but she took the time to listen to what I thought I liked and gave me ideas. This was not the case for the other two bridal shops I went to (David's Bridal and Alfred Angelo). They were either rude or helping other customers and did not give you their full attention. Once I tried on a few dresses and told Celeste that I definitely wanted lace, she sat and sketched up a beautiful dress, that then came to life. I still can't believe how much work she did in such a short period of time, and everything was beautiful! After meeting her for the second time, I had been looking at her bridesmaids dresses and asked her if there was any way she could manage to make all five of my bridesmaid dresses (one being a junior bridesmaid) in the short amount of time we had. She didn't hesitate for one second and took on the challenge. Every appointment was one on one, whether it was for just me or all/some of the girls. This made it that much more personal because I really got to know Celeste and her awesome personality! She truly did magic by creating this picture I had in my head of what all the girls dresses would look like as well as mine. With only four months total, she had started my dress and at around three months until the wedding, she then began making the girls dresses. Between many crazy fittings, picky/opinionated bridesmaids, and different schedules, Celeste made it work. She not only made all of our dresses, but also my veil, and added pieces of lace from dress onto my shoes as well. Although my dress was free, with these extras and the added lace, I did pay a little over $300, which was definitely worth it. I forgot to mention that all of the girls dresses were completely different, which made this that much more of a challenge, but she pulled it off with ease! I know she didn't feel that way at times, but it never showed. I suggest ANYONE who is getting married to at least check out her shop and meet with Celeste because she is truly amazing, from her personality to work! She made my dress experience my favorite part of all the wedding planning. Danielle Augone
---
custom dresses - the only way to go
Reviewed on

6/05/2015
Lisa M
From the moment we walked into the boutique, my daughter (the bride) and I felt special. Celeste, the owner and designer, listened to what my daughter wanted, made helpful suggestions, and designed and made the dress of my daughter's dreams. Celeste also designed and made my... Read More dress for the wedding. I showed her a few examples of styles I liked, and the end result was an equally amazing dress. The dresses here are custom made, so they are unique and fit like a glove. No gapes, pinches, rubbing, etc. Celeste took time at each fitting to make sure the dresses were meeting our expectations as to design and fit. She was extremely patient and never made us feel like our tweaks to the designs were bothersome. The dresses were completed in plenty of time and came out fabulous. Celeste uses high-end fabrics and lace and that is evident in the final product. The dresses were steamed and given to us in very nice, hanging dress bags. Her prices may seem high to some at first compared to the chain salons, but remember, these are high-end, custom, original designs. Her price includes all alterations and a more than reasonable number of fittings. With the high quality, these dresses can easily be heirloom dresses, passed to future generations. I find the dresses designed and made by Krustallos Couture Bridal Boutique an excellent value. The value, service, and quality greatly exceeded my expectations. I highly recommend this boutique.
---
Meet The Owner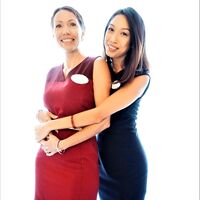 Natalie and Celeste
Mother and Daughter Designers of Custom Wedding Gowns. Have more than 25 years experience. Born in the USA, and has lived in Central Florida for over 30 years. Award wining and vendor preferred. We can design and construct those hard to find designs you have been looking for. Don't settle for yet another polyester overpriced designer gown. Feel and see the difference at Krustallos.