Home

La Reine Bridal
About this Vendor
Come in as a Princess. Leave as a Queen!
We listen to your vision of the perfect gown and deliver it within your budget. With over 1,000 gowns and more arriving daily, you're sure to find the dress of your dreams! Fashion Show, Bridal Expo & Sale June 7 10am-2pm RSVP 781-899-0348 Rosa Clara Soft Trunk Show June 13-15th
Details
Bridesmaid Dresses, Flower Girl Dresses, Mother of the Bride Dresses, Wedding Dresses, Alterations, Dry Cleaning + Preservation, Online Ordering, Private Appointments Available
Contact Info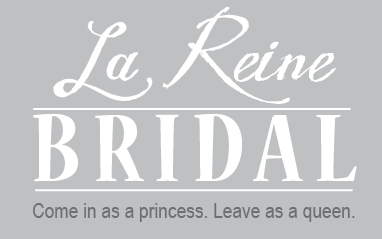 Stress free
Reviewed on

11/15/2013
Jessica
I bought my dress in October, La Reine was the second store I visited. The first store I went to, I picked dresses out and they kept looking at their watches too see when I'd be done. As a bride, it just took the wind out of my celebratory sails. At La Reine's, I knew instantly that I would be taken care of. I walked in to smiles and a congratulations. I then was taken to a corner with just my consultant and I where we discussed what I really wanted. She told me to change into a robe and she would be right back. She walked in carrying 5 dresses. It was so nice not to have to look, it's very confusing. I bought the first dress I tried on, she nailed it!!! They really listen to you. I recommend La Reine to any bride looking to be well taken care of, in a very non intrusive way.
---
Best Dressed
Reviewed on

10/01/2013
Katie M
I had such a great experience finding a wedding dress. I worked with Judy and she made me comfortable right from the start. I described to her what I was looking for and she immediately brought that in. I quickly narrowed down my search and found a dress within an hour. They were even great when I worried that my belt and veil would not match. They took the time to show me everything again! I have already recommended them to a few people!
---
Wonderful Experience
Reviewed on

8/25/2013
Emma V
My trip to La Reine was lovely! It was my first trip to a bridal salon to try on dresses and I had no idea what to expect. The staff was extremely helpful and helped me narrow down what I was looking for based on my personality and wedding feel before we even got to the actual dresses. I ended up trying on only 4 or 5 dresses and fell in love with the 2nd dress I tried on. It was perfect and I don't know if I would have been able to pick it out or find it on my own! The whole process was very easy and stress free and the shop is very lovely and pleasant inside. The seamstress, Elena, who has a shop downstairs is phenomenal as well, if you get your dress at La Reine and use her shop they send it right downstairs and make it all very easy for you!
---
A Great Shopping Experience
Reviewed on

7/17/2015
Jessica U
I loved shopping here. The salon is very cute and small which doesn't overwhelm you when you are shopping. The attendants are excellent and really do a great job working with you to find the perfect dress.
---
Lovely bridal boutique and fabulous personnel
Reviewed on

11/17/2014
Kiki S
I made an appointment at La Reine and came with one of my bridesmaids. I sat down and chatted with Kate, my bridal fashion consultant. I had a few different directions I was interested in going, and I showed Kate all my vision boards with dresses and looks (I'm a fashion person, so the look was really important to me). I also had a strict budget, and I was really happy that Kate stuck well within that budget, not showing me any dresses that were more expensive so that I didn't get false hope about a dress. She listened so closely to everything I was saying and selected a number of dresses for me that incorporated all of the elements I had expressed interest in. She combined things from different looks I had described and showed to really get to the essence of what I was looking for. Kate was very honest in her reactions to the dresses I tried on. If something wasn't working, she let me know. She also let me have privacy with my bridesmaid to discuss options. I was also really impressed by the way she wasn't trying to sell me on anything-- she just gave me her honest opinion. I ended up buying the first dress I tried on, but even though I loved it when I put it on, I wanted to make sure there wasn't another option that I was missing, and Kate was really patient and helped me put on and assess dress after dress, until I finally put the original one back on. She was also super respectful in letting me have time to facetime with my other bridesmaids who couldn't be there. Note: you are not allowed to take pictures in the dresses you try on, but you are allowed to facetime. So it took a little longer. The shop owner is also a lovely woman who was so sweet. She walked by my fitting room when I had on the dress that I ended up purchasing and ran to get an appropriate veil to complete the look. Her reaction was genuine and not a sales tactic. I felt really taken care of at La Reine. They have a wide array of gowns at all different price points and their staff is really sharp and attentive. I also ended up leaving my license there accidentally, and my consultant Kate called me to track me down and even offered to bring it to me, or meet me at a convenient spot. They are just really genuinely kind and helpful people there. I highly recommend La Reine!
---
Found my dream dress at La Reine!!
Reviewed on

11/03/2014
adma a
So glad I found this bridal shop in waltham !!! Mirielle and Deema were so helpful ! They helped me find my dream dress and helped me custom make my dream veil. They have such a huge selection of gowns from all over the world. I have referred all my friends to come to this shop and they have all been successful in finding their dream dress . I also ordered my brides maids jovani dresses from the shop as well. Thanks so much La Reine for such a great experience !
---
LOVED MY DRESS
Reviewed on

8/18/2014
Ann T
The girls at La Reine helped me find exactly what I was looking for! Once I found my gown, I went back again to get help choosing a veil and accessories! They were so nice, patient, and helpful! It is obvious they all love their jobs! Made dress shopping very fun :)
---
Loved my dress!
Reviewed on

11/03/2013
Claire C
The staff at La Reine was so helpful and the dresses are beautiful. The only reason for 4 stars is that the prices are a little high.
---
Not so good with customer service
Reviewed on

9/01/2013
Niki m
I used La Reine Bridal to find my wedding dress. When Me and my group (my mom, mother-in-law and two best friends) showed up at the bridal salon, it took about 5 minutes before someone even greeted us. It took another 4 minutes or so for our consultant,Dana, to greet us at the door. I showed her some of the pictures I had of dresses I liked and she said she thought she had some ideas for dresses for me. I told her that I live in California and my group all lives in Boston area, so I came how specifically for the weekend to get a dress with them. I'm not rich so this was my only weekend to find a dress. I wanted her to be aware that we were planning on buying the dress that day and NEEDED to find one. She came back with about 4 dresses for me to try. After the 2nd dress or so I could tell she was trying to rush us through the appointment. She kept trying to get me to commit to dresses that obviously were not working for me. After trying on a couple definite NO-dresses I tried to reiterate to Dana what I was looking for. She came back with 2 more dresses for me to try and pretty much told us that these were the last dresses she was showing us due to her having another appointment. (I sure wish someone had informed me that Saturday appointments are only 30 minutes long!!!) I was very lucky that the last dress I tried on was MY wedding dress, because otherwise we would have been out of luck. Dana didn't seem to care either way if I found a dress or not and I felt like after learning that our budget was under $2500 she kind of wrote us off. It took forever for the dress to come in as well and I had to call them a few times to check in on the where-abouts of the dress. Not to mention alterations are extra and are run by a separate lady who works downstairs. Don't expect any warm greeting from this lady Elena. She is all-business. The first appointment was by far the worst. However, I will say she was nicer the next few appointments.
---
Had a minor setback- but overall great!
Reviewed on

8/20/2013
Emily B
I ordered a dress that I thought would be my dream dress, but it came in and was a totally different shape than what I expected. What happened is that the sample was so big, and wasn't clamped completely, that the dress in my size was way more fitted than what I wanted (we had pictures of how different the sample looked compared to the actual thing!) It took about a week of going back and forth, but eventually the owner and my consultant did the right thing and allowed me to return the original dress (which VERY rarely happens) and found me the dress of my dreams for a discount! All along they were a pleasure to work with and totally took responsibility and ultimately said they just wanted a happy bride! We also purchased our bridesmaids dresses from them, which was a wonderful and seamless process. They have a ton to choose from and my girls needed little to no alterations.
---
Genuine people, fair prices, and beautiful dresses
Reviewed on

8/01/2013
Alexandra T
I am pleased to have purchased my dress from La Reine. The staff was accommodating and helpful. They know their business and share their experience instead of blindly following direction. The dress I chose was not the one I had envisioned for myself, but like a good hairdresser who stops you from getting bangs, it was presented to me as something that would flatter me and was similar to others I had been trying but with a little something extra. I am serious, I would never have selected this dress for myself if I had only seen a photo. Thank you so much La Reine, you found me a dress that is not only a reflection of me but a reflection of what I envision for my wedding day. Judy is now retired but my visit with her was like working with a favorite aunt or family friend. She was sweet, funny, and honest. She let me say what I thought but also pushed back a little when I described what I was looking for by explaining how certain features of a dress can't exist in tandem with others if I want to be able to be comfortable. She also noticed immediately when the tears came as I caught sight of "my" dress on for the first time. Thank you, thank you, thank you! Dema (I apologize if I spelled that wrong!) helped me on my second visit, had to bring Mom with me to see my dream dress, and when I said that I would want to remove the crinoline, she immediately showed me how the dress would change and become unflattering when I walked down the aisle (quel horror!). I recognized what she was saying immediately and am so grateful she didn't just follow my lead in the interest of making a sale. Dema put me in and out of that dress over and over and let me practice walking in it, always adjusting the train whenever I stood still so that it looked perfect. She even snapped the picture of me with my mother, which we are really grateful to her for even thinking of! Equally important, let's talk $$$. The dress that I purchased from La Reine (a stunning Augusta Jones) was a full $900 cheaper than the price quoted at a well known upscale shop nearer to me in Connecticut. La Reine is in the business of finding you your wedding dress and not scamming you for the price of a glass of warm champagne. Give me La Reine and it's real people over some bridal shop where they charge me an additional thousand dollars for the honor of buying my dress with them. Thank you, La Reine.
---
Ball Gown Boutique
Reviewed on

7/26/2013
Andrea V
La Reine is a cozy shop with very personalized service. This is a great place to shop if you are having a reception hall wedding and are looking for an elaborately beaded ballgown style dress, with a budget to match. I, however, am not getting married in a reception hall and went in looking for something else. I asked to see dresses that are more streamlined: no ballgowns, no beading, and nothing over $1000. What I got to see were beaded ballgowns over $1000. To me, this says something about the lack of diversity in their selection, although I'm sure their selection of beaded ballgowns is extensive.
---
From Bride to Bridal Attendant
Reviewed on

7/02/2013
Samantha B
I loved my experience at La Reine so much that I actually started working there part time so I could give others the same! The staff is amazing and the selection of dresses is unmatched by any other boutique I had been to. They know how to really make you feel like a queen, Hence the name! I suggest to all Brides to Be out there to come see what La Reine is all about! I cannot wait to wear my Dream Dress!!
---
Great bridal gown
Reviewed on

5/23/2013
Katie M
I loved my bridal gown from la rein and got so many compliments on it on my wedding day!
---
Best Bridal Shop Around
Reviewed on

5/09/2013
Sarah N
La Reine Bridal is the best of the best! From the moment I walked in, I knew I was going to end up getting my gown there. Deema and all the ladies were incredibly knowledgeable, accommodating, professional, and efficient. I brought a picture of a gown with me on my first visit and within minutes there were multiple gowns waiting for me to try on in a private room. I loved them all so it was hard to decide. I also got my bridesmaids dresses there and the girls loved their dress. Everyone there makes you feel like a million bucks and that just adds to the excitement of planning your big day. There is definitely something for everyone at La Reine. I could not have asked for a better experience. I highly recommend La Reine Bridal. Every bride should enjoy the La Reine experience. You won't be disappointed.
---
Wedding Dress
Reviewed on

11/30/2012
Alexandra R
I shopped for my dress at La Reine and purchased my dress at this boutique. They were very friendly and helpful when picking out my dress, trying on a bunch of dresses, and staying within my budget. They have a big selection. I also ordered my veil and bridesmaids dresses through them. Everything arrived on time. I highly recommend them.
---
found dream dress, but staff disorganized
Reviewed on

11/16/2012
Lauren W
The gown selection and prices are great, but the staff are disorganized. I wanted my dress slightly altered and I discussed this when I first purchased it, and they seemed to think it would be an easy alteration. When I came in for my first fitting, I was told not only that what i wanted was difficult, but that it would be tight to finish in time for my wedding. Other examples include sometimes calling to remind you about appointments and other times not, and well as some attendants know how to hook you into the gown/how it should fit and others not. Overall, not a bad a store.
---
Great selection
Reviewed on

11/04/2012
Emily A
I bought my wedding dress at La Reine- The owner was very helpful and made it so easy to pick my dress!
---
Great selection of reasonably priced dresses
Reviewed on

10/25/2012
megan l
I bought my dress from La Reine and had my alterations done with the seamstress they recommend (in the basement of their building). My initial experiences with La Reine were very pleasant. This was the first shop I went to where they seemed to get the look I was going for and pulled things that were appropriate. In the end, I bought the first dress they pulled, which was beautiful and seemed to be a good price. We thought it looked about $1000 more than it actually was. The purchasing procedure was a little weird. My mom wanted to split the cost between two credit cards but they seemed unwilling to run multiple credit charges. If you are purchasing something as expensive as a wedding dress, an extra fee from the credit card company seems a bit inconsequential. Getting in touch with the seamstress was difficult. In the end, I think she did an ok job on my alterations, though I felt that she made the bodice a little too tight, giving me the appearance of back fat and boob cleavage, which, as a size 2/4 I definitely don't have. The real problem, though, was the bustle, which broke halfway through the first dance. Despite my bridesmaids best efforts with safety pins, we could not get it to go back up, meaning I spent the entire night holding my dress up. I also think she kept the lacy part under the skirt a little too long - my heels (same ones I had at fittings) kept getting stuck on it and tearing the underlining. If you buy your dress from La Reine, I would recommend using a different seamstress.
---
Loved the dress, good price, poor service at times
Reviewed on

10/20/2012
Christine F
I REALLY loved, loved my dress! My original appointment was with one of the owners and she was great. The dress selection and price was also very good. However, other sales people that we dealt with afterwards were not good and we went back for bridesmaid dresses and had a very poor experience with the service. It really was too bad as I loved my dress.
---
Beautiful Dress!
Reviewed on

10/16/2012
Elizabeth M
This shop had reasonable prices and friendly staff. Their dress selection was great and they gave me honest input on which dresses flattered my body well. One thing to note, this may not be the best shop for you if you're modest - the consultant stayed in the room as I changed in and out of dresses and the room was freezing! Overall a good experience though and I loved my dress!
---
Love!
Reviewed on

10/09/2012
Maya T
I loved everything about La Reine. They didn't pressure me and Judy was great!
---
Terrible Customer Service
Reviewed on

10/05/2012
Sarah C
I got my dress from La Reine bridal. I love my dress and my consultant on my first visit was very helpful and considerate. That's where the positives of this place end. I scheduled an appointment once my dress came in. I had to call to see if it came in, they did not go out of their way to be helpful at all. My mother was coming with me and it was a big moment to try on my dress for the first time. We were both very excited and were looking forward to the appointment all week long. This happened in mid March when we were having unseasonably warm weather. An hour before I was supposed to come in, I received a voicemail from one of the associates saying that there was an emergency and they needed to reschedule my appointment. The voicemail included a sighing apology about any inconvinience that sounded so insincere. I called them back and asked what the emergency was and the girl on the phone gave me a terrible attitude and said, "Well I guess you can come in". Pretty good business practice. When we went to the appointment, we were treated as if we were burdening them by being there. They were extremely rude towards us. The only "emergency" they had was they wanted to close early because it was nice out. That was when I decided that I would not do my alterations at La Reine. I don't like being treated as if I'm in the way or a burden when I go to any store and purchase a product they are selling, be it a wedding dress or a pack of gum. To sum it all up, they have terrible customer service, make you feel like you are bothering them when you go there and overall are very rude. I would never recommend them to anyone.
---
A dream to work with
Reviewed on

7/23/2012
Cassandra S
I used La Reine Bridal to find my wedding dress, my bridesmaid dress, and my mother's dress! They were an absolute dream to work with. They had plenty of wedding dresses that were along the lines I was looking for and were within my price range (under $1000), and the consultant was patient despite me not knowing what exactly I wanted. I got very personal service just about every time I visited (about 10 times in total to get all the dresses) except for once or twice when I made bridesmaids dress appointments for Saturdays. The service was still excellent those times, you just didn't have a dedicated consultant for bridesmaids dress appointments when they were busy. I wouldn't hesitate to recommend La Reine to anyone. I thought they were amazing!
---
Big selection
Reviewed on

7/18/2012
Sarah M
They have a great selection of high quality dresses, especially ones that are a little different. I felt that I was able to get something the same price as ones I saw at David's Bridal but that was of a much nicer quality.
---
Send Message