Home

LaBonne Boulangerie
About this Vendor
La Bonne Boulangerie Long Island's Favorite Bakery
For over 35 years Labonne boulangerie and Dortoni Bakery have been providing amazing specialty cakes for: weddings, groom cakes, communions, birthdays, baby showers, anniversaries, corporate functions and much more. All our cakes are made with the highest quality ingredients!!
Details
Dairy Free, Gluten Free, Nut Free, Sugar Free, Vegan, Vegetarian
Cake Delivery + Setup, Cake Tastings, Groom's Cakes, Cakes + Desserts





Contact Info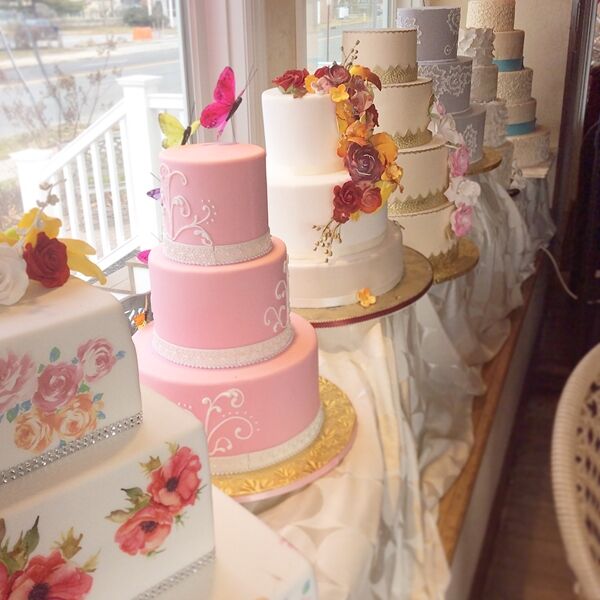 Reviewed on

10/02/2017
Samantha L
Let me start off by saying that the cake was delicious but other than that our experience was horrible. We went into the bakery to taste cakes and get a price. I provided a picture of the round cake that I wanted. I wanted it exactly as pictured but without the sugar flowers and... Read More I expressed that to the worker. After we were give the price we said we would call once we decided. We called and gave the first deposit, we were never given a receipt. Yesterday when I arrived at the wedding I was informed that the cake was not what it was suppose to be. The cake was square, stacked on top of each other (it was suppose to have post in between) , the monogram looked like a kindergarten wrote it and there were pink sugar flowers all around it. ( I was using fresh blue hydrangeas from our florist). Lucky our florist saved the day by removing the pink flowers that didn't go with our colors and replacing them with the fresh. When we called the bakery to inform them of the mistakes they argued with me on my wedding day and said it must have been my fault. THE WORST CUSTOMER SERVICE I HAVE EVER EXPERIENCED. When our venue gave me the receipt (first time I was seeing it) the worker had wrote down square cake with sugar flowers after our meeting. I will never use or recommend them again. People say that at every wedding one thing goes wrong and I hope they are happy that they are that one thing and they expressed that they have no intention of making it right.
---
Reviewed on

2/17/2018
Kimberly S
The wedding cake was beautiful and delicious. We went for a cake tasting and that process could use some improvement. At our appointment we showed a photo of a similar cake but asked for a few changes. Everything was done exactly how we described it. We left the final touches... Read More up to our florist who added beautiful roses and macaron cookies supplied by the baker. All and all a delicious cake. The chantilly cream filling with fresh berries was so so good! Cake was drizzles with gold fit for a king and queen!!
---
Reviewed on

2/08/2018
Samantha B
If you are looking to pay extra for your wedding cake and be mislead on what are actually getting. Then this is the bakery for you. I sat down with Cory about 11 months before my wedding and went over all the specific details of how the cake would look. Pulling for cakes the... Read More bakery had already done. The cake not only had a giant bubble on the side of the cake but the flowers did not look like they were suppose to and the lettering on the cake was wrong. When I called to discuss the issues after my wedding I was told on three occasions that Cory could call me back which he didn't. I was finally told to send an email. In that email I included all the photos of how the cake was suppose to look and what the cake ended up looking like. I then had to keep following up and finally one of the women who answers the phone tells me Cory said I would be getting a refund. After a month of waiting for the check is was only 1/2 of what I paid. All of my wedding photos with the cake are ruined and mind you the cake was included but I paid extra for the specific things I wanted that I did not get. They have since refused to issued me the remainder of what I paid. Avoid this bakery at all cost they do not deliver on what they promise.
---
Reviewed on

12/03/2017
Danielle B
La Bonne Boulangerie did an amazing job with our cake! The cake was delicious and looked beautiful.
---
Reviewed on

11/03/2017
Maruta B
Thank you to Maggie and the team for creating a beautiful and tasty cake for my wedding on October 20th at Harbor Club. Maggie was so great working with me to create the perfect design. I had come with pictures saved to Pinterest and Maggie did a FANTASTIC job creating the cake... Read More I was looking for and incorporating my purple colors. Thank you so much!!
---
Reviewed on

10/13/2017
Rose K
Cake was delicous! We also got our favors from them (big bakery cookies individually wrapped), which everyone loved!
---
Reviewed on

10/04/2017
Elizabeth S
Wonderful team of people who guided us through the selection of our cake; 3 versions of our tasting cake to get it just right and always a warm welcome and happiness to help. Also, our whole cake was consumed... not the norm, but it was so delicious that some guests had seconds!
---
Reviewed on

10/03/2017
dana d
The cake turned out perfect and delicious!
---
Reviewed on

9/26/2017
Donato A
I got married last week and it was a very special day. Mostly because of LaBonne Boulangerie. They made everything super easy for my Wife and I. No one should have to deal unnecessary stress while wedding planning, and our stress was kept at a minimum. Everything from the... Read More customer service to attentive detail and taste blew my mind. The cake was unbelievable. I highly recommend this quaint bakery located in Port Jefferson Village, they were one of the reasons why our Wedding was so memorable!
---
Reviewed on

8/30/2017
Trisha R
Everything was tasty and perfect. I loved my design.
---
Reviewed on

7/30/2017
Christine V
Our cake was delicious! We went through our venue (Giorgio's) for the cake and everything was a smooth and easy process. The cake tasting was great and they answered all of our questions. We had them do a plan design and our florist added fresh flowers so I can't speak of their... Read More design but they followed what we wanted and made it perfect. I never had to worry because they were so professional. The cake itself tasted amazing and everyone loved it! Thank you!
---
Reviewed on

7/27/2017
Alyssa S
Our wedding cake was to die for! My husband and I keep talking about how we can't wait for our anniversary so we can get a mini tier remade so we can enjoy it again. As a person who is not a huge fan of regular cake I can honestly say that LaBonne Boulangerie does it the best.... Read More The cake was amazing and the staff is so helpful. You will definitely not be disappointed if you have LaBonne make your wedding cake!
---
Reviewed on

7/14/2017
Amanda B
Wedding cake from here was great! The size was great, tasted awesome and looked really good too!
---
Reviewed on

7/10/2017
Danielle E
The cake was delicious and the service was fantastic!!
---
Reviewed on

7/10/2017
Patricia J
I have never liked a wedding cake until ours! From the cake tasting to the day of the wedding I was impressed. We had vanilla cake with cookies and cream and wild berri chantilly. All of our guests loved our cake as well! Even 2 days later I'm enjoying it.
---
Reviewed on

5/03/2017
Emily L
Our wedding cake was coordinated through Fifth Season Restaurant as part of our reception package and we could not be happier that it came from LaBonne Boulangerie! We chose a small single-tier vanilla cake with vanilla frosting and fresh fruit filling. The cake was so moist and... Read More the frosting melted in your mouth! The frosting was not as sweet as a typical buttercream and I'm glad about that as it did not overpower the other flavors of the cake. The fruit inside was as fresh as could be. If you're in the Port Jeff area and looking for a cake baker, you can't top the quality of LaBonne Boulangerie!
---
Reviewed on

2/14/2017
Erin B
My Husband and I selected LaBonne Boulangerie (Port Jefferson) to make our wedding cake as it was a preferred vendor for our venue as well as based on reviews. Our consultation for selecting our cake type/filling as well as the design was seamless and an excellent experience.... Read More The bakery was well kept, clean and had me wanting to purcahse other sweets while there! The person we met with was attentive and listened to all requests. We tried four or five different flavor combinations and did not feel rushed in making our decision. On the day of our wedding, the cake was delivered promptly, was fresh, beautiful (a replica of a picture provided) and tasted amazing. Thank you for providing an excellent expreience and a key piece to our day!
---
Reviewed on

1/20/2017
Kristen H
Normally guests hate the wedding cake but not at our wedding! Everyone loved our cake it was sooo delicious! I would highly recommend LaBonne Boulangerie to anyone looking for a wedding cake!
---
Reviewed on

1/07/2017
Meagan
Couldn't have been happier with the quality and service. Such a beautiful, elegant cake and tasted amazing. Everyone enjoyed it and we were so incredibly happy. Thank you so very much
---
Reviewed on

12/08/2016
Miscelleana T
Not only was La Bonne Boulangerie a beautiful location, but the mini tasting that we did was nice too. We did the very simple and basic cake, but even the basic options were delicious. We choose incredibly simple with some burlap ribbon added to the cake, but looking at the... Read More dozens of images we were shown, there were so many choices! The cake may have been simple, but it was elegant and beautiful. And it tastes amazing! Thank you La Bonne Boulangerie for a delicious and lovely wedding cake!
---
Reviewed on

10/31/2016
David G
A truly wonderful experience from start to finish. Every piece of the cake was perfectly fresh and tasted so naturally delicious. Service was very professional and I highly recommend working with La Bonne Boulangerie.
---
Reviewed on

8/15/2016
Jennifer C
Our wedding cake was both beautiful and delicious! We had a 4 tear red velvet cake with cannoli and chocolate ganache filling and our guests are still raving about how fresh and delicious our cake was. We designed our cake and it was beautiful - exactly what we were hoping it... Read More would be. Although the cake did require an extra cost (even though it was supposed to be included by the venue) I blame the venue for not explaining what was 100% included during the planning process on their end. We'll definitely be back to celebrate our future wedding anniversaries with a cake from La Bonne Boulangerie!
---
Reviewed on

7/28/2016
Michelle O
We selected La Bonne Boulangerie as one of the cake vendors from the Harbor Club. Props to their timeliness and quick response, because our fault, it was nearly one month out before the wedding and we totally forgot to set up a cake tasting and order the cake (I know, I know!).... Read More I immediately called and they had us come in that following weekend to set everything up. I really appreciated their accommodating customer service and helpfulness in what felt like a semi-urgent situation. We went to taste fillings and cake in their store, which felt a bit awkward because you did this off to the side, while the rest of the bakery filled up with customers on a busy weekend. This is not something that bothered me, but just wanted to note. We worked with Angela, who was warm, friendly and helpful in guiding us on our selection. Angela went back to speak with the owner, and then she returned to tell us that what we selected was more money. This was never mentioned while we did the tastings. She is just the messenger and a lovely woman, so I am calling out management and the owner. There should be prices provided beforehand or at least a "heads-up" during the tasting as to what may cost less or more because we then had to revisit the entire cake to determine if it was worth the money. Why they tell you afterwards is beyond me and it comes across as a tacky customer service fail. The owner came out and explained why what we selected cost more and he was willing to slightly negotiate after seeing our disappointment. As for the cake itself, we had our florist decorate it with fresh flowers, so I can't speak to the talent of their design team. As for the taste, it simply was .. just another wedding cake.
---
Reviewed on

7/18/2016
Lexi M
Delicious cake and allergy-friendly! La Bonne was able to accommodate my various needs for food allergies...myself being gluten-free and several guests with severe nut allergies. They were well-informed regarding cross contamination and able to offer GF cake at our tasting. The... Read More filling we chose (Chantilly creme with mixed berries) was fresh and held up between the layers. They were able to deliver to our venue about 30 minutes away. We also ordered mini key lime pies as part of our wedding favors and they packaged them for us in mini pie boxes and custom stickers that we supplied. We froze the extra pies and they still taste great. A little pricey, but worth it for peace of mind concerning allergy and fresh, homemade ingredients!
---
Reviewed on

7/13/2016
Kristin M
Delicious and beautiful VEGAN wedding cake! We were so happy that the price of the cake was reasonable and that the baker did such amazing work. We were eating wedding cake for days, and it was enjoyed by all. We loved it so much that 14 days after my wedding we ordered a... Read More similar cake from them for my birthday! Definitely order your cake from them.
---