Home

Lee's Specialty
Details
Custom Invitations, Coasters, Escort + Place Cards, Guest Books, Menus, Programs, Table Numbers, Thank You Cards, Paper Goods, Embossing, Engraving, Letterpress, Printing, Email Save-The-Dates, Save-The-Dates, Shower + Party Invitations, Invitations + Paper Goods
Contact Info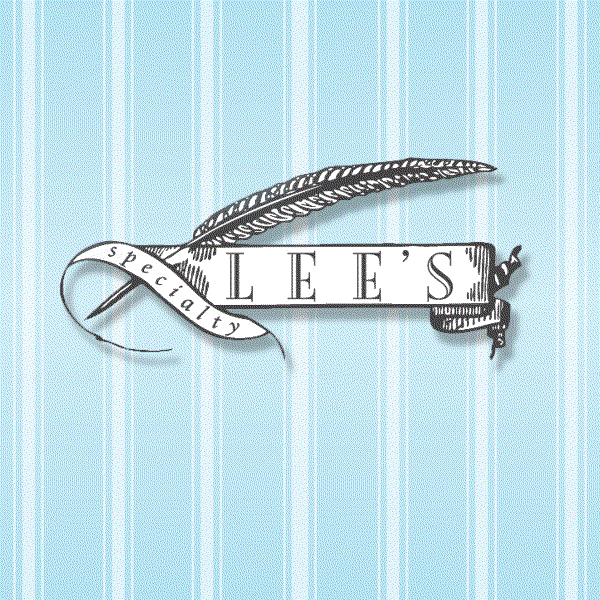 Exceptional Quality & Service
Reviewed on

8/05/2013
Caroline M
I worked with Anne at Lee's Specialty and her expertise & service was exceptional. I visited close to 8 times to pull together the perfect stationary set for our wedding and Anne helped me every step of the way. She paid close attention to our budget and wedding style and helped... Read More us create the perfect invitations & stationary that were simple and elegant and timeless. Each of my orders were delivered in or under the promised delivery date and were done perfectly the first time. I not only went to Anne for our Save the Dates & wedding invations, but my mother in law also used her services for my bridal shower invitations & stationary as well as rehearsal dinner invitations. All were beautiful. I would absolutely recommend Lee's Specialty to any bride or bridal party who is looking for personalized care & service.
---
Love Lee's Specialty!
Reviewed on

9/23/2013
Molly S
I absolutely LOVED working with Michelle for my wedding invites! She had great ideas and suggestions. She is friendly and kind. I cannot wait to design my stationary containing my new name with her!
---
LOVE LOVE LOVE!
Reviewed on

10/28/2012
Kristen M
Lee's is the best. So helpful and patient. Spent many hours in there designing my invites, menu cards, place cards etc., and the ladies were so helpful. Great selection, great customer service. Highly recommend.
---
Reviewed on

8/31/2017
Katie S
Michelle is the best! She goes the extra mile to make sure that her clients are happy and get something they really love. She was so patient with me, as I changed my mind a million times and kept editing things until the very last second. I absolutely loved my save the dates,... Read More invitations, and welcome bag notes and got SO many compliments on the finished product! If you are looking for a beautiful product and amazing customer service, this is your place!
---
Reviewed on

8/31/2017
Hadas C
I have worked with Michelle & Solange at Lee Specialty for the last 15 years. I have had nothing but positive experiences. I trust them implicitly. They have beautiful taste and work tirelessly until you are happy with the finished product. Highly recommend.
---
Reviewed on

8/30/2017
Mimi S
Simply The BEST!! What a pleasure working with all the exceptional, friendly, knowledgable staff at Lee's Specialty. Michelle, Ruthie, Sandy and Nikola could not have be more helpful. Due to my busy work schedule, I was dropping by the store at different times on several days to... Read More select, review, and finalize my orders. I was always welcomed with open arms, even though I hadn't called ahead for an appointment. What an added pleasure to be greeted by their sweet golden retriever! I was so grateful for all of the excellent recommendations for my personalized stationery, rehearsal dinner invitations, custom gifts, beverage napkins and hand towels, specialty cards, etc. etc. etc. I could not replace the phenomenal service and attention to detail provided by the helpful staff at Lee's Specialty. They exceeded my expectations in every way. No need to look elsewhere...Lee's Specialty is the BEST!!
---
Reviewed on

8/30/2017
Jill M
What a wonderful experience it has been working with Lee's Specialty! They have done an outstanding job with all of our wedding needs. They spent time with me to make sure every detail was perfect. Planning a wedding can be seem overwhelming and emotional . Each time I... Read More visited Lee's I felt at ease and confident that I was in good hands. I feel like I have made new friends and would highly recommend Lee's to anyone looking for personalized service, expertise, and friendly people.
---
Reviewed on

8/29/2017
Arghavan P
I have literally never dealt with such unprofessional people. I ordered my wedding invitations from them and they have screwed this up on so many levels. I am appalled. Stay away unless you want to babysit a company and be stressed out right before your wedding.
---
Reviewed on

10/05/2016
Madeleine B
Lee's Specialty did the napkins for our wedding. I love the way they turned out, it just took a while for them to arrive.
---
Reviewed on

1/24/2016
Wonderful!
---
perfection
Reviewed on

12/10/2014
Elena P
just loved our invites, and they were amazing to work with
---
Nice but Expensive Invitation
Reviewed on

1/06/2014
Amanda M
We went to Lee's hoping they could help us find traditional formal wedding invitations. After going through a million books (they have lots of options) We ordered what we thought were traditional invitations, however, when the came in, they did not include an inner envelope.... Read More When we asked why inner envelopes were not included they informed us that because the invitations were black (for a black and white wedding), they were considered non-traditional and therefore did not come with an inner envelope. In my opinion, this is the reason you come to a Specialty shop like this, to be helped through the process and be informed of nuisances like 'black invitations are not traditional and will not include all the pieces of a traditional formal invitation'. I could have just as easily ordered the same thing online but I expected more personal service from a professional invitation shop. Overall, the invitations worked out fine but was disappointed with the service.
---
Excellent service
Reviewed on

10/03/2012
Jennifer B
Lee's did both my wedding invitations and rehearsal dinner invites. I was extremely happy with the final product and their service. There was initially a mistake with the actual wedding invitation (miscommunication) and they called the company right away and had them reprinted... Read More and no extra charge. My invitations were one of my favorite things about my wedding!
---
they rock
Reviewed on

6/12/2012
Amanda L
Lee's customized my invitation.
---
Invitations
Reviewed on

5/22/2012
Allan P
Shopping at Lee's was a nice experience, especailly meeting the shop greeter, the uber-soft dog although I cannot recall his name. We had some concerns with the font on the proofs, but that was handeled quickly. We were pleased with the outcome.
---
Great service and great taste!
Reviewed on

11/01/2011
Alyse G
I worked with Lee's Specialty to pick out my wedding invitation, shower thank you notes, wedding thank you notes, wedding place cards, rehearsal dinner place cards, wedding program, and wedding menu. Not only was their service great, but they also helped me to make wonderful... Read More choices. They are truly professionals that help you every step of the way from formatting to fonts. I couldn't have imagined having an easier experience picking out all of these important items for my wedding! The staff is always available to answer questions and has so much patience for those indecisive customers like myself. You can't go wrong with Lee's Specialty!
---
WORST CUSTOMER SERVICE EVER and WATCH OUT FOR HIDD
Reviewed on

10/26/2011
Crescent M
I strongly recommend finding another invitation shop - as dealing with them was one of my worst experiences. First - we went in there with a very specific budget and spent a lot of time picking out an invitation that we were told fit that budget - and we were initially very... Read More pleased with the selection. I was directed to come back (without the groom) to place the order, as the process can be quite timely, but good news was that I could spend the interim time getting addresses in the appropriate format so that we could have the envelopes addressed via machine calligraphy. After I returned and spent several hours selecting the wording, font, etc. for the invitations - I was told they THEY had made a mistake in the invites and I would be charged an additional couple of hundred dollars. The clerk helping me had the nerve to tell me that I should have known - and I had bought them when we initially went in THEIR mistake would have been discovered. They refused to honor their estimate, give us any discount, or even give us a break on the machine calligraphy. The latter was most upsetting, considering I just recently discovered that they have a free coupon for machine calligraphy if you buy your invitations there. Anyways, due to the all of the time we spent there and approaching deadlines we decided to place the order. We got the proof and were told to carefully check the language but thankfully I read all of the fine print (Lesson - READ YOUR PROOFS CAREFULLY) because they had totally mixed up the colors that we had selected. Finally, I received the invitations and we decided to go ahead and get the machine calligraphy (because you're supposed to get it free when you buy your invitations there - even though they don't tell you). So when I called to schedule the machine calligraphy I was told that "Good News the coupon is still good" but the bad news was that my envelopes were too thick for the machine calligraphy and I would have to pay almost $400 EXTRA to have hand calligraphy. So, I'm not sure why she said she had good news exactly!!! When I suggested that they should have told me this when I selected the invitation (since I told them we were going to have machine calligraphy) - she actually said we're not mind readers how would we know you were getting the machine calligraphy. My reply was you should have known because we told you we were going to have machine calligraphy and you gave us the instructions that we were to follow for our addresses. Honestly - I question whether they are telling me the truth after all of this. Long story short - the invitations are nice (but that's due to the vendor not the store) but we've already shelled out an extra $200 and still don't have them addressed. I would STRONGLY RECOMMEND GOING ELSEWHERE.
---
Extremely Helpful
Reviewed on

10/12/2011
Katie G
All of the employees at Lee's Specialty were wonderfully helpful, professional and kind. They worked with me for hours finding the best invitations for the price and they were on top of everything, even ordering my invitations in not a lot of time. I highly recommend their... Read More services for all occasions.
---
Loved Them!
Reviewed on

8/12/2011
Jessica G
I told them I was looking for a classic 2 toned polka border invitation and they knew exactly which books to show me and the pricing fit my budget. They had exactly what I was looking for!
---
Rare talent for great invites
Reviewed on

5/27/2011
D G
This shop has incredible selection--but so do a lot of places. They have something the other places don't though: people who really know and love invitations. They have great taste, know how to listen, and can really add to your conversation about invites. I am a bit psycho... Read More about my wedding invites, and I was thrilled to have someone who knew more than I did about my options! MICHELLE is amazing and was able to suggest things I never considered, research better ways to do things, and guide me through the whole process. For all this, I expected to pay a fortune (the cost would be justified!) but the prices are actually very similar to what I found online, doing all the hard work myself. SO HAPPY to have found this shop.
---
Excellent
Reviewed on

5/17/2011
Toni D
Michelle at Lee's Specialty is terrific. She always answered my questions, was helpful and had great ideas for our wedding invitations. The store has the best selections!
---
Excellent, FUN service!
Reviewed on

5/16/2011
katy w
I walked into Lee's in a complete fluster, having been let WAY down by another vendor within weeks of when we had hoped to send out our invitations. Despite the fact that the store was within minutes of closing, Michelle sat with me and my future mother-in-law as we described... Read More our predicament. We now have put in our order for our incredible invitations, and could not be happier with the service we've received so far.
---
Outstanding
Reviewed on

5/13/2011
robin b
Lee's is fantastic! Everyone there has such wonderful taste, and is incredibly helpful. They have an unbelievable range of options. My invitations were simply gorgeous, and set the tone for my whole wedding. I could not have done it without their help.
---
A Tremendous Experience
Reviewed on

2/02/2011
kimberly b
The staff at Lee's Specialty in extremely knowledgable. They are detail oriented and tailored the invitation to my daughter's personality. Michelle, Lori and Solange were wonderful to work with. The cost was reasonable.
---