Home

Lisa's Confection Connection
About this Vendor
Freshly Baked, Professionally Decorated!!
At Lisa's Confection Connection, we specialize in creating custom cakes,cookies, corporate gifts, party favors and more. Great pride is given to each cake we ice & decorate! Our smoothly iced buttercream cakes will make you think it was fondant! Great look, great taste!
Details
Contact Info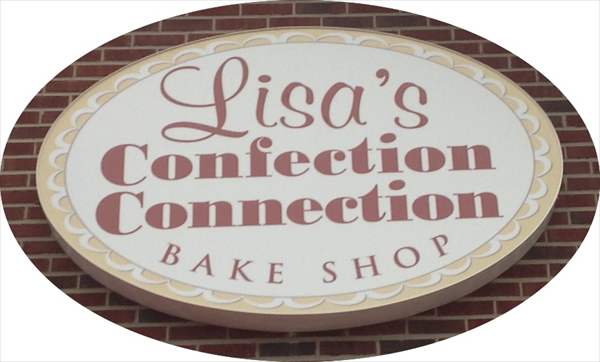 7060 Gateway Park Drive, Clarkston, MI
AMAZING
Reviewed on

2/04/2015
Lindsay H
I can't believe I have yet to write a review about Lisa's Confection Connection. We were married last July and found Lisa's Confection Connection through The Knot while looking for cakes for our wedding. I read good reviews, so decided to go in and see what it was all... Read More about. I showed her a cake that was outrageous and unique. The thrill in her eyes said it all. She seemed so excited to take on this challenge. We wanted a huge cake as well and she worked with us. The cake fed about 450 people I believe the final number was and we had 300 guests at our wedding. You would have thought cake would have been left over, but we didn't have much. Just the topper for our 1 year anniversary and a few pieces. So needless to say the cake was amazing and people couldn't stop eating it. We had so many compliments on our wedding and cake was one of the big ones. Her cake was amazing! Working with her was even better. She was always in contact with us, and you could clearly tell she loved what she did, which made the process even easier. Like many brides we didn't get much of a chance to have the cake. My husband and I received the pieces we shoved in each others faces and that was about it. So I can't wait to open up the 1 year anniversary cake and eat some. We have also used Lisa for birthday party cakes, really any excuse we can get. We plan to have Easter at our house this year, and plan to get a cake from there. Thank you Lisa's Confection Connection for all of your hard work and dedication toward our cake. It was greatly appreciated! Mr. & Mrs. Huppertz
---
Amazing
Reviewed on

11/26/2013
Amerie C
Not only was the cake and cupcakes beautiful they were delicious! Fantastic value, Lisa did all the set up and was great to work with.
---
Lisa's Confection Connection - YUM
Reviewed on

11/04/2013
Joanna H
All we had during the ceremony was our pieces of cake that we shoved into each other's mouths, but I have never tasted something so amazing before. I can't wait until the 1 year anniversary!
---
Reviewed on

8/02/2015
Jocelyn D
DELICIOUS Our cake was SO YUMMY! Lisa was super helpful working with us until we found the right cake for our wedding. We were very satisfied by Lisa's Confection Connection and would recommend her to anyone!
---
Delicious and Beautiful Cake!
Reviewed on

7/21/2015
Rachel K
My husband, who typically doesn't like cake, LOVED Lisa's cakes. They are amazingly good... so much better than what you would expect for wedding cake! Lisa did an excellent job decorating the cake as well, and she was super friendly and easy to work with.
---
Easy to work with, and gave us everything we asked for!
Reviewed on

12/08/2014
Alicia K
We met with Lisa's Confection Connection based on a referral from our reception venue. We did not know the Clarkston area very well. Lisa was kind, easy to work with, and seemed very enthusiastic. She emailed us in a timely manner with all the details. We had an unusual request... Read More for a cake. We had asked for a messy cake with unfinished frosting. We wanted the colors from our wedding cake swirled around. We had an artsy wedding, and we wanted the cake to reflect that. The cake was DELICIOUS. Although I didn't have time to have any on our wedding day, the piece that we cut for ourselves was good, and our guests all loved it. We had a different flavor for each layer: Peanut butter filling in chocolate cake, lemon filling with vanilla cake, raspberry filling with chocolate cake, and finally strawberry filling with vanilla cake. Everyone said that they liked it, but I heard the most response to the peanut butter cake because it was not a usual wedding flavor. We did not receive a lot of compliments on the cake design, which was disappointing, but Lisa did what we had asked her to do. Perhaps it was a bit too contemporary or weird for our guests, but everyone said it was delicious!
---
Beautiful and Taste Great!
Reviewed on

10/21/2014
Karen H
Lisa was a pleasure to work with from the start, I was able to show her exactly what I wanted and she was able to see my vision and make it. She has a variety of fillings and cakes to taste and choose from and is willing to do any special accommodations you'd like. I had a... Read More three tier wedding cake, that was naked. There was no frosting and to some you might think that it would be dry and trust me working in this industry I know all to well that it could have been, but Lisa made sure that cake was put together nicely and that there was no room for error. The cake came out beautify, and the taste was outstanding. My husband and I were only able to have one bite because we were so busy but It was probably the best bite of cake I've ever had, and he loved the fun-fetti! :) Jason and I received nothing but complements about the cake and are still getting complements about the cake days later. Anyone that wants a cake made to perfection with great flavors I'd recommend working with Lisa and her staff, they were great!
---
Even people who hate cake loved this cake
Reviewed on

10/15/2014
Dana P
We ordered a vanilla cake with raspberry filling and buttercream frosting. It was amazing. We wanted very simple decorations, just ribbons and a cake topper, but it was still so elegant that we were loathe to cut it. But, of course, we did... and were told by several of... Read More our guests that it was one of the best wedding cakes they've ever had. Lisa was easy to work with, had great ideas. I was afraid my husband would fall in love with her during our cake tasting (I don't bake)... and he actually HATES cake. He ate all of the cakes at the tasting, and had at least three pieces at the wedding. And considering there was also a dessert table with lots of other stuff, everyone loved the cake.
---
My Weakness
Reviewed on

10/09/2014
Taylor H
Our cake lady canceled a month before the wedding, so we were in a panic. We ended up going to Lisa for a cake testing to see what we thought and the moment she sat down with us we knew we wanted her to do our cake. We are very lucky and thankful that she was able to fit us in.... Read More Our cake was more than we imagined and she even did a grooms cake that people are still talking about and said it was the coolest thing ever
---
Excellent cake and cookies
Reviewed on

9/23/2014
Michelle F
Lisa was very easy to work with! My fiance and I set-up a tasting and we were able to try several flavors of cake and fillings. We were also able to discuss options for cookies at this time. Lisa even sent me pictures of different options for ribbon sizing on our cake. She... Read More delivered the cake and cookies and took care of everything the day of our wedding.
---
Beautiful and delicious cake!
Reviewed on

1/12/2014
Suzie
I first fell in love with Lisa's cake at a birthday party we went to, so when we got engaged there was no question where to go for our cake. I ended up with a 5 tier simple white cake with flowers she created from a picture I gave her. It was absolutely perfect and delicious!... Read More We ordered a lot more cake than we thought we needed but there was not much left at the end of the night even with a dessert table!! She is very talented at making unique cakes and is very reasonably priced. The delivery of the cake was also on time and seamless. I will definitely be using Lisa's confections in the future.
---
Our Wedding
Reviewed on

10/10/2013
Jasmine B
A HUGE THANK YOU for the delicious cupcakes and cake, it was exactly what I envisioned. Our guests raved about the cupcakes and everyone gushed about how moist and tasty they were! Thanks for being a part of our special day! it was truly an honor and we will pass your name onto... Read More friends and family for future events. Thank you again! Jasmine & Troy
---
Butter cream frosting is TO DIE FOR!!!!
Reviewed on

10/02/2013
Ali H
Delicious cakes and cupcakes! Our guests were raving about how beautiful AND delicious our wedding cake was. I had a picture of the cake I wanted to recreate and Lisa's team did a fantastic job replicating it perfectly! Quick note if planning your wedding from out-of-state:... Read More email responses can take some time so either be patient or just call for a quicker response if needed.
---
beautiful
Reviewed on

8/30/2013
Jennifer M
My cake was absolutely beautiful. It was exactly as I had envisioned it! Lisa is so nice and just wonderful to work with. She listened to what I want and the cake turned out perfect. It tasted SOOO good too, my guests were raving! Thank you Lisa!!!!!
---
WONDERFUL!!!!
Reviewed on

8/14/2013
Casey C
From the beginning Lisa was outstanding! Our cake tasting experience exceeded our expectations and allowed us to taste a variety of cake and filling options! She really understood what we were looking for, and embraced the opportunity to create a groom's cake for us that was a... Read More little unconventional! I arrived at the venue at the same time as my cake and it was adorable to see Lisa driving her "Wedding Cake in tow" van, and I was beyond excited when I saw what a beautiful job she had done with both of our cakes. Not only are her cakes beautiful but they are beyond delicious! We went with the chocolate cake and chocolate mousse and vanilla almond cake with raspberry mousse, and now three weeks later people are still asking about our cake! She did an outstanding job and is a must have if you ask me!!
---
Wedding and Shower
Reviewed on

7/30/2013
Nina B
I used Lisa's Confection Connection for my wedding and shower. I was VERY happy overall. Lisa is SUPER nice. There is no doubt, the cakes and desserts are DELICIOUS! My wedding shower cake was gorgeous and everyone raved about it. Lisa did a dessert table for my wedding and it... Read More was beautiful. One platter that I provided was broken upon set up, but Lisa was kind enough to compensate without any questions asked. I asked for sparkles topped on the frosting of my cupcakes, and the sparkles were not exactly visable. That was a little disappointing, but not the biggest deal. I ordered 150 cake pops and wished I ordered more. They were gone so fast I didn't even get to try one!! Overall, Lisa's Confection Connection is great and I would totally go back!
---
Best Cake Ever!!!
Reviewed on

7/09/2013
Amanda R
This was probably the best cake I've ever tasted. Everybody at our wedding said how good the cake was and Lisa was a joy to work with.
---
What a wonderful night!
Reviewed on

5/28/2013
Kristina B
We had found a picture online of the exact cake we wanted. We took that picture to Lisa and she was confident that she could recreate it, and she did not disappoint!! Lisa has amazing cake flavors and fillings, and it's so difficult to chose from them. We ended up with two... Read More layers of chocolate chip cake, one with raspberry fruit filling and one with strawberry fruit filling, and a layer of white cake with lemon filling. The cake was gorgeous and tasted amazing! Wonderful value and service!
---
Half/Half cake
Reviewed on

5/17/2013
Jill H
Working with Lisa for my February 2, 2013 wedding was a joy! Her enthusiasm, and energy are contagious! Of all the bakers I consulted she was the one to look at the cake I wanted and get excited for the challenge and to be positive about getting it done. And get it done she did!... Read More My friends and family are still talking about how awesome the cake was, noone had seen anything like it, and it tasted just as good as it looked. I highly recommend the peanut butter mousse filling, we paired it with the marble cake and could not have been happier! We will be going to Lisa for cakes in the future, and be sure to check out her cupcakes as well!!!
---
Beautiful, Elegant & Delicious!
Reviewed on

11/06/2012
Sherryl M
My daughter lives out of state so I was charged with finding the perfect cake! I wanted to stay local even though the event was being held in Wayne County. Lisa is a great businesswoman! She knows her market, understands how overwhelming choosing cupcake and wedding cake... Read More flavors can be! The cake and cupcakes were a tremendous hit because they were so delicious! When we arrived at the hall, the cake and cupcake display was just beautiful and elegant. We had over 200 cupcakes--so I was worried that this could be quite an overwhelming display--it was tastefully done so that we could add cupcakes as guests took them! I recommend her to any bride or MOB who needs to be worry-free on the big day!
---
YUMMY
Reviewed on

9/11/2012
Stephanie S
Cake was very good. It was everything we ordered and it was a great price too.
---
Love this place!
Reviewed on

6/26/2012
Heather G
Lisa was very wonderful to work with! I brought in a picture from Brides Magazine out of a Top Cakes Issue and she was able to make it look exactly like the one in the book, at probably 70% discounted price. We had 140 guests and the cake servings were nicely sized. The cake was... Read More super moist and just full of flavor. I recommend the raspberry mousse for a frosting between the layers. I wish I lived closer to Clarkston because I would visit often to pick up muffins and cookies.
---
Delcious cake
Reviewed on

6/16/2012
Lanetta W
I loved this vendor. Not only are her cakes to die for I took a picture from a magazine of a gift box and she turned my cake into that beautiful gift box. Wonderful baker! Still getting compliments on the cake.
---
beautiful
Reviewed on

5/05/2012
tatiana e
We had a small wedding of about 50 so we did not need a big cake. All the other bakers were over priced for the size that we needed. Lisa captured our cake idea perfectly. It was beautiful. She was so sweet in helping my husband and i pick our perfect wedding cake!
---
Terrific cupcakes!
Reviewed on

10/22/2011
Denise M
Lisa is fun and easy to work with. She acts like you are her only customer and really takes her time with you. She had lots of suggestions and lots of patience. We had miniature cupcakes. They were fairly priced and DELICIOUS! We would recommend Lisa to anyone!
---