Home

Liz Stewart Photography
About this Vendor
Hello There! I'm Liz.
Choosing a wedding photographer is a big deal. You're trusting someone to communicate with you throughout your entire wedding day. More importantly, you're trusting someone to preserve your memories. I promise to capture those perfect yet fleeting moments that may otherwise be forgotten. On your wedding day, I will be attentive, organized, and appropriate. It is my goal to make sure you are as comfortable as possible. I'm delighted that my work has caught your eye. If you'd like to inquire about your wedding, you can use the contact form on my site, www.LizStewartPhoto.com. For other inquiries, please email me directly at [email protected]
Details
Artistic, Classic, Documentary, Lifestyle, Modern, Vintage
Bridal Portraits, Engagement
Getting Engaged, After Party, Rehearsals + Parties, Wedding
Destination Wedding Packages, Destination Weddings, Online Proofing, Digital Files, Printed Enlargements, Wedding Albums, Photo, Second Shooter Available, Social Media Sharing, Photo + Video
Reviewed on

7/14/2017
Caitlin O
I cannot say enough glowing things about Liz Stewart. If you're on the fence, just do yourself a favor and hire this amazing, friendly, impeccable artist. When we first met with Liz, she struck us immediately with her professionalism. She was very organized and offered... Read More responses before we even had the chance to ask. She asked great questions. We were delighted to have found a photographer we fell into such an easy groove with. Her packages and rates were very reasonable so we hired her. During our engagement photos, she was a confident and creative director. We felt very at ease with her. Our photos were just gorgeous and we couldn't wait for her to photograph our wedding. In the lead-up, we felt like we were whack-a-mole-ing problems with every last wedding detail, but in our pre-wedding meeting with Liz to go over the details, my husband and I both said "Well Liz is perfect obviously, so we don't have to worry about her." We meant it! On wedding day, she was a wonderfully calming presence among the crazy. She captured great shots, expertly herded the non-compliant cats of wedding guests and added to the celebratory happy atmostphere all day. We were thrilled with her performance, and when we got the photos, well I'm practically crying as I type this out because they're all so beautiful I still can't believe it. We've been hearing nothing but compliments on the amazing job the photographers did. I can't even pick my favorites because there are so many. Hire Liz Stewart. She's the best.
---
Reviewed on

1/05/2017
Ada O
We had the extraordinary pleasure of working with Liz Stewart on our engagement shoot and wedding in 2016. Liz immediately stood out early in our search as someone who was highly professional, confident and exceedingly responsive to all inquiries and questions. Per her... Read More suggestion, we met for a consultation to see if we were a good fit and to get to know each other's personality and working style. Liz is an excellent listener and she really takes her time to understand her clients' expectations and vision, so that she can better anticipate the needs on the big day. She is very organized and calm, she knows when to step back, follow the lead and when to step in. After the ceremony, my husband and I stopped by the Lincoln Memorial to take a few quick pictures of just the two of us. Liz did an amazing job at keeping the tourists at bay and directing the flow around us, keeping us focused and moving through the shots quickly. When we got to our cocktail hour and reception, she weaved through the crowd and most of the time we didn't even know she was there. She truly captured everyone's mood and the joy of the moment. After the wedding, Liz provided regular updates on her progress with the photos and remained available and approachable. We referred Liz to many of our friends. One of our wedding guests was very impressed with Liz and hired her to shoot a promotion ceremony. Liz is a very lovely person, she is sweet, genuine, upbeat and confident, and someone who takes great pride in her work. She enjoys meeting new people and cherishes the opportunity to share their most treasured life moments. We couldn't be happier with the service and product we received, and we truly enjoyed working with Liz. We plan on sharing/capturing many more moments with Liz in the future.
---
Reviewed on

9/21/2017
Ella C
Liz was such an amazing find during our wedding process! I loved her portfolio and she made me feel totally at east when we met in person to discuss the wedding. She is the perfect mix of bubbly and professional. I noticed a lot of the weddings on her blog were much more formal... Read More than what we were going for, but she totally got our "vibe' and embraced the style we were looking for. We had several near "literal" meltdowns on my wedding day (the AC was broken in June!), but Liz stayed calm and upbeat and helped us troubleshoot to find the right spots for our pictures. At the end of the day, our photos turned out beautifully and we LOVE them! If you are looking for a reasonably priced stellar photographer to capture your special day, Liz is your girl!
---
Reviewed on

9/06/2017
Shihomi D
I found Liz from several sites and decided to talk to her in person. Since my husband and I live in oversea, we talked through Skype. I knew she was going to be our photographer as we talked! She was super nice and was also confident of her work. Even though we had a time... Read More difference, she always responded my questions quickly. Very responsible! We were impressed with Liz's knowledge and experience. Liz was so friendly and helpful throughout the event (engagement and wedding photos), and seemed to be everywhere at all times! We all were impressed with the shots she suggested, the shots she knew to take when we didn't ask, and her ability to capture so many perfect moments. With over hundreds of pictures taken within her time with us, we just know we had great time with her and our wedding memories last forever. Thank you!!
---
Reviewed on

8/30/2017
Kelsey R
Liz was a wonderful photographer, very good at putting my husband and me at ease, and incredibly responsive. Without a doubt, working with Liz was the smoothest part of planning this wedding (when the transportation I hired to take me to the church didn't show up, for instance,... Read More my bridesmaids and I rode with Liz in her car). You absolutely get your money's worth with Liz and I couldn't be happier with our beautiful wedding photos. She was always cheerful and energetic, but approachable. My family raved about how she was able to handle our larger family group photos, working with everyone from grandparents to toddlers. And she does a great job encouraging you and the bridal party from behind the camera. You will not regret hiring Liz.
---
Reviewed on

8/28/2017
Jonathan A
We HIGHLY recommend Liz for your engagement and wedding photos! We initially chose her because of the clarity and editing done to previous photos of hers. She constantly kept us on our toes and made sure we were giving "genuine" smiles instead of fake smiles from the countless... Read More pictures taken during the day. We really enjoyed using her for our engagement session and even more so on the big day. She brought a couple of other photographers to help her capture moments during the day so there were a wide range of photos. We will definitely be using her again for future photography needs <3
---
Reviewed on

7/24/2017
Jessica C
I loved having Liz as my photographer! Liz was very responsive to all of our questions and helped us work through the logistics of our big day while keeping us calm and laughing. We chose Liz because she was easy to talk with and we got along great. Throughout the entire process... Read More leading up to our wedding she worked with us to set up our timeline and shot list. She was always available by email or phone and really went the extra mile to make sure we felt comfortable leading up to the big day. She was willing to work with my vision and made our nontraditional ceremony, first look and reception ideas seem normal. On the day of our wedding she kept us calm and comfortable and there was so much laughter. Liz delivered all of the photos within the timeline set out in our contract and the photographs were beautiful! We have received so many compliments on the photos and we cannot wait to hang them in our home. I would definitely recommend working with Liz for your wedding. I hope we can work with Liz again in the future for other life events.
---
Reviewed on

2/08/2017
Ranwa B
Liz Stewart rocks! My husband and I were so lucky to have Liz be our wedding photographer. During our search for a photographer we met some really talented people but nobody really clicked for me (no pun intended) until I met Liz. On our first meeting I think we spoke about the... Read More wedding for about half an hour then spent the next hour chatting like old friends. My husband and I had been together for several years before we got married but most of our pictures were in selfie mode. So, it really meant a lot to us when Liz offered us a complimentary engagement shoot. The experience was awesome and we were hooked. The day of our wedding Liz Stewart arrived on time and with an assistant, Tony. Despite gale force winds and frigid temperatures she was able to wrangle all our family members for the family portraits and got them done quickly. She took fantastic photographs and somehow managed to hide the fact that we were all freezing. Liz was there throughout our event and like a stealthy ninja was there capturing all our special moments without ever getting in the way. We were so excited to receive our pictures from Liz only 3 weeks after the wedding. They were so beautiful! She demonstrated a clear understanding of our vision for the day and who we are as individuals and as a couple. If you are looking for a photographer who is professional, warm, funny, responsive, and extremely talented, look no further.
---
Reviewed on

1/04/2017
Ileana J
Liz was such a delight to work with. She made sure that we got what we paid for and beyond. She was extremely professional and responsive leading up to our big day. She not only gave us ideas about our vision based on her own experience from her wedding day and was completely... Read More open and honest with our vision. I interviewed many photographers and to be honest what drew me most to Liz was her sweet and patient personality, in addition to her beautiful portfolio. She proved to me from our phone conversations that she would be the best fit, personality and experience wise, to take on the huge responsibility of capturing all those special memories. On the day of our event she showed up on time with an assistant who was also a delight to work with. The both were very patient and made us feel so comfortable. At the reception it felt as if they both were a part of the reception and knew exactly what shots to capture. Liz, thank you for doing such a tremendous job at our wedding. We could not be happier with what you did for us and can recommend you only in the highest possible regard.
---
Reviewed on

12/31/2016
Cerenna R
Liz did a fantastic job with my wedding photography. To start, on the service side of things, she was professional and timely. When I was first searching for photographers and began inquiring with all of them, she responded quickly, professionally and was very thorough. Compared... Read More to the others, I was impressed. Contacting her was easy and I always received a response withing about a day. She was did an excellent job working with my needs. The price was not excessive and I'd estimate about mid-range. I didn't have much to spend, and she still worked with my budget and did her best to make it work for me. In regards to the quality of her work, I was impressed. The photos came out beautifully and they could have been in a wedding magazine. I'm not easy to please. One thing I did notice is that she gave me a lot of the freedom to choose what shots she took. I'm not certain if that's the case for every client. I have only had exposure to one other wedding photographer to compare with. Liz was a lot more relaxed while the other photographer ordered everyone around and chose the poses herself. I make that comparison to highlight that she isn't pushy and can grant a client as much freedom as wanted. I had the freedom to choose, which was valuable to me. Overall, I would recommend Liz, and definitely feel that she did a phenomenal job.
---
Reviewed on

12/30/2016
Heather R
I absolutely loved working with Liz. She is so organized, personable, and made me feel so comfortable. I couldn't have asked for more for my big day! It's been almost two years since our wedding, and my husband I often stop and look at the framed photos on the wall and remark on... Read More how great a job Liz did.
---
Reviewed on

10/17/2016
Caitlin K
My husband and I used Liz for both our engagement shoot and our wedding and we cannot stop raving about how wonderful she is! From start to finish, Liz was extremely responsive and consultative and helped us with everything from picking outfits that look great on camera... Read More (engagement shoot) to a shot list to the day of agenda. Her rapport is impeccable which ensured that we were comfortable and made for a lot of great, natural looking photos and made our wedding day stress free knowing we were in good hands. We used our engagement photos for our Save the Date and still receive compliments on them! Day of she was wonderful and helped coordinate our wedding party to make sure that we got the photos we wanted and blended in with/treated our guests fabulously. We cannot wait to use Liz again in the future when other events call for professional photos!
---
Meet The Owner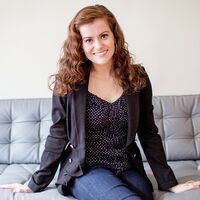 Liz Stewart
Hello There! I'm Liz. Choosing a wedding photographer is a big deal. You're trusting someone to communicate with you throughout your entire wedding day. More importantly, you're trusting someone to preserve your memories. I promise to capture those perfect yet fleeting moments that may otherwise be forgotten. On your wedding day, I will be attentive, organized, and appropriate. It is my goal to make sure you are as comfortable as possible. I'm delighted that my work has caught your eye.