Home

Loveliest Bridal
About this Vendor
Designer Gowns Within Reach
At Loveliest, we are grateful to share in the best shopping experience of your life. You can trust that you will be pampered – not in an overly fussy way, but in the way you deserve to be treated as a bride. You will receive our undivided attention in your one-on-one appointment, complete with beverages for you and your guests and personalized recommendations. We work diligently to offer designer dresses at more affordable prices by partnering with high end boutiques making room for new inventory and local brides interested in consigning their dresses. At Loveliest you will find new and once-wed gowns that traditionally retail for $2,000 + marked 30-70% off!
Details
Wedding Dresses, Dresses, Bridal Stylists, Private Appointments Available, Fashion
Contact Info

Reviewed on

8/01/2017
Megan H
I wouldn't trade the opportunity of having the entire boutique reserved just for me for the world. I felt like I could relax and start having some fun. The store owner, Anna, was on the same page and was eager to pull any and as MANY dresses down that we eyed. The music is set... Read More to your favorite artist/genre, candles that smell amazing, cheese and crackers that my MOH loved. It really made shopping more of a special and memorable event. Anna even stayed open late on a Saturday so my mom would have a chance to come see the dress before we purchased it. You could tell she is in this business to see brides happy. My fave thing about Loveliest (other than the amazing selection that led to my designer dress at HALF THE PRICE!), was Anna's policy of no body shaming. It makes me so happy to know Anna is encouraging her brides to see and embrace the beauty in themselves, no matter the dress that is on. This ended up being my one-stop shop. SO fun!
---
Reviewed on

11/11/2017
Bethany P
I cannot recommend her enough! She plays your favorite music. She's supportive without being pushy. I love her no body shaming policy. Loved everything about the experience!
---
Reviewed on

7/16/2017
Helen v
I consider myself to be a very picky person. I had a specific idea in mind of what I wanted, and I estimated that it would take several weeks, if not months, to find what I wanted within my budget. I'm not kidding when I say Loveliest bridal was my first and last salon... Read More appointment. Anna was extremely professional and helped me find exactly what I wanted. The personal attention was very helpful, and I appreciated having the whole place to myself. It really made a difference! Not only that, but she ensured that I paid only the most fair price for everything. I cannot recommend this place enough. You will not have a better bridal dress shopping experience anywhere else. I assure you! Thank you so much, Anna, for helping me find my dream dress!
---
Reviewed on

7/02/2017
Leah E
Anna is amazing! She closes down her shop during each appointment so you and your guests are the only people there and you can try on every single dress without interruptions. Her store is adorable and she has a great selection!
---
Reviewed on

6/08/2017
Madeline M
I had a fabulous time shopping at Loveliest. Anna is wonderful, and it was truly an individualized experience. She helped me talk through what I wanted, the process, and made me feel confident going into things! While I did not end up getting my dress here, I still recommend... Read More it to all of my friends because of what a great experience I had.
---
Reviewed on

6/07/2017
Sayge S
When I started looking for a wedding dress I loved the idea of buying it at a consignment shop. Anna is so amazing and her store is beautiful! Anna makes everything easy and there is no pressure. I also liked the fact that my family and I got the whole store to ourselves. I... Read More would give Loveliest Bride ten stars if I could!
---
Reviewed on

6/06/2017
Mindy L
This should be the first place Knoxville area brides go for a wedding dress. It's a beautiful and cozy boutique with a fantastic selection of gorgeous bridal gowns for various budgets. The personal guidance and service we received from Anna (the owner) was impeccable. Her... Read More boutique is by appointment only one bride at a time. The bride, friends and family are given private undivided attention. My niece (the bride) found her dream dress and it was the second one she tried on. We had a wonderful experience. We will never forget it.
---
Reviewed on

4/05/2017
Paula S
I loved this shop! I had been to a few different shops and I could never find what i wanted but Anna has such a great selection and I found my dress! I really loved that my group had the whole store to ourselves and it created such a nice intimate environment.
---
Reviewed on

11/17/2016
Anna Cate H
This place is so chic and fun! Anna (the owner) is SO wonderful and helpful. Her gowns are absolutely gorgeous and are sold at a great price! Loveliest has a lot to choose from and Anna makes it a fun and easy process! She gets new gowns in all time, so its a good idea to keep... Read More checking back if you do not initially find what you're looking for. I highly recommend this shop to every bride!!
---
Reviewed on

9/19/2016
Ashley R
This place was absolutely stunning. The dresses were unique, amazing quality and totally affordable. Anna is the BEST! She played my country music, we got water and having her positive support both verbally and physically with getting me in and out of dresses totally made this... Read More experience different than all the other stores. It was a quiet, intimate place where I literally had every dress available to me. It felt like the place was opened just for my private wedding dress day. I wish her the best of luck and I hope other Chattanooga, Atlanta, Nashville and Knoxville women go there. My 2 hour drive from Chattanooga was 100% worth it. The veil I tried on was actually ANNAs wedding veil and you know what? SHE GAVE IT TO ME with the dress. She could tell I was having a hard time with the mixed reviews from my family and did whatever she could to make the experience better. The dress I finally loved, was way over my budget and she tried to help bring the price down so I could get it. I'm telling you, you're not going to find such real, natural and authentic wedding dress help. She's not going to make you feel uncomfortable, pressured or insecure in anything.
---
Reviewed on

9/17/2016
Catherine J
Anna (the owner) made this process seem effortlessly beautiful. I originally planned on wearing my mom's wedding dress, but my extra curviness had other plans. With my wedding just around the corner (November), I was trying not to panic. My mom booked my appointment with... Read More Loveliest Bridal based off online recommendations and I am so grateful. Anna made finding "The Dress" fun, exciting and stressless. I found my dress (it seriously couldn't have fit any better) with my mom by my side. Anna was there to guide us through the trying on process, giving us our space at times and special attention when needed. Knoxville is lucky to have someone that cares so much in the wedding vendor community. Thank you!
---
Reviewed on

9/16/2016
Taylor H
This shop is a dream come true for brides. Anna makes sure to provide the intimate and exciting experiencing brides are hoping for. She has your favorite music playing and water and snacks ready. She listens to exactly what you want and finds the perfect fits for you. She also... Read More allows you to browse the shop to see if there is anything that catches your eye. She's aware of your price range and is very mindful in maintaining your budget wishes. I'd suggest every Knoxville bride to stop into her shop for the ultimate bridal experience.
---
Reviewed on

9/05/2016
Christie V
Loveliest is an amazing place to go for your wedding dress! The experience is very personable and private. When you make an appointment, Anna (the owner) asks you what type of water you want and what your favorite music is. She will have it playing in the background when you... Read More get there and her cucumber water is great!She even had snacks out for us (grapes, cheese cubes and crackers). I love the private appointment because you don't have anything else going on around you and it doesn't have a "busy" feeling so you don't get overwhelmed at all. She has amazing jewelry and accessories to try on with the dresses that can make the dress better than you imagined. Anna has a great eye for fashion and really listens to what you want. I highly recommend this bridal store!!
---
Meet The Owner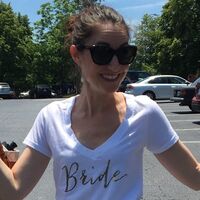 Anna
As a recent bride myself, I found that shopping for "the" dress could be quite daunting. However, with the right stylist and mentality, it can be the best shopping experience of your life. I will do everything in my power to ensure that each Loveliest bride feels pampered without feeling uncomfortable or overwhelmed. Finding your dress should be FUN! I am honored to offer the only upscale consignment wedding dress boutique in Knoxville and hope to have the opportunity to help you find your Loveliest dress for your loveliest day!