Home

Lovely Scribe Calligraphy
Details
Contact Info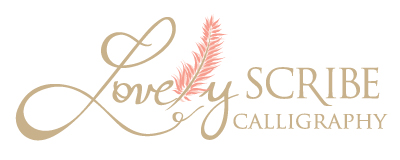 Reviewed on

11/07/2017
Maiza G
Amazing
---
Reviewed on

10/26/2016
Christina F
Leigh's work is SO AMAZING! For our seating chart I wanted to put it onto a mirror. I thought it was something beautiful and different. She was so helpful in guiding me in the right direction to find the perfect mirrors. Not only is her work incredible, but she is so wonderful... Read More to work with too! The mirrors were everything I wanted and more. Our wedding was two months ago and I still have people telling me how stunning they were and how they loved them. Now when I look at these beautiful mirrors it brings me back to the most magical and special day of my life! If you need any sort of calligraphy for any occasion I highly recommend Leigh.
---
Reviewed on

1/25/2016
brittany g
Love Leigh! She just did my envelopes for my engagement party. She is such a sweetheart and so talented! I can't wait to have her do the rest of my wedding stuff :)
---
Lovely Scribe Calligraphy
Reviewed on

4/07/2015
Raquel G
Leigh's work on the envelopes for our wedding was incredible!! She had several different calligraphy options, and she helped us choose the one that fit best with our nautical theme. Her work is truly beautiful! She was also helpful, accommodating, and responsive throughout... Read More the whole process--easy to reach and truly a pleasure to work with. I definitely recommend her!
---
Simply the Best!
Reviewed on

10/26/2014
Brittany C
Leigh is absolutely amazing! I have to say I am one picky bride and Leigh's calligraphy is perfection. From the beginning she took so much time explaining all the options I had in terms of colors, font and explained all the rules on wording depending on how formal you want to... Read More go! This was incredibly helpful because I didn't know the proper way to address my invites and I could count on her to write everything correctly because she knew the rules to everything! Not only that but she showed me so many examples of colors and even bought a rose gold pen just for me because I feel in love with it since my theme was blush, champagne and rose gold! When I received the final product I could not be happier and all my guests keep telling me how great they look! Don't look any further Lovely Scribe is the right choice!
---
Just beautiful!!!!!
Reviewed on

10/26/2014
Dana R
My husband and I got married in October of 2013! Still to this day do I receive compliments from our guests regarding the calligraphy on our invites!!! A pre-printed envelope could never ever compare to the beautiful job that Leigh does. I plan to use her again in the future... Read More whether it be for a baby shower, etc, and would recommend her to anyone! She was also a pleasure to work with! Just simply beautiful!!
---
A True Artist!
Reviewed on

10/25/2014
Mike D
As a groom, there are many aspects of wedding planning that you never thought of - and calligraphy is one of them. However, once I saw Leigh's work, I knew she would add that element of style to our wedding that would make it memorable for us and our guests. She has such a... Read More talent and it makes you realize the beauty of print.
---
Very Delighted
Reviewed on

10/25/2014
Leigh's calligraphy is so artistic and pleasing to the eye. I was immediately drawn to her work from the first time I saw it. She is so professional and a pleasure to do business with!
---
The best!
Reviewed on

10/25/2014
Jillian G
Working with Leigh was an absolute pleasure! She did multiple projects for our wedding and each one made our day that much more special. I admire her talent and can't thank her enough for all of her hard work!
---
Perfect
Reviewed on

10/24/2014
Desiree S
Leigh did an incredible job with the invitations for our wedding. She really worked with our budget and made me forget the stress of planning when working with her. She really listened to my needs and was truly a joy to work with. She was extremely fast with the turn around and... Read More paid attention to every little detail. She is truly remarkable at her work.
---
Absolutely Beautiful Work
Reviewed on

10/20/2014
I cannot say enough great things about how beautiful my invitation envelopes and place cards turned out for my wedding on 9/20/14. It was everything I had envisioned and more and Leigh's professional yet warm demeanor made me feel at ease the entire time. Excellent work and I... Read More would not hesitate to use her again. The best. Thank you!! Erene A.
---
Calligraphy highly recommended- Save the dates
Reviewed on

8/31/2014
Deannie R
My partner and I are from Bloomfield, NJ and we are getting married in Clifton, NJ (April 2015). We decided we wanted to use as many vendors from our area as possible. We did some research and found that Lovely Scribe Calligraphy was in Wayne, NJ. Not only was the location... Read More great, the price was just right and the service was phenomenal. Leigh (the calligrapher) assisted us in picking the perfect envelopes to go with our save the dates and also assisted us in addressing all of our guest correctly. We cannot say enough of the great service we received. We cannot wait to order our invites envelopes and have Leigh do the calligraphy for them as well.
---
AMAZING!
Reviewed on

8/11/2014
C C
My wedding is this upcoming September, a destination wedding in Cancun. I had envisioned sand dollar place cards with each guest's name and our wedding date. Leigh, created these perfectly, better than I had initially imagined. The entire process she was very attentive and... Read More responsive. She was very personable and showed an interest in my personal wedding story. I honestly could not be happier with the end result and working with Leigh. The sand dollar place cards arrived punctually and wrapped very securely. Leigh alleviated all of my anxiety about breakage during transportation and had each sand dollar bubble wrapped for me. Thank you Leigh for making my beautiful place cards!!
---
Lovely Scribe Calligraphy
Reviewed on

7/15/2014
Leigh did the escort cards for my daughters wedding. Her work is beautiful and her customer service is beyond fantastic. I wish I had another event so I could work with her again and I wish I had found her before I did the invitation envelopes. Love, love. loved her!
---
Amazing!
Reviewed on

6/02/2014
Colleen G
Amazing experience with Lovely Scribe Calligraphy! From beginning to end working with Leigh was so professional. Her work is unreal and beautiful. I have never received so many compliments on invitations. The envelope set the whole bar of the wedding and it was all because of... Read More her calligraphy work. Truly incredible to work with her and i could not be happier with the outcome. I would recommend to every friend of mine.
---
phenomenal work!
Reviewed on

5/30/2014
Maritza d
I loved everything about Lovely Scribe! The mirror was such a big hit, everyone was talking about it. When i brought the mirror home i didn't even want to remove the seating chart. It was beautiful! Leah was such a doll to work with, very open and understanding. Her handwriting... Read More is to die for and she is willing to try anything new, which is an A+ in my book. Thank you Leah for your great service and for all your help :)
---
Better than I could have Imagined!!
Reviewed on

5/20/2014
Huda K
Leigh created my chalk board ceremony program and it came out absolutely STUNNING. I had given her a mock up of all the names of my very bridal party and she came up with an idea right away! There were many different titles in our wedding party so I wasn't expecting her to fit... Read More them all but she did and it came out better than I could have imagined. Leigh even went out of her way to create a mini board for people to Instagram my wedding and we received over 200 pictures. People are still talking about how cool the chalk board looked. I can't wait to show off the photographers pictures of it! Thank you Lovely Scribes to making our ceremony so BEAUTIFUL!
---
Beautiful calligraphy!
Reviewed on

11/29/2012
Christine H
Leigh did the calligraphy for our wedding invitations and we could not have been happier. We were very impressed with how they turned out. Leigh was so easy to work with and dealt with multiple updates and revisions with professionalism. She made the stressful time of planning... Read More the wedding so much easier by providing guidance on proper wording and even caught an error in one of the addresses we provided! She goes the extra mile and I would highly recommend her work.
---
Truly lovely scribe
Reviewed on

11/29/2012
cait c
I was genuinely impressed by the unique elegance that Leigh's calligraphy brought to our wedding invitations.  She has truly raised the bar, as our invitations set an impressive standard for what our friends and family will be expecting on the big day. It is amazing how this... Read More artful detail creates such a significant added value.  I couldn't have been happier with Leigh's efficiency, accuracy, and overall expertise to give our invitations the one of a kind, standout appearance that we were looking for!
---