Home

Luxe Petals
About this Vendor
PURE, LUSH, LUXE PETALS
Luxe Petals specializes in floral arrangements & decor for weddings & special events. At Luxe Petals, we believe that no matter what your budget may be, we bring quality craftsmanship to all that we design & create.
Details
Contact Info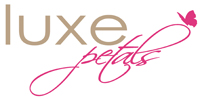 By Appointment Only, Serving DFW Metroplex, TX
"Kisses from Heaven"
Reviewed on

10/09/2013
Emily M
Joie Pham is not a florist. She is more like a flower magician. From the second I met with Joie for our initial consultation, I knew she was the real deal. I had met with several other florists and they all came across very pushy and were concerned with "their" vision. Joie asked the right questions and got my mom and I so excited in the 30 minutes we sat with her. After Joie showing us her work, and perusing her Facebook page, I made the decision to let Joie have ALL creative freedom and it was the best decision I made! I told her three things that I loved and she ran with it. My budget was tight, and although Joie does very magical things with big budgets, she can make just about anything work. It looked like I spent $10,000 on flowers, it was breathtaking. I wish I could have caught peoples reactions when they walked into my venue and saw all the flowers and candles, it was truly magical. Joie Pham and her Luxe Petals crew are the REAL deal. I honestly can't say enough nice things about her. Joie, her staff, and most importantly her work are perfection. She is a joy to work with and a pleasure to know. Luxe Petals took my wedding from pretty to spectacular and special. A side note, she knew how special this broach someone had made for my bouquet was, and was able to make it front and center for me. It touched my heart! Thank you Joie and Luxe Petals! I am forever grateful for you!!
---
Beautiful Work!
Reviewed on

12/18/2013
Jessie H
Joie did a fabulous job on our wedding flowers. They fit the venue and my vintage theme perfectly. Everything was set up beautifully and arrived on time. I even made a last minute addition the week of my wedding and Joie was very accommodating. I highly recommend Luxe Petals—they made my dream wedding come true!
---
Beautiful and accommodating!!
Reviewed on

11/25/2013
Katie B
Joie is wonderful to work with. She is very calm, and definitely knows what she is doing. When we met with her the first time, she quickly was able to get a feel for what my daughter was wanting for the wedding. Joie put together a beautiful, smaller replica of what the bride's bouquet would be like for us to use in the bridal portraits. She was punctual and provided everything we were wanting. The flowers were gorgeous, fresh and lasted a long time! We could not have been more pleased! Thank you, Joie!
---
Gorgeous Work
Reviewed on

4/30/2015
Kimberly J
Our wedding flowers were absolutely gorgeous! Everything was set-up and ready to go before I arrived at the venue. Love how the flowers look in my wedding photos. Thank you, Joie!
---
Fantanstic Work
Reviewed on

4/23/2015
keshia m
I had the pleasure of working with Joie on a wedding I was the planner for. She totally understood my vision and produced fantastic work. Thank you Joie! Keshia
---
Dream come true!
Reviewed on

4/22/2015
chau l
I found Joie through "The Knot" and I am so glad that we decided to go with her.She was there with me the entire way through my planning process and made me feel so good about every decision I was making. She went of her way to work with me so that I can stay close within my budget. Her work is simply amazing. All of my guests were so impressed with her work as well. "You had the most beautiful flowers we've ever seen at a wedding". Thanks for everything Joie! :)
---
Look no further! You have found your florist!!!!
Reviewed on

12/30/2014
hong p
We had been to a handful of florists and felt discouraged meeting one after another. It seemed as if they were more focused on the money than on how we envisioned the wedding to be. A friend recommended Luxe Petals and we are so happy to have met Joie. At our first consultation, we gave her our theme for the wedding and felt we were all on the same page the second we met her. We entrusted her to complete our vision. She stayed within our budget and was very professional and easy to work with. She gave us many ideas on how to save money while other florists would just state how much a stem would be. We trusted her so much that we gave her the freedom to design our head table along with the rest of our venue!! We wanted a "WOW" factor and boy did she deliver! Our head table was the talk of the wedding and even to this day, two months after the wedding, people still tell us how beautiful and amazing the flowers and decor were. She definitely exceeded all expectations and more.Thanks to Joie for helping make our special day unforgettable.
---
Amazing!
Reviewed on

12/28/2014
Leslie S
Joie is so talented! She did an amazing job and executed exactly what I wanted!
---
Surpassed My Expectations!
Reviewed on

12/18/2014
Kim B
I don't think I need to even write a review for Luxe Petals. Their former clients speaks for themselves that no doubt you should choose Luxe Petals as your florist! I have heard about Luxe Petals Flowers through a referral and also through a friend's wedding I had attended. Initially, I did not want to meet with them. I had already made up my mind before our appointment with them to go with another florist that had done three of my sisters' weddings. My husband now told me that I should at least meet another florist so that I can at least have options. I ended up picking Joie as my florist. She really accommodated me. She is super sweet and really listens to you and your envision. She definitely surpassed my expectations. On the wedding day, she surprised me with peonies in my bridal bouquet. They were so gorgeous. Throughout our wedding ceremony, I had to force myself not to stare at her beautiful floral arrangements and actually focus on the ceremony itself! We got so many compliments from our guests! Many of our guests loved it so much that they took our floral arrangements home at the end of the reception! ☺ We are so glad we chose Luxe Petals for our florist! She played a very big role in making our wedding day just so beautiful! She had also done our photo backdrop and linens as well which all was very beautiful. I highly recommend Luxe Petals to every bride. As a matter of fact, I will be taking a future bride to meet her soon. Thank you so much Luxe Petals!!!
---
Simply amazing!
Reviewed on

12/12/2014
Vi N
We knew we were gonna use Joie from the first consultation that we had with her. She's not pushy and listens to what you want for your wedding. We weren't really sure what we wanted, I had just pinned a few things on Pinterest for her to see and she designed everything just the way we imagined. Our wedding was gorgeous! I couldn't be any happier. We had so many guests complementing on the look she put together for us. She's worth every penny she charges.. She's not only a florist but also a decorator. She handled our table linens, chair covers, put flowers on our cake and decorated our candy/sweets table. Joie is simply amazing! Thank you for every thing you did!
---
Joie at Luxe Petals is great!
Reviewed on

10/17/2014
Tamara C
Joie was very personable and professional, she took all of my ideas and came to the table with many of ideas of her own and put everything together beautifully. She was responsive during the whole process and dealt with last minute changes with ease and made the whole process very stress free. I highly recommend her and Luxe Petals!
---
Amazing!
Reviewed on

9/10/2014
Lori S
Luxe Petals made my wedding day spectacular! The flowers were more than I expected. Joie made the entire process easy; I hardly had to do anything. She knew exactly what I wanted from the beginning. The flowers were beautiful, full, and smelled amazing. The ballroom was ornately decorated, and even with all of the room decor, the flowers stood out! If you live in the DFW area, you have to use Luxe Petals!
---
Flowers and decor
Reviewed on

9/10/2014
Michelle O
Joie did a wonderful job with our flower centerpieces. I knew exactly what I wanted, so, as an artist, I drew it out in detail in my sketchbook and asked her bring it to life. I must admit I was very nervous because I don't normally trust anyone to properly carry out what is in my head. I usually find a way to do it myself so it looks exactly how I envisioned it. But I was so relieved because Joie did such an excellent job with matching my drawing! The centerpieces were beautiful and all the rest of the decor that she did turned out great, too! I was very happy with Joie's performance!
---
Excellent excellent excellent!
Reviewed on

9/09/2014
Colleen F
I gave Joie a budget to stick to, and gave her a picture of what I wanted. She made my dream come true with her gorgeous ceremony display pieces and centerpieces while sticking to my budget. She brought her own glassware, stands and candles to fit my vision better, and she worked seamlessly with my baker Frosted Art to provide gorgeous fresh flowers for my bridal cake. She remembered even the smallest of details, from little rosettes for my hair, to a backup boutonnière for the groom just in case. I never worried about anything while preparing for the wedding. Her team set up and took down everything without me or my family needing to help or think about it. We just enjoyed my day, and I owe it all to Luxe Petals for my piece of mind! Book her, you will be so happy you did!
---
Luxe Petals, Dallas Summer Wedding
Reviewed on

9/09/2014
Nick D
I loved working with Luxe Petals! Joie made the experience easy for me and reduced a lot of the wedding day stress. My bouquet was absolutely beautiful and unique. Joie's overall design was outstanding and far exceeded my expectations. She incorporated a variety of colors and textures in her flower arrangements that I loved and created a cohesive look. I was impressed with Joie's work and would highly recommend her!
---
Amazing!
Reviewed on

9/09/2014
Katie S
I found Joie through a friend that used her services the previous year in her wedding. Joie made my friends centerpieces so beautiful and original that I knew I had to use her for my wedding. My husband and I got married July 3, 2014 and my flowers were perfect. I asked for white flowers with a blue ribbon on the bouquets and boutonnieres to honor my brother. She did just that, and they were beautiful. The white flowers went beautifully with my bridesmaids charcoal dresses, and the blue ribbon was the perfect touch to honor his memory without being too over the top. My centerpieces were also perfect. Tall branches with white flowers on every other two tables with shorter flowers on the remaining tables. The flower decor set the mood for the entire wedding. As well as delivering beautiful flowers, Joie was so easy to work with during the stress of planning a wedding. She was attentive, detailed, and always friendly. I can't say enough good things! Thank you, Joie, for the wonderful service!
---
Perfect for our occasion.
Reviewed on

7/25/2014
Jamie F
We had a nonconventional wedding at the Ballpark in Arlington before a Rangers game. I worked with Joie via email and text for my order. It was a pretty simple request...but she was amazing! She worked with our budget, kept us informed and was super professional. I would highly recommend her for your wedding!
---
Absolutely beautiful and elegant!
Reviewed on

3/30/2014
Hyeilin H
Luxe petals blew me away with their beautiful and elegant floral decor on our wedding day! Everyone at our wedding praised how amazing our florist was! My bouquet, canopy, centerpieces and everything were all exactly what I envisioned on my wedding day and Joie did an absolutely incredible job on listening to my ideas and really execute them perfectly! My husband and I are very happy that we chose Luxe petals and would strongly recommend them to anyone getting married in DFW in the future! I would give them 100 starts if I could.
---
Luxe Petals
Reviewed on

3/29/2014
Annie T
Luxe Petals is the vendor to use for floral arrangements. When I first met Joie, I had already heard stories about how wonderful she was, and the moment we connected we hit it off. Whatever idea I had, Joie knew right off the bat what I wanted and was able to put her own little twist to it to make it original. She asked me if I trusted her enough to let her take the lead and to do what she does best, which meant I wasn't able to see what anything would look like until the day of the wedding. That was one of the best decisions I ever made because when I first saw the bouquets to the centerpieces it was absolutely everything I envisioned but better. It all set the right mood for the venue and the fact that it was all there and ready made me feel relieved. Joie really shows her passion through her work, and my business with Luxe Petals was not disappointing, it was fantastic!
---
Wedding of her Dreams
Reviewed on

3/19/2014
Tonya S
Luxe Petals did my daughter's wedding in January. She was absolutely amazing. She listened to what my daughter wanted and created an absolutely beautiful wedding and reception. She worked within our budget to give Hannah the wedding of her dreams. We were so pleased with her services that we are having her do our other daughter's wedding this May. I would highy recommend her to anyone looking for a wedding florist.
---
FANTASTIC
Reviewed on

2/25/2014
Brittany R
They did an amazing job, above and beyond what I expected. Will work within any budget that you give them. I loved everything that they did with the centerpieces and the mantle we used as well.
---
TNT wedding - November 9th 2013
Reviewed on

12/28/2013
Trung N
OH MY GOSH!!!!! Where do I start???? Luxe Petal did an absolute AMAZING job!!!!! From flowers, to drapery and linen!!!! My breath was seriously taken away when I saw the reception hall finished for the first time. There's a go-to vendor in my area that EVERYONE chooses for their wedding and no offense, they all look the same in the end. I chose Luxe Petal because there was something unique about their touches on everything. All the wedding I've seen done by Luxe Petals were so elegant! The only thing I did not want as part of my center pieces were orchids. In the end, I told them to do whatever my budget allows them to do. They ended up using orchids and oh my GOSH!!!!!!!!!! I seriously can't get over how beautiful the centerpieces turned out. I can't get over how the whole reception turned out!!! I definitely got a lot of compliments! Yeah, you will get compliments on how beautiful your wedding was. But for me, everyone told me my wedding was beautiful and "different". I would not have chosen any other vendor for my wedding day. Thank YOU luxe petal sooooo much!!!!!!
---
Wedding flowers
Reviewed on

12/19/2013
Megan K
Joie was fabulous to work with!! The entire planning process was very easy and stress free. Joie was very accommodating and was able to create my vision perfectly. The quality of Luxe petals work was outstanding and made the venue look stunning!!
---
GORGEOUS
Reviewed on

11/10/2013
Alana M
Beautiful flowers. Talented vendor! So sweet and able to work within our budget. I loved my centerpieces and bouquets, they were just what I wanted. Joie is extremely creative and has a great vision for what you want. I am so happy we chose her for our wedding! :)
---
Beautiful Bouquets!!!
Reviewed on

10/10/2013
Christine Y
Joie is such sweet, professional, and reliable person and I had great time working with her. She listens very carefully to you and pay attention to details. I just gave her my budget and she will make it happen. The bouquets are BEAUTIFUL!!! I would definitely recommend Joie to be your florist.
---
Send Message