Home

Luxor DJ/Uplighting Services
About this Vendor
Professional DJ Services @ Reasonable Rates
Luxor is a team of 3 DJ's working in the MD/DC/VA region providing entertainment for Weddings, Birthdays and Corporate Events. We use high quality sound equipment and have all the current music as well as the classic songs that everyone loves to dance to. With all the different aspects of your day that have to be planned out, it helps working with a DJ that understands the workings of a wedding reception. The key to a great party is picking a vendor who is reliable and doesn't cost a fortune. We've been playing parties long enough to know the same formula always works.. Keeping the song choices familiar and having a good variety of styles. At a wedding or really any event, this is extremely important since you may be dealing with a wide range of age groups.
Details
Country, Dance, Disco, Hip-Hop, Jazz, Latin, Pop, R&B, Rock
Ceremony, Reception, Wedding

Contact Info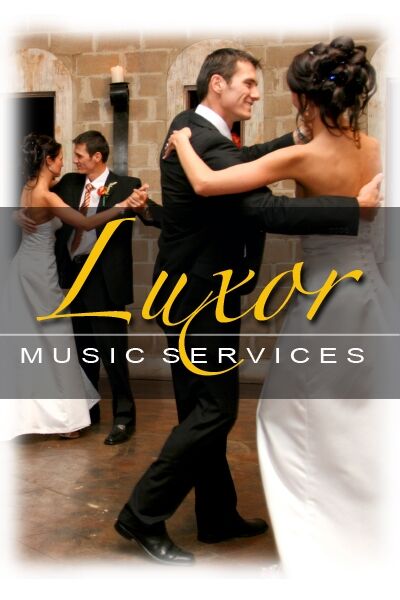 Reviewed on

10/13/2017
Jennifer B
Tony was outstanding. He was extremely responsive, always in a timely manner. He answered all of our many questions, both through e-mail and over the phone. As a result, we felt more than comfortable hiring Luxor as our wedding DJ. Additionally, Luxor's rates knocked the... Read More socks off that of the other DJs we looked at. In the weeks leading up to the wedding Tony contacted us to get all of the information he needed to ensure we had exactly what we wanted during the pre-ceremony, ceremony, and reception. His music catalog was massive so there was everything and anything that we wanted. He had all of the necessary equipment for our outdoor ceremony and was able to quickly move inside for the cocktail hour and dinner. We provided him with a list of the songs we wanted and the type of music we wanted played during the various stages of the event and were not disappointed. His years of experience were evident in his abilities to judge the mood of our guests and respond accordingly. We were completely satisfied and you will be too if you hire Tony!
---
Reviewed on

9/18/2017
Maria R
We used Luxor for my daughter's Quinceanera recently. It was great working with Tony and Mario. There are two things that determine how much fun guests have and that is the food and music. The party was a success thanks to the awesome music! Mario helped things run smoothly and... Read More was very professional. Many guests complimented us on the DJ and music. He played the songs we requested and some new ones which my daughter and the guests loved. He set up and cleaned up so quickly we didn't even see him come in. Thanks so much. We will definitely be recommending them to others and use Luxor for future events!
---
Reviewed on

5/09/2017
Sarah G
Joe did a fantastic job for us (wedding). He followed our instructions perfectly and was able to be flexible when we changed formats/timelines as needed. He was professional, friendly and fun. I would absolutely recommend Luxor Entertainment.
---
Reviewed on

11/28/2017
Molly S
Tony did a great job at the wedding with getting everyone dancing and creating a flawless experience for both the ceremony and the reception. Would recommend :)
---
Reviewed on

10/25/2017
Jaime E
From the beginning of our wedding planning, my fiancé and I agreed entertainment would be a priority. We wanted our guests engaged and dancing all night long. Luxor DJ is incredibly talented and amazing at reading a crowd and this is what I wanted for our wedding. He is a... Read More professional, hardworking, and overall genuine person. Luxor DJ is almost a "one stop shop" delivering high quality services that we decided to not only hire him for deejay services but we chose lighting as well. This made coordination of vendors a breeze and one less thing for a stressed out bride to worry about. Our lighting really made a difference in transforming the venue space and DJ Luxor had a packed dance floor all night long. Our guests rave about our wedding, say how our wedding was the best wedding they've ever attended, and how they've never danced so much at a wedding and to us, that is just priceless! My fiancé and now husband are so happy we hired and trusted DJ Luxor. We wholeheartedly recommend them for your entertainment needs (Hands down!). To Luxor DJ we are SO grateful to you for all of your hard work, drive for excellence, and helping us and our guests make memories on our wedding day that will last a lifetime!
---
Reviewed on

10/13/2017
Christy M
Luxor DJ was awesome. He had the place rocking and we all had a great time dancing.
---
Reviewed on

10/11/2017
Amanda B
Tony was fantastic! Our venue was small so my husband was worried about the music being overpowering. However, Tony did a great job controlling the volume of the music so you could still have conversations. It was very easy to change songs once I submitted the list to him. He... Read More was very nice and helpful. Totally recommend using him! Very reasonable!
---
Reviewed on

9/13/2017
Lindsay M
Tony was great! He played every song we requested and even brought us light up necklaces for our guests! I would recommend him to anyone I know!
---
Reviewed on

9/08/2017
Adam C
Anthony did a fantastic job of playing songs that we liked for dinner and dancing. The guests were completely entertained and the dance floor was always full. He was very easy to work with and very helpful in planning the timing and events. I would highly recommend Luxor's... Read More services.
---
Reviewed on

9/06/2017
Lindsey S
Tony was so great to work with leading up to the wedding. His set up is very organized and he is very easy to work with. He showed up early to set up for our wedding and played perfect music for the ceremony, cocktail hour and dinner. We had a few hiccups with timing on our... Read More speeches and both our parents 30th anniversary announcement. But other than that he did a really great job.
---
Reviewed on

8/10/2017
Ciara F
Tony did an amazing job with my wedding this past July. He played almost all of the songs on our request list (and he only didn't play all of them because we ran out of time)! He did a great job with paying attention to our requests (like only playing the chorus of one song or... Read More the first verse of another). Everyone had a great time!
---
Reviewed on

7/31/2017
Jacqueline L
Tony was very nice and detail oriented. We were emailing back and forth a few times leading up to our big day. Tony was accommodating and very nice. During the wedding, he was very fun. He brought out glow sticks for everyone, which everyone loved. He took all of our requests.... Read More Our guests had a blast!
---
Reviewed on

7/17/2017
Amy C
Whoever I spoke to was very nice, but not very professional. I basically explained that I have a ceremony musician and cocktail hour musician, so wouldn't be needing the DJ's services until around dinnertime, but we definitely need sound systems for the musicians. I feel like... Read More it is fairly reasonable to have these things in a wedding, right? Well, I requested that everything be set up in advance of the ceremony because obviously I don't want a DJ doing a sound check in the middle of our wedding, and so he tells me that "He can't do that" because he can't have "anyone sitting around for three hours". To be clear, we offered to pay him for those hours and understand we were incurring this cost. Whoever answered the phone basically found every which way to get out of our wedding day because it wasn't conducive to "his" schedule. That's fine, but if don't advertise your services if you want them to be on your terms. People pay a lot of money for weddings, and honestly, the wedding day is really not about what is convenient for the DJ.
---
Reviewed on

7/09/2017
An T
Tony was super nice throughout the entire process. He made sure to check up a few times to make sure we didn't forget to plan the music. During the wedding he was lively and played all the songs we requested, our guests loved the playlist! There were no glitches and everything... Read More ran smoothly. He's awesome!
---
Reviewed on

7/09/2017
James B
We had Tony (Luxor DJ) do our wedding music, and he did a phanomal job! Tony was very polite, worked with us every step of the way with our music selection, and has a great sense of humor. We couldn't have found a better DJ!
---
Reviewed on

6/23/2017
Ben R
"We absolutely loved working with Tony. We booked him for our wedding and he's so incredibly thorough and helpful! Not only does he provide his own equipment, but he can provide...like...ANY equipment. He gave us clip on mics, wireless mics, uplighting options, glowsticks for... Read More the walk out, mic stands... you name it, he has it! Working with him was so easy. We gave him a huge list of songs that we liked and he used them (and peppered in a few other great picks of his own) to create the perfect vibe for our reception. Thanks for all your help, Tony!
---
Reviewed on

6/04/2017
Breana F
great job, very detailed planning tools!
---
Reviewed on

4/25/2017
Coe H
We used Tony for our reception music for our wedding on 4/22/17. WOW! He was so amazing. He responded to all my emails promptly, was an amazing MC, and had all my guests up and dancing on the dance floor. We cannot recommend him enough!
---
Reviewed on

3/15/2017
Aubrie H
Hands Down, Awesome! He did a great job. Easy to get in touch with and plan with. He made it so simple to get all the details to him! The communication was excellent and the guests loved him!
---
Reviewed on

1/02/2017
Andrew H
We had a great experience working with Tony at Luxor. He provided some great song/genre ideas before the wedding, and also was super accommodating of our pretty lengthy list of requests. On the day of the wedding he was very professional and had a good sense for what would get... Read More the crowd moving. Luxor rates are also very reasonable. All and all, a really great experience and couldn't recommend Luxor enough.
---
Reviewed on

9/26/2016
Staci K
Tony was wonderful to work with! He was very easy going and knew exactly the right songs to keep our party going!
---
Reviewed on

8/30/2016
I had a great experience with Tony. He was very kind, professional, and on top of things. He arrived on time and thanks to him the whole reception ran smoothly. Go with Tony, you won't be disappointed!
---
Reviewed on

7/17/2016
Molly T
Anthony did a great job on our wedding reception! He was very professional and did a great job of being available to answer questions prior to our wedding day. He made it a very stress-free experience which included a user-friendly web portal for customizing our music... Read More selections. We're so glad we went with Luxor and would gladly recommend Anthony. Ten stars!
---
Great DJ
Reviewed on

11/16/2015
Gemma C
Tony did a great job at our wedding. He was very detailed in his preparation, as he took the time to go through every step of the ceremony and reception. He was personable and easy to work with. In addition, we thought his rates were very affordable. He performed above and... Read More beyond our expectations. We would definitely recommend his services.
---
Great wedding DJ - set the right tone all night
Reviewed on

6/24/2013
Ari R
We're really glad that we chose Luxor Music Services for our wedding! Not only is Tony a great DJ, but he is easy to work with and clearly has a lot of experience with weddings. His online forms cover everything and make music planning a breeze, and he then follows everything up... Read More with email and phone calls. He was flexible when we wanted to change a few things after submitting our plans and double-checked to make sure he had everything right on the final plan. On the day of the wedding, Tony worked with our other vendors to make sure everything went off smoothly--he followed our schedule exactly, cued all the activities when we'd asked for them, and took care of a lot of things behind the scenes so that the preparation was invisible. He showed up early and had everything set up for our ceremony, including lavalier/lapel microphones (not even visible) for the officiant and groom and a wireless handheld microphone for our readers. During the reception, he played all the songs we requested for dinner, dancing, and particular events like first dance and cake cutting. Tony did a wonderful job reading the crowd, keeping people dancing at the right times, and playing something for everyone--which covered young, old, latin, american, and more. You'd never know from the quality of his services that he charges a fraction of what much larger DJ outfits do, and he provides much more.
---