Home

Magpies
About this Vendor
Magpies Bakery -- All butter. All the time.
Magpies Bakery is a full-time cake bakery located in Knoxville, TN. We specialize in designer wedding and groom's cakes, custom celebration cakes, and cupcakes. We are committed to using the finest ingredients and promise that your cake will be both unique and dee-licious.
Details
Cake Accessories, Cake Delivery + Setup, Groom's Cakes, Cakes + Desserts

Contact Info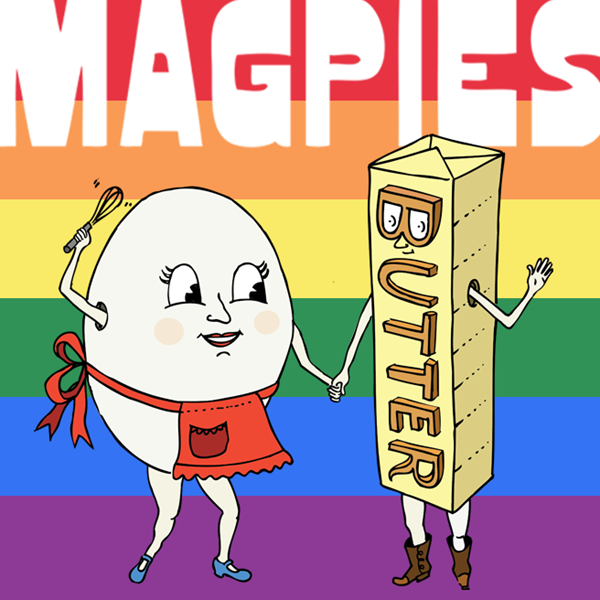 DELICIOUS AND GORGEOUS!!!!!!
Reviewed on

5/05/2015
Stacey C
From the first time I tasted their cupcakes, I was sold that THIS would be my wedding cake. The only challenge I had was deciding on flavors...and then not eating it all by myself!!!! The cake itself was beautiful. Her team worked with Lisa Foster and got the flowers on their... Read More perfect. The taste....weeellllll let's just say the 1 year part of the cake didn't make a week!!!! It was truly amazing. Best cake I've ever had!!
---
The best cake I've ever had!
Reviewed on

7/29/2012
Kristina I
My husband and I were counting down the days till our wedding, partly because we knew we would get to eat our FABULOUS cake! Magpies helped us achieve exactly what we envisioned. Half of our cake was strawberry-orange and the other half was mango-coconut-key lime. The... Read More frosting was buttercream. It was so delicious, I cannot wait to have the top layer at our anniversary! We may have to order some cupcakes of both our flavors until then...myself, my husband and our guests could not have been more impressed with Magpies quality of their cakes! Absolutely outstanding and worth every penny.
---
DELICIOUS!
Reviewed on

9/28/2011
Emily E
We had a classic 3-tier cake for our wedding. Peg's cakes are unique because they are DELICIOUS, versus crappy-tasting wedding cake. Our guests raved about the cake. We had a custom design based off of the lace on my wedding dress, and it turned out incredibly well. Very easy to... Read More work with and will definitely use her again.
---
Reviewed on

10/25/2017
Megan B
Magpies did an absolutely incredible job on both our wedding and groom's cake! We did two cake tastings with Magpies and absolutely fell in love with their fun flavors and the stunning cakes they made in the past. We provided them with pictures from Pinterest and they were... Read More absolutely picture perfect- the colors and textures were exactly what we were looking for, and they specifically purchase a cake stand we were able to rent to complement it. For the wedding cake we decided on three tiers with different flavors, textures, and colors on each... a lot to go wrong, but everything was perfect: First layer: vanilla cake with raspberry filling. Second layer: chocolate cake with hazelnut filling. Third layer: vanilla cake with strawberry shortcake filling. Groom's cake: Chocolate Guinness cake with Bailey's cream cheese filling. How fun! I have never seen a cake so gorgeous, and it still tasted wonderful! Instead of saving the top layer, we are making a special trip on our one year anniversary to recreate our first bite with a fabulous and fresh mini-cake!
---
Reviewed on

6/24/2017
Saraya S
This cake was incredible. They worked so well with us to find out and create exactly what I was hoping for, and even better, it tasted amazing.
---
Reviewed on

6/22/2017
Janet E
Magpies is hands down, the best bakery in town for cakes. Our wedding cake was a strawberry cream cake with an abundance of strawberry flavor. The grooms cake was a chocolate stout cake that was not cloyingly sweet. Both cakes were very moist. The groom's cake was a replica... Read More of a marching snare drum and it was perfect! The baking skill and artistry of Magpies cannot be beat in K-town.
---
Reviewed on

6/07/2017
Madeline M
Don't get your cake anywhere else. They worked with us to have multiple flavors and icing colors. We went with lemon raspberry and Italian cream cake on alternating gold and white layers, and it was the most delicious cake we've ever had. When we changed our minds multiple... Read More times on how many servings we would need, they were totally easy going and got us exactly what we wanted.
---
Reviewed on

4/20/2017
Megan B
We ordered pies from Magpies for our "grooms cake" and everything was wonderful! The pies were delicious and the price was great!
---
Reviewed on

11/16/2016
Kayla R
Excellent cakes, friendly customer service and beautifully decorated sheet cakes.
---
Good
Reviewed on

7/29/2014
Biklet T
I ordered cupcakes from Magpies. Different flavors. They all taste good. I also ordered a small cake for cutting and a cheesecake. All are good qualities and at reasonable price. Overall, good taste and good price
---
Delicious and beautiful
Reviewed on

11/05/2013
Hannah M
Beautiful delicious cakes
---
Delicious & Beautful
Reviewed on

10/17/2013
Robbie L
Magpies in my opinion is the best cake baker in Knoxville!! They did an amazing job and our wedding cake and grooms cake were better than expected. Absolutely gorgeous cakes and DELICIOUS!! We were more than pleased!!
---
Wonderful wedding cake
Reviewed on

6/27/2013
Sarah R
The final product turned out to be not only incredibly delicious but beautiful and much more affordable than we were expecting. The only issue we had was trying to get appointments scheduled, but everything got done in the end and done beautifully!
---
yummmmmm
Reviewed on

6/27/2013
Ryan L
My husband and I loved our wedding cake from Magpie's!! I worked mainly with Ryan Huddleston, and she was awesome. We had an Italian Cream wedding sheet cake with a fondant overlay- decorated to look like an old book (my husband is an English scholar). I didn't give them a... Read More lot of direction, but when I saw the cake, I thought it was perfect. And my, my, my was it delicious. The entire cake got eaten! We also had several dozen assorted cupcakes - they have regular sized, and mini-sized, so we did a mix of both, in their "deluxe" assorted flavors. The display was so pretty! I couldn't keep people away from the cupcakes - they were mostly eaten before we even cut our cake. I would highly recommend Magpie's. Their cakes and cupcakes are delicious, and so charming. I know they do really elaborate cakes, but I really just wanted something that looked like real food, real dessert at least - and that is exactly what they made for us. They are easy to work with, and it is just obvious they take great pride in making desserts that people enjoy.
---
Yum Yum Yum
Reviewed on

6/13/2013
Jenny B
Amazing and absolutely BEAUTIFUL cake!
---
Delicious
Reviewed on

1/30/2013
Laura D
Magpies did my grooms cake and a birthday cake for my uncle that we surprised him with! Both looked wonderful and tasted delicious!!
---
The best cake I've ever tasted!
Reviewed on

6/27/2012
Danielle P
We had Magpies do the cake for our wedding. We also ordered several cupcakes to give away as wedding favors. Not only was everything beautiful, it was incredibly tasty! We ordered the Italian Cream for our wedding cake and everyone just raved about how delicious the cake... Read More was. Also, everyone at Magpies was incredibly friendly and helpful. I enjoyed working with them very much!
---
Bad service
Reviewed on

6/06/2012
Alycia G
We chose a cupcake wedding cake, alternated in color pink and white. This was not what we were given. After sending the demensions of the cake topper to them, they put it on the cake at the wedding an it fell off knocking cupcakes over and smearing the top tier. We were not... Read More informed of this by the bakery.
---
Delicious!
Reviewed on

12/26/2011
Lori F
Well, I hardly got to eat any of our Strawberry wedding cake, but from the little bit I tasted... it was absolutely delicious!! It was also very beautiful, I just wish it had been a little bigger. They had an extra sheet cake in the back to feed everyone, but I wish it had been... Read More part of the cake on display. Customization was a little difficult and expensive, but the end result was great. So tasty!! I can't wait to eat the top.
---
Cookies
Reviewed on

11/16/2011
Heather H
Great deals and awesome service...
---
YUM!
Reviewed on

11/02/2011
Bethany T
The best tasting cake I've ever eaten. I sent them a photo I found online and they duplicated it perfectly! SO HAPPY with their work!
---
Magpies Wedding Cake
Reviewed on

9/22/2011
Rupa V
Magpies does a nice job of implementing your ideas for a wedding cake. They do a generous tasting, and part of your payment for the tasting goes towards the deposit on the cake should you choose to use them. The cake was very good, but somewhat expensive for its size. The best... Read More compliment I can give them is that they have a lot of ideas and really help you personalize your cake.
---
Tried and True for sure!
Reviewed on

7/10/2011
Allison R
Magpies is around the corner from our house and we love them. The only request my husband had for our wedding food was that we have magpies cupcakes. So we did!! We had 20 dozen cupcakes and 350 guest. We ended up coming up with 3 dozen cupcakes. They were a huge hit!! YOu... Read More can't go wrong with Magpies!
---
Groom's Cake
Reviewed on

7/03/2011
Karalea L
Groom's cake tasted amazing and looked great. However, service wasn't near as good.
---
Excellent
Reviewed on

6/30/2011
Kara M
The cake was excellent and the design was perfect!
---