Home

Mamma Vittoria Catering
About this Vendor
What's your celebration? share it us!
At Mamma Vittoria we can customize any event to perfection. Whether you are planning a small, intimate Wedding or Rehearsal Dinner, a memorable Quinceanera/Sweet Sixteen, a Communion for your child, special surprises such as Baby and Bridal Showers, even an extravagant Bar/Bat Mitzvah!
Details
Engagement Party, Bachelor Party, Bachelorette Party, Bridal Luncheon, Bridal Shower, Rehearsal Dinner, Rehearsals + Parties, Wedding
Contact Info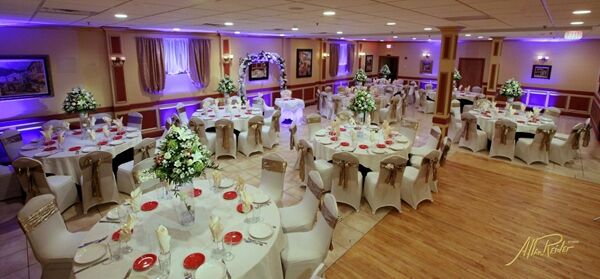 Reviewed on

3/29/2018
Had a milestone birthday party there for my husband on 3-25-18. The party was fabulous and guests are still commenting what a great time they had & how good the food was. The staff is truly gracious, accommodating and welcoming. Nella, Daniel, Jenny, made sure every request was... Read More met. The food was wonderful! We did the combo sit down/buffet. The eggplant, calamari, pasta, chicken and pork got raves from our very finicky Italian family. Would book another party there without looking at any other venue!
---
Reviewed on

3/14/2017
Erin P
This past weekend, Mamma Vittoria hosted my daughter's Baptism. Everything went exactly as I hoped. The staff was efficient and the food was excellent. The owner, Nella, was of great assistance throughout the entire planning process. I highly recommend Mamma Vittoria for any... Read More type of party!
---
Reviewed on

5/31/2016
I've had 2 parties here and both were huge successes. The staff is very accommodating, and super professional. Nella makes it easy to arrange exactly what you're looking for. My family will definitely be back in the future.
---
Reviewed on

3/24/2018
tara r
i had my bridal shower a few weeks ago here and it was beautiful! very nice place with really delicious food! we were getting so many compliments from guests about the food and location.
---
Reviewed on

2/25/2018
Michelle W
I had my baby shower at Mamma Vittoria a couple of weeks ago and it surpassed my expectations! From the planning to the day of, everything was fantastic! The staff was extremely professional and diligent in making sure all the guests were happy. And the food was delicious! I've... Read More never been to an event or tried their food prior to the shower so I was rather nervous. But based on previous reviews I took the chance and happy I did! My guests were very happy with the buffet and I kept hearing great things from everyone that day and after the shower as well. Thank you Mamma Vittoria for a great baby shower! We will certainly be back!
---
Reviewed on

1/04/2018
Yadira C
I had my daughter's Quinceañera here on Dec. 29th 2017 and it was an amazing experience. The place was very accommodating to every need, the food was exquisite, and the staff was very friendly and attentive with all of our guest. To us having great food is the most important... Read More thing at a party and they exceded our expectations. At the end of the night they packed us a box with all the extra food. We will definetly Consider them for future events.
---
Reviewed on

12/13/2017
Sasha B
Very good service and excellent food
---
Reviewed on

9/05/2017
Jeanne M
I had my daughters bridal shower there last week. What a great experience! The staff was a pleasure and Nella is great! The food and service were outstanding! I would definately recommend this venue.
---
Reviewed on

7/28/2017
Christine F
Mamma Vittoria made my event absolutely exceptional. All of our guests raved about the food and the atmosphere was just perfect. I would return at any time for any event.
---
Reviewed on

6/29/2017
Kate B
A few weeks ago we had my sister's bridal shower at Mamma Vittoria. The staff was so attentive and kind throughout the entire event. The food was good. And the cost was the best we had seen in this area and trust me, we called a lot of places. We were able to bring our own wine... Read More and they didn't charge a corking fee. We also brought our own desserts and they set it up for us on a dessert table. We had about 35 people as were seated in the window top half of the main dining room. The lighting, ambiance and decorations were perfect. My sister was so thrilled with the experience, as well, which was so important to me. We will definitely be going back there for future events.
---
Reviewed on

6/09/2017
Patty K
We had our daughter's graduation party there. The food was amazing and the staff is so super caring! They truly made her day special. Especially Daniel and Janice! Great place!
---
Reviewed on

3/13/2017
Janice D
We had my daughters baby shower at Mamma Vittoria this past Saturday and it was amazingly! The food was outstanding and the staff was a pleasure to work with.
---
Reviewed on

4/21/2016
Meghan M
Had my rehearsal dinner at the restaurant. We had a great night. They made sure everything was set up and the food was beyond w hat I expected. Everyone was raving all night about how great the food was. I can't wait to go back for dinner one night and I would absolutely use... Read More this restaurant again for future events!
---
Reviewed on

2/15/2016
We had our Mom's 90TH BD party here. The food was great, the service was great. Received many compliments from our guests. Would definitely have another affair here. Nella is wonderful.
---
Reviewed on

1/10/2016
Had a 70th Birthday party here. Food and Service was great. Was a pleasure planning the party with Nella. Very responsive to my request.
---
Reviewed on

12/15/2015
I would recommend Mamma Vittoria to anyone interested in having a special event or celebration. The restaurant is decorated beautifully and for the holidays it looks amazing! We selected the buffet option and the food was really delicious for serving 40+ people. The service was... Read More beyond amazing, the owner is really easy to work with and very accommodating. The servers and staff were all very attentive and on point with what our party need. Overall it was a really great experience for us and our guests and we will be having future parties here for sure.
---
Reviewed on

12/03/2015
Janine D
I have had five parties at Mamma Vittorias and have never been disappointed. Food is excellent, service is superb. You won't be disappointed!
---
Reviewed on

11/17/2015
We recently had our daughter's christening at Mamma Vittoria. The owner, Nella, was a pleasure to work with when planning the event. The food was delicious and the service was top notch. All of our guests raved about the food and the servers. The entire staff at Mamma Vittoria... Read More truly made our daughter's special day perfect! We look forward to having more parties here in the future! :)
---
Reviewed on

10/29/2015
Marisa M
They do an amazing job and the staff has provided for our party to be a success! The food was great and staff is amazing! You are the only restaurant I have been to that tries to assist with decorations as well. It was such a stress reliever when I walked in and saw mainly... Read More everything done. I just had to change a few small minor things which was awesome! I couldn't thank Nella and her staff enough for making our daughters baptism turn out to be an amazing event! We will Definitely be back!
---
Reviewed on

10/10/2015
Jill P
We had our rehearsal dinner there, as well as my bridal shower and our son's baptism. The food was delicious & plentiful, and the service was attentive & accommodating. We will be planning future events there.
---
Reviewed on

8/24/2015
I hosted my daughter's bridal shower at Mamma Vittoria. The venue was perfect for this occasion. Working with Nella in preparation for the event was a joy. The staff was fantastic and the food got rave reviews from all the guests. I highly recommend .
---
Reviewed on

8/06/2015
We had our baby's first birthday there and the service and food was top notch!
---