Home

Marc Augenbraum DJ Services
About this Vendor
Multiple Award Winner - "ABSOLUTELY OUTSTANDING!"
2013, 2014 & 2015 Pick for The Knot's "Best of Weddings" Award. Also voted one of The Best DC-based Wedding Vendors by Washingtonian Magazine 2009-2015. One of the most experienced DJs in DC. "Simply the Best of the Best" -Editor, Engaged Magazine
Details
60s, 70s, 80s, 90s, Big Band/Swing, Classic Rock, Classical, Country, Disco, Folk, Hip-Hop, International, Jazz, Klezmer, Latin, Oldies, R&B, Soul, Top 40/Pop, Variety
Ceremony DJ, Ceremony Music, Cocktail Hour Music, Coordination Services, Lighting, MC Services, Uplighting
Contact Info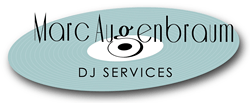 Washington, DC Metro Area, DC
Top Notch Reception Music
11/24/2013
Lindsay J
It's extremely rare for me to write a review, whether I've had good service or bad service, but when it comes to Marc, I felt compelled to write something…he was just that great. Getting married at the Willard, my wife and I wanted to find a DJ that would play songs the crowd could certainly enjoy, yet matching the environment of the hotel. From the initial interview, Marc was our guy…we read many positive reviews on him and agree with all of his highlights. Most importantly, at least for us, he knows how to read a crowd, while keeping in line with your music tastes. Throughout the night we were told how great the music was…and it's really all because of Marc. He was very easy to work with; he has high quality sound equipment; a strong voice to introduce the wedding party and move things along; he played the music we wanted; and of course, catered to the crowd (we had a full spectrum of ages, so, it was not an easy task). For me, one of the most memorable moments of the night was the string of songs he played at the tail end of dinner leading into and finishing off the toasts – I couldn't have picked any better myself…they really fit the mood. And so it goes back to playing the songs you like, while fitting the situation at hand, which I can't stress how important that is in a wedding DJ. Marc worked with us to find our musical tastes and he took off with it on the day…not one song was played that we didn't thoroughly enjoy. No question about it, he made the reception memorable…couldn't be happier!
---
Marc is awesome!
6/21/2014
Anna R
He did an absolutely fantastic job. He was by far the most professional person that we worked with throughout our entire wedding process. He had an initial Skype call with us and then stayed in touch to make sure that everything would be just right. He did a great job DJ'ing. Everybody was dancing the whole night. Even the music during dinner was outstanding. Thank you, Marc!
---
Definitely the right choice!
6/07/2014
Annie F
Marc was absolutely incredible at our wedding. He always returned my calls and emails promptly and took the time to meet with us before the wedding to get the final details together. He played all of the music on our request list and kept it to the (narrow) list of genres that we told him we wanted. He expertly saved us from a potentially very embarrassing situation by not allowing a drunk guest of ours to make a toast by politely explaining that there wasn't enough time for another toast. Many guests mentioned how great the music was and how much fun they had, and a lot of the credit goes to Marc. Definitely recommend if your goal is some good old fashioned, classy fun.
---
Fun and classy
11/29/2014
Jeanne M
Marc did a a super job DJ-ing at our wedding. He is a combination of classy and fun. His musical choices made our wedding reception so wonderful and fun for everyone. Our only regret is that everyone could have kept it up for another hour!! We are very grateful that Marc was our DJ.
---
A real professional
11/14/2015
Marc was recommended by our salesperson at The Willard, and we are so happy we took her advice and contracted with him for our daughter's wedding reception! He is a pro from start to finish. He met in person with our daughter and her fiance, who was very concerned about getting just the right DJ. They were enthusiastic about Marc immediately. He called them the week of the wedding to go over their submitted playlist and to make sure he fully understood the direction they wanted the music to take. At the same time, he checked on the pronunciation of all of the names of the members of the wedding party for the Grand Entrance. (He did an absolutely letter-perfect job on all of the names, by the way.) On their wedding day, he read the crowd perfectly and delivered just the right mix of music. We cannot remember another wedding where the music selection was so good or where so many people were dancing. Not only that, he made all of the announcements that we asked him to make in a very professional and timely manner. We highly recommend him.
---
Best DJ in Town
10/18/2014
Andrea
Marc is an awesome DJ. My now husband and I were so pleased with the music that he played. I gave him a huge list because I wanted to give him options and he made very good choices. Marc responds quickly to emails and makes sure he does his homework before the big day. Very professional and a pleasure to work with. He studies the crowd to get an idea of the songs to play and also with the schedule he can easily make adjustments on the spot, etc if necessary. Awesome DJ and very affordable. If I ever need a DJ for a large event or party, Marc will definitely be my first choice.
---
MARC IS THE MAN !!!
7/25/2015
I just got married a couple weeks ago at the end of July 2014. And we hired Marc because of the great reviews he already had. One thing's for sure...he deserves all the good things you can read about him. He is very organized, friendly, and extremely accommodating and helpful. And obviously he's a great DJ that will rock the party like a "boss" is supposed to. Planning for the Wedding Reception: We met with him in the beginning of our planning process, and he was very helpful from the get go. While my wife and I were still trying to figure out how a wedding is supposed to happen in the first place, he was prepared to help us make it through even if we had no idea what we would need from him yet: - He provided us with a huge list of songs from all genres and eras so we could start to get an idea of what we wanted the reception to sound like. (A list that I am actually still enjoying since it has a ton of classics I had forgotten about.) - He helped us figure out how a reception generally runs. He obviously has a lot of experience with weddings and therefore could guide us on what would work verses what would likely be better staying a fantasy. :) And all while absolutely not imposing anything on us. He offered advice but insisted that it was our wedding and he would work with whatever we wanted to do. - He provided us with a sample timeline that we were able to use to determine our desired reception plans. - All this in the first meeting before we even booked him! Then throughout the whole planning process he was always just one email or phone call away if we had questions. I tried to set a couple meetings with him as we were getting closer to the wedding date and had to cancel them because of family matters, both times he was totally understanding and helped me reschedule; never sounding condescending or somewhat annoyed. We ended up having an hour long meeting over skype to go over the details. He also had previously provided us with an online form that had questions to help us make sure we had all the details worked out for our reception. All in all he was very organized and a pleasure to work with, but this was all during the planning period. On the Wedding Day: During the actual reception, he was able to make our wedding reception lots of fun. All my guests will remember that night for a very long time. I am from West Africa and had some family flying in and I asked Marc if we could incorporate some of our African music for them to enjoy and feel at home during the wedding. He never heard these songs before, but as a great DJ is supposed to, he was able to mix them along with all the good old school, hot40 hits, and the lovely traditional tunes. The whole musical environment of that party was fun. He mixed traditional and modern like it was meant to be together and this kept the dance floor filled! It was an amazing night. Marc was also a great MC, and worked with the vendors to start the different elements of the reception (dinner, cake etc.) when they were ready. He spoke clearly and audibly, did no awkward jokes and came to us to see us and find out when we were ready for our parts (first dance, garter and bouquet toss etc). He was cool but still professional throughout the night. I had to write a great review to thank Marc for his work. He deserves your business and he has the knowledge, the experience, and the skills to make your wedding reception an unforgettable one.
---
Everyone will be dancing!
6/14/2014
Jessica C
Marc did an awesome job at our wedding and kept his promise of having everyone dancing! I wouldn't have changed a thing. I plan on recommending him to anyone I know getting married etc. in need of a DJ.
---
Professional and Experienced DJ
5/17/2014
Leah B
Marc is a very engaging DJ who listens and who quickly understood the wedding atmosphere we desired. He met with us in person and he was very attentive as well as punctual. Communication between us was timely and responsive. He worked well with our wedding coordinator and was able to provide last minute sound services during the ceremony (outdoors). His online music planning questionnaire was extremely helpful as it allowed us the time to think and discuss our music selection and "do not play list". During the wedding he was attentive to the guests and the mood of the wedding where he played the most appropriate songs to get people to dance. He knew when to slow it down or pick it up. Overall our expectations were met and we really enjoyed working with Marc. We would highly recommend him to any future couple looking for an experienced and reliable DJ.
---
Wonderful! Made the wedding great!
3/15/2014
Kelly F
Marc was wonderful. He was by far my most responsive vendor, and he had a great and very complete questionnaire. Marc met with us in person once and called multiple times before the wedding. The music the night of was a total hit! He had everyone, young and old, on the dance floor. It was the perfect mix of classic songs and top 40 hits. His price could also not be beat- Marc even charged us less than he could have for setting up early, before the ceremony.
---
Fantastic DJ, very thorough, got everyone dancing
10/19/2013
Augusta S
Marc was great to work with from the start. From our first meeting when he met us at our house to discuss ideas, to following up regularly, making suggestions when we were struggling with filling in holes, and general knowledge of the whole wedding process and timeline, we were very happy with Marc's services. He is definitely an expert! At the wedding he got everyone dancing and went with the flow and adapted when things got a little offbeat. We were looking for a DJ that would really concentrate on the music, not the MC portion, and Marc did a great job keeping the directions, etc. to a minimum and focusing on the music and dancing.
---
Fantastic DJ - wonderful to work with
12/14/2013
Meghan G
Marc was great to work with from start to finish. He really listened and understood the mood we were going for. He was on time, professional, and really got the guests dancing. I have already recommended him to friends and family. Truly top notch. I can't say enough nice things!
---
Triple A
9/21/2013
Marc was referred to me by another DJ I had randomly contacted after a quick search on google. I reached out to Marc and he was quick to respond to my email. Within days, Marc drove out to my neighborhood for a pre-hire meet and greet. Marc was flexible on meeting location, date, and time, which made my job that much easier. Marc gave off a good first impression: he was clean cut, well-dressed, and carried a professional demeanor. After I hired Marc, we met to go over my and my bride's expectations for our wedding day. Marc took careful notes, provided a very helpful schedule-of-events template for us to work off of, and was amenable to our requests. Throughout the time leading up to our wedding, Marc was always responsive to emails and calls, which gave us peace of mind that we had chosen the right person. As for his work at our wedding: it was absolutely amazing. He honored our playlist and do-not-play list, and--as we requested--played a number of songs that were on neither, but matched the style suggested by our requests. He made sure the music was appropriate for each part of the reception. During dinner, there were quieter tunes that didn't drown out conversation; during the balance of the reception, he made sure the dance floor was always full. People loved the music. My wife and I could not have picked a better set of songs to play at our reception. It is also worth noting that Marc was a great MC: he coordinated with our other vendors to ensure that each event of the day was announced and announced on time. I would highly, highly recommend Marc to anyone looking for a wedding DJ. I thought he was a good value, professional, responsive, and was an important lynchpin for the success of our wedding reception. I have zero regrets hiring him--and have nothing but praise for his fine work at our wedding.
---
Highly Recommended!
9/27/2013
Logan C
Marc was an amazing DJ at our wedding on 9.27.13 Our crowd was definitely tough to please, but he was able to draw from all genres of music to get all of our guests up and dancing and having an awesome time! He respected our play/do not play list and took immediate requests by us when we thought of music on the spot. Marc set up two stations in separate rooms for our dinner and reception and made the whole DJ experience flawless for us. Highly recommended!
---
Top Notch Professional DJ!
9/28/2013
Maureen R
We found Marc on The Knot and coincidentally received a recommendation for him from another DJ in the DC area. Since we were planning our Virginia wedding from Los Angeles, our mutual availability was limited, but Marc was great about communicating with us over email, phone, and even Skype late at night. After interviewing Marc and getting a feel for his low-key and straightforward style, we knew almost immediately that we wanted him to work our reception. He was accommodating when we asked him later to provide a second system for amplification and music playback at our outdoor ceremony, and he even set up a personal Dropbox folder for us to exchange music and timeline information with him. Fully invested in our event, Marc joined us on our venue walk-through about a month before the wedding. On the Big Day, he arrived three hours before he was slated to go "live" so he had plenty of time to set up his ceremony rig, do a proper sound check, and coordinate remaining details with us. Our event featured cocktail attire, and even Marc's setup clothes were nice enough to blend in with the crowd! During the ceremony, Marc did a great job of riding the mic levels for our readers, the officiant, and us as bride and groom so that we could all be heard equally well. For our reception, the reviews from our guests were unanimously positive, focusing on his great music choices and his perfect sound levels. Dinner music consisted of jazz and big band at a comfortable low volume, and his dance music managed to walk that fine line of being louder and livelier without being overbearing. Instead of being on the mic all night trying to ramp up the crowd, Marc let the music speak for him, for which we were very grateful. Our crowd consisted largely of baby boomers and folks in their 20s and 30s. Though their collective taste in music proved to be somewhat enigmatic, Marc fine-tuned his playlist all night long, and managed to keep the majority of our guests at the party until the very end at 11pm. Throughout the evening, Marc was respectful not only of of the timeline we gave him, but also of our last-minute changes as we reorganized toasts or had to slip the schedule a bit. We highly recommend him and would love to work with him again.
---
A Real Party Booster
11/02/2013
Amanda R
Marc is an excellent DJ. He really got the entire party on the dance floor by playing a great variety of hits from the 80's, 90's and today. He is extremely organized and puts on a fantastic show. He is highly recommended if you are looking for a DJ who will really make your wedding night a memorable evening.
---
Kept them dancing all night long!
5/25/2013
Melissa Y
Marc was amazing! From our first meeting where he gave us his background and a song list, to the subsequent emails, phone calls and meetings to put together the song list and the entire evening's schedule he was extremely helpful. When we tried to steer from some of the more traditional things such as the bouquet/garter toss, he gave us some modern ideas of replacements. He was perfect on timing and song choice! We had guests ranging in age from 3 into their 70's and no one had 1 bad thing to say about the music!! He kept them on their feet and having a great time!!
---
Marc Augenbraum DJ
7/13/2013
Marc was an absolutely wonderful DJ! He was incredibly accommodating by phone and email, and ensured that everything ran smoothly on our big day. We are appreciative of the variety of music he played, and the effort he went to in order to find many of the foreign songs that we requested. We would highly recommend him to future couples!
---
Best DJ!
7/13/2013
S K
Marc is a true professional. His style is sophisticated and refined. He worked patiently with the bride and groom to assure that the style and music for the ceremony and party was exactly what they wanted. Marc truly "felt the pulse" of the crowd at the party and had everyone on the dance floor throughout the evening. Our guests raved about the music and how beautifully the evening flowed. Thank you Marc for making the wedding evening a true success!
---
Great DJ!
5/20/2013
Heather F
Marc was the DJ for our wedding in May 2013. He was a pleasure to work with. He was very professional, had lots of ideas and suggestions, and our other vendors loved coordinating with him. The music selections and execution were great and made our special day flow seamlessly.
---
A Great, Affordable DJ in the DC Area
4/27/2013
Sunny M
Leading up to the wedding, Marc was very responsive. We held our reception at a small venue, and we hosted cocktails, dinner, and dancing in different rooms, on the main floor, second floor, and cellar. Regarding the different set-ups required and moving about, Marc was flexible and accommodating. Marc worked well with the venue's director of catering. Regarding the music and dancing, the dance floor was PACKED all evening! All of our guests, from our friends to my ninety year-old grandmother, danced as Marc varied the music and everyone heard a favorite song of theirs played throughout the night. Further, Marc's prices are really quite reasonable.
---
Professional and Personable DJ!
4/13/2013
Emily J
We were impressed with Marc from the moment we first met him. He had been recommended to us by a coworker who has similar music tastes to us. After our first meeting with March we knew he was the ideal DJ for us. Marc was very professional and personable. Throughout the weeks leading up to the wedding Marc was very responsive and helpful as we finalized our music. He listened to all of our requests regarding the type of music we wanted played and the vibe we wanted for the night. Marc even surprised us by playing our alma mater's fight song while we gathered for a group picture. I would highly recommend hiring Marc!
---
September DC Wedding
9/22/2012
Emily H
Mark was great! He was very professional and pleasant at our wedding. We were afraid of getting a DJ who would be obnoxious. Mark was just the opposite. He was composed and smooth as an MC and played the essential songs that we asked him to play. He also read the crowd well and played things that he thought would go over well and they did - the majority of our guests were out on the dance floor throughout our reception.
---
Wedding DJ
10/09/2012
Megan B
I highly recommend Mark for any event! He is professional, highly organized and courteous. He kept the guests dancing all night!
---
Absolutely Outstanding
10/27/2012
Sondra A
Marc was great to work with throughout the wedding planning process, and he did a perfect job at our reception. Marc's unparalleled professionalism and experience was apparent from our first meeting. Marc was thorough with making sure that we were on the same page regarding what music we wanted to hear, and what music we wanted to skip. We also appreciated that he took extra time to figure out which Italian songs to play to get some of our older relatives on the dance floor. On our wedding night, Marc met the perfect balance of being non-intrusive as a DJ while making sure we kept on schedule during the reception as the MC. His music selection was perfect, and it was great to see our older relatives get up and dance while our younger relatives and friends had a blast all night. We could not have asked for a better experience; we had fun all night, and our family/guests were still raving about the music even after we got back from our honeymoon. We definitely plan to recommend him to anyone looking for a DJ.
---
Send Email