Home

Marisa Nicole Events
About this Vendor
Eat, Drink, Be Merry - Leave the Details to Us!
We love helping happy couples get married stress-free and fabulously! Our specialty is creating chic, distinct weddings that tell a story - yours! We'll ensure your wedding is on schedule, perfectly designed & super fun! Contact us for your 2014/15 wedding and receive a special 'Knottie' discount!
Details
Engagement Party, Getting Engaged, After Party, Bachelor Party, Bachelorette Party, Bridal Luncheon, Bridal Shower, Day After Brunch, Rehearsal Dinner, Welcome Party, Rehearsals + Parties, Ceremony, Cocktail Hour, Reception, Rehearsal, Wedding
Destination Wedding Planning, Destination Weddings, A la Carte Wedding Planning, Budgeting, Day-Of Coordination, Full Service Wedding Planning, Planning
Contact Info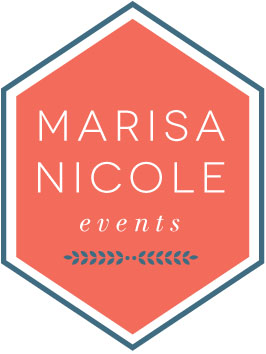 Marina Del Rey, CA
SoCal & Beyond!
Words Can't Express How Amazing It Has Been To Work With Marisa
Reviewed on

6/21/2015
Flora N
From the day we met Marisa, we knew that our wedding was in great hands. She was so organized, attentive to detail, and supportive. We probably drove Marisa crazy as she tried to keep us on time with planning steps, but she was always so receptive to our ideas and encouraging of us to make it our own. It's probably said a lot, but without Marisa and her team, our wedding wouldn't have been so amazingly beautiful (if it would have happened at all!). She helped us find comfort in vendors by sharing with us several reliable options with whom she had worked previously. We appreciated her unique design style and ability to draw out of us a theme/style/design that was true to "us." Day of, we were able to relax and enjoy our day, knowing that every detail, big and small, had been cared for by Marisa and her team. The moment we finally saw our venue, walking in to smiling faces and a beautiful setting, we knew that we would be forever grateful for such an amazing memory. For anyone unsure if a wedding planner is the way to go, take it from us: you will never regret it. Especially if you choose Marisa Nicole Events. We could go on forever, about Marisa, her team, and their work, but we'll spare the novel. We'll simply end by saying, "Thank you for making our day so special."
---
Awesome wedding planner
Reviewed on

3/14/2015
A year and a half after our wedding, we are still talking about how awesome it was to work with Marisa and her team at Marisa Nicole Events. Marisa was the second event planner I met with, and I knew immediately that I wanted to work with her. She was authentic, fun, and easy to talk to. I could tell that she would respect our taste and budget 100%, give us ideas we wouldn't have thought of ourselves, and act with total professionalism. Throughout the months leading up to our wedding, she was was consistently available to work with me, communicate and negotiate with vendors, and make multiple site visits. And on the day of our wedding, she and her assistants were phenomenal. So many of our guests commented on the small touches that added to the joy of the day and were things that Marisa had suggested we do. We didn't have to worry about anything except having fun with family and friends -- it was really a low stress, high joy day. When we started planning our wedding, a wedding planner wasn't on our radar; we thought we could handle it ourselves. We now say that finding Marisa and asking her to help us was some of the best money we spent. I will happily recommend Marisa to anyone else looking for a wedding or event planner.
---
Working with Marisa Nicole Events is the BEST idea for any bride to be!
Reviewed on

10/12/2014
Leanne C
I recently hired Marisa & her team for my wedding this October. I was new to the SoCal area and was nervous about planning a wedding in a new place. Marisa quickly eased any anxiety and she introduced us to our dream venue & our amazing list of vendors. Marisa's upbeat and positive attitude was always a great relief during the sometimes hectic times of planning a wedding. Her organizational skills are top notch and is a great match for any type A bride out there. I would recommend Marisa to any bride to be, because I truly believe my wedding would not have been as beautiful without Marisa to help!
---
Reviewed on

7/08/2015
Victoria L
We really liked Marisa and her team, and our wedding turned out great because of their planning. As other reviewers have said, Marisa is very enthusiastic, detail-oriented, and very organized - all the qualities you want in your planner. Also, she's simply a great person, and it was fun working with her. We appreciated that she offers a la carte services, which makes her more flexible in fitting someone's budget. She also has most of her documents online, which was convenient for us because it made making changes and collaborating much easier. She's obviously an experienced planner, and really helped us out when dealing with vendors, and pointing out things we never thought about. We definitely recommend her to anyone in need of a wedding coordinator.
---
Best Decision We Made
Reviewed on

10/30/2014
Victoria R
There were so many choices to make getting ready for our big day. The best one we made was hiring Marisa! She is enthusiastic and detail-oriented and was able to keep us on track for a perfect wedding. Not only did she help us select and coordinate vendors, but her help on the day of the wedding was invaluable. We had several people come us to us during the reception and say how awesome our wedding planner was! What more is there to say? Stop reading this review and hire Marisa today!
---
AMAZING WEDDING PLANNER!!!
Reviewed on

10/28/2014
Daniella C
My husband and I loved having Marisa as our wedding planner. She always went above and beyond in making our wedding extra special. It did not matter if the task was too big or too small, she was always there and got it done. She also found and gave us many options to choose from according to our liking and budget. She definitely saved us a lot of time, money, and headaches! If you are looking for someone who is energetic, charismatic, and a go-getter, then Marisa is who you want to help you plan the most important day of your life. She found exactly what we wanted. She did not let us settle with something that we did not want. She just kept trying to find what we wanted. Our wedding was not the typical wedding that she is used to planning. However, she did an awesome job and the wedding was perfect! We did not worry about anything throughout the whole event. I definitely recommend Marisa to all future brides. She didn't only help us with planning our wedding, but also cared for me. She would always know when certain things were too much for me or when I couldn't deal with the subject anymore. She kept me calm and would make herself available all hours of the day.
---
My new favorite person
Reviewed on

10/28/2014
Alexis D
Marisa is by far one of my favorite people in the whole world. I could not have asked for a better person to make our day more amazing than we could have imagined. I went into the planning process kind of overwhelmed, but as soon as we found Marisa, everything became just fun and easy. She was not only fun and a blast to be with and design with during the planning process, but she was mind blowingly good at keeping our big family and wedding party in line and on task through the rehearsal and wedding ceremony. Our day was truly magical, and I can't imagine doing it without Marisa!
---
Irene and Chris's Carondelet Wedding
Reviewed on

10/28/2014
Irene l
From the minute I met Marisa I knew we just clicked and that she was going to be our wedding planner. She did the best job communicating with all of our vendors and always taking into consideration our budget for the wedding. We couldn't recommend her more! Thanks Marisa!
---
Great Wedding Day!
Reviewed on

10/19/2014
Marisa really went above and beyond for my husband and I. Throughout the entire process she was always willing to meet with us in person whenever needed, accompany us to visit all of our prospective vendors, and give us honest feedback along the way. She was very realistic with us regarding her thoughts about things pertaining to budget, timeline, rentals, etc. It was a pleasure to work with her due to her positive energy and fun demeanor. On the day of our wedding, she arrived early with 2 assistants and they stayed well after everyone had departed to make sure everything was set and wrapped up. We couldn't be happier with our experience with Marisa and highly recommend her services!
---
best day ever!
Reviewed on

8/21/2014
kattie s
i can not thank marisa and her team enough!!! she went above and beyond in every way!!! if u need somebody that knows the ins and outs, marisa is your gal, i litterly had her do my whole wedding and it was perfect!!! couldnt have gone any better, luv them!!! xoxoxo
---
GAME. CHANGER.
Reviewed on

7/30/2014
I remember when I was in your shoes. Searching for a wedding planner, browsing the reviews on the Knot. So here's my advice for whatever it's worth. And mostly why Marisa my life saver. Fo' real. Think of your wedding as a business. For that year or so you're running a small business which means: managing budgets and vendor pay schedules, creating guest lists and addresses, prepping each month details, & the list goes on and on. It's more work than any bride should ever have to do, but when you have a planner suddenly it's all MUCH easier. Marisa made the process incredibly smooth-- she broke down my to do's each month so I could only focus on a few at a time. She helped me weigh costs and negotiate with vendors-- signing contracts with a number of vendors is super daunting and there can be a lot of hidden costs if you aren't careful. Marisa suggested those she knew were solid and let me just say, they knocked it out of the park. Oh, the wedding! Now that it's all over I can honestly say looking back-- Marisa was THE most important choice and it wouldn't have been the same without her guidance and team. It was the garden party, shabby chic wedding of my dreams. Every detail was thought through- from our guestbook to flower placements to epic band set list. There was nothing I ever worried about with her by my side. Even day of there were NO hiccups. Like, seriously? Is that even possible? I typically don't get so "ranty" on reviews, but I'm just putting myself in your shoes and thought it was worth you knowing about how much I seriously loved my dear planner, Marisa. Promise it will be worth all the work once you do it! x
---
Wonderful, professional coordinator!
Reviewed on

7/07/2014
Jenny H
Marisa and her all-star team were an absolute dream to work with. All throughout the wedding process, Marisa was responsive and helpful with any of my needs, always ready with good advice and wisdom from her many years in the industry. And leading up to the wedding weekend, she and her 2 team members made sure that they knew every detail we had planned and took over every aspect of the day so that I could enjoy my wedding. They even came to the rescue with a trusty Tide pen when I spilled on my dress right before the grand entrance! I can't thank them enough, and am so so happy with how my event turned out. Marisa Nicole Events is truly exceptional!
---
Every Wedding needs Marisa Nicole, Wedding & Events
Reviewed on

10/14/2013
Shirley K
I have nothing but amazing things to say about Marisa and her team. Marisa was by my side through the entire wedding planning process (& of course the day of!) and I can honestly say that I could not have done it without her. She was everything I needed (& more!) in a wedding coordinator and she definitely went above and beyond to make sure the wedding was everything I imagined it to be. Marisa made the entire wedding planning process fun & stress-free. How often do you hear a bride say wedding planning was stress-free?? Hire Marisa - she is worth every penny and she will make your wedding AWESOME!
---
A Wonderful Coordinator!
Reviewed on

10/12/2013
Caroline W
Marisa was fabulous as a coordinator - fun to work with and 100% on top of things! During and after the wedding, I received several compliments from friends and family regarding the way she ran the rehearsal and the wedding as a whole, and I wouldn't be surprised if I am asked for her contact info in the near future ; ). She worked with us to figure out exactly what we wanted, took the time to learn our Jewish customs, and did everything possible to make sure all was executed flawlessly. I know I have her to thank for the fact that from the moment I awoke on my wedding day, until the time my new husband and I finally retired to our room I never knew what time it was, didn't care and did not worry about a SINGLE thing. I had zero anxieties, no questions where things or where that person had run off to - nothing. It was truly an incredible gift for my wedding day : )
---
Let Marisa Coordinate Your Wedding!!
Reviewed on

10/11/2013
Sona R
Marisa was my week-of wedding coordinator, but her services went WAY beyond just setting up during that hectic week! Marisa met with me a month before the wedding to go through a giant check list of all the things I should be ready for. It was INSANELY helpful! I felt so prepared the week of, and was really able to just relax and take it all in on the big day. Marisa was super easy to get ahold of via email and phone, and always made herself available for my husband and I. She helped us figure out everything from shuttles to tips for the band to loading up my car at the end of the night (a job my older brother was supposed to do - he let the whiskey at the open bar get the better of him)! Side note: I was recently the matron of honor in my best friend's wedding on the East Coast, and it made me appreciate Marisa even more!! She handled SO much, I didn't even realize it until I was at a wedding where she wasn't the point person!
---
Don't Know What We Would Have Done Without Her!
Reviewed on

10/07/2013
Sara K
From the Groom: Marisa from Marisa Nicole, Wedding & Events was a godsend! She was not only super organized and attentive to all our (and parents for that matter) needs but she also saved us a lot of time and money with her vendor recommendations. She was super nice and a true joy to be around, almost feels like we lost a close friend upon our journey coming to an end. From the Bride: We happened to find Marisa on a wedding website by pure luck - and thank goodness we did! She worked with us for over a year and a half to make our wedding day AMAZING! Marisa was amazing to work with! She was familiar with our venue, she helped us find vendors that worked with our budget, she was more than willing to attend any vendor meeting we needed, and she was never too busy to answer questions (no matter how random!). We were content doing many details on our own as long as we had someone to tell us what needed to be done and when it needed to be done by. She gave us an amazing timeline to work with and followed up with us regularly to make sure we were on track. We were pretty clueless about most things wedding related but she helped us along, giving us lots of options to work with! She was more than happy to attend my final dress fitting a few days before the wedding to make sure everything was perfect. On our wedding day, she made sure we didn't worry about a thing. Everything came together so smoothly, I don't know what we would have done without her. She was always moving, making sure things were getting taken care of so that we didn't have to think about anything but having an amazing time (which we did). When picture taking during cocktail our took a little longer than expected, she made sure a plate of hors d'oeuvres were brought to us so we didn't miss out! It gave us a moment to relax before the reception started. She checked in with us (AND our parents) throughout the night to make sure everyone was happy and getting what they needed. We can't say enough about how wonderful Marisa is! Thank you Marisa (and crew) for helping to make our wedding day more amazing than we could have ever imagined!!!
---
We love Marisa!
Reviewed on

10/02/2013
Our wedding was 3 weeks ago and we're still on a high from just how fabulous it all was, and "Marisa Nicole Wedding & events" is largely to thank. We got engaged July 2012 and contacted Marisa in September 2012 with our grand plans for a destination wedding in California. My (now) husband and I live in Australia, but he originates from Northern Ireland, so we wanted to travel somewhere that was kind of half-way. Marisa was only too happy to work with us. We chose to get married on Santa Monica Pier, a place we had never been and have the reception in the carousel building on the pier. As I was planning a wedding from Australia the majority of my contact with Marisa was via email. For a year, we would have communicated via email nearly every day. It seems crazy that there would be that much to say, but it just highlights how thorough Marisa is, and helped to build the excitement. Sometimes these emails were about prices and quotes, sometimes about brainwaves she suddenly had, ideas I wanted to share with her, sometimes she sent helpful advice such as tipping etiquette (we don't tip in Australia), or other times just for a quick hello and touch base. We routinely talked on skype too, about monthly. Marisa was super flexible with working within our different time zones, even if it sometimes meant late nights or early mornings. Marisa probably found about 3/4 of the vendors we used and we found the rest. All of those that she found were great (and some even offered discounts as they'd worked with her before), and those that I found Marisa was only too keen to go and check out.... She even went out one night to watch our band in action before we booked them in. Once we arrived in California to get married Marisa was ready to spring into action. She was able to drive us around to run a couple of errands, direct us to where to get our marriage licence, run a rehearsal for our bridal party, introduce us to all the important people, and stay cool, calm and collected throughout. Our wedding day was perfect! Marisa had had many great ideas which worked well on the day and there were no hiccups! Was she slacking off drinking wine and dancing you ask? No way!!! All night she was busy doing laps of the reception building; bussing tables, getting us drinks, coordinating with the bridal party, MC, the band and just all other staff generally. Then she even helped clean up! Neither mine or my husband's family had been to a wedding with a wedding planner before and we all felt the difference. Organised, effortless, relaxed.... how many people can say that about their "big day"? It's a shame to me that we don't live in California; as if we did we'd be hiring Marisa for all our future events. We would consider ourselves a budget savvy couple, and to spend ANY money on a wedding planner was something that took us a while to come to terms with. BUT... Marisa and her team were worth every penny and more. I truly believe she was the best investment in making our wedding fantastic. If you are getting married, just hire Marisa. Even if you are on a budget, even if you consider yourself an etsy champion, even if you've read all the blogs and forums, even if you think you know exactly what you want.... just hire Marisa. Just hire Marisa!
---
She's the best in the business...without a doubt!
Reviewed on

7/21/2013
Maria R
My husband (then fiance) and I live in New York and were planning a wedding in California where we are both from. First of all, I have to tell you that she was the best investment we spent on this entire wedding. We could not physically be in LA, and she became an extension of us as a couple....meaning she was our eyes and ears, our voice of reason, and even our runner to do things I never thought planners were expected to do. I truly believe she went above and beyond her call of duty. She was a person who was genuine and easy to talk to, and someone we could be honest in sharing our biggest worries and deepest frustrations. In some ways she became a very good friend. As a planner she was organized and prompt....definitely kept us on schedule. She would check in on us just to see how we were doing even if we didn't have any business to discuss. We never would've guessed she was working with several other brides at the same time because I never sensed a lack of time or attention. I love the fact that she was also detail-oriented. This is exactly what you need in a planner. She has a great eye for design and truly captured the concept we imagined our wedding to be. She would tell us if a vendor/item was priced to high and let us know where we can find what we were looking for at a more affordable price. She truly had our best interest in mind. She was on OUR side. She pulled a lot of strings for us and made things happen that we didn't think were possible. She told us everything we needed to know - from how to obtain a marriage license, to how to prepare ourselves physically, mentally, and emotionally for the big day. The wedding day itself turned out to be absolutely flawless! If any problems had arisen, neither I nor the guests had any clue. The wedding went off without a hitch! And you know she did an outstanding job when guests raved about how wonderful the wedding turned out to be, that things were so organized and well thought out, and that even the smallest details weren't left unturned. What I loved even more is that the guests complimented us on how kind, amazing, and personable Marisa was! I love that she wasn't just a "fixture" in the wedding, but that she really go to know and interact with some of our guests. This is what makes her outstanding. My mom fell in love with her, my bridesmaids adored her, my husband said she was a stress-reliever....she was MY ultimate God-send!
---
My Wedding with Marisa Nicole, Weddings & Events
Reviewed on

7/15/2013
Andrea M
Without Marisa and her team helping me, my husband and I would not have been able to enjoy our special day. Marisa had everything under control, took care of any issues that arised and everything turned out perfectly. Honestly my wedding day surpassed my expectations -- and I think without Marisa there to help it would have been very stressful. I will forever be thankful to Marisa and her team!!
---
miko80
Reviewed on

1/30/2013
mariko h
As a DIY kind of bride that has helped countless friends go down the aisle, I quickly realized a wedding coordinator would be essential. My goals were to create a personalized wedding without burdening my friends & family with all my arts and crafts. And to keep everything on schedule. Marisa made everything happen. She gave me the tools I needed to prep for the wedding, she got both families working together the day of, and when people had questions they went to her. It was awesome! Hard to believe anyone can have a wedding without a coordinator!
---
Wowza!
Reviewed on

11/08/2012
Vera G
Within the first five minutes of our first phone conversation, I knew that Marisa Nicole was the only choice for making my dream wedding a reality! I was lost trying to figure out how I was going to manage planning such a huge event from my home in Texas, with over 250 guests, and bringing together all the elements of two very different cultures - my Scott's Irish family with my husband's Lebanese family. From the start, Marisa "got" me. She had an amazing way of helping me put my vision into words and eventually, a reality. She never tried to steer me away from what I wanted or thought was important. She also helped me to see that things I thought were impossible didn't have to be out of reach for me. I had EVERYTHING at my wedding that I could have wanted and we did it on budget and with class! Throughout the year of planning, Marisa became much more than a hired vendor and felt much more like a close, personal friend. Despite the fact that I always knew she was juggling multiple clients at once, I never felt like there was anything more important than me during every encounter with her. It was almost impossible to think that she could possibly be helping another bride somewhere because she gave me so much of her time, attention, and genuine caring - Marisa makes every bride feel like the most important and special person in the world. I would not have pulled off the wedding I had without the expertise of Marisa Nicole. Everything from recommending vendors, accompanying me on site visits, calming down during my crazy wedding meltdowns, answering every little text and e-mail no matter how small or insignificant a question, creating a killer timeline for the day of the wedding to keep everything and everyone on track, making sure everyone was happy and smiling all night, etc. etc. etc. If you can think of it, Marisa did it! When the wedding was all said and done, I had guests sending thank you notes to ME saying it was the best wedding they had ever been to! We couldn't have done it without Marisa. We will always be grateful for the way she transformed what would have been just a wedding into the most magical day of our lives.
---
Marisa makes dreams come true!
Reviewed on

11/04/2012
Monika F
Marisa was simply amazing in planning our wedding in Manhattan Beach, CA! We live in Vienna, Austria and had the dream to get married in California. We contacted Marisa with not much more information than that and she understood what we wanted from the first moment. In various Skype calls she gave us the confidence that we could make our dream come true. When we planned the wedding, there were a lot of administrative things (permits, certificates, ...) to take care of to make this wedding abroad happen. At times, we were nervous and insecure about how things will work out. Marisa was there for us all the time and we could rely on her 100% - from the beginning until the day of our wedding. It is still surreal for us to think about the fact that we found Marisa on the internet having no clue about how fantastic and brilliant she would be. And she did everything, with us being thousands of miles away. She made a real effort to get to know us and chose vendors and styles appropriately. From the flowers to the officiant, from the music to the photographer :) ...and the cake :) - every suggestion was spot on. We got to LA only four days before our wedding day. She took the time to meet us at the location, to take us to the cake shop, to meet our friends and to explain the timeline of the day again and again...and again. We simply had the feeling that everything was already taken care of, and we could just relax and enjoy our day. On the day of our wedding, we didn't have to think about anything - Marisa ran the show for us. And it was even more beautiful than we had imagined! Brides all over the world! Trust me, you cannot find a better wedding planner than Marisa!
---
She was 100% on our team!
Reviewed on

10/12/2012
Alana G
I had no idea what to expect when we hired Marisa but I do know that everything ran smoother because of her. We got married in a family friend's back yard, meaning we had to totally reimagine the space to make it intimate and wedding-ready! And with Marisa's help and attention to detail we had the exact wedding we we're looking for. There were quite a few complications that came up and Marisa always had a solution. She went above and beyond to make sure the day ran smoothly and everything leading up to it helped support the complete vision. She was always in a good mood and made me feel like I could be the bride and not sweat the details. She's a real find and I was lucky to have her by my side!!
---
Couldn't have done it without her!!!
Reviewed on

10/09/2012
Breanna S
I honestly have nothing but wonderful things to say about Marisa! Throughout the entire time leading up to the wedding, she was extremely helpful! She was able to listen to all my jumbled up words and make sense of what it was that I wanted and needed and helped me get there. She always went above and beyond to make this an exciting and positive experience for me as a bride, which is so important! She responded promptly to all of my emails and calls and always had a plan for what needed to be done. She will give you her honest opinion about details and ideas, but will be sure to not in any way hinder your vision for the wedding. She is adorable and so personable, and right from the start made me feel so comfortable to be around her! She and her assistant, Emma, even rode with us to Santa Barbara from LA to our venue for the walk-through. For the rehearsal she was able to get things done in a timely and orderly fashion, and let people know what they needed to do and where they needed to be, all while still having the biggest smile on her face. And the day of the wedding, I honestly have no idea if anything went wrong because she made sure I was enjoying the day to its fullest and wasn't worried about anything. The entire day went so smoothly, exactly how she and I planned it out in the timeline (which, by the way, her timelines are flawless! They are so detailed and you know exactly what will be going on at all times!) She worked so well with all my other vendors, and just really helped my wedding be such a fun time where I could just enjoy myself. I could honestly go on for days about how amazing she is and what a help she was! If you choose her, I promise you will not regret it!
---
Awesome Wedding Coordinator!
Reviewed on

9/01/2012
Melissa N
My groom and I were incredibly busy with careers, family and moving. Marisa kept us on track, helped generate great ideas and ensured our wedding day was fabulous and hassle free!
---
Send Message