Home

Matrimony Media
About this Vendor
Modern Wedding Photography + Videography
| Let us tell your story | Matrimony Media is a full service wedding media company based out of the Central California Valley. We believe every wedding tells a story with every story being just as unique as the individuals telling it. Our aim is to capture your wedding with documentary style photography and videography. We believe in art and find nothing more captivating than the wedding day between two people who have chosen to spend everyday of their lives together. | We are compelled by authentic artistry | As artists we will not only pour experience and know-how into your wedding, but we will do anything to make your wedding day a work of art. We will not only capture moments, but experience and emotion into every shot we take. This is our passion. |We are Matrimony Media |
Details
Documentary, Lifestyle, Modern
Bridal Portraits, Engagement
Getting Engaged, After Party, Wedding
Destination Weddings, Digital Files, Film Photography, Online Proofing, Photo, Second Shooter Available, Social Media Sharing, Wedding Albums, Photo + Video
Contact Info

Reviewed on

8/02/2016
Mari L
I can't put into words how much I loved our wedding photos, but I'll try, for the sake of giving credit to a very deserving company. I had a semi-destination wedding (3 hours away from home) and we were looking for a few things: (1) a photographer closer to the area, (2) modern... Read More photography, (3) a portfolio. When I looked at Matrimony Media: Service area was a check. Photography style? Check. Portfolio? Not huge, but check (I'm a quality over quantity kind of girl). Next, I reached out to them for more information. Andrew replied and sent over package options. His prices were right in the range of what I expected to pay for a good photographer. It's one of the only things I was willing to pay good money for. After all is said and done, photos and video will be the only way to re-live the best day of your life. We chose Matrimony Media because we chose Andrew. Let me explain what I mean: I could have taken my business to anyone, but he seemed to care the most. He was the most responsive of any of our options, paid the most attention to detail, and he continued to follow up/ check in with us. If you're capturing one of the most important days of my life, there has to be more than a stand-and-shoot relationship. Your photographer should make you feel comfortable. Fast forward contract and other logistics. Wedding Day: He was there early and stayed late. He and a colleague captured every detail and we barely even noticed they were there (I'm sure running and ducking from point A to point B for the best candid shots). Fast forward less than 2 months later and our photos were delivered via an online gallery. We absolutely LOVE them. I can't imagine having gone with anyone else. If you're on the fence, just reach out to them. You'll see what I mean :)
---
Reviewed on

4/14/2016
Andrew and his team at Matrimony Media is second to none. He has that gifted ability to capture those special moments of the heart that seems to escape memory in time.
---
Reviewed on

12/08/2017
Nicole D
I cannot rave about Andrew & his team more! Since the first day I came across his photography and videography I have envied their work! They are the absolute nicest people EVER and so extremely professional. They make you feel so comfortable and honestly, my guests almost forgot... Read More they were there because they blend in so easily. Everyone has told me multiple times how much they love our photos and I still can't believe they're ours when I look at them! I will continue to recommend Matrimony Media to every single person I meet, even if they aren't looking for a photographer ;)
---
Reviewed on

10/02/2017
Kara G
I would highly recommend Matrimony Media for all of your wedding needs. Not only did Andrew take amazing photos and get them to us very quickly, he made us feel very comfortable and relaxed infront of the camera which lead to very natural looking photos. He listened to all of... Read More our rambles about what we wanted and delivered us with outstanding photos that captured our day beautifully! My videographer canceled the morning of and when Andrew found out (we had a friend with a camera become the impromptu replacement) he offered his equipments and professional recommendations to our friend. We appreciated everything he did for us and if we had to do this all over again, the first person I would book would be Matrimony Media!!
---
Reviewed on

10/02/2017
Toni W
Andrew is awesome! He's extremely genuine and wonderful to work with. His photos are creative, come out amazing, and he makes you feel very comfortable all while he's taking them. Andrew got us our photos so quickly for engagement and wedding, sending over sneak peaks as well,... Read More when we couldn't wait. He's amazing and easy to work with. I would highly recommend him to everyone!! He is an outstanding photographer!
---
Reviewed on

5/22/2017
Andri F
I can't explain how much we loved having matrimony media do our wedding video! I was so impressed and still watch the video all the time. It is perfect and so personalized to who we are as a couple! I highly recommend working with them- they made it so easy and fun the whole... Read More wedding day. You will not be disapoonted in their work :)
---
Reviewed on

5/04/2017
Emily A
Working with Andrew and Jenny was one of the highlights of our wedding. We opted not to do engagement photos, and I really appreciated how flexible and accommodating Andrew was in offering a package that included exactly what we wanted (i.e., video of ceremony and toasts in... Read More addition to full wedding day photos). He continued to be super flexible and communicative throughout our planning process and answered all of our random questions over email and even took the time to chat with us on the phone once. We met them in person for the first time the day of our wedding and they made everyone involved feel totally comfortable and at ease. The photos from our wedding are absolutely gorgeous and their turnaround time was impressive - and there are a TON of photos! We are in awe of everything they were able to capture - from the posed bridal party and family photos to candid photos of our guests and lots of fleeting moments in between. We are so grateful for their beautiful work and can't recommend them highly enough.
---
Reviewed on

4/21/2017
Julie P
Andrew was amazing at our wedding! Andrew truly cares about producing beautiful pictures and he went out of his way to scope out the venue and nearby sites that would be a great photo opportunity. We really appreciated Andrew's patience and understanding when we were behind... Read More schedule and did not have time to take pictures before the ceremony because we were busy scrambling to decorate the venue. However, he still took some pretty nice pictures throughout the chaos. When we received our pictures we were in awe of how amazing the photographs looked. Not only is Andrew an amazing and talented photographer, he is a down to earth and humble human being. We were completely happy with Matrimony Media! We would highly recommend them!! You will not be disappointed.
---
Reviewed on

4/14/2017
Erica S
Andrew was a fantastic photographer! It's a little intimidating getting your picture taken hundreds of times, but Andrew made us feel comfortable and relaxed throughout. He captured so many great moments and I'm pleased with how all the pictures came out. Andrew was... Read More accommodating, flexible, and very nice to work with. I'd definitely hire him again for my second wedding. :)
---
Reviewed on

4/13/2017
Brittany B
Matrimony Media SAVED my wedding (in a way) my original photographer (close friend) was having a life crisis a month before the wedding date and Matrimony Media came to the rescue and was professional and quick. They were there the day of, ready to go, and took amazing pictures!... Read More 10/10 would use them again and will recommend them to everyone :)
---
Reviewed on

1/04/2017
Samantha P
Andrew, Jenny, and the whole team are absolutely amazing!! They were so much fun to work with and so kind!! They took such wonderful pictures, and the videos are absolutely amazing!!!! 100% recommend them to any Brides!! I cannot say thank you enough to the whole crew!!!... Read More Amazing work guys, thank you for all the time and effort you put in!!
---
Reviewed on

10/24/2016
Adam N
Andrew and his assistant (I feel awful that his name is escaping me) were absolutely brilliant. On a day where nerves were frayed, Andrew's calm and easy going nature put my wife and I at ease. My wife and I met privately for an exchange of vows before the ceremony. Throughout... Read More this intensely personal moment, Andrew let things play out naturally, ran interference when an employee of the grounds wanted us to move along, and still beautifully captured the scene. The best part was that I never knew he was doing it. There wasn't a single second when we felt rushed or micromanaged. Afterwards, we moved on to shots with the bridal party, then to the ceremony, then to more couples shots at offsite locations, then to the speeches, and finally to the party. Andrew ticked every box on the list of moments we wanted to capture and moved through the party seamlessly, efficiently, and professionally. As my wife and I were seated at our table for the food service, Andrew offered to take our glasses to the bar to have them refilled. This small gesture made such an impression on me. It made me appreciate that we had chosen a real person to document our day and not just a vendor. That human quality came through brilliantly in the photos from the day. We got the login details to view the folders on the day we returned from our honeymoon. We relived the entire day from the Atlanta airport while we waited on our connecting flight. My wife and I couldn't be happier with the final product. We paid a fair price for outstanding service. Anyone would be lucky to book such an exceptional photographer.
---
Reviewed on

9/06/2016
jessica b
I just can't get over how amazing our photos turned out. Andrew was so fun to work with and made it easy for us to relax in front of the camera. He captured so many beautiful moments of our growing family. His passion for photography shows in each photo we received and we... Read More couldn't be happier with the memories we will now have for forever. My entire family is just in awe of Andrew's talent!
---
Reviewed on

8/11/2016
Christina J
When we first recieved the email with the link for our wedding photos I'm pretty sure I emailed Andrew and said "Are you SERIOUSLY....SERIOUS!" The photos are absolutely gorgeous! If you are looking for a creative, artistic photographer with a brilliant eye Andrew with Matrimony... Read More Media is your guy. He captured our memories in such a way it brings you back to the wedding day every time you see the photos.
---
Reviewed on

6/17/2016
Allison Z
Andrew is the best! He is a great photographer and is always quick to respond to any questions :)
---
Reviewed on

5/23/2016
Bethany O
Matrimony Media did an absolutely incredible job capturing my wedding day! Andrew made me and my husband feel so comfortable in front of the camera and he was so easy to work with. He was always so prompt in answering emails and helping with all my questions. I adore my... Read More pictures and would highly recommend him!
---
Reviewed on

4/23/2016
What a pleasure it was to have Andrew capture our beautiful day. He not only maintained an extremely professional attitude, he made the both of us extremely comfortable. So much so that it felt as though we had known him for years. Hannah and I could not be happier with the work... Read More that he produced. We will definitely be calling on him again, no question about it.
---
Reviewed on

4/18/2016
•Wonderful quality/pictures •Always professional •Really listens to the style you are going for and achieves so much more! •Defiently worth the price for the quality and service that you receive:) I'm very pleased with all of the work they have done for me
---
Meet The Owner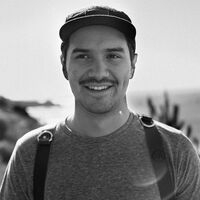 Andrew Garcia
I started taking photos as a way of communicating to people the art I feel every individual has within themselves. I am drawn to light, shadows, and laughter; to me they make up the most quintessential experiences. I take a documentary style approach to weddings-capturing real moments, not forced ones. I enjoy making light of a what seems to be a stressful day, and really getting to know you as a person. Lets have fun and don't be afraid to let your true colors show.