Home

Memorable Moments, LLC
About this Vendor
Wedding Planning & Design
Full Wedding Planning company offering full coordination and design. We are known for executing our clients' visions with the utmost professionalism, compassion, and dedication, but it's the personal bond we develop with our clients that truly sets us apart.
Details
Engagement Party, Getting Engaged, Honeymoon, After Party, Bachelor Party, Bachelorette Party, Bridal Luncheon, Bridal Shower, Rehearsal Dinner, Welcome Party, Rehearsals + Parties, Ceremony, Cocktail Hour, Day After Brunch, Reception, Rehearsal, Wedding
Destination Wedding Planning, A la Carte Wedding Planning, Budgeting, Day-Of Coordination, Full Service Wedding Planning, Honeymoon Planning, RSVP Tracking, Planning
Contact Info
Reviewed on

10/25/2016
Adela P
Rubina from Memorable Moments is god-sent! Before I started planning my wedding I thought it would be a breeze and I can do it all... Boy was I wrong! When the day came for me to sit and start planning I had no idea what to do I was so lost and confused my friend had told me... Read More about getting a wedding planner and I wasn't sure I can fit it into my budget but I still asked around and someone referred me to Memorable Moments. After one conversation with Rubina I knew she had to be a part of my wedding. She listened to all my ideas and helped me organize and bring my vision to life. My wedding would have been a disaster without her help. The day of my wedding was magical and perfect and I would recommend Memorable Moments to all my family and friends because with Rubina you're not only paying for a wedding planner but a friend who truly cares about the couple and their big day. Thank You Rubina!! You're truly a remarkable Planner.
---
Reviewed on

3/21/2018
I couldn't imagine having worked with a better coordinator than Rubina for our wedding. I hired Rubina for the day of/month of wedding package she offers, since the majority of major tasks were already taken care of (venue, church, florist, cake, etc). I really wanted to... Read More designate someone that I trusted to be in charge if any unexpected issues were to come up. As a bride, I didn't want to be the point of contact if something in our plans were to change, a vendor was running late, or one of many unexpected events that could happen when planning a 350 guest wedding. Most of all, I felt comfortable discussing minor details and do's and dont's with Rubina. Although I thought majority of planning was done and out of the way, Rubina brought to my attention minor details throughout the last month that I had never even considered. She strived to make sure our special day was absolutely perfect. After I got home from my hair and makeup appointment the morning of my wedding, I expected to be walk into chaos (like I had on the day of my engagement party). Instead I watched each vendor doing their own thing, giving me space, and my photographer even told me to relax, get a bite to eat, and to take it all in. I was probably the most relaxed bride and that's because I had Rubina handling the show. A big thank you to Rubina. Unlike most brides, I actually remember my entire wedding day and that's because of her!
---
Reviewed on

12/25/2017
Effi A
My review is coming in a bit delayed but to this day I will not forget how much easier Rubina made my life throughout the wedding planning process and especially on the day of my wedding. She made me feel very comfortable from the moment we met and her professionalism,... Read More organization skills and experience in wedding coordination all came together to bring to life my dream wedding. She really got down to the nitty gritty on what was required of me and was very considerate and patient with my hectic work schedule when it came down to timeline meetings leading up to the wedding. If you want someone who gets down to business on your big day and solves any problems/issues before you even get wind of them, rubina's your girl! As a bride, I didn't have to worry about a thing! Thanks a million Rubina!
---
Reviewed on

9/22/2017
Nvart Z
Hiring Rubina as our wedding day coordinator saved us! Rubina is so great at what she does. There were so many things that we hadn't thought of or considered, til Rubina created our timeline. Absolutely loved having a timeline! Not only is she thorough and accommodating, but... Read More also very sweet and easy to work with. Having the help of Rubina and her assistant Natalie (who is also great!) really allowed us to enjoy our big day. We would definitely use Rubina's services again and would refer her to others as well.
---
Reviewed on

8/24/2017
Zain A
Booking Memorable Moments (Rubina) as my month-of coordinator was one of the best decisions I made for my wedding! She was truly a God send. She was always available for all of my questions and made me feel that she was my full-time coordinator. She is very professional and has... Read More a lot of experience with all types of cultural weddings. I will definitely refer her to family and friends.
---
Reviewed on

7/27/2017
Jasmine T
TL;DR: Please don't think you can do this without a coordinator, and don't even bother going to anyone else - Rubina thinks of it all, has seen it all, and will put you & everyone in your family at ease. Like many organized brides, I didn't think I needed a wedding planner. I... Read More thought, how hard could it be? And I wasn't working FT so I thought I'd have the time for it. I was SO WRONG. We booked Rubina far in advance for our June 24 wedding, after hearing glowing reviews, following her closely on Instagram, and attending one of her bridal workshops. We chose the day-of package, where she helps you throughout the month before to get all your ducks in a row, so she can properly run the entire wedding day coordination. About 3 months out, even without a FT job, I was feeling so overwhelmed that I truly regretted not getting the bigger "full wedding" package! We had 320 guests, so the pressure was on. Luckily, Rubina has a heart of gold and she eased any fears I had along the way with a quick pep talk, well before her one month commitment started. LISTEN BRIDES & GROOMS: If you both work full-time jobs and especially if you're having a big wedding, you NEED a coordinator. Don't be stubborn and think you can do without one! The biggest piece of advice she gave me, which was what really changed my mind, is that you do not want your loved ones, i.e. mom, sisters, brothers, bridesmaids, etc running around like chickens without their head on your wedding day trying to organize family for a group photo, or find vendor payment envelopes in your bedroom, etc. Your family and friends should be enjoying YOUR special day. My parents and in-laws were also extremely hesitant about hiring her, and they didn't even get a chance to meet her until our rehearsal. Immediately it felt like she was family, extremely professional and caring. The moms were IMPRESSED and that's a big deal! Me being the 3rd daughter, my mom was used to running around a lot on a wedding day and not getting to enjoy that much. The day after the wedding my mom just kept thanking me over and over again for hiring her. Rubina was truly my lifeline on the big day. She was getting me water when I needed it, reminding me to breathe and enjoy the moment when I was stressed, she took care of vendor payments and gifts, she made sure my overnight bag made it to my hotel room, I mean the list goes on and on! She just had great vibes all day & you can tell she loves what she does. And she had an amazing assistant with her on the day of, I can't remember her name but she was also extremely professional and the next best thing to Rubina. I did a lot of the wedding prep myself in advance, because like I said I only got her for the day-of coordination, but she made sure we had a smooth transition of tasks and physical items (her checklist and itinerary were EXTREMELY detailed and helpful). Our wedding went as smooth as butter, all thanks to Memorable Moments!!!
---
Reviewed on

7/15/2017
Kamesiau P
I hired Rubina (Memorable Moments) for full wedding planning after finding her on the knot website. Unfortunately, I can NOT recommend her services. Her prices are expensive for the limited service she gives. She did lead me to some great vendors which I appreciate. I had... Read More to contact the majority of my vendors and then had to coordinate with her. Throughout the planning process I found her to be defensive when questioned and inflexible. She was dressed unprofessionaly for the wedding rehearsal and on wedding day. The day of the wedding she was understaffed and constantly contacting myself and bridal party with questions. There was a large amount of confusion on my wedding day. Not sure if she was overwhelmed or uninterested but I feel like she gave us minimum effort which is disappointing considering the high price we paid for full wedding planning.
---
Reviewed on

11/03/2016
From the beginning to the end I did not see one bad mishap. They handled everything and were professional and organized. AMAZING
---
Reviewed on

10/24/2016
Elizabeth C
I was never one to actually get a wedding planner I would always think to myself I can take care of eveything on my own and boy was I wrong. I came across Memorable Moments on instagram and booked a consultation with Rubina. I wanted to get a detailed idea of what it would be... Read More like to have a planner for my big day. Rubina explained the importance from A-Z and I was sold on the fact that a wedding planner is something that would be very helpful. Let's just say Im a true bridezilla and Rubina helped me stay stress free and made my vision for my wedding come to life. It was the best decision I have ever made. She was beyond helpful and took care of eveything for me. Everyone was in awe over my wedding, it was truly magical. Words can't describe the dedication and passion she put into making sure eveything was perfect to the T. Thank you a million. For those of you who are planning your wedding I would highly suggest a consultation with Memorable Moments, as that one meeting with Rubina made me understand the true importance of hiring a planner for my wedding.
---
Reviewed on

10/11/2016
Lilit B
Planning a wedding was so stressful for me. Having a new job that was 12 hours a day and moving at the same time, wow it was a disaster! A friend of mine recommended Rubina at Memorable moments and OMG I just can't thank her enough and I'm forever grateful to her for making our... Read More planning process and of course the wedding day the most memorable, funniest, and exciting experience ever. It's really hard to put in words how awesome Rubina is as a person, or as a planner, or how she interacts with vendors, or just how much knowledge she has for this. I'm a very picky and indecisive person. She made the whole process so easy for me. I literally felt like a guest. That never happens! She was so detail oriented and professional yet so down to earth. She was truly a blast to work with and she made sure our party was a guaranteed hit. THANK YOU THANK YOU THANK YOU for your hard work and dedication!!
---
Reviewed on

10/10/2016
Sose O
Hiring Rubina from Memorable Moments was one of the best investments I made for my wedding. She handled all the details & covered things we didn't even think about. She was very patient & really professional throughout the planning process. Rubina made us feel very at ease on... Read Moreauyfcbefvrafaxtfuutwwtrufxwrzdburayxxw our wedding day & we really enjoyed the day & didn't have to worry about anything knowing that she was there & handled all the details with the vendors. Thank you again Rubina for such an incredible experience!
---
Reviewed on

10/10/2016
Ninet M
I couldn't have better things to say about working with Rubina and her Memorable Moments team. Throughout the planning process, Rubina was attentive, organized and resourceful. Multiple friends of ours hired Rubina as their planner and after speaking with other couples in the... Read More LA area, we contacted Memorable Moments and we are very happy we did! My husband and I hired Rubina as our day-of coordinator for our August wedding and she was impeccable! She is easy to contact and easy to work with - she helps relieve the stress of the wedding planning process! There are not enough words to describe how grateful we are for Memorable Moments being part of our special day. The team is quick and they know how to handle situations on the spot. Rubina is very good about keeping to schedule and adapting accordingly. If you need a coordinator, definitely pick Memorable Moments because, not only does Rubina do an amazing job, but she does it with a warm heart and is very professional in a friendly way to ensure that you will have a beautiful wedding experience!
---
Meet The Owner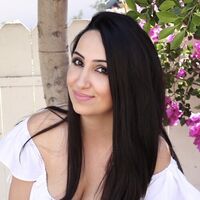 Rubina Zargaryan
Rubina's lifelong desire to plan events and passion for bringing people together for memorable occasions motivated her to start her own business. In 2011 she founded Memorable Moments, LLC. Rubina received her Master of Business Administration in Management from Woodbury University. Her work has been featured in luxury wedding magazines like Wedding Style and various event blogs. Rubina's close relationships with some of the top quality vendors in the industry ensures her clients receive the best service based on heir personal needs, culture, style and budget.