Home

Mervis Diamond Importers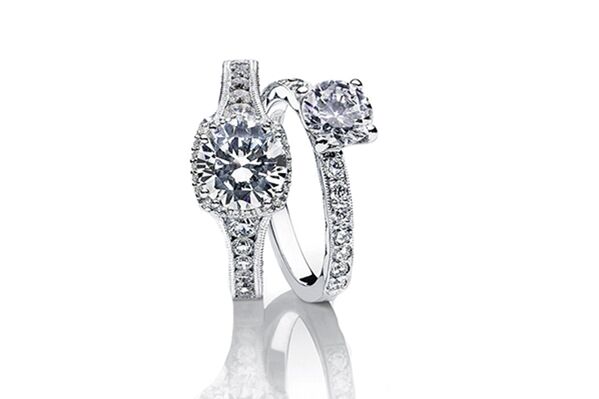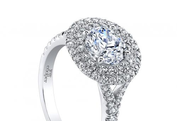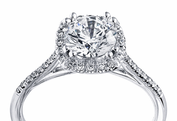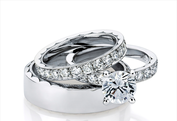 About this Vendor
Mervis Diamond Importers: Maryland, DC, Virginia
Voted Best Place to Buy a Diamond on washingtonpost.com and voted Best Wedding Rings on W*USA A-List Top 100, Mervis Diamond Importers is clearly Washington's first choice for discerning brides. With four convenient showrooms, you'll be impressed with the quality and selection you receive.
Details
Bracelets, Brooches, Cufflinks, Earrings, Necklaces, Rings, Wedding Jewelry, Engagement Rings, Appraisals, Custom Designs, Engraving, Financing Available, Jewelry Cleaning, Ring Insurance, Ring Sizing, Ring Services, Wedding Rings
Contact Info

1900 Mervis Way, Tyson Corner, VA
Excellent Service and Product
Reviewed on

8/13/2013
Ally B
Talk to Rahul Vohra... he knows what's up. He found the perfect diamond for my boyfriend to propose with and then helped us pick wedding bands.
---
Rings
Reviewed on

6/25/2013
Lauren L
My groom got my engagement ring from Mervis and we got our wedding bands from here as well. They are really great and professional! They take the time to sit you down and hear what you're looking for and what you can afford. They bring you several dozen rings in (all in your... Read More budget) and let you try on and take as long as you want in a private room. They also offer free sizing and cleaning for the big day!
---
My hubby's ring
Reviewed on

6/13/2013
Yogita T
Great service to get you a beautiful ring!
---
LOVE!
Reviewed on

10/06/2015
Helen R
My husband and I have gotten so many compliments on our rings. We went to Mervis to get a new band for my engagement ring and left with not only that but also a matching wedding band for me (bride) and a beautiful band for my husband. I would suggest Mervis to everyone!!
---
Reviewed on

6/19/2015
This was our first time at Mervis. I must say it was a very pleasant experience. Deva Helmand assisted us and her recommendations were "on spot." She listened to our desires and provided advice. She also provided information on the artisans/designers of the various diamonds;... Read More she stayed with us the entire visit never once having to take another call or make her excuses to assist others. And the reason I'm stressing this point is because I can imagine compared to other customers Mervis is used to dealing with; our purchases were no more than %11K. They treat all customers the same no matter the perceived social strata. It felt like Deva was a close friend from the time we first met until the deal was done. Her expertise, her professionalism, her kindness, her sincerity---her entire demeanor was no less than stellar and the epitome of customer service! I will definitely recommend Mervis and Deva and I would go back in heartbeat! Look for Deva to become one of the corporate leaders in the future.
---
Jeff bent over backwards
Reviewed on

12/30/2014
Karen B
My fiancé spent many hours picking out my engagement ring with Jeff. He was able to get the engagement ring as well as our wedding bands in quickly. He discussed options with us and various pricing options. He was even able to get my grandmothers ring resized so that I could... Read More wear it for the wedding! When our rings did not show up on time, Jeff made sure that the jeweler rushed them so that we wouldn't have to stress about not having them. Unfortunately, Jeff is no longer working there. He has moved to New York. I'm sure that any of the associates would be wonderful to work with.
---
Wedding bands
Reviewed on

12/02/2014
Rachel R
Mervis is always high quality and amazing service. We got both our wedding bands here and love them. We couldn't be happier.
---
No-show for appointment
Reviewed on

10/14/2014
After looking at engagement rings several times, I was ready to buy. I made an appointment with Dodi and received not one but two confirmation emails. On the day of--she didn't show up. Needless to say, I'll be going elsewhere.
---
Great Company!
Reviewed on

10/02/2014
Becca P
My husband and I bought our wedding rings from Mervis and we couldn't be happier! They had great service and have been helpful for anything we need. Very responsive and definitely go out of their way to help the customer. Would definitely recommend!
---
Engagement Rings
Reviewed on

12/21/2013
Stephanie T
Diamonds are fabulous.
---
Good Price
Reviewed on

11/05/2013
Ingrid C
I found the perfect ring online went into the store and fell in love and ordered it from NY. come out beautiful
---
World Class!!!
Reviewed on

9/27/2013
In the summer of 2012 I was shopping for an engagement ring for my girlfriend (now my wife). My situation was a bit complicated in a few ways - To start, I was not able to come in to any store as I was living overseas! This made a normally difficult purchase feel like it would... Read More be impossible. I called a few jewellers in the DC area and was essentially made to feel like I was crazy. No one took me seriously. Thankfully, I called Mervis and Lisa Binder picked up the phone. I had an idea of what I was looking for and Lisa was able to show me, via every source of technology imaginable (thank goodness for Skype and FaceTime!!!) different options for bands and center stones. After I became a diamond expert, lol, I finally made a choice on a beautiful ring. Now, the second complication - how to get the ring. My nervousness did not want it sent to my home overseas as I was about to depart for another country where my girlfriend was going to meet me for a vacation with the goal for me to propose to her there. We came up with a plan that Lisa would package the ring to look like it was a gift for me and my friend (my best man) would pick up the ring and pass it to my girlfriend to bring to me, saying it was a birthday gift from him to me. It worked - my gf brought it to me (not knowing) and I popped the question to her on the trip. She loved the ring! She said yes! I also bought my wife's wedding band, which had to be custom made at Mervis - all with Lisa's assistance. This time, however, she was there and I, as usual, was on FaceTime, lol. The level of service that Lisa provided was second to none. She went above an beyond to make me feel comfortable throughout the entire process. This was a first class experience and I will definitely be shopping a Mervis in the future
---
Engagement and Wedding Rings
Reviewed on

9/05/2013
Nicole P
They were really helpful in buying our wedding rings and had many options!
---
Beautiful Diamonds!
Reviewed on

8/28/2013
Megan Y
My fiance and I first went to Mervis to shop for engagement rings. We were very pleased with the Tyson's location and the service they gave you. They took the time to sit down and explain things to you and never once felt like they were trying to push a sale on us. My fiance... Read More ended up purchasing a ring from Mervis and it turned out to be more beautiful than I ever could have imagined. We both went to Mervis in Tyson's around Christmas time for their trunk show. It was here that we met and had the pleasure of working with Sara. Sara is the most down to earth, funny, informative, and helpful employee. She worked with us to find our wedding bands. Although the trunk show was extremely busy, she made time for us, never rushed or pressured us and stood by our side the whole time to help us make our decisions. She was always available by phone and was very quick to respond to emails. The quality of the product and service from Sara and the Mervis Tyson's was fantastic. I would most definitely recommend this establishment to anyone looking to purchase jewelry in the near future. Thanks for everything!
---
Excellent Service and Value!
Reviewed on

6/07/2013
Amy X
Tina at Mervis in Tyson's Corner did an amazing job helping my husband and I find the perfect rings! I had a specific designer in mind, and she made sure they could special order the bands. Then, she sat patiently as we looked through all the cushion-cut diamonds they had and... Read More offered advice on what would look best with the band I chose. Finally, she helped my husband try on bands and finally helped him order the one he chose. One of the best parts about this was that we have the option to "upgrade" our diamond in the future -- they will give us no less than what we paid for it if we ever decide to get a new one! Overall, we had an excellent experience, got great value for our money, and we will definitely use Mervis again!
---
Extremely Professional & Friendly Service!
Reviewed on

2/05/2013
Palma B
Mervis provides excellent service and value. When searching for a diamond engagement ring we visited several large and small retailers but no one seemed as competitive in terms of selection, pricing and service than Mervis. Gail Gamma at the Tysons Corner store was... Read More extremely friendly and accommodating to our needs and not pushy what-so-ever! We ended up visiting with her 4 times before we decided on a diamond and not once did she try to rush us or pressure us into a decision. We thank her for her patience, and with her help found the perfect diamond and ring. I highly recommend Mervis, specifically Gail, to anyone in the market for a diamond or any piece of fine jewelry!!
---
Gorgeous and great service!
Reviewed on

12/12/2012
Ali C
My husband & I absolutely loved working with Mervis! When he was looking for engagement rings, he tried multiple jewelers and said that Mervis had the best selection by far. We also went back to Mervis to get our wedding rings. The selection is endless, they have many designers... Read More to chose from, can work with all cost ranges, and have Great customer service! We worked with Rahul and were able to try on quite a few options and ask questions without feeling pushed. We had a great experience there (multiple for him!) and would highly recommend them to anyone!
---
Mervis
Reviewed on

12/04/2012
Hillary K
Personalized Service.
---
We met Ronnie Mervis!
Reviewed on

11/14/2012
Jessica C
My (now husband) got the engagement ring from Mervis and it is BEAUTIFUL. The day we went back for our wedding bands we were hot and sweaty from jogging in summer heat, and there was Ronnie Mervis. He just laughed and greeted us warmly. The store clerks gave us frozen broccoli... Read More to get our hands to cool off and then we picked our rings! They did give us the wrong size initially, but fixed it without a charge or hassle. Great service, great quality.
---
Wedding Rings
Reviewed on

10/29/2012
N B
Mervis provided what we needed, and we had no issues with getting the rings we desired within suitable timeframes. The staff was all friendly, and if there were any drawbacks, we weren't notified when our rings were available (even though they had been sitting there for about a... Read More week), and we had to bring up engraving and resizing ourselves.
---
Awesome service
Reviewed on

9/20/2012
Anna A
We were a little nervous going in to this store as we are not 'high rollers', but we are so glad we did. We bought all our rings here from engagement to wedding bands. The customer service is so nice, we never felt unwelcome. Gail gave us very good advice about everything from... Read More metals to sizing. She was always available to answer questions and ask questions of the designer we chose.
---
Beautiful wedding bands
Reviewed on

6/11/2012
Rhia W
My husband and I both got our wedding bands at Mervis. They had a great selection and exactly what we wanted. We worked with Tina and she was great. Provided us with the apprisal paperwork without us having to ask, was able to negotiate a deal, and our bands came in earlier than... Read More expected.
---
Great rings
Reviewed on

6/05/2012
Brigid H
Kristopher helped us and he was great. My husband and I both picked the first rings we tried on!
---
Beautiful
Reviewed on

5/29/2012
Vi N
Mervis is where my husband got my engagement ring. In order to get the matching band for my ring, we just decided to get our bands here. They were so great. They refurbished my engagement ring a few days before the wedding to make it sparkle just like the day I got it.
---
My Husbands wedding band
Reviewed on

4/22/2012
G J
When I first got engaged. I priced out the wedding band that my husband was interested in. The first individual he worked with at Mervis, I can't remember her name, but he indicated that he never wanted to work with again, because her customer service was horrible and she was... Read More extremely late. The second person we started working with. She was as attentive as she could be but she was also planning her own wedding and it was a bit overwhelming for her. She rushed my decision several times and I don't believe I got a good price on my husbands ring. They lied and said that the designer I choose never did sales or discounted their items. However, Charles Alexander just a few miles away, held several sales for that same particular designer after I made the purchase.
---
Send Message