Home

Miami Premier DJ's, Photography and Photo booths
About this Vendor
South Florida's Premier Wedding Entertainment
Miami Premier DJs, MCs and Lighting Services have been in the party industry since 1997. Our DJs 😎 are young, cutting edge, energetic and fun, yet professional and experts in song selection for any event. Our stylish and modern DJs will represent You! We go above and beyond to create the wedding you've always dreamt about!
Details
Dance, Hip-Hop, Pop, R&B, Rock, Caribbean, Indian, Latin, World Music
After Party, Rehearsals + Parties, Ceremony, Reception, Wedding
MC Services, Sound Equipment, Music, Se Habla Español, Audio/Visual Equipment, Equipment
Contact Info

5269 Nw 112th way , Pompano Beach, FL
Serving South Florida
PURPLE AND WHITE WEDDING MIAMI BEACH MAY 2015
Reviewed on

6/12/2015
I would like to thank Derlin and Daniela for incredible service provided before, during and after our wedding. After searching and questioning over 8 DJs I decided on Miami Premier DJs. From day one, Derlin was such a professional. He answered all my emails immediately. He... Read More always was polite, expressed his creative ideas for the lighting, timeline of music and open to all my ideas. Daniela was a gem. Her photos were perfect. She was always coming up with ideas for photo shots and was never intrusive. Over a 6 hour event there were 315 photos taken. Within 2 weeks she had them ready. She emailed me a super easy user friendly link to view all the photos that could be shared to all guests. It was perfect. I would definitely hire this duo again for any future event. Their fee and quality of service can't be beat. Thank you Derlin and Daniela.
---
Great DJ...Great Value
Reviewed on

6/30/2015
Music is such an important part of the party and they really came through!!! Everyone had a great time and the music was perfect. From the music for the ceremony to the introductions to the reception, the DJ was professional, kept everyone on target and most importantly kept... Read More everyone dancing. Would highly recommend using this company for any and all services they offer
---
"Hands Down," Miami Premier DJs... is South Florida's Top DJ
Reviewed on

3/26/2014
Janel H
We recently got married on March 15th 2014. We researched quite a few DJs and interviewed another well-known South Florida DJ/DJ company but P-E-R-S-O-N-A-L-I-T-Y won us over and we were simply drawn to Premier Miami DJs. Needless to say, we were not disappointed. Miami Premier... Read More DJs' services and value are "second to none." From the start, Miami Premier DJs held our interest. Their attention to detail and "follow up" were notably amazing. We felt and knew that they shared in the importance of our day and they delivered as expected. Derlin's personality outshone all others. So very professional, capable, charismatic, "up-beat and "fun" are words we would use to describe him. We could see that he was the top choice for us. THANK YOU, DERLIN!!!! As a company, Miami Premier DJs is passionate about their art. They are true experts and can handle any genre of music… and definitely our wedding had quite an eclectic mix (from "Rock Steady" to "Ska," Reggae, Reggaeton, Top 40s, Pop etc… you name it). The whole process was smooth and we were at ease because of their direct "one-on-one" easy approach and consistent communication with us prior to and on our day. We could focus on other wedding details because we knew that Miami Premier DJs had our reception covered. Our guests had so much fun too. THANK YOU Miami Premier DJs for a FANTASTIC day…it was everything we had dreamed it would be… and more!!!
---
Great dj
Reviewed on

5/03/2015
Dustie S
Derlin dj'd our wedding in late February. We held a destination wedding aboard a yacht. I met Derlin while visiting Florida to find my venue. (We live in Ohio) Our communications sometimes lacked, but he made up for it at the wedding. My husband and I were very impressed with... Read More his work. We didn't have a playlist as some do, but we have a couple songs we might want played. Derlin adjusted the music to the crowd which was great. He didn't actually play many of the songs on our "list" and it was perfect because everyone was having a great time. His experience showed as our suggestions would have slowed the pace and probably ruined the mood so to speak. We thoroughly enjoyed the dj'ing and would recommend him to others.
---
Awesome DJ!
Reviewed on

2/12/2014
Sandra V
Our DJ, Derlin was amazing! It was such a great pleasure working with him. He was easy to contact when I had questions and the day of the wedding he was so accommodating with the small changes I had at the last minute. All the guests were impressed with the music he played.... Read More Literally no one left the dance floor until it was time to go. I definitely recommend Miami Premiere DJ for your wedding or any event. Derlin is the perfect DJ to keep the party going!
---
Love, love, love Derlin!
Reviewed on

11/05/2013
Gina D
We loved Derlin from the first day we met him...he felt like part of the family and worked really well with our timbales drummer throughout the night. Great lighting and effects too!
---
A big thanks
Reviewed on

7/28/2013
Miryam H
Derlin is an extremely intuitive and capable DJ who really "gets it." He is reachable, reliable, and thorough. Also, he is accommodating and patient. The music quality was excellent and the DJ booth and lights suited the setting very well. Miami Premier DJs knows how to work a... Read More room and fills it with great music. We had several languages at play at our wedding: Spanish, English, and German and the musical cultures came together at our reception. He found all the songs I requested and played an excellent set of music I suggested. He worked with us on pricing and I have yet to find a price to beat his. I continue to compare and haven't found anything that comes close for the quality and value. Derlin's wife, Daniela, was our photographer. If you are looking for an excellent team to work with, go with them. You want to have people around you at your wedding who can get together because it makes a difference.
---
Simply Amazing!
Reviewed on

6/07/2013
Bimika B
Derlin did an absolutely amazing job at our wedding! Before the wedding he met up with us and went over all our needs and expectations. The day of the wedding he did everything that we had asked him for and more. We had to move some things around last minute the day of the... Read More wedding and he was willing to work with us and was very flexible and still made sure everything went well. He kept the guests entertained at all times and also helped us carry out mini events that we had planned for the guests. I was absolutely amazed at how he also made sure that not only the guests, but also we, the bride and groom were happy on our wedding day by making sure our needs were taken care of. He basically went above and beyond on our wedding day to make sure everything went smoothly and that we had a good time. Thank you so much Derlin for everything that you did!
---
Nobody wanted to leave at midnight!
Reviewed on

5/07/2013
Gennyva A
Our guests left our wedding saying that it felt more like a new year's eve party than a wedding which is EXACTLY what we wanted! Our guests did NOT stop dancing the entire night. The party was over and nobody was ready to leave. We gave Derlin a "must play" and "do not play"... Read More list and not only did he stick to it, but he was able to get everyone on their feet and keep them there. He was professional, friendly and worked with what we wanted and could afford. Would have Derlin DJ any future party. Great vendor!
---
The Best
Reviewed on

12/13/2012
Ying-Wei H
During our preparation, we met with a number of DJs in the South Florida area. We were getting married on Miami Beach, so we had several options. We decided on Derlin at Miami Premier DJs and we could not have been more pleased with our selection. Derlin was extremely... Read More professional and reliable. He always promptly returned our calls and emails. He displayed this same professionalism when he interacted with our venue catering manager and the other vendors. He was open to our suggestions, and played every song we requested. Also, Derlin was able to adapt to our crowd. He made sure our guests had a great time. On the night of the wedding, we threw Derlin some curve balls, and he handled everyone with complete ease. It is worth noting that our wedding party was very diverse: Latin, Italian, Asian. We had members with very difficult names, and he expertly pronounced each and everyone. We received his fantastic DJ services and a room full of up lights, which really set the mood. Finally, it is worth mentioning that Miami Premier DJs' pricing is extremely competitive for this market. It is hard to imagine that anyone could provide greater value. Overall, we would highly recommend Derlin and Miami Premier DJs.
---
Awesome Job!
Reviewed on

12/06/2012
Amanda T
Everyone loved the DJ! He did a great job and always had music pumping the crowd up! It really set the mood for the wedding and I am happy we chose them!
---
Professionalism at its finest!
Reviewed on

10/19/2012
Marisol B
We'd to mention that Derlin went above and beyond our expectations for our daughter's, Kaylin, Sweet 15s in Wonderland. He was truly amazing! We genuinely appreciated his professionalism and attention to every last detail on the monogram & lighting. The ambiance was perfect... Read More through out the event. We loved how he catered to our taste in music and kept the night going through the very end! Our family and friends had a remarkable time thanks to his efforts! Derlin is extremely talented at his craft. There is no room for improvement at this point. He has set the bar very high! It was a pleasure to have met him! Derlin can count with us from here on out! We highly recommend him without any reservations!!!
---
Key Largo Destination Wedding from Chicago
Reviewed on

10/16/2012
Michelle P
Derlin did an amazing job. When planning a destination wedding there is always a bit more anxiety because you can not be as hands on as you would like. Derlin was very accomodating and was quick to respond to phone calls and e-mails. Our reception was everything we wanted it... Read More to be and more, due in large part to the upbeat and high energy atmosphere Derlin helped create. He had all of the guests up and moving from start to finish. He helped us create a few extra touches to make the reception a little more personal and special. We had several of our guests come up to us and say that Derlin was the best DJ they had ever heard. The highest compliment I can pay Derlin is that I will recommend him to any and all friends and family traveling to the Miami area. He did an excellent job and we are forever grateful. Thanks Derlin!
---
I wanted a party and I got one!!
Reviewed on

8/24/2012
Maria A
I booked Miami Premier DJ's in early January 2012 for my August 2012 wedding. At that time, having been recently diagnosed with breast cancer (facing surgery, radiation and chemotherapy) we knew we wanted a DJ that would make the reception a celebration on many levels. Derlin... Read More was the only one that we felt comfortable with in bringing these dreams to life. When my big day came I was 4 weeks out since my last chemo treatment and my energy level was nowhere near what I had hoped but....Derlin kept me on the dance floor all night! He played all my favorites and several times ALL seats were empty because everyone was dancing!! I wanted a celebratory party and he delivered. Derlin is very easy to work with and understands what his clients expectations are. He accommodated the soundtrack for a song my nephew sang to us and had no problems in allowing the videographer to hook up to his sound. I wish I had a picture of the room to share on this website to show off the beautiful Gobo he provided for us. I've been planning corporate events for 18 years and would never hesitate to book Derlin on any of my programs. He really gets it!
---
No Stress DJ with AMAZING ABILITY
Reviewed on

8/23/2012
Stephanie N
Miami Premier DJ's did a fantastic job getting everyone dancing and putting everything together. Derlin created our custom monogram just a requested. We had Star Wars incorporated in our wedding and Derlin had no problem adapting and helping us create our theme. He played every... Read More song I requested and did not play songs on My Do Not Play List, I find many brides saying their DJ accidently played one or two but Derlin did not play any. His up-lights and his timing were dead on. I was happy on the day of my wedding that Derlin was ready and set to go well before his time to begin. My family is spanish while my now husband's family is American and Derlin was able to get both sides of the family on the dance floor. I was nothing but happy with his services. There was no added stress and only added amazement. I recommend the up-lights and colored DJ screen to everyone they add that last touch. Thank you so much for making our day all that we dreamed of.
---
Destination Wedding From Boston
Reviewed on

7/04/2012
Heather R
I had to go by reviews and emails to find a DJ service that fit my budget and our style! Hard to do from 1000 miles away, but Derlin made it easy and simple. He didn't pressure us with up selling on all the extras. He emailed me in a timely manner, very professional. He met us... Read More when we arrived in FL to go over the details, saving us time to drive and meet him. Our guests kept telling us how awesome the music selection was. Derlin kept the crowd happy and on the floor despite Tropical Storm Debby soaking our outdoor tented reception!!!! When the time came to stop, the crowd chanted "one more song" and he obliged. I highly recommend selecting Miami Premier DJs and Derlin as your guy! He helped put a bride to ease and made my wedding day fabulous!!!!
---
Awesome party!!
Reviewed on

4/06/2012
Maite L
Derlin from Miami Premier Djs kept the energy up and going all the time, everybody had an awesome time!!! Since he has our age, he knew with a few words from us what we were looking for...there was no 'cheeziness' :) Loved the uplight and dj booth setup, very modern :) Very... Read More professional, and reasonably priced services...I would definitively recommend his services to anyone, you don't need to pay $2000 for a good Dj
---
included everything
Reviewed on

3/27/2012
ASTRID J
My dj came with the lights, candy table, gobo, and slideshow. Enjoyed their services except the problem with the mics during the ceremony. Overall they were good.
---
Meet The Owner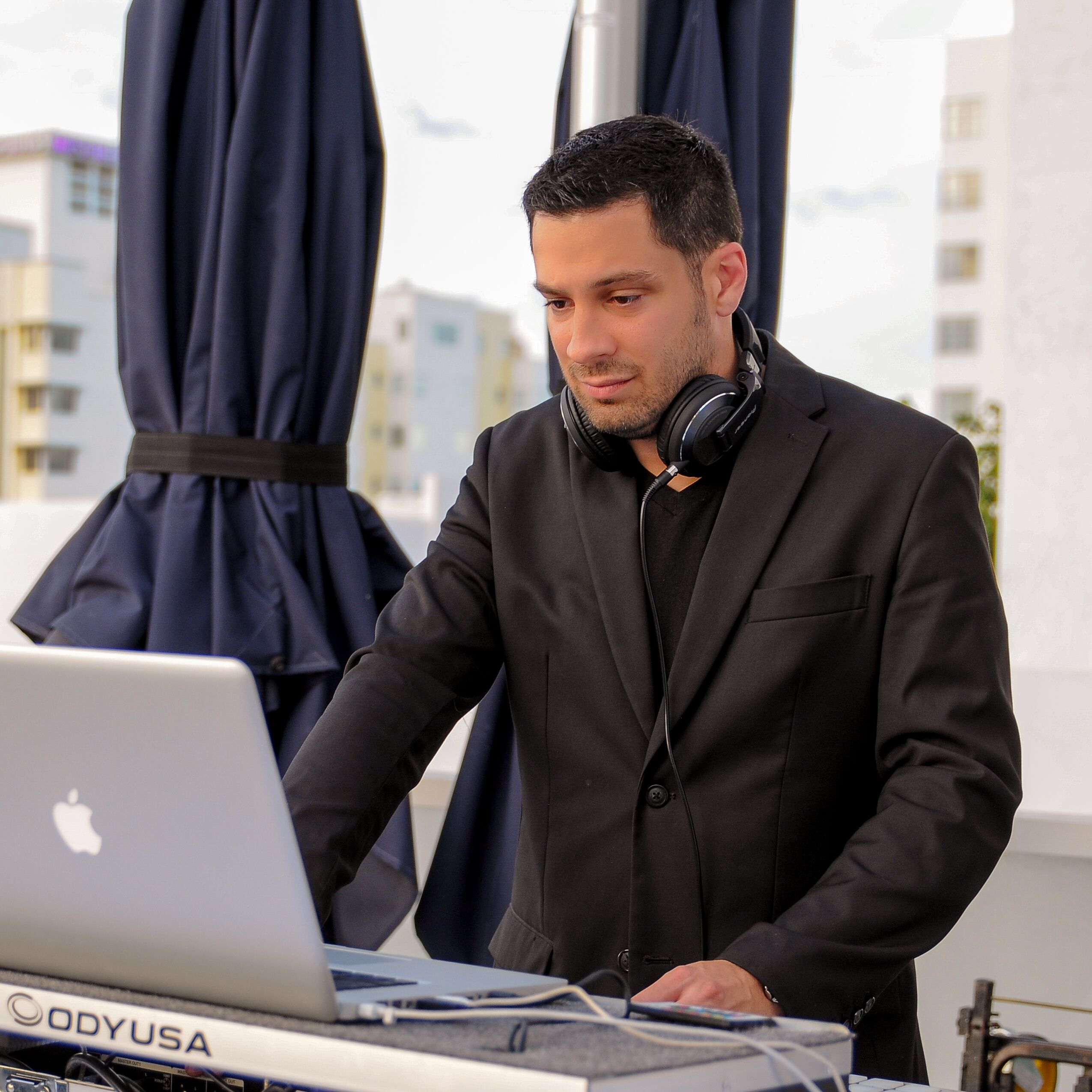 Derlin Hernandez
Derlin has been in the industry for over fifteen years providing entertainment in all of South Florida's upscale wedding venues and the areas hottest clubs. Derlin has personally trained and staffed the company with the most reputable DJs and photographers in the industry. We treat each and every wedding as if it were our own to insure our clients have an unforgettable day!