Home

Minneapolis Marriott Northwest
The Inside Scoop
---
FROM THE KNOT EDITORS
The First Look
With Minneapolis Marriott Northwest, you'll get the luxurious and unforgettable Minnesota wedding you've been envisioning. Situated in Brooklyn Park, this venue offers a blend of artistic design with its natural stonework and fireplace. Accommodating 20 to 600 guests in lavish ballroom spaces, this location provides a remarkable backdrop for your wedding. This 50,000 square-foot venue has stunning chandeliers and guest suites that offer a retreat from wedding activities. Choose from several space options available at this venue, including:
Northland Ballroom.This 8,010-square-foot space, accented with four glittering chandeliers, accommodates 600 guests reception-style
Hennepin Ballroom. Spacious and beautiful, this room hosts seated receptions for up to 330 guests. The large windows provide incredible natural light and highlight the unique space.
Minnesota Ballroom. With 14-foot ceilings and two crystal-dropped chandeliers, this space can accommodate up to 250 guests for reception-style seating.
Fireside Room. As the name suggest, this room is equipped with a fireplace that adds a dash of romance. It easily handles 140 guests for an intimate reception.
What You Should Know
The all-encompassing and customizable wedding packages make Minneapolis Marriott Northwest a convenient venue for weddings. Catering is offered at the venue and outside catering vendors, except for wedding cake bakers, are not allowed. The hotel has a list of recommended vendors for entertainment, flowers and decorations. Bar services close at 12:30 a.m. and the banquet space must be empty by 1 a.m.
Minneapolis Marriott Northwest has qualified wedding planners who are able to coordinate different types of weddings at any particular time of the year. The venue provides setup and cleanup services.
The site offers mobile check-in services, allowing couples and guests to receive alerts when their reserved room is available. Rooming lists are provided to the couple to show them which of their guests have reserved or already arrived at the venue. Couples are given a complimentary suite for the wedding night, together with a late-night snack and breakfast in the restaurant.
Extra Perks
Minneapolis Marriott Northwest offers Marriott reward points for booking your wedding event at the venue, which can then be used for your dream vacation. Complimentary on-site parking is provided for your wedding guests and limousine services are offered for those couples who wish to hold a pull-out-all-the-stops celebration and arrive at the venue in style. Enhancements, at an extra fee, include:
Ceiling drapery for the ceremony/reception space
Baby grand piano
Officiant
Pianist and/or musicians for live music
Specialty linen packages
Amenities + Details
Amenities
Handicap Accessible

Liability Insurance

On-Site Accommodations

Indoor

Reception Area
For more details about amenities, please message the Venue.
Bar + Drinks, Cakes + Desserts, Food + Catering, Planning, Service Staff
Contact Info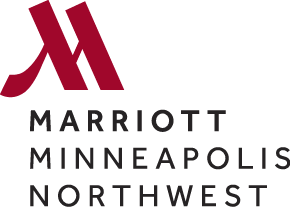 Reviewed on

7/22/2016
Leah O
The marriott surpased our wildest dreams for a wedding venue! The staff was amazing to work with, we knew they were there for us, they weren't just working another event. Having such a caring staff really made us fall in love with our venue. They truly accommodated us to have... Read More the best day ever. The venue was gorgeous and all of our guests are still talking about our June wedding! 5 stars hands down!
---
Reviewed on

7/18/2016
Our wedding reception was held on Saturday, July 9th, 2016 and my wife and I, Emilie, could not have been happier with our choice or with Virginia!! She was incredibly attentive and responded to every question and concern very promptly. My wife and I and our parents all had, in... Read More my opinion, a massive amount of detail and general questions. Virginia and her staff could not have been better or more patient with us and that was one thing we really were looking for in a venue. She made the entire day and planning process flow effortlessly and she went out of her way on several occasions the past year or so to make sure she got us the answers we were looking for. The venue itself is beautiful and newly remodeled. When combined with the right lighting and décor inside, the Northwest Ballroom turns into a picturesque venue that we were both dreaming for. Virginia left nothing but positive impressions in our mind and the Minneapolis Marriott Northwest was phenomenal in every facet. Thank you for making our reception the perfect event and accomplishing everything we wanted!!
---
Reviewed on

8/08/2016
Lafayette D
From the first day I visited I knew this was going to be where I would get married the hotel has so many different ballrooms that you can pick that fits whatever size wedding. My family is from all over the us so we needed to have hotel rooms and I wanted everything to be in one... Read More location. We got married July 30th 2016 and it truly was the best day of our lives, Virginia, and the staff is absolutely amazing to work with! Thank you again for an amazing day!
---
Amazing
Reviewed on

11/25/2015
Stephanie L
From start to finish, the employees were fantastic, polite, helpful, responsive, you name it. I felt like their number 1 priority the entire way and could not have been more pleased. The day was perfect and beautiful!
---
Reviewed on

11/04/2015
Andrew A
My wife and I held our wedding reception and dance at the Marriott in October, 2015. We were treated exceptionally throughout the planning process, and Virginia helped us plan down to the smallest detail. Both my wife and I, and all of our guests had raving reviews about the... Read More venue, including the food and staff. The ballroom looked fantastic and we were pleased to have plenty of room for our guests. The value for our guests to book hotel rooms early was great. We did hear a few comments about difficulty checking into rooms until well beyond the standard check in time. This was a bit disappointing. Overall, everything went smooth, the food was fantastic, and the majority of staff was great.
---
Best Wedding Venue Ever!
Reviewed on

6/18/2014
Sarah
I could not have asked for a better wedding reception than the one organized and put on by Cathy and her amazing team at the Minneapolis Marriott Northwest! Everything was exactly how I always imagined it would be. The venue itself is quite beautiful, and all the food, from hors... Read More d'oeuvres to dessert, was delicious. I was able to book the cake (we did cupcakes) and table linens through them as well, so I didn't have to worry about paying those two additional vendors. If I had to do it all over again, I would choose Minneapolis Marriott Northwest every time.
---
Not up to snuff.
Reviewed on

6/02/2014
Whitney B
After reading through the other reviews for this hotel I'm rather hoping that this "Cathy" woman still works there and, if she does, I'm going to recommend that you ask to work exclusively with that woman. My fiancee and I met with another member of their events team to tour... Read More the spaces and discuss package details and we were not impressed. In fact, we were a bit miffed. For starters, when the young woman met us in the lobby she greeted me, turned away as if to lead us off on our tour, and then found her sense and turned back to introduce herself to my fiancee. As the tour progressed she continued to only address me, and acted as if my fiancee was not even present. Whenever he'd ask a question she would turn to me with her reply. I know that it's common for the whole event to be thought of as "the bride's big day," but we both found her behavior completely unacceptable. At one point we posed some questions about how their pricing works and, not only was she completely unfamiliar with their packages and how they were structured - flat out lying about one of the packages because she just didn't understand what all it included (some digging on my end after the meeting got us the correct information), but she also nearly cut our meeting short while clearly implying she didn't think we'd be able to afford their venue. All in all, though the ballrooms were gorgeous, the guest suites were beautifully appointed, and I had my heart set on the space since before we even walked through their doors, we were happy to take our business to a hotel that demonstrated better service standards while still offering the high-end amenities our guests would expect.
---
Beautiful & Professional
Reviewed on

10/01/2013
Alison
My husband and I were engaged in August 2012, and immediately started researching and visiting venues. I had previously been to the site for a company Christmas party, and after visiting at least 10 venues we happened to be able to get a showing here due to a cancellation.... Read More Before even meeting with the Sales/Catering Manager, my fiance said this IS the place. The food & beverage minimum fell within our budget, and the halls that we could use for our ceremony and reception were gorgeous without decorations... they had the perfect backdrop for a wedding scheme including any colors. The venue as a whole was unbelievable in our eyes, but what really sold us on the site was the Sales/Catering Manager - Cathy Dunn. She was amazing; she was so excited to be showing the hotel and going through all of the options in regards to food, drinks, etc. The menu, which included starters, salads, main dishes, and dessert options were incredibly delicious. Thanks to Cathy and her staff our wedding day couldn't have been more perfect. The staff that worked to coordinate things that day were extremely helpful and did everything in their power to ensure that the day went smoothly. We highly recommend the Marriott Minneapolis Northwest for everything from your rehearsal/groom's dinner, wedding ceremony, cocktail hour, dinner and reception!
---
The perfect reception site!
Reviewed on

9/18/2013
Julie H
We cannot begin to thank the Minneapolis Marriott Northwest staff for helping make our wedding reception so special. Cathy was so helpful and made our process incredibly fun and easy. Her gift of hospitality radiated in everything she did throughout the whole planning... Read More process. Every Marriott employee we worked with was fabulous. Our guests were surprised by the quality of our buffet dinner and no one left the reception hungry! The continue to talk about the beautiful lobby, ballroom, and hotel rooms. We would highly recommend the Minneapolis Marriott Northwest to any couple looking for a reception site.
---
I would book an event here again in a heartbeat
Reviewed on

8/21/2013
Erika F
My whole experience with this place was amazing. From the first meeting to the day of our reception I was treated with respect, kindness and most of all patience. The coordinators worked with me on every detail, even those I hadn't thought of. We had to change our reserved hall... Read More last minute due to a problem with the room we had reserved. They went above and beyond to make things perfect for us. The food was amazing. The staff during the reception was professional and very easy going. Everyone of our guests was so impressed with our reception. As I said in the title, I would use this place again for any event in a heartbeat.
---
Great!
Reviewed on

8/06/2013
Lori T
Our reception was beautiful and everything I imagined it would be! The staff were very helpful and answered all my questions as they arose. My only complaint is that the block of rooms held for wedding guests expired a month before the wedding. I felt like that was really early... Read More and that the rooms should have been held longer. Other than that, we were very satisfied.
---
Great Location
Reviewed on

11/01/2012
Hannah F
I had my wedding at the Marriott and loved everything about it. Rhonda, the wedding coordinator, is wonderful to work with she made our time there even better. It was great being able to have the wedding in a ballroom and not have that "hotel feel", but also have the convenience... Read More of having the wedding at a hotel (if that makes sense). We had tons of compliments on the venue, the remodel is absolutely beautiful and I would definately recommend for future weddings!
---
Recommended!
Reviewed on

10/05/2012
Michelle E
Wedding coordinator has been planning for the Marriott for 15+ years- she was very helpful and knowledgeable. Hotel has recently been redone (as of Summer 2012), very beautiful and modern. Staff was very helpful, and more than accomadating on my wedding day. Plated food... Read More service was quick, food was delicious.
---
Wonderful Hotel
Reviewed on

9/06/2012
Casey D
The staff at the Minneapolis Marriott Northwest was awesome! Cathy took care of every need or concern we had. The staff was well prepared and organized and made sure that our day ran smoothly. Our wedding was everything we hoped for and more thanks to the Minneapolis Marriott... Read More Northwest!! The newly remodeled hotel is absolutely gorgeous, this was a wonderful place to have our wedding.
---
Reception site
Reviewed on

10/14/2011
Kristina T
We had such a great experience with all the staff at The Northland Inn. They helped us with everything we needed and setup the room just perfect. The staff was friendly and always making sure we were taken care of.
---
Northland Inn Wedding Ceremony and Reception
Reviewed on

10/07/2011
Desireé L
The Northland Inn was an excellent venue for our wedding ceremony and reception in September 2011. I would not hesitate to do business with them again. The location has spacious ballrooms and a wide variety of meeting rooms to use. It is attached to the hotel which is very... Read More convenient for guests. We had an issue with our hotel block being released too soon, but when working with our catering manager, we were able to resolve the issue and be accommodated as necessary. The rooms have dimly lit bathrooms but Jacuzzis and Sleep Number beds! They are currently undergoing a $24M renovation in the hotel and meeting facility area, which was unfortunate for our wedding to see the exterior under construction; however, that did not affect our wedding at all. I cannot say enough about their SERVICE - the catering staff, catering manager, and event sales manager – they were all absolutely FABULOUS to work with! Their catering manager has a lot of experience and works hard to create the perfect day with you. She has helpful insight backed by experience and is pleasant to work with. She and her staff think of everything – e.g. I was asked during dinner by one of the catering staff if I would like her to put aside some of our signature drink because she noticed I was drinking it and there was only a little left. And at one point we weren't sure if the photographer had enough light for his taping, so the staff called me in to see the difference in lighting and let me make the decision instead of changing the way we had the day set up. The staff was very considerate, responsive, helpful, and not obtrusive. The catering manager coordinated all of our wedding vendors, timing of arrival, set up, photography strategy, etc. And our day ran like clockwork. Other than that, there were only minor issues with timing of set up, etc. and none of the issues were make or break items. It all worked out and in the end, I would do it all over again at Northland Inn. The price was reasonable – we had shopped around and the value at the Northland Inn was excellent relative to other industry competitors since Northland Inn has many perks that other places do not! Of course, we always wish the prices were less than we end up paying… but all in all, it was a good value. I'm not sure if the renovation will increase prices or not, but we thought they were reasonable at the time.
---
Fantastic Ballroom and Helpful Staff
Reviewed on

9/20/2011
Kiah S
The Northland Ballroom (main ballroom) is fantastic. The atrium space that is provided along with the ballroom was fantastic! The staff was helpful throughout the entire process. They are all very helpful in ensuring that every detail is perfect! We were able to tailor our... Read More meal to be EXACTLY what we wanted without receiving an extra charge. People are still commenting on how delicious the food was. The breakfast brunch on Sunday morning was the perfect way to wrap up our stay at the Northland Inn!
---