Home

Minnetonka Orchards
Book Your Wedding with Minnetonka Orchards
---
A BACKYARD IN MINNETRISTA, MN
About Us
Located a good 20 miles outside of the city, the Minnetonka Orchards in Minnetrista, Minnesota, provides privacy and a quiet place to have your wedding ceremony and reception. Since the facility only books one wedding daily, the bride and groom have every eye on them. The venue is a photographer's dream with gorgeous apple trees, plenty of nature trails and even a children's train that serves as a unique spot to have first-look pictures taken. Below is a list of outdoor spaces that to-be-weds are welcome to use for their nuptials.
The Genesis Tent. Providing couples with protection from the elements, but still giving them that outdoor feel, the Genesis Tent is the ideal spot to host a reception. It measures 5,000 square feet and accommodates 350 guests. The floors of the tent are made using attractive stained concrete and there are removable sides for when the weather is cooperating. The 16-by-20-foot dance floor offers plenty of room for your guests to try out the latest dance moves. The interior tent lighting and draping give the space an elegant feel. Finally, attached to the tent is a large deck with tables and chairs for guests to break away and get a breath of fresh air.
The Ceremony Site. The bride and groom quickly fall in love with the ceremony site. There's a gazebo that acts as the focal point. It can easily be decorated or left in its natural state of beauty. The open space before it is where all of the guests sit and, surrounding the area, are gorgeous white pine trees.
Picnic Area. Whether you'd like to use the picnic area as a spot to have a few cocktails before the reception or as a place to gather after the reception for saying your goodbyes, the space is just as beautiful at night as it is during the day. This is because the pine trees surrounding the picnic tables are covered in miniature lights.
What You Should Know
With each wedding package comes use of the property from 8 a.m. to midnight. Couples who choose to have a disc jockey or live band for entertainment must cease at 10 p.m. due to the noise ordinances in the City of Minnetrista.
The facility allows for hiring your own catering company and even provides an attached covered catering tent that measures 10 by 20 feet and is equipped with multiple tables. There are modern restrooms on the property and plenty of electricity for both the ceremony site and the reception tent.
It is important to note the rental of the venue does not include tables and chairs. They must be rented from Ultimate Events, Minnetonka Orchards' preferred vendor.
There are plenty of trash receptacles in the area and there is no charge to incorporate such lawn games as bocce ball, horseshoes and croquet. If you don't mind paying a little extra, you can dazzle your guests with a three-hour bonfire or a tractor-pulled hayride.
To-be-weds who plan on having alcohol at their reception must hire With a Twist. It is the only approved vendor for your bar services.
Extra Perks
One of the extra perks offered by Minnetonka Orchards is a bridesmaid tent. This space measures 10 by 20 feet and gives the ladies of the wedding party a little privacy to reapply makeup or adjust their dresses. A few more perks are found below.
Handicap accessible
Free ample parking
Wireless Internet access
Playgrounds for the kids
From the Vendor
Rustic outdoor elegance at its finest!
We offer a picture perfect setting of ambient beauty, natural privacy, and rolling hills of apple trees. Our reception tent is nestled in our intimate NorthWoods Area of large pine trees and offers a carpeted floor, a patio, bonfire pit, and French doors. Attractive, modern restrooms are nearby.
Amenities + Details
Amenities
Bridal Suite

Handicap Accessible

On-Site Accommodations
For more details about amenities, please message the Venue.
Tents, Service Staff, Shuttle Service, Transportation
Contact Info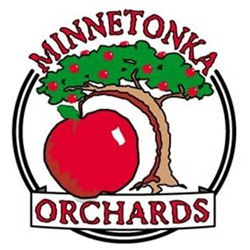 Reviewed on

9/07/2017
Lindsey B
This was the first and only venue we looked at because of how great it was! Kelly was an absolute delight to work with. She is very flexible and willing to work with you to make whatever you'd like work. She threw out lots of ideas and was very helpful. The venue is gorgeous... Read More and we loved being able to have yard games, fire and hayride on our big day! Thank you Kelly and Minnetonka Orchards!
---
Reviewed on

8/07/2017
Nick G
We got married at Minnetonka Orchards in July 2017 (ceremony + reception) and we have too many good things to say about the venue and staff to fit on this page! The venue itself is so unique and gorgeous..they have a brand new tent, the venue is full of flowers and greenery that... Read More are so well cared for, there is a small petting zoo that was a big hit with the guests, tons of lawn games, different areas to walk around and sit, and options for hay rides, fire pit, and so forth. Not only were out of town guests blown away, but even the local MN guests couldn't get over the venue. The venue also provides lots of extras if you want (vases, chalkboards, easels, etc) at no extra cost. Most importantly, Kelly - the owner - was indescribably helpful, accessible, knowledgeable, and communicative during our stressful year of wedding planning from across the country! She helped us every step of the way and was a calming voice of reason when we had various things go awry during planning (factors that were unrelated to the venue!). Kelly was so professional and on top of things, and trusting her throughout the whole planning process was beyond helpful. Carly, one of the many wonderful orchard staff members, even handmade our seating charts, welcome signs, etc. The day of the wedding, we had some unfortunate DJ/music issues and Kelly swooped right in to help, offering up her own speakers and music devices if needed. It's one week later and we still can't believe how much we lucked out with Kelly, the truly magical venue and the amazingly competent staff. We SO highly recommend Minnetonka Orchards if you're looking for an outdoor venue with a beautiful indoor/outdoor tented reception area (and great option for inclement weather).
---
Reviewed on

6/27/2017
Nina G
Minnetonka Orchards was a fantastic vendor to work with. Kelly was always accommodating when we wanted to bring people up for a tour. The greatest moment came when Kelly heroically saved a bridesmaid dress that had received a big grease stain pre-ceremony. She rode off in her... Read More gator and came back with a perfect dress, saving the day :) The venue is always in great shape. I wish I had been notified that they had cut down the trees right behind the ceremony cite, but Kelly and her staff offered some plan b ceremony backdrops (though we ended up sticking with the original view, just without the tall trees). The bride and groom sheds are rustic, but clean and really tucked away (meaning you can blast music pretty loudly without anyone hearing). The staff was very helpful when we arrived at the venue and took care of everything we needed. They also did a great job at the end of the night with helping the clean up efforts. All in all, a great experience! I think this venue will continue to improve with time as they work out the kinks and keep upgrading the facilities (the new bathrooms are really nice!!).
---
Reviewed on

6/17/2017
Liz H
Kelly and crew were absolutely amazing. I was in a wedding that took place the afternoon after a big scary morning storm (my backyard is STILL a mess!). The orchard was cleaned impeccably within a few short hours after the storm as if nothing had ever happened and the wedding... Read More was perfect. I can't say enough good things. Kelly told us at one point that she's always thinking about the bride and I can tell you from first hand experience that she is. Outside of the amazing staff, the orchard itself is fantastic. There is a ton of fun activities and the grounds are gorgeous. I would absolutely and without hesitation recommend the Minnetonka Orchards to anyone.
---
Reviewed on

9/12/2016
Amelia B
I'm so glad we went with Minnetonka Orchards. The space is amazing, and Kelly is just a great person to work with. During the busy seasons (fall, when the orchard is open, and late spring when wedding season is fully under way) she can be, understandably, bit hard to get a hold... Read More of, but when you do she is ready and willing to work with you, solve any concerns, and make the wedding exactly what you want it to be. They also were very flexible with allowing us to set up and then get stuff after the wedding, which I am so grateful for. It allowed us to have a full weekend of fun with our families. Everyone loved the orchard, from kids to grandparents. I plan to go out every year just to visit (and pick apples!) and remember our amazing wedding there.
---
Reviewed on

6/20/2016
Heidi H
We love the Minnetonka Apple Orchard!! We had our wedding ceremony there and it was a rainy day and we didn't know if we were going to have it inside the tent or outside and we were able to wait until just a few hour before the wedding ceremony to decide!! It was in the tent we... Read More go!! I had about 200 guests and the tent held everyone perfectly! It was sprinkling on and off all day but during the ceremony, for the whole ceremony it down poured. It rained like crazy. It was sooooo nice to have the tent for a rain back up. It's a must!! The rain actually made it very intimate and romantic in the tent. Also everyone was so easy to work with and was so flexible!! After our ceremony we had fresh apple donut and coffee and our guest could not even handle themselves. They were so happy to have a delicious donut and a cup of coffee!! We got so many compliments on how beautiful the location was and the kids loved the petting zoo!! It is a great place for kids to burn off some steam before the the reception!! The Minnetonka Apple Orchard made for a beautiful wedding photos because it is a beautiful venue. I cannot say enough good things about them. They really worked to make our day perfect, and it was!! I am so happy to have had our ceremony there!!
---
Beautiful Fall Wedding
Reviewed on

11/04/2015
Sarah L
My husband and I chose the Minnetonka Orchards for our reception. Minnetonka orchards is so beautiful! Especially in the fall the leaves are beautiful as well as the apples and the whole environment. Kelly was very helpful in planning everything and getting everything ready... Read More for the wedding! Minnetonka Orchards reception includes a giant tent from Ultimate Events. We also had the option of having hayrides there and it was one of the best decisions we made because everyone loved it. We also had a bonfire it during the night which is perfect to keep everyone cozy and warm. We rented some heaters from Ultimate Events to keep everyone warm in the tent but the tent was already pretty nice because it is enclosed and it has a hard floor. Minnetonka Orchards also provided some fun lawn games including a giant human-sized Jenga, Horshoe, and bean bag toss. We are so blessed to have our wedding reception at the Minnetonka Orchards! It was the best day ever and so beautiful! And the staff is very friendly and very helpful!
---
GREAT space with lots to do, and an updated look!
Reviewed on

9/16/2015
Lacy S
If you're worried about guests being bored at your wedding, worry no more and book this venue. Near the reception site, there are playgrounds, a petting zoo, lawn games, a corn maze, and a hay ride that occasionally circulates by. The reception tent has an updated look with new... Read More floors that makes it way more modern and picturesque. Kelly was wonderful to work with and figured out how to cool our dessert since the 90 degree weather was melting the frosting off. I gave a four star rating on service because I had a few miscommunications with the contact I had been discussing my plans with, but it was quickly ameliorated by Kelly. The owners came and greeted us toward the end of the night and were absolutely delightful. We had a great time at Minnetonka Orchards and would recommend it to anyone planning a wedding!
---
Beautiful Venue
Reviewed on

10/07/2014
Rachael J
Minnetonka Orchards was the perfect setting for our wedding and made sure it was a truly magical evening. Everything from the twinkling lights in the trees and reception tent to the hayrides and bonfire made it a night to remember. I got so many compliments-people said it was... Read More the best wedding they've ever been to! Michele and her husband were always accessible if I had any questions or concerns, and they were present during both the set up and take down to make sure everything went smoothly.
---
Minnetonka Orchards wedding
Reviewed on

8/08/2014
Molly M
The Minnetonka Orchards is such a beautiful venue! All of my guests were raving about it. The owners of the orchard are very easy to work with try to be accommodating. The only down fall of the orchard is the DJ needs to be done at 10:00 (city ordinance)but they tell you this... Read More before booking. Wonderful venue!
---
Perfect venue
Reviewed on

8/06/2014
Maggie P
Minnetonka orchards was the PERFECT venue for our wedding. We actually booked it before we could go see it, as we got engaged in December and they can't show the venue in winter due to snow. We crossed our fingers and booked it anyway based on reviews and pictures, and it was so... Read More worth it. Pictures can not do this place justice. It thunderstormed the morning of our wedding but cleared up for the afternoon, which was lovely. The orchard was so flexible and willing to work with us in formulating our rain plans. We had lawn games, hay rides, a photo booth (Set up in the "conversation porch" with a camera on a tripod and a white sheet!) and a bonfire. We heard from many, many guests that it was the most fun wedding they had ever been to. It was a little expensive for our budget considering none of the tables, chairs, etc were included, but it was worth every penny!
---
Absolutely the perfect day
Reviewed on

6/17/2012
Lindsey M
When I went in search of a venue to have my wedding it was a very short search. This was the only place I looked at and when I got there I just "knew" it was perfect. The day was great. My guests had a fantastic time because of all of the different options that they had for... Read More entertainment. At one point during the day I just looked out and couldnt believe what a great time everyone was having and how well people were mingling. We had a bags and horshoe tournament going on. I just wished I had prizes. Also,Craig and Michele were amazing. From their recommendations to helping with set up to making sure that the orchards was in tip top shape for the day of the wedding. One thing that I will mention is that this place is not an inexpensive place to hold your wedding. You need to factor in the cost of renting the location as well as caterer, the day of host, the bartender, the $10/guest after 125 and the equipment rental. I liked the flexibility in being able to choose and I feel that by doing so our service was spectacular and I wouldnt trade it for anything. The day after my wedding my groom asked me if I was sad that it was over and surprisingly I wasnt and that was because it was the perfect day and the people at Minnetonka Orchards know how to make your wedding a day that you will never forget. My wedding was not a cookie cutter country club wedding and I couldnt have been more pleased. So if what your after is a laid back wedding with more to do than drinking and dancing than this is the place. Also, I did forget to mention the wedding ceremony site. They have the cutest set up and my guest were so impressed.
---
Beautiful Setting!
Reviewed on

10/02/2011
katie c
At first, they were a little difficult to work with (it was the first year for them hosting more than 1 wedding a weekend and contracts had been overhauled) but when the Big Day came, they shined! We used them for catering and the food got many great reviews! My favorite part... Read More though, is the petting zoo they have. After our dinner, the owners and their children started showing off their "pets" to us and our guests. Nothing like holding a baby goat in your lap on your wedding day! So very kid and adult friendly and countless photo ops. Recommend highly!
---
So pleased...
Reviewed on

8/22/2011
Alissa V
We had our ceremony and reception at Minnetonka Orchards and it was really beautiful. Having it there allowed us to customize pretty much everything with our day. Michelle from the orchard was great, answered all my questions and they also did the food and it was very delicious
---