Home

Mitten Weddings and Events
About this Vendor
Serving Metro Detroit, Michigan and Beyond
Mitten Weddings and Events is a full-service event planning company servicing metro Detroit, Michigan, and beyond. Clients are guided through every detail with professional advice, inspired vision, making planning as unforgettable as the wedding itself. With over 9 years in the wedding planning industry, the professionals at Mitten Weddings and Events has the experience, relationships, and personality to make your special event everything you always dreamed it would be.
Details
Engagement Party, Getting Engaged, Honeymoon, Bridal Shower, Rehearsal Dinner, Rehearsals + Parties, Ceremony, Cocktail Hour, Reception, Rehearsal, Wedding
Destination Wedding Planning, Destination Weddings, A la Carte Wedding Planning, Budgeting, Day-Of Coordination, Full Service Wedding Planning, Planning
Reviewed on

10/19/2016
Janelle M
Hiring Mitten Weddings and Events was the smartest decision we made for our wedding this past August. We were planning a semi-destination wedding about 3 hours away in West Michigan and I was so overwhelmed, our venue was just the location so we had to coordinate all of our... Read More venders ourselves. I am so happy we decided to hire Mitten Weddings and Events for month of/day of coordination. Meagan went above and beyond throughout the whole process, giving me advice and answering all of my questions along the way. I seriously can't even imagine how I could have pulled it all off without her! I am amazed by how smoothly our wedding day went, I was completely stress-free thanks to Meagan! She took care of every single detail and everything was set up exactly as I imagined, it was the best feeling ever walking into my dream wedding! It was so refreshing being able to enjoy the day we'd been planning for so long, and just know that everything was being taken care of. We are so incredibly thankful for everything Mitten Weddings and Events did to make it the best day of our lives!
---
Reviewed on

6/23/2016
Meagan McPhail was an unbelievable wedding planner! Since I was planning out of Brooklyn, NY she made it so easy and seamless! We were able to Skype and go over all the ideas, even before I met her in person!! When I met her, she was professional, full of great ideas, and was... Read More extremely complimentary of our venue choice! Since we used her for day of coordination, I couldn't have been more happy! She dealt with all of the details (down to dealing with my demanding mother!) All of my vendors and guests told me how nice and how sweet she was to all of them! I would recommend anyone to Meagan for any type of wedding planning or day of coordination!!! Thanks again Meagan! Amy and Eric
---
Reviewed on

3/23/2016
Nicole M
The most important decision my husband and I made for our wedding was hiring Meagan from Mitten Weddings and Events to be our wedding planner and day of coordinator! Meagan handled EVERYTHING for me to truly ensure myself and my family was 100% stress free on my big day! When... Read More the planning began I was worried about only having 8 weeks to plan but Meagan stepped right in and took care of everything I needed. She was very easy to get a hold of for questions or concerns and was so helpful along the way. Meagan is very knowledgeable in the wedding industry and has a very impressive background working for luxury hotels. I was extremely impressed with our very detailed timeline for our wedding day. Everyone knew where to be, what time and the entire day couldn't have gone more smoothly, between the photographer, cake, vendors for ceremony/reception etc everything was perfectly timed out and I had not one single worry all day. The venue was set up EXACTLY as I had imagined if not better. I could never have planned this wedding so perfectly without Meagan's assistance and I'm so glad I chose Mitten Weddings and Events!!!!
---
Reviewed on

7/02/2017
A K
We hired Meagan as our day of coordinator and she was wonderful. Extremely organized, extremely on top of things. There were a couple of small issues - the rehearsal seemed a little disorganized (though, we did have a non-traditional ceremony), and we wished she stayed at the... Read More wedding longer (there was an issue that came up with the venue and people were coming up to me to deal with it). However, despite these couple of things, we would definitely hire her again in a heartbeat. Meagan provided a sense of calm that was much needed the entire month before the wedding!
---
Reviewed on

10/30/2016
katie o
Hiring Meagan was one of the best decisions we made for our wedding. We hired Meagan to be our DOC and she exceeded all expectations. From the moment we first met Meagan was extremely professional, polite, prompt, and organized. She went above and beyond to make sure our day... Read More was perfect. I can not imagine going through our wedding DAY or MONTH without her. The month leading up to our wedding Meagan was in constant contact with our numerous vendors re-iterating our expectations as well as the time frame/overall flow of our special day. Throughout the day Meagan and her team helped set up some of our DIY centerpieces/decorations. Meagan kept us on time and handled any issues the vendors ran in to allowing us to enjoy our special day and BE in the Moment (as well as our families). Meagan stayed throughout the entire night, helping clean up after the reception ended. We HIGHLY recommend Meagan with Mitten Weddings and Events to anyone looking to hire a wedding coordinator. THANK YOU Meagan for helping turn the vision we had of our Special Day into Real Life!!!!
---
Reviewed on

10/27/2016
Tammy S
Meagan did a great job for us; there were no worries planning the wedding; she was awesome at researching things for us. She helped us stay on top of things; the day of the wedding was the best. No worries for me or my daughter. We could relax and enjoy the day knowing she had... Read More everything handled.
---
Reviewed on

10/19/2016
Matthew M
My wife and I are very happy we hired Mitten Weddings and Events for month of/day of wedding planning. Meagan was an invaluable resource at our wedding. Without her things wouldn't have gone so smoothly. She went above and beyond the call of duty, driving groomsmen from place to... Read More place, getting everything organized, and so much more! I couldn't recommend her more for anyone getting married! Everything was done exactly like we had hoped. The day was perfect. 5 star!
---
Reviewed on

10/07/2016
MY HUSBAND AND I WERE MARRIED MAY 28TH, 2016. WE ARE 110% SATISFIED WITH HIRING MEAGAN AND HER TEAM TO HELP COORDINATE OUR WEDDING DAY. THEY TOOK OUT ALL THE STRESS OF HAVING TO BE THE BRIDE AND PROBLEM SOLVER AT THE SAME TIME. I WAS REALLY ABLE TO ENJOY THE DAY AND MY FOCUS... Read More COULD BE ON GETTING MARRIED AND NOT SETTING UP CENTERPIECES OR THE CUPCAKES OR IF WE RAN OUT OF BEVERAGES ( WHICH AT ONE POINT WE WERE RUNNING OUT OF WHITE WINE). IF I HAD TO PLAN MY WEDDING ALL OVER AGAIN I CAN SAY WITH 1,000% CERTAINTY THAT I WOULD HIRE MITTTEN WEDDINGS AND EVENTS AGAIN.
---
Reviewed on

10/07/2016
Meagan and her team were fantastic with coordinating the vendors for my daughters wedding in June. She was very organized and helpful and highly recommended.
---
Reviewed on

4/16/2016
Meagan assisted us with wedding planning and day of coordination. My wife and I wanted to enjoy the planning process without feeling stressed about what may or may not be running smoothly. Meagan made sure everything was prepped and ready on time. We couldn't have done this... Read More without her. Also the money savings was great since we were able to utilize some of her vendor discounts.
---
Reviewed on

3/25/2016
Sarah B
Hiring Meagan for my wedding was one of the best decisions I made. She kept up with all the details and changes and was very re-assuring along the way. There were some vendor changes that popped up the week of the wedding that I was very worried about and having her really... Read More helped me and I was able to relax as she was able to take care of them. Meagan was someone I knew I could count on to get things done and all the small details that I wanted to make the day special, she executed precisely how I wanted. Meagan was great at answering any questions I had, and was very knowledgable regarding vendor contracts and the wedding world in general. She kept in constant contact with me which made me feel valued and that she really understood what I wanted.
---
Reviewed on

3/24/2016
Andrea S
I hired Meagan as my wedding planner for the rehearsal and day of planning. I also had her help me plan up to the day of the wedding. I was not a bride who loved the planning experience so I was so thankful to have Meagan to help me along the way. She provided advice on vendors... Read More so I was able to make educated decisions upon hire based on experience, pricing and professionalism. I had a lot of ideas on Pinterest, and she was able to bring those ideas to life within my budget by using vendors or DIY ideas I wouldn't have thought of before. I was very nervous the day of my wedding with the usual jitters and hoping everything went perfect for me and my husband as well as our guests. Meagan not only assured me everything would, but she proved it did. The day of our wedding went without a glitch and our guests still talk about their experience. She was always available when I needed her and worked with a smile on her face, which makes the world of a difference to a bride smile emoticon I'm so thankful I had her with me for planning, the rehearsal and the day of the wedding. I highly recommend hiring Meagan for whatever your planning needs are!
---
Reviewed on

3/23/2016
Kelly L
From start to finish Meagan helped me plan every detail and bring my visions (and too many pinterest pictures) to life. She not only directed me to vendors that would be a match for my vision and my budget but helped bring it all together as well. The day of our wedding i... Read More thought i would be stressed out, but thanks to the preparing and detailed day of events everything went off smoothly. I could not put into words the blessing it was to have Meagan by my side taking the stress off of my shoulders along the way. She truly went above and beyond to make my dream wedding go from a fairy tale to reality.
---
Reviewed on

3/23/2016
Meagan is absolutely amazing! She was really able to help me with all the overwhelming details when it comes to wedding planning. When it finally came to my wedding day, I didn't have a worry in the world because I knew she had taken care of everything. My wedding day was... Read More perfect and I owe so much of that to her and all her hard work. Hire Meagan and you will not be disappointed, she doesn't miss a beat:)
---
Meet The Owner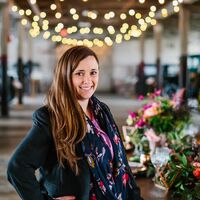 Meagan McPhail
Meagan McPhail, CWEP is a seasoned wedding and event planner in MIchigan who has spent the last 9 years in the event planning and hospitality industry. Meagan is the lead planner of Mitten Weddings and Events and travels throughout Michigan to plan weddings and events. She has managed and arranged hundreds of events, including: weddings, bar/bat mitzvahs, corporate events and non-profit fundraisers. After spending years as a Catering and Sales Manager for luxury hotels and summer resorts, she decided to bring her experience and insider industry knowledge to the client.