Home

MIXTAPE: A Cover Band for Hipsters
About this Vendor
Not your parents' wedding band...
Hailed by VOGUE as one of five bands in the country "guaranteed to keep your party going until the wee hours of the morning" and to take your event "from just lovely to legendary," MIXTAPE''s 6-10 piece band offers a fresh and fetching taste approach to rocking weddings in every way!
Details
Classical, Country, Folk, Hip-Hop, Jazz, Pop, R&B, Rock
Live Music, MC Services, Sound Equipment, Music
Contact Info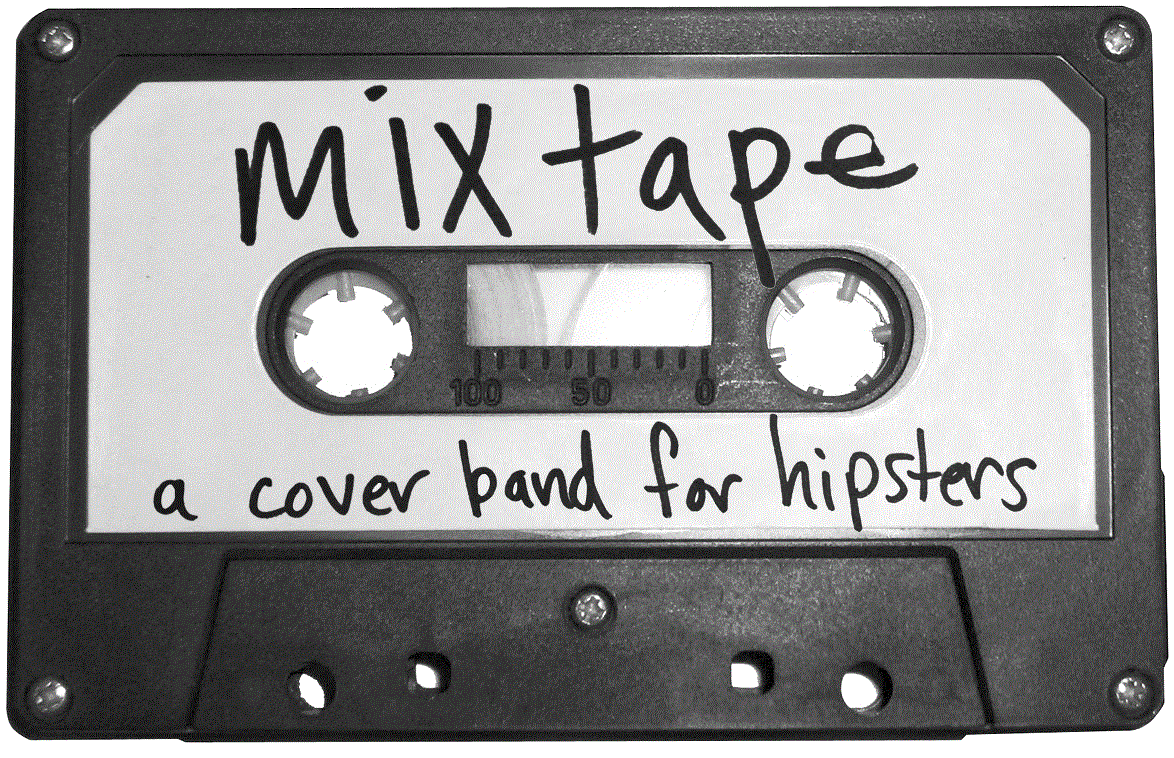 Like a real concert!
Reviewed on

1/09/2014
Mariah F
Have you ever met someone and instantaneously knew you wanted to know them forever? That's what it was like meeting Melanie from Mixtape. When we met her, we knew we had come to the right place for the best wedding band ever, and oh my goodness did she deliver! Having Mixtape: A Cover Band for Hipsters was like having a concert at my very own wedding. From the moment they started playing the dance floor was packed and didn't empty until the venue had to kick us out! They played the most epic Hora we had ever been a part of as well as tons of our favorite songs. We are still getting messages from our guests about how much they loved this band and my husband and I would have to whole-heartedly agree. Nothing beats this band. And did I mention that they are all classically trained musicians? Well, they are. Classy.
---
Amazing wedding band
Reviewed on

10/11/2014
Juliana C
Mixtape played at our backyward wedding in CT last month, and I cannot say enough good things about them. We wanted a band that would play the music we actually listen to, as well as a bunch of fun dance songs that everyone would know and enjoy. Their repertoire is incredible, and Melanie did a great job of taking our preferences and creating a playlist that would keep the dance party going strong all night (seriously, I probably neglected a few too many guests because I was too busy on the dance floor - and so were they!). It was fun to see my relatives singing along to both "You Can Call Me Al" and "Lonely Boy." One guest couldn't get over his excitement that "Heads Will Roll" was played at a wedding. Guests old and young also enjoyed slow-dancing to songs like "Your Song" and "God Only Knows." Mixtape's energy and talent was amazing, and people commented on it all night and in the weeks since. Mixtape also played beautiful instrumental music for our ceremony and some really great jazz for our cocktail hour. They are just so talented. And Melanie was an absolute pleasure to work with through the whole planning process, and a tremendous help on the day itself. She was flexible about logistical changes (parking issues, last-minute rain) and I'm sure she did way more behind the scenes than I even realized, because everything looked totally smooth on my end. I really hope my engaged friends book Mixtape for their weddings so I can enjoy their performance again!!
---
#TeamMixtape
Reviewed on

6/26/2014
My now husband and I became smitten with Mixtape at our friends wedding 2 years ago. We got their business card before we even had a date set knowing we needed them to play our wedding as well. Best choice we could've made. We got lucky and all our choices turned out great (venue, photog, etc) but everyone knows it's the music that brings it all together. And these guys are amazing. We felt an immediate connection working with Melanie and corresponding back and forth - she made all the 'business' super easy. They also have a kick-ass repertoire and were very open to learning the couple songs we needed to have at our wedding and weren't on the list. And brought the house down with every single one. On the day of the wedding, Melanie and the guys took care of everything and Danny and I didn't need to think of a thing. It was perfect.
---
Reviewed on

7/14/2015
My wife and I got married in BK just over 5 months ago and are so happy we chose The Mixtapes as our band. We were looking for a balance of new music as well as something the older generation would enjoy and they nailed it. We had over 225 people and they really got the whole room on the dance floor. We knew from hearing them play before our wedding day that they could play the newer stuff that we preferred but were so happy to hear them nail every song our parents knew as well. Also, they managed when to play the types of songs well, like keeping Teen Spirit until later. The other thing that really stood out for us was how user friendly they were. We asked if they could play a few songs they didn't know and they were able to do so for a couple on really short notice. They also handled the speeches, processional music and crowd really well. We can't express anymore how amazing they were and even 5 months after we still get comments about the band and the party.
---
Reviewed on

7/08/2015
Where to begin! We had an amazing time with Mixtape as our Wedding Band. First, the entire booking process was so easy. We emailed with Melanie a few times, then met her before putting the deposit down. They also play at a lot of local venues, but happened to be booked up during that time period. When we did finally see them at the Bell House, we knew immediately we made the right choice. We have yet to see a band match the energy that Mixtape has, and we've been to a LOT of weddings. They were completely amenable to what we wanted to do. They even learned "Domino" by Van Morrison and "All these things that I've done" by the Killers for us. Both are two of our favs, and it really made the day complete. Unlike with a lot of the wedding band companies, we actually knew who was going to show up on our wedding day. Every single person that we've spoken to after the wedding has said "the reception was fun, that band was AMAZING." We both have them penciled in for another event later in life when we can actually focus on the music!
---
Reviewed on

5/27/2015
Shirzad K
MIXTAPE rocked our wedding!! I couldn't possibly gush more about how amazing they were. They learned some of the most difficult arrangements to cover just for us and nailed them perfectly. EVERYONE was talking about how great they were and how much fun everyone had because of the band. Mel is a superb lead vocalist and everyone in the band is extraordinarily talented. As a ten piece no other wedding band can touch them.
---
Best Wedding Band. Hands Down.
Reviewed on

12/30/2014
Lauren B
My husband and I had two priorities for our wedding: the food and the music. After seeing Mixtape at a wedding band show in BK, we knew they had to play our wedding. Melanie and team were a pleasure to work with, from start to finish. She attended to every ask, and helped nail down every detail from start to finish for our big day. They learned a new song for our wedding dance, and did such an amazing job it floored us. So many of our guests commented on how incredible Mixtape was, and specifically how amazing Melanie's voice is. The dance floor was hopping for the entire reception. We couldn't have asked for a better band or experience working with Mixtape.
---
Perfect Choice
Reviewed on

10/29/2014
Jenna B
While typical wedding bands focus in on the standards and the current radio hits, Mixtape had a huge assortment of different kinds of songs it made it difficult to cut down! They did such a great job, all of the guests were raving. They even learned songs that they didn't have on their lists for us so we could have our first dance/parents dance done by them as well. Really glad we picked them!
---
The Best Wedding Band Ever!
Reviewed on

10/14/2014
Tricia J
I got married this August and Mixtape was my favorite part of the entire wedding...besides getting married of course! :) From the start of the process, Melanie was professional, accommodating, and sweet. I had a long list of songs I wanted them to play, and she did such a good job of accommodating my list while also letting me know which songs would work and which would not. She and her band even learned our first dance song, recorded it beforehand, and sent it to us so that we could practice our first dance with their version. So amazing! She and each member of Mixtape was so talented. It felt like an intimate, personal show by our favorite band.They played our favorite songs but also made sure that people of all ages had songs they identified with. They got everyone up and dancing. They also rocked the blue-grass cocktail hour. I wish I was able to see more of it.
---
Best Band Ever
Reviewed on

10/14/2014
Michelina D
I've always believed that music is the number one most important aspect of a wedding reception, and that music can truly make or break it. That said, I am thrilled that we hired Mixtape to play at our wedding (both the ceremony and the reception.) Each musician was amazingly talented and professional. The band coordinator was spot-on and super helpful. When planning my wedding my ideal hope was for my guests to be up and dancing all night, and because of Mixtape, my wedding was exactly that. Mixtape's repertoire was vast - they play all the music that you actually want to hear and dance to. The ceremony music was simple and beautiful and exactly what I had envisioned. I cannot be more thankful to have had Mixtape as part of our wedding day. I recommend them 1000 times over.
---
The perfect band!
Reviewed on

6/24/2014
Kim E
I wish I could give MIXTAPE 10 stars since they were just that good. From start to finish, I cannot recommend MIXTAPE highly enough. Great service, super nice band members, easy to work with, responsive to emails, laid back...and fantastic music! MIXTAPE has an extensive and eclectic library of songs to choose from...we were sold the second we saw that they played some Pixies songs. Melanie was a huge help as we planned the evening and selected songs...we knew we were in good hands from our first interaction with her. And we couldn't have made a better choice. My husband and I danced the night away to a fantastic mix of indie, classic rock, and 80s favorites--truly one of the highlights of our wedding. All of our guests raved and raved about how good the band was and chanted "one more song, one more song" at the end of the evening. The perfect band for the perfect evening!
---
absolutely made the reception
Reviewed on

2/03/2014
Amanda P
My mom was insistent that a live band would make a huge difference for the wedding, so I asked if she could be in charge of picking one. She was frustrated with the cheesiness of everything she found, until she stumbled upon Mixtape. I was skeptical that the band mattered that much, but grateful that she was willing to help out so much, and so we picked Mixtape. I danced more than I have since college, my husband, not a huge dancer, danced almost the entire reception, and when the night had to come to an end at long last, my college friends (in their somewhat tipsy state) tried to take up a collection, including but not limited to earrings and cash, to offer the band to play longer. The next morning at brunch, everyone mentioned how wonderful the band was. What made the band even more special were the personal touches. For example, when I'd checked the songs we'd like to hear, I mentioned one being my husband's favorite. Melanie made sure to announce that and be sure he was on the dance floor before the song started. I picked "January Wedding" as a song, thinking that because we, too, were having a winter wedding, it would be good to hear. Melanie, changed the lyrics to "February" (something I'd long thought would be cute, but had been shy to ask about), and the entire party danced to the song. I looked over to see couples of all ages in each other's arms. This was one of my favorite moments of the night. On top of it all, Melanie and the rest of the band were personable, friendly, and very professional. I cannot recommend Mixtape highly enough.
---
Amazing band - Amazing wedding!
Reviewed on

1/13/2014
Trindy A
When I started to do my research on wedding bands one thing was clear, I didn't want a typical wedding band. I wanted something different, something we can rock to. A typical 'concert' style rock band. Nothing Beyonce, nothing Rhianna, and certainly nothing Black Eye Peas. I wanted a new fresh take on a wedding band. Once I started looking, I kept coming back to Mixtape. Nothing else seemed to compare. Once I started speaking with Melanie, everything I expected and wanted came to life. Instantly she wasn't just a vendor, she was a friend who was helping me produce the best wedding possible. Melanie understood my vision, my taste in music, my guests and together we came up with the best playlist possible. We met during her own time to come and do a walk through of the venue and understand the event timing. She helped put together my ceremony music and cocktail hour playlist. We ended up having a guitarist play as we walked down the isle and a trio band for cocktail hour. Finally the full band rocked my guests socks off during the reception. Nothing was too much trouble. They learned our first dance song and father daughter song, and both were perfect. Our guests came up to us through the night telling us how fantastic they were and they have never heard a wedding band quiet like them. Still today we get compliments. One even saying - 'Where can I go hear them play in concert?' I can't thank Melanie and the Mixtape cover band for hipsters enough for making our day truly magical. I can't wait to have another event where I can use them again.
---
Highlight of our wedding
Reviewed on

12/14/2013
Alex H
Weddings are filled with countless things to worry about, crisis and hidden costs. However, Melanie immediately put at ease about our band choice. She's friendly, professional, and helpful when making song choices from their deep repertoire. On our wedding day, the band was the highlight of the night. They sounded fantastic from start to finish. The mix of motown, classic rock, newer hits and indie music had something for everyone. I think some of the older guests danced more than our younger friends did! It's been 2 months since our wedding day and people are still talking about Mixtape when they see us. When you hire Mixtape you know you're getting a high quality, professional, and easy to work with band. My only disappointment is that I don't have another big event to hire for!
---
Rocked it!
Reviewed on

12/05/2013
Erin M
We had Mixtape play at our wedding on October 5th, 2013. We has such a hard time narrowing down the list of songs they provided because there were so many great songs to choose from. Ultimately Melanie helped us select a set list that would keep people dancing all night long. As soon as they started playing the dance floor was packed and stayed that way for the rest of the evening. We had such an fun time dancing at our wedding. Our guests are still talking about how much fun they had and how great the band was. Thank you so much for making our day awesome!
---
If our friends were talented musicians, this is the band they'd be
Reviewed on

1/06/2013
Emma g
We fell in love with Mixtape when we saw them play at a wedding band showcase in Brooklyn. The other bands were good but Mixtape stood out to us for the songs they chose to play, their obvious talent and their cool (but not cooler-than-thou) vibe. If our own friends were musicians and were to start a wedding band, they would look and sound a lot like Mixtape. Mixtape's repertoire was big enough that we were able to pick out dozens of songs that we would've been psyched to hear but they also provided much-needed editing assistance and whittled our wish-list down to a perfect playlist. They brought a terrific energy, played a legendary horah and seemed to know exactly what song we and our guests wanted to hear throughout the night. They also managed the amazing trick of being great entertainers without making themselves the center of attention. We opted for the 8-person version for the reception party, which was plenty of sound for the venue (old barn in a field). A couple of the band members played during the ceremony and four or five members played during cocktail hour. We were glad that they were able to morph throughout the event. Having planned our wedding ourselves we now know how important it is to pick vendors who care about you personally and who have enough professional experience to be able to make good choices on your behalf. Mixtape is a _great_ vendor.
---
Simply the BEST!
Reviewed on

11/12/2012
Chelsea R
From beginning to end, Melanie and the Mixtape Band were an absolute pleasure to work with. We felt like we were working with old friends...who also happened to be incredibly professional, insanely talented, and punctual to boot! From our ceremony, cocktail hour, and especially our reception, I don't think Blue Hill has ever rocked so hard. Our guests were on their feet from the minute the music started and didn't leave the dance floor all night long. I cannot say enough about how amazing it was to have them at our wedding. If your band is a priority, you can't go wrong with Mixtape. They were a dream :)
---
Dying to do it ALL over again
Reviewed on

11/11/2012
Lisa G
WOW do these guys know how to make a party happen. Not only are they true professionals-- we had a number of people at our wedding in the music industry, who couldn't get over their skills-- they're just FUN. Fun in the planning, fun in the gear-up, and absolutely KICK-A$$ when they get down to business. Couldn't have been happier.
---
AMAZING BAND!!!
Reviewed on

9/30/2012
Liza Z
We had Mixtape play at our Asbury Park, September 15, 2012 wedding. Without a doubt, Mixtape was the absolute best, most talented, funnest, hippest, smartest wedding band EVER! We can not say enough good things about them. They were unquestionably the best part of our wedding. They looked good, sounded amazing, and played the best songs. They showed the utmost professionalism, both in musicianship/ ability as well as attitude, presentation, and commitment to our event. From beginning to end, Melanie made sure she understood us as a couple and understood our event. She was a dream to work with, responding promptly to emails and with a professional but warm and personal tone. Guests could not say enough about how much they loved the band. Everyone was dancing and singing along. Every single song that Mixtape played was great, partly because we hand picked every song from their cool and unique 'non-weddingy' wedding song list. Together with Melanie, we created a repertoire that reflected our personalities. It was full of rock and roll – everything from Bruce Springsteen to Johnny Cash to The National to The Cars – and fun pop songs like Thriller and Open Your Heart. We want to throw another party just so we can hear Mixtape play again. Hire this band, and you will not be sorry – you will have a memorable, amazing party with awesome music! We can't thank them enough!!!
---
Instant Party!
Reviewed on

8/15/2012
Michael T
When my fiance suggested getting a wedding band, I immediately had visions of stodgy covers of The Righteous Brothers. But when we found Mixtape's webpage and repertoire, we were pretty much immediately sold. How often do you find a band that's up for covering Gang Of Four, Ryan Adams, Sleater-Kinney and AC/DC? After watching their videos and meeting with Melanie, we knew they'd do a good job. But we were both blown away but just how much they all nailed everything...especially the high part on "High And Dry." More than one person told me "I'd pay to see this band do a regular gig" or "where did you find these people?," and watching my friends get loose to They Might Be Giants or hugging one my closest pals during Ted Leo are memories I will treasure for the rest of my life. They also got some of the older folks on the floor for Bruce Springsteen and Tom Petty, and even my most punk-rock friend was surprised that they threw in some Dismemberment Plan. Truly, they offer a little something for everyone. Mixtape are a bunch of music school grads and music industry lifers, and total pros to boot. They were there on time to soundcheck, and they were great about answering our many questions about schedules, setlists, price and whatnot. And they nailed every single song we asked of them, even Janelle Monae's "Tightrope," which could not have been easy. They helped turn our wedding to a party that our friends will never forget, and I am sure they would do the same for you and yours.
---
Expect the Unexpected
Reviewed on

7/27/2012
amy d
I just had the pleasure of Mixtape performing at my 6/16/12 NJ wedding (they traveled to the 'burbs!) and they were amazing. During the wedding planning, I had been looking at some cringe worthy wedding bands in the area and was about give up when I stumbled across Mixtape's vendor info. I was skeptical of their advertisement as not being just an average wedding band but after seeing their videos and getting in contact with their manager/lead vocalist Melanie, I started to believe that they could really bring something special to my wedding. The band's repertoire is very extensive and they are always adding new songs to the list. Melanie was especially helpful with suggesting certain songs and helping to organize a cohesive playlist. I repeatedly told my now husband that planning the music with Melanie was the silver lining in the otherwise stressful wedding prep time. One of the extra nice things about Mixtape is that they can perform the music for your ceremony, cocktail hour and reception, which is what I booked. This saved money and made things a bazillion times easier to coordinate. They have a wide variety of options as the musicians are music degree holders. I had an acoustic guitarist for my ceremony who did an amazing instrumental version of the beatles and sinatra. I then had a jazz trio play during the cocktail hour, which set a nice mood for all the guests mingling and eating hors d'ourves. During dinner, the band played a specified set of more low key songs. Afterwards, I picked out mostly very upbeat and dancy songs that everyone was able to really rock out to. If you are considering booking mixtape, then you should stop thinking about it and contact them immediately since just chatting with Melanie will make you want the band's easy going attitude and fast paced energy to infiltrate your wedding day.
---
Wow!!!
Reviewed on

7/18/2012
Leah R
Michael and I, now that we're back from our honeymoon, just want to thank you one more time for your incredible performance at our wedding. You guys brought the dance floor and the party to life, making our night that much more memorable! We heard nothing but rave reviews from all of our guests and we will be sure to recommend you with every opportunity we get. It was a pleasure meeting you and we wish you nothing but continued success!
---
Such a blast!
Reviewed on

6/18/2012
amber r
This band rocked my cousin's wedding and I am totally planning on having them at mine. My cousin said Melanie, the owner, is great to work with and so far I have found her to be responsive and flexible. I just love that there is a band that can rock a wedding with songs I actually listen to, not the Electric Slide!
---
Mixtape is a MUST for a Extraordinary Wedding!!!
Reviewed on

11/28/2011
Mark H
If you want to have a wedding that sets yourself apart from the same old wedding routine then you must hire Mixtape. I have had several people tell me our wedding was the best wedding ever and much of that is owed to Melanie and Mixtape. Some of my favorite memories of the night are of everyone dancing and having a blast. One of my senior guest told me that he had not seen his wife have so much fun and energy in 20 years. Mixtape made the biggest difference in us having an exceptional wedding that everyone will be taking about for years to come.
---
Only wedding band I ever liked!
Reviewed on

4/28/2011
Rose C
IMHO, wedding bands are super cheesy, but this band was so cute (and rockin')! They did songs I never thought I'd hear a wedding band play (Kings of Leon, Black Keys, etc) and learned a song for the bride and groom's first dance. They were super professional and fun and had the party going. If I ever get married, I will TOTALLY try to book them.
---
Send Message