Home

Molly's Bridal
About this Vendor
Bridesmaids, Moms & Special Occasions Boutique
Visit Molly's to dress the most important women in your bridal party! We carry the top bridesmaids, mother of the bride, flower girl and special occasion designers in our enormous collection of beautiful gowns. We offer group discounts and special pricing for brides who buy their bridal gowns at our sister stores, LuLu's Bridal and StarDust Celebrations.
Details
Bridesmaid Dresses, Flower Girl Dresses, Mother of the Bride Dresses, Shower + Party Dresses, Dresses, Group Discounts, Online Ordering, Plus Size Available, Fashion Services, Fashion

Contact Info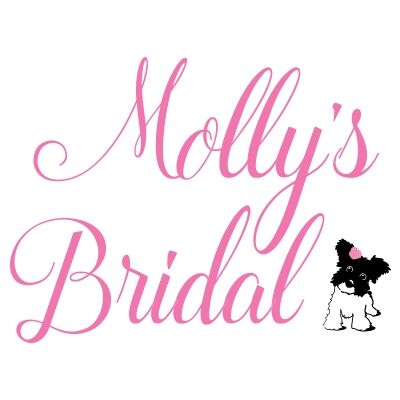 Reviewed on

4/23/2017
Kristen R
Lauren helped me find my perfect dress. She was so accommodating and made me feel like such a special bride. I never felt pressured and she was so supportive. The dress selection was amazing for women that can't fit into the size 10 samples at the other stores. The salon was... Read More very personal and I felt important from the moment I walked in. The prices were great also. LOVED this place and my experience!
---
Reviewed on

4/05/2017
Amber H
My experience at Molly's Bridal was perfect! The shop itself is gorgeous and the showroom is a glittering masterpiece. Courtney was super helpful and listened to everything I wanted. Not a single dress was shown that was out of my budget or style preference. She was supportive... Read More and lovely to my mother and best friends. The whole experience was wonderfully fun and not at all stressful. They even have dimming lights so you can see your dress in various lighting! It was an amazing experience and will be a treasured memory. I would definitely recommend this place to anyone and everyone!
---
Reviewed on

11/26/2017
Melanie G
Molly's bridal was an absolute dream to work with and my stylist Lauren and seamstress Ruth from Lulu's made it possible to have my dream dress for my wedding. They were prompt with appointments and listened to every request that I had. I wanted 3/4 quarter sleeve added to a... Read More strapless dress and they worked so hard to make it happen. Not only was my dress made specifically for me; no one will have that exact look and I find that so special.
---
Reviewed on

10/22/2017
Tea W
Karla was amazing! She was very friendly and helpful in helping me make a decision. She was very quick in decipomy style and what I was looking for. She made me feel very comfortable and anticipated my needs. Karla made my wedding dress purchase a great, memorable experience.
---
Reviewed on

9/28/2017
Talia S
Karla at Molly's Bridal was amazing. She listened to what I was looking for and helped me stay in budget, while also finding the most beautiful wedding dress I've ever seen. I am so thrilled with their selection, especially as a plus-size bride who went to seven stores to try on... Read More dresses until I found "the one"! Most stores pay lip service to the Plus Size crowd, only carrying one or two dresses so you have to order (nonrefundable) a dress that may or may not flatter you. Molly's Bridal specializes in plus sizes and has FANTASTIC diversity in their selection. Really beautiful store too - perfect for taking photos with your mom and bridesmaids!
---
Reviewed on

9/28/2017
Akiaahia S
I absolutely loved Molly's! Being a curvy woman, it can sometimes be hard to find the perfect dress that you have in your mind. I found my dream dress at Molly's. There were so many to choose from and the whole process from start to finish was seamless! I would definitely... Read More recommend them to any curvy bride that is looking for her perfect wedding dress!!!
---
Reviewed on

7/21/2017
Sarah B
As a plus sized bride I was petrified of dress shopping but Molly's was the answer to my prayers. Lauren was so personable, had a fantastic sense of humor, and was able to perfectly bring my dreams to life. I loved how throughout the appointment she was teaching me about the... Read More different details of each dress so I was able to be more specific about what I liked/didn't like about every dress I put on. The icing on the cake was when, after saying yes to a dress, she changed the lighting in the room so it really highlighted the dress and played my wedding song. Everyone was in happy tears and still, hours later, I have chills. I HIGHLY recommend Molly's!!!
---
Reviewed on

7/17/2017
Meredith H
Such an amazing bridal experience even though I didn't end up purchasing a dress! Lauren was fabulous! She tried every possible option to make my look happen within my time frame. She is a wealth of knowledge, in fact, she is still helping me via email find places. I would... Read More recommend this place in a heartbeat, not once did I feel plus-size! Thank you! Thank you! Thank you!
---
Reviewed on

7/08/2017
Shelbie W
I love the whole experience at Molly's Bridal!! This is a place where thick, curvy girls aren't ashamed of their bodies. Every dress either fits or may be a little too big (that doesn't happen... like ever). They make you feel so comfortable, calm and above all, Beautiful! I... Read More was lucky enough to get the All-knowing Nancy! She knows her stuff, and isn't afraid to give it to you straight! She is funny and so charming!! She helped me find my dream dress, and she even found a veil that matched perfectly! I can't imagine going anywhere else for the perfect Bridal experience!! All Curvy Brides need Molly's Bridal!!!!❤️❤️❤️
---
Reviewed on

5/18/2017
Meagan P
I am a "plus sized" lady and I never felt so beautiful!!!
---
Reviewed on

4/02/2017
Kashmear H
Amazing!!!!! I showed up without an appointment because the appointment I had earlier that morning at another bridal shop went so badly. My mother and I asked if we could first just look at dresses and they let us. I found 2 dresses that I absolutely had to try on. So I asked... Read More was there any way I could try them on and the girl checked with her manager who said she would help me when she finished with another bride who was purchasing her wedding dress. We waited maybe 20 minutes and then I got the best service I have ever had in my life. The first dress I put on was the dress it got me and I felt so comfortable during the visit. I was discouraged from my earlier appointment and Lauren the manager made my day. She was amazing!!!!! She even picked the right belt and headband for me and my dress. She even dimmed the lights to give me an idea what my dress will look like at the time of my wedding. I cried and so did my mother. I absolutely recommend this place to any plus size bride u will not be disappointed at all. I mean when u walk in there is even a dress on display that's a size 24!!!! The best experience for I have ever had and I would do it again. They make u feel like family when u walk in.
---
Reviewed on

3/27/2017
Catie S
I can't begin to say how amazing of a day I had trying on dresses here. As a plus size bride, I had anxiety about dress shopping and not being able to find THE dress. They had the most beautiful selection of dresses and my anxiety immediately went away from the moment I started... Read More trying on dresses. Lauren, the manager, was so welcoming and Alyssa,my stylist, was amazing at helping me find dresses to try on. I said 'yes' to THE dress and can not wait to get married in it. I HIGHLY recommend Molly's Bridal!
---
Reviewed on

3/21/2017
Katie H
Alyssa is the go-to girl here! She was amazing! I could not have asked for a more better experience than this. I loved that she didn't make me feel self-conscious (which was super important to me). I also loved the fact that I was able to ACTUALLY try on dresses! Not pin them to... Read More me like what I have heard a lot of plus size brides have to go through. Molly's was TOTALLY worth the drive from San Antonio! Even if you don't buy a dress, the experience itself will make you feel amazing. I left with the dress of my dreams! Lauren, the store manager, is also awesome as well! They have an awesome team of ladies here and you won't regret it!
---
Reviewed on

3/20/2017
Kristi R
Y'all, I cannot say enough about how AMAZING Molly's is! From the moment I walked in, the staff was so sweet and helpful. I wasn't exactly sure what style I would like, but Nancy was so patient, encouraging, and honest about each of the dresses I tried on. It was so nice walking... Read More in and not being limited to just a couple dresses that would fit me (I'm a size 22), but to be able to browse all of them and pick my favorites. I would definitely recommend anyone to go there, you won't need to look anywhere else! ❤️
---
Reviewed on

3/16/2017
Coralee H
Fabulous! They were timely, professional and friendly. Karla was my sales rep and she was great. They made me feel very comfortable and actually made the process fun and not the least bit stressful.
---
Reviewed on

2/06/2017
Mary Kaye B
Lovely shop with friendly & knowledgeable consultants. Alyssa helped me find "the dress" in less than 2 hrs. Would highly recommend!!
---
Reviewed on

1/31/2017
Lindi-Joy W
This weekend, I had the pleasure of visiting Molly's Bridal. Lauren, my consultant walked us to our own private room where there was as robe waiting for me. I felt so comfortable talking to her and she made my family and I feel at home. Shopping as a curvy bride can be a hard... Read More thing to do and it really means the world to feel that someone cares.
---
Reviewed on

9/21/2016
Sara D
I found the perfect dress! After trying on so many sample dresses at other shops that were made for size 2 ladies, it was such a relief to go to a place where the sample sizes fit a full figured person like myself!
---
Reviewed on

2/08/2016
Holly S
I was really nervous about trying on dresses, because I know how tiny the dress samples are at most boutiques. I was relieved when I found The Curvy Bride, because every sample gown was actually too big on me! I could actually fit into the sample without my back hanging out and... Read More exposing me to the world! I wish they had more options to choose from in the store, but I was just happy they have a store like this! I tried on about 6 dresses and the lady that helped me made me feel beautiful and comfortable. I picked a dress and loved the way I looked on my wedding day. I am so grateful that I could go to a place where the sample gowns weren't for super thin people!
---
Reviewed on

2/07/2016
Ashley C
I can not give this bridal salon enough praise. I went in thinking I was just going to look around, and I wasn't going to buy anything. My bridal consultant was Melissa Anne. What a dream. She showed me how beautiful my body is, and I can not WAIT to wear my fit and flair dress... Read More in October! Thank you for everything!
---
Reviewed on

10/20/2015
Heather L
I loved my experience at A Curvy Bride! They made me feel so good about my figure and helped me find the perfect dress that made me feel like a million bucks on my wedding day! Girls, if you are curvy, this is the only place to go!
---
Amazing!!
Reviewed on

3/10/2015
Sydney S
I loved this place! I found my dress here and the experience was wonderful! I loved that the sample sizes were big enough for me to try on. They were so flexible and kind. I really suggest this for any plus size bride. You will feel so loved and cared for here!
---
Make sure you have Elaine for your appointment!
Reviewed on

1/17/2015
Emily F
I was very nervous about wedding dress shopping. Elaine eased all of those fears - she helped me find a dress that was beyond my dreams... I couldn't be more thankful for her!
---