Home

MomentUs Occasion
Details
Day-Of Coordination, Full Service Wedding Planning, Honeymoon Planning, Planning

Contact Info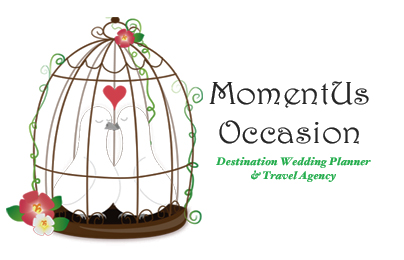 A blessing from above
Reviewed on

5/13/2015
Courtney A
My husband and I had the absolute blessing of working with Tashelle Darby at MomentUs Occasion. While we did most of the wedding "planning," it was not without the wise and experienced oversight of Tashelle! We contracted Tashelle to act as our 'day-of coordinator' on our... Read More special day. The investment we made in her services was MORE THAN worth it. As a 'Type A' personality, I was concerned that I wouldn't be able to enjoy my wedding day due to thoughts of details and vendor interactions. Shelly took care of all of that so I could just be a BRIDE. Myself, my husband, our bridal party, and our families were able to enjoy the day because we had Shelly by our side. Everyone involved knew she knew what she was talking about so we were able to trust her implicitly with every small detail. Oh, and it went on without a hitch. :-) I will always recommend MomentUs Occasion to those who ask. Tashelle Darby is a beautiful soul who made me feel like I could relax and enjoy every moment of my best day ever! What a blessing; what a gift.
---
The Only Choice!
Reviewed on

10/25/2014
Sara K
Shelly and MomentUs Occasion made our destination wedding a perfect day and a great getaway for all our guests. She played so many roles between being our confidant, wedding planner and travel agent. We could not have made a better choice.
---
*****
Reviewed on

10/15/2014
Lauren J
Shelly is absolutely fantastic! There are not enough words to express how thankful I am for her help throughout my wedding planning process. She was very quick to respond to my questions and concerns and worked along with my vendors on the wedding day without ever getting me... Read More involved. My wedding ended being exactly what I had hoped for. I would recommend her to any bride.
---
Great Investment
Reviewed on

10/15/2014
Lexie L
Shelly is an amazing person and highly talented. She did more than what was promised for our day of services. We could not have made a better investment.
---
Outstanding!
Reviewed on

9/19/2014
Shelly is amazing! I contacted MomentUs Occasion a few months before our wedding to help with day of coordination. I was getting a little overwhelmed planning. After my first conversation with Shelly I knew that she would be a good choice! She is friendly, knowledgeable,... Read More organized and noted every little detail we talked about. Shelly completely took the stress off my shoulders and our wedding day was perfect! I have no regrets with hiring MomentUs Occasion and have made a caring friend in the process.
---
5 Stars
Reviewed on

9/15/2014
Julie D
My husband and I want to say thank you for helping us create our dream wedding! We are beyond grateful you were able to execute our vintage wedding and to take care of everything from the vendors to the decor, invitations, small details, and so much more. We couldn't have had a... Read More better day. The venue looked perfect and we had a perfect wedding- It was everything we wanted and more. I will always recommend you as a wedding planner to my friends, since I know it helped me enjoy the process and the day so much more. Thank you, Shelly!
---
Thank you! Thank You!
Reviewed on

9/10/2014
Amanda L
Words cannot express my gratitude for Shelly. She was not only my wedding planner, she also became my friend, advisor, and my sanity! What impressed me the most was her professionalism, as well as her ability to take the stress from of a long distance bride, (I live in NC,... Read More wedding was in PA). She had an incredible sense for what I wanted in a wedding in terms of style, budget, and ambiance. She also worked great with our other vendor, and kept everyone functioning professionally. The true test was having our guests notice how the wedding had a great flow to it and we have Shelly to thank for that!
---
Perfection!!
Reviewed on

8/25/2014
Shelly did a wonderful job with our wedding! She went above and beyond the call of duty. With a less than helpful venue she put my mind as ease and assured me it would all work out. She had an answer to every question we had, great suggestions for things and really helped us... Read More think of things we never would have on our own. She stayed on top of all our vendors and made sure everyone was on the same page. The day of, Shelly made sure everything was perfect and in place. We couldn't have asked for anything more. I am so grateful for her help to make our special day perfect! I would HIGHLY recommend MomentUs Occasion to everyone!!
---
Simply Amazing!!!
Reviewed on

8/12/2014
Shelly, provided excellent service from day one of me researching our destination wedding location. She supported me step-by-step throughout the planning process and all the way to ensuring a beautiful seamless wedding at the Royal Playa Del Carmen. I never visited the area... Read More previous to the wedding, but was set at total ease with all of Shelly's detailed information, reviews and photographs. All of my guests were thoroughly impressed with her knowledge of the resort, travel details, recommendations on restaurants and excursions as well as her response time to all their inquiries. Shelly's knowledge, expertise and professionalism allowed me to have a fun, stress-free wedding at an amazing location.
---
The Best!
Reviewed on

8/10/2014
Besides agreeing to marry my husband, working with MomentUs Occasion was the best decision I made! The moment I met Shelly at a bridal expo in Philadelphia, she set to work helping to plan my destination wedding. She handled nearly every detail. She offered options about where... Read More to stay taking into account the needs of my guests , while meeting all our wants. With her guidance we were able to make decisions about everything from location to the theme of our wedding! Shelly was also big on keeping us on budget, before making any decisions I always felt the need to get some guidance from her. Shelly patiently answered every question I had no matter how small. She was prompt with responses and happy to do the research. My wedding was amazing and months later, our guests are still talking about it. We plan to gather everyone again in a few years for our renewal celebration and when that time comes, Shelly will be our #1 resource!
---
Best decision ever
Reviewed on

8/06/2014
Although this review is a bit late, when Shelly messaged me I had to respond. All I can say is hire Shelly, I have no regrets! She went above and beyond on all categories!! Even if it was something that may not have been in her normal job description, she still helped. She... Read More provided guidance every step of the way. Our wedding would not have been nearly as beautiful or as much fun if it were not for Shelly. My husband and I feel that she was the best money spent at our wedding and we would 110% recommend her to anyone who is thinking of hiring a destination wedding consultant. She was so professional and knowledgable. She brought up things that we just never would have thought to do or not do if it weren't for her. I am so thankful for all of her recommendations!! She even helped save us money with some of our other vendors because she caught some things that were written into the contract that we did not notice. All our guests also spoke highly of the services she provided to them, such as the ability for them to make monthly payments.
---