Home

Monica Chimes Floral, Inc.
About this Vendor
Creating the Extraordinary. . .
As one of Westchester's premier wedding floral companies, we custom design every event. Each bride's desires and needs are listened to and exceptionally realized. Your wedding is created with an abundance of care and the utmost attention to detail.
Details
Aisle Decorations, Centerpieces, Pedestals, Vases, Chuppah, Wedding Arch, Decorations + Accents, Bouquet Wraps, Bouquets, Boutonnieres, Flower Alternatives, Flower Arrangements
Contact Info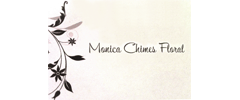 83 Harrison Boulevard, Harrison, NY
Westchester/Hudson Valley
Couldn't have imagined a better florist!
Reviewed on

10/06/2011
Krista W
Six words: Monica Chimes is an incredible florist. She and her team, especially Stacy (who worked for David Tutera), do an incredible job of bringing a bride's vision to life. During the planning stages I did my due diligence by meeting with a handful of florists in the area, getting bids, and hearing how they would create what I had imagined for my flowers. A few of those florists were gruff when I asked if I could see a sample, others nice, but NONE made me feel like I was the only bride they were working with other than Monica. Monica and I sat down, discussed the basics; colors, number of people in the bridal party, number of tables, budget, etc, and then she took me through tons of different flower options in books and in her refrigerator to find the perfect combinations. She didn't hesitate when I asked if she could make a sample centerpiece for my MIL (who was paying for the flowers), my mom, and me to check out. The three of us came a week later and I was blown away. It was exactly as I had imagined with floating candles accenting the flowers, and orchids floating in the vase. Seeing the sample confirmed my feeling that Monica was the right choice. Monica and I chatted a bunch of times throughout the eight months or so before the wedding about changing a flower here and there, the layout for high and low centerpieces, and even when I had to cut a few things to save on the budget she was able to figure out another way to make it work. The entire experience made me feel so at ease that I knew everything would be perfect on the wedding day. This was actually the only part of the wedding planning that I didn't have to lose one wink of sleep over. On the day of the wedding the flowers were delivered exactly on time, Stacy even surprised me by coming to the salon to hand deliver my bridal bouquet and give me a big hug and best wishes from Monica (who was on location setting up the church and reception venue). Everything about this experience was perfect. The only thing I was bummed out about was that I had to leave for my honeymoon and couldn't enjoy the flowers for the week after the wedding! :) Many of my guests took the centerpieces and bouquets home and said they lasted for 7-10 days! If you are looking for a quality florist with quality flowers who will give you her undivided attention and make you feel like she is actually part of the bridal party, go with Monica Chimes. She will make your flower dreams come true! (Sorry, that was cheesy, but it's the truth). :) Happy Wedding!
---
WOW!!! Exotic, Awesome Flowers
Reviewed on

11/23/2011
marla g
Can you imagine how amazing the centerpieces are when the employees of the venue, who are setting up the tables for the dinner are saying they have never seen such "elegant, beautiful, flower arrangements?" That's exactly what happened at my daughter's wedding this weekend. When we opened the door to go into dinner our breath was taken away. Monica Chimes and her assistant Stacy arranged an assortment of tropical flowers that cascaded down from tall slender glass palace vases. The arrangements consisted of birds-of-paradise, orange and red heliconias, orchids, and red hanging amarnathus. Large tropical foliage was integrated throughout the design. The bride and groom had the same flowers set on top of their table cascading down the front of the table. There were candles and orchid petals on the table with the placecards and a special table set up with Iris', as requested by my daughter. Every guest (including men) commented that they have never seen such magnificient, extrodinary centerpieces anywhere. The bridal bouquet was magnificient and fit my daughter perfectly. Her bridesmaids all want to save their bouquets forever. Even the groomsmen's and groom boutonnierres matched the bridal party bouquets. Monica understood exactly what my daughter was looking for and far exceeded our expectations. I would highly recommend Monica Chimes floral for all you floral needs.
---
Every Brides Dream....
Reviewed on

11/17/2010
Nancy Y
Monica Chimes is truly a gifted florist. My wedding was this past August and all of the arrangements that were made for my wedding were breathtakingly beautiful (bouquets and center pieces)! From the moment you meet Monica and her staff to the day of your wedding you will know that she is very professional and you will not be unsatisfied. I remember walking into her shop and sitting with Monica and not knowing one thing about flowers. What I did know...was my vision of what I wanted my day to look like. Monica sat with me and listened to me without rushing me out the door (unlike some places). She took flowers out and showed me what they were and how she would incorporate them. When I saw my bridal bouquet for the very first time on the day of my wedding, I was speechless and brought to tears. It was like she went into my mind and saw the vision I tried to explain. Who knew flowers could make you that emotional!
---
Reviewed on

6/30/2015
Nicole B
I cant say enough about Monica!! She was so great to work with, despite all my add ons for my wedding! She was so patient and transformed my vision into the most amazingly beautiful bouquets and centerpieces for my wedding. I honestly wish I could have kept every single centerpiece, but most of my guests took them home at the end of the night! She also made me a stunning floral head piece that I wore all night long, even though it wilted at the end, I didn't care, I LOVED it!!! She is beyond talented and I wouldn't recommend another florist!!! If your looking for STUNNING florals for your wedding, look no further!!
---
Beautiful!
Reviewed on

11/20/2014
Silvia G
I lived out of state, and Monica worked with me via phone and email to discuss the flowers and arrangements to use and made the process go alot smoother. Very talented and created beautiful bouquets for the girls and I.
---
Fantastic Florist!
Reviewed on

10/29/2014
Molly L
Monica Chimes was an amazing florist for our wedding this past September. We met with Monica months in advance and she slowly walked us through all of our options for flowers. Monica was great when we wanted to change and update any of our arrangements and the final product was stunning. Highly recommended!
---
Should have been our first choice, glad it was our final choice
Reviewed on

10/21/2014
Mette H
We discovered Monica Chimes after two very frustrating rounds with other florists who simply wouldn't step to the plate and make suggestions or offer any guidance. We began to think florists were just all flakes. Monica proved us wrong, big time, and we couldn't have been happier with the results. She and her staff were not just a delight to work with -- they delivered bouquets, boutonnieres, centerpieces and other accent arrangements that were truly warm and lovely. I wish we could post pictures here so I could show how beautiful everything was. Everyone commented on how gorgeous the flowers were, and in the end we felt not just cared for and listened to but pampered. Highly recommended.
---
PERFECT!
Reviewed on

10/21/2014
Kelly M
Monica Chimes is the most amazing florist EVER! The bouquets, escort card table and centerpieces for our wedding were breathtaking and we got so many compliments on them. When we first went into her adorable shop, she made us feel so comfortable and we knew right away that we wanted to work with her. She literally started pulling flowers out and putting them together right there as we were describing what we wanted. Monica was very accommodating and worked with us on all of our crazy requests. She went above and beyond our expectations and I would recommend her to everyone.
---
Amazing, Artistic and Talented Florist - Highly Recommended!
Reviewed on

8/04/2014
Rachel F
As my husband and I celebrate our one-year wedding anniversary, I feel inspired to thank the people who made our day so special and memorable. Regrettably, this 'thank you' is wayyyy overdue! Monica Chimes Floral helped to make our wedding day so beautiful. As a bride with very little experience with flowers, Monica made my vision happen. I remember walking in to her shop, being greeted with a warm welcome and some humor that made me feel so comfortable and confident that I was going have Monica bring my vision to life. From there we chatted and came up with a design for all areas of the wedding venue from the ceremony to the cocktail hour to the reception. Monica is very thorough, organized and detailed, which made me feel very assured. As the planning process continued, I received a call from my venue that our room was going to be switched from an intimate space to a grande ballroom. Well, we didn't plan our centerpieces for such a large space. I was in panic mode (sometimes us brides get like that…lol). I called Monica and explained the situation. Without a question or second thought, Monica stepped up to the plate and said that she would make it work and make the vision come alive in this new space. And WOW, she did more than make it work. She designed the space beautifully. My guests loved our centerpieces; in fact, I still get compliments on them today. Furthermore, my bridesmaids LOVED their bouquets and my bouquet was stunning, perfect and exactly what I wanted. So, THANK YOU Monica and staff for making our day brighter, beautiful and so memorable. I highly recommend using Monica Chimes Floral!
---
Gorgeous, elegant, exceedingly professional
Reviewed on

6/17/2014
Karen B
I have been looking forward to writing my review of Monica Chimes Floral since we first met with Monica a few months before our wedding - and even more thrilled to write it now that our wedding was just a few weeks ago. She was specifically and enthusiastically recommended by staff at our wedding venue - the NY Botanical Gardens. We were beyond thrilled with the floral details she and our staff set up for our wedding - so many compliments from our family and friends! Most of all, Monica is truly a pleasure to meet and work with - has this uncanny ability to extract from your inarticulate, floral-novice ramblings and propose elegant, gorgeous ideas - and keep you on or below budget! For our wedding, she provided an absolutely gorgeous arch with curly willow, greens and white roses - the stuff of fantasies! Our centerpieces were flawless (we enjoyed them for two weeks after our wedding), my bouquet was perfect and overall, we just loved everything - the floral decor really pulled together our wedding venue - our goal was "elegant understatement" and everything about her work was simply stunning. Best of all, Monica is straightforward and incredibly sweet and helpful in every way. Truly, she and her staff made our day so special and beautiful, we cannot recommend her enough!
---
THE BEST FLORIST EVER
Reviewed on

10/22/2013
Andrea D
I contacted Monica Chimes Floral to be the florist for my wedding. I brought Monica my vision and ideas, and what she transformed it into was nothing short of brilliant. She transformed my ballroom into a fall/Halloween masterpiece, while making it festive, yet elegant and gorgeous all at the same time. She took the budget I proposed and worked within it. Her costs are totally reasonable for the quality she provides, and there really is no other florist like Monica Chimes. I've been in many weddings where the bridesmaid bouquet practically wilted in my hands, where the centerpieces were so large that you couldn't see across the table, or so small that they looked ridiculous. Monica had the perfect amount of balance on our tables, and the room looked perfect. The bouquets for the bridesmaids were such wonderful quality that they lasted for days and days after. The colors she incorporated made my pictures turn out fantastic. My husband and I ended up getting married during a freak blizzard in October in 2011, and Monica and her staff never made traveling an issue, although they were delivering everything from Westchester to Connecticut - we never once had to worry about them at all. I would recommend Monica Chimes Floral to any bride that wants beautiful flowers, impeccable service, and quality beyond compare. One of the best decisions we made for our wedding.
---
Happiest Bride Ever!!!
Reviewed on

10/06/2013
Words cannot express the creations that Monica came up with!! After going to those "big name" floral companies, I was not happy trying to be sold the same usual arrangements that you see at any wedding. I was referred to Monica by a family friend. After reading her reviews, I was curious to see what all the rave was about. NOW I KNOW!! On my consultation, Monica sat, listened and even got flowers out to show me a visual of what she was designing. I couldn't believe that she was actually in my brain and making what I was trying to explain come to life!! NOBODY was able to do this for me but Monica. From beginning to end, I felt so comfortable with Monica even when it came to my budget. On the day of my wedding I can't explain the sheer excitement when my husband and I walked into the venue and saw my chuppah, my bouquets and the center pieces!! Even my husband was flawed! Monica is not only one of THE MOST talented people I know, she made me feel as if I were the only bride in her life at that time! I have Monica Chimes to thank for making me the happiest bride on earth!!
---
OVER the TOP
Reviewed on

10/06/2013
I am pleased and excited to be writing this review the day after my fabulous wedding! My morning started off with my bouquets being delivered personally by Monica. Thank god I hadn't had my make-up done yet because my first reaction was to cry when I saw them. They were more than I had imagined! Perfectly stunning. Then it was our ceremony. Yes, I had tunnel vision while looking at my husband-to-be, but I couldn't help noticing how GORGEOUS the arch was that he was standing under!!!!! Way passed my expectations. Then last but not least our reception! OVER the TOP!!!!! There are not enough words to describe how amazing the décor was. Needless to say we were very pleased with our experience with Monica Chimes Floral.
---
PERFECT!!!!!
Reviewed on

10/06/2013
Jorge C
As a Groom, you would expect that I really had very little part in this department. But, I went with my wife for our first consulation with Monica at Monica Chimes Floral, Inc. assuming that I would be there just for support. Well, as the consultation begun, I became more and more interested in what was going on. Monica had a way with her words which made me more and more interested. Her ideas, knowledge and comforting personality made me feel like I wanted to be part of this aspect of our day. When our day came, I couldn't wait to see how the flowers looked. I was actually excited about it. When we opened the door to our reception, WOWWWWWWWWW would be an understatement. I knew that we had chosen the right person just from our consultation but I was in awe with how gorgeous everything looked! Pure perfection! And not to mention, a pleased bride. :)
---
Groom approved
Reviewed on

10/06/2013
My wife and I worked with Monica for our wedding in May 2011. She was very patient and helpful during all of our meetings, and she created exactly what my wife had envisioned for our wedding flowers. The guys boutonnieres were simple and classy, exactly what I wanted, and my wife was very happy with her bouquet, those for the bridesmaids, and all of the flowers for the church and reception. Because of Monica's flowers, our wedding was chosen to be featured in a bridal magazine, something that my wife will cherish for the rest of her life. Monica and her team made my wife feel as though she was the only bride who they were working with, which made the wedding planning process very easy and nice. Four words: Happy Wife, Happy Life.
---
Not The Norm...
Reviewed on

10/06/2013
Yes, I am a man, a groom, one who typically can care less about the flowers at his wedding. BUT, when my wife explained to me what she was thinking of doing, I thought nothing of it until I saw it in person! Monica Chimes and her staff blew me away at the creations at our ceremony, on our tables and even the girls flowers. I never thought I would say this...our flowers were beautifully designed and exceptionally reasonable when it came down to our budget. I have a new respect for flowers and Monica especially! THANK YOU MONICA!!! You and your team are amazing at what you do! Pete
---
Exquisite floral design
Reviewed on

10/01/2013
Jennifer K
Monica Chimes Floral is the best of the best! Monica has a taste for the best and an eye for style. She and her team work seamlessly to create the perfect look with flowers and decor. Monica goes above and beyond, making your day one to remember!
---
MONICA CHIMES IS THE BEST!
Reviewed on

10/01/2013
I am the mother of the bride, and went along with my daughter to all our interviews with prospective florists for her wedding. When we met with Monica, we had already seen 6 other florists. She had us describe what we were going for, and was the only person who didn't judge our ideas or tell us it would be an astronomical cost. What she did do, was listen to us and then she went to her fridge, pulled out some flowers and actually arranged them right in front of us to create a look that she had in her head after we told her what we were going for. She led us in the right direction in terms of which flowers would be best for our needs. We had a lot of grand ideas, including a handmade chuppah and tall centerpieces. I've taken flower arrangement courses before, and I could tell she was a professional by the way she arranged and handled the flowers. I knew right after that, that she was going to be the one to help us out. What I couldn't have planned for, was the way she helped us out at the last minute when we were having a discrepancy with set-up time at the venue. It was a very stressful time for us, and Monica and Stacy took such good care of us and made sure we were going to be all set - even offered to call the venue and speak to them, vendor to vendor, to take care of the problem. She is the ultimate professional and she WILL take care of you!! We treasure the times we spent with her planning the flowers (my daughter changed her mind a lot and Monica handled everything with such grace and patience!) and she is a very special person to us now considering everything she did to make sure we had a beautiful day. You would be crazy to go with anyone else!
---
Lovely shop!
Reviewed on

10/01/2013
Jackie P
I had a great experience with Monica Chimes. I don't know much about flowers so I didn't know exactly how to explain what I wanted for my wedding, but I brought some photos and they helped me design just what I wanted! It turned out beautifully and I especially loved my bouquet. Also, flowers weren't a huge priority in my budget, but Monica Chimes was still able to give me what I wanted for what I felt was a reasonable price. Overall highly recommended.
---
Mother of the Bride
Reviewed on

9/29/2013
Carolyn K
From the minute we met with Monica we knew she was the florist we wanted to work with for our daughter's wedding. She was up beat fun and creative. Monica actually laid things out to give us an idea of what things would look like, she gave us the visual. She was professional the whole way through and was very responsive. At times I wasn't sure if who was more excited about our wedding- us or Monica! The quality of her flowers was amazing a week later and they still look great! You will not be disappointed with Monica Chimes Floral!
---
Outdoor Wedding
Reviewed on

8/06/2013
nicole m
I was so happy with the floral arch, centerpieces and bouquets that Monica Chimes provided for my wedding. They listened to everything I said and when I saw everything for the first time it was more beautiful than I had imagined. I would highly recommend Monica Chimes.
---
Simply The Best!!!!!
Reviewed on

11/07/2012
Jennifer G
While planning my wedding for September 2012 and having to decide on flowers, I knew right away Monica Chimes was the one. Knowing Monica for many years to be very creative and talented at what she does, I knew she would be able to make everything I envisioned into reality. I went to her not knowing anything about flowers, other than that I wanted to use Manzanita trees for my centerpieces and she did just that. She took everything I envisioned plus some and made it all happen. From the very beginning, she went above and beyond to make my planning so much easier. She worked within my budget and created the most amazing combination of flowers to match my color scheme. My bouquet, the girl's bouquets, and centerpieces were absolutely breathtaking. I have never seen anything like it before. I got so many compliments on my flowers and I can't thank her and Stacy enough for doing such a fantastic job!!!
---
Felt so completely safe with Monica!
Reviewed on

8/07/2012
Allison N
Monica Chimes provided all floral arrangements for my wedding on July 21, 2012. I saw so many florists in Westchester, Putnam, Rockland and Orange counties before settling on Monica. At our first meeting, she started grabbing flowers from the fridge and putting them together to give me a visual, and that was different than anyone else's approach. I changed my ideas a few times, and every time she and Stacy were patient, kind and honest when I asked if something would look good or not. She defined "above and beyond" when I was having venue trouble that would directly relate to her set-up that day, and took matters into her own hands and settled things, telling me that as the bride I shouldn't have to deal with that. Not only that, she also showed up to help the day of the wedding, which was a huge surprise, to make sure everything was perfect, which I appreciated so much (especially because she's pregnant!). The centerpieces were works of art, and everyone is still talking about them. I had shown her a picture, and she executed my vision so well. My bridesmaids loved their bouquets, and mine was just a beautiful piece, all white and very bridal looking. Our chuppah was constructed from birch, and Stacy made it into a gorgeous piece. I would recommend Monica Chimes to every bride, because she is one of the sharpest businesswomen I've met in this industry, and I felt totally taken care of in her hands! She was totally worth every penny!
---
Monica Chimes - Beautiful!
Reviewed on

6/04/2012
Arlene T
Ok, Monica was amazing with her creations. Our bouquets were stunning and my centerpieces where the show piece I was looking for. She worked with my vision and had no problem destroying flowers to create samples on the fly for me. I think we changed ideas about 3 times and even on the day of the wedding she called me because she wanted to add something special to the bouquets and wanted to know if I was ok with it. YES, of course I was; trust her 100%.
---
Words Can't Describe!!
Reviewed on

10/29/2011
Michelle T
I got married in the beginning of October of this year and I had Monica and her team prepare my flowers for the wedding. My mother had used Monica to do my Bridal Shower in July of this year and I knew from how outstanding the decor for that was that I HAD to use her again!! Words Can't Describe what an AMAZING job her and her team did! Im not someone who is really creative so all Monica had said to me was, " Just give me a color scheme and the feel that you want for your day and I will make it happen!" She did everything so perfect and my Boquet, Girls Boquets and Center pieces were the most beautiful things I had ever seen! I still have friends and family calling me to rave about my flowers!!! Monica you did more then I could have asked for and I want to thank you so much for making my wedding day so beautiful!!! :)
---
Send Message