Home

Mrs B's Specialty Cakes
Details
Cake Tastings, Cakes + Desserts
Contact Info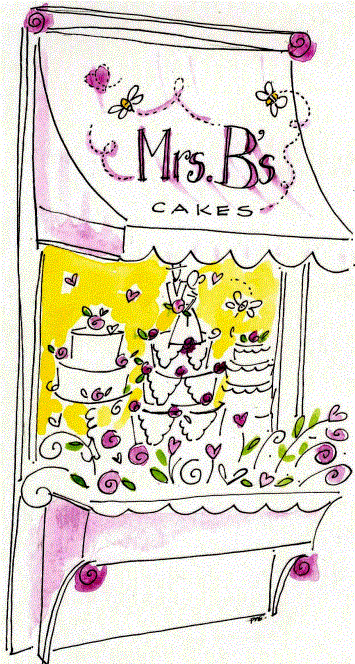 Reviewed on

8/18/2017
Jacqueline T
Our wedding cake was from Mrs. B's and we couldn't have been happier! It was the perfect, simple and elegant design we planned and it was delicious to boot!! Grade A professionalism and work!! If you need a baker for your special day, Mrs. B's is the one to call! Thank you!!
---
TRULY SCRUMPTIOUS!
Reviewed on

11/12/2012
CHERYL D
I have had the pleasure of sampling most of Mrs B's baked goods and they are all delicous. The cakes are truly the best I've ever tasted! You can tell she uses only the freshest ingredients by the way the flavors shine through. The frosting and fillings she offers are very... Read More diverse and always wonderful. The designs of her cakes are beautiful also! She and Dana go out of their way to be sure that you get what you ordered. I've also sampled her cookies, pies and cream puffs.....oh my goodness! Every time I order a Mrs. B cake it's difficult to decide which flavor to get. My entire family loves them and we often manufacture a special event to justify eating one of her cakes! I would recommend Mrs B's Specialty cakes to anyone who wants the BEST!
---
ABSOLUTE PERFECTION
Reviewed on

10/26/2012
Mary Ann D
"I am a huge fan of Mrs. B's cakes and always will be. I have never been disappointed in any of her cakes, cookies, cupcakes, etc. Anything that comes out of Mrs. B's Specialty is always fresh, moist and most of all absolutely delicious, the key word here is SPECIALTY,... Read More because all of her cakes are so special in their design, quality and most of all TASTE. I have gotten cakes for holidays, birthdays, showers (wedding & baby) and most importantly both of my children's weddings. Even my daughter's anniversary cake one year later was still moist and delicious. Any one who has had the pleasure of indulging in one of Mrs. B's cakes have nothing but rave reviews. Mrs. B is always consistent and it's because of the pride she and Dana take in their work, they truly are artists, such talent. I am a loyal customer and anyone who purchases from Mrs. B's will never go elsewhere."
---
beautiful cake and tasted wonderful!
Reviewed on

10/25/2012
Nisha M
Mrs. B and her daughter brought the final touch to our wedding with the most beautiful cake. Tasted amazing and was absolutely gorgeous. Both Mrs. B and Dana are very easy to work with and very friendly. Thank you so much!
---
EXCELLENT!
Reviewed on

10/20/2012
joie h
I had the pleasure of attending several events that included cakes by "Mrs B's". By far the best shower/wedding cake I have ever had. The cakes were absolutely beautiful! The attention to detail was exquisite! And not only were they beautiful but the best tasting cake I have... Read More ever had!
---
Several Family Events
Reviewed on

10/16/2012
chrissy f
Mrs. B's has made 2 very special events even more perfect!! Dana and Joan took the time out to meet with me so we could brainstorm ideas and then flavors. I have never had a better cake in my life!! From a cupcake cake to diva styles, Mrs. B's can do it all!!
---
Stunning work
Reviewed on

10/16/2012
Gina M
I have had the pleasure of meeting with both Dana and Joan at their store to discuss my wedding cake (9/22/12). Both my husband and I enjoyed the cake tasting and were so undecided with all their magnificiant flavors they guided us in the right direction. Dana came up with the... Read More concept to design the cake around my wedding dress which was covered in intricate beads and pearls and white roses. When we saw the cake at the Reception I was amazed. Their work was STUNNING and the details she took off my dress and applied to the cake were awe-inspiring!!!! I would recommend Mrs. B's cakes for any of your upcoming special days. I would never go anywhere else!!
---
Been the best for years!
Reviewed on

10/15/2012
Debra M
I had the pleasure of having a wedding cake done by Mrs. B a few years back and it was by far the most amazing cake in both beauty and taste. Guests couldn't get enough and the top tasted amazing even a year later (yes, we ate every bite on our anniversary). Now that her... Read More daughter Dana is working with her, the cakes remain an amazing quality and now have amazing options for creativity as well. Their cakes, cupcakes, cookies, and everything that comes out of that bakery is beautiful and tastes like heaven. Don't even consider another bakery - you have found your bakers!
---
Anniversary Cake
Reviewed on

10/15/2012
Elizabeth C
I used Mrs. B's for my inlaws anniversary party. She made and awesome cake and cookies for the event. Not a slice was left and people wanted to take more home along with the cookies. Mrs's b and her daughter Dana were amazing. I was a little crazy planning the party with my... Read More sister in law out of town and there were a lot of phone calls. And every time they were amazing. I would suggest them highly. Everything is fresh and you can't imagine the taste. Amazing!!!!
---
All Natural!
Reviewed on

10/11/2012
Sam R
I had the pleasure of getting our wedding cake from this fine vendor. We stumbled on to her by accident, it was actually on the recommendation from someone from the coffe shop next door who said her cupcakes were to die for. She made the most wonderful cake for us and it was... Read More exactly the way we wanted it. My fiancee was thrilled because it looked EXACTLY how she wanted, and it tasted even better. What we really liked the most was that Mrs.B's uses all natural ingredients. Not one single thing is pre-made, or comes out of a jar or can. Not a single preservative!!! And, on top of all this, her price was the best we had found, and that was compared to other people in the area like The Pink Cake box and Carlo's. Would definitely recommend.
---
The best wedding cake I have ever tasted
Reviewed on

10/11/2012
Marc M
This was one of my personal favorite parts of wedding planning! As a groom, I really wasn't all that interested in the flowers, or "colors" but I could eat cake. We went to 4 different places, and my experience at Mrs.B's was the best. It was the one place where we actually got... Read More to meet with the owners, and they were great! It wasn't just a bakery where my fiancée and I met with some counter person, we actually got to discuss every detail that my fiancée wanted with the actual person that was going to put it together! The cake was FANTASTIC...Mrs B even sent me home with half of a cake. Mrs. B's really exceeded our expectations, even down to the delivery...how many shop owners are willing to do the delivery and set-up themselves? All this just to make sure that it was perfect. (and it was) We actually already ordered a replica of our cake top for our one year anniversary. I strongly recommend checking out mrs.b's...not only was the cake the best I had, but the prices were the best we had seen!
---
Excellent
Reviewed on

10/06/2012
Dana B
Great experience!
---
Amazing cake
Reviewed on

6/13/2012
Mope S
Mrs B made my wedding cake last month (May 2012), and let me just say that from the first time I met with her, I was very impressed. From the first tasting when she treated us to some delicious cakes (and even allowed us take the left overs...yeah, they were that good), to... Read More delivery of the wedding cake, the woman impressed us. I never once felt the need to be worried about her service, and I wasn't disappointed. The cake was delivered on time, and was exactly as we discussed. The taste was amazing! I'd recommend her any day anytime
---