Home

Nashville Event Space
About this Vendor
Unique Metropolitan Venues
Nashville Event Space represents some of Nashville's most unique, metropolitan special event venues. We offer complimentary event design assistance in each of our venues and welcome wedding planners and DIY brides alike! Each venue represents a different style, so there is something for everyone!
Amenities + Details
Amenities
Handicap Accessible

Indoor

Reception Area
For more details about amenities, please message the Venue.
Bar + Drinks, Destination Wedding Planning, Destination Weddings, Planning, Rentals + Equipment
Contact Info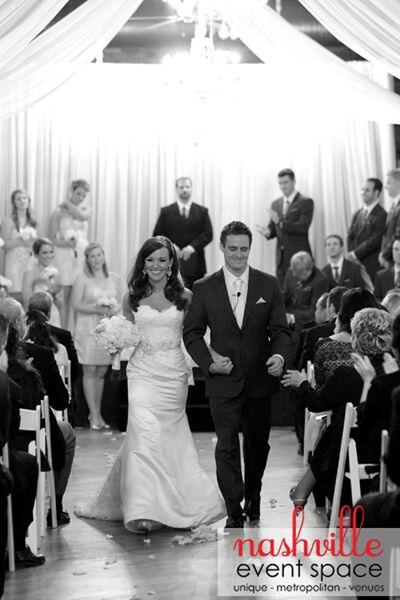 120 3rd Avenue South, Nashville, TN
Randi Events + Nashville Event Space = Simply the Best and Most Unique Wedding Experience in Nashville!
Reviewed on

5/23/2014
We considered the best wedding venues and services that Nashville has to offer and we can confidently say after the fact that Nashville Event Space has the most unique and customizable wedding venues in the city. We were married at Cellar One, and when you pair the venue with the incomparable team of experts and professionals at Randi Events you not only get to bring to reality the vision of your perfect wedding, but you get a wedding experience that is uniquely you - and that's the best thing anyone can say about your wedding. That's the genius that is Randi Events. We were impressed from our very first interactions through the sales process with Natalie Finley. Natalie gained our trust immediately and we were hopeful we would enjoy the same type of experience and trust with our wedding planner/coordinator. We got that and a whole lot more! We worked with Ellen Thomas for months to plan our wedding and she was an invaluable resource from Day 1 through our reception. She is the ultimate professional and planned our wedding creatively, expertly, kindly, proactively, smoothly and calmly. It was amazing how she transformed a blank canvas into what we saw on our wedding day. It exceeded even our grand expectations. Whenever we needed her, she happened to be right there. She has a knack for always being at the right place at the right time, for being attentive without you even knowing she's there. Ellen, as we told her often, was our guardian angel, wedding fairy and wedding ninja wrapped into one. Ellen's reassuring demeanor and approach was a comfort, and while she and her team at Randi Events handle the big things, the small things and everything in between, you are left with something invaluable - the time to enjoy your big day and the peace of mind to really enjoy it. We can't imagine having worked with anyone else. She's reflective of what you get at Randi Events/Nashville Event Space and a true testament of their brand. Our guests raved about the unique space at Cellar One and its location just off Lower Broadway. They also raved about our vendors - who we call our Hall of Fame Wedding Team - and for good reason. When you work with Randi Events/Nashville Event Space, they assemble a team of vendors that are second to none in Nashville. We actually planned our wedding from another state before moving here five weeks before the wedding, so we didn't know where to begin finding vendors. Ellen easily helped us coordinate and pull together a team of rock stars that we would come to find out were the best at what they do in Nashville. If you are planning a wedding in Nashville, your first call should be to Randi Events and Nashville Event Space...that is, if you want to offer your guests a truly unique experience, customize your wedding in ways that you wouldn't be able to elsewhere, work with the best wedding planners in the city, rid yourself of excess burden and stress, work with the best team that can be assembled and have the best day of your life!
---
Nashville Event Space- The aVenue
Reviewed on

1/24/2014
Claire W
My wedding was held at the aVenue and I have received compliment after compliment about how gorgeous & fun the wedding was! All of this, coming from guests who didn't even have the pleasure of working behind the scenes. And that is absolutely correct, it was a pleasure working with this vendor. You are paired with an event coordinator who oversees your entire planning process. My coordinator was priceless and one of the sweetest girls I have ever met! Not only was our relationship a hit but she made such an impression on my family during rehearsal and her involvement at the wedding! Everyone complimented her and her professionalism. Overall, the aVenue and Nashville Event Space is worth every penny you pay for their services. The convenience of a full service coordination is priceless and the outcome of their work is absolutely beautiful!
---
Our wedding at Cellar One was more beautiful than we had ever dreamed!
Reviewed on

11/13/2013
Chelsea M
We got married at Cellar One, a Nashville Event Space venue, on November 2. Our coordinator was Natalie Finley, and she helped make it the perfect, best day of our lives. She is so sweet and thoughtful, and she took care of everything- suggested and booked vendors, set up appointments and tastings, designed and set up the decor, thought of every detail, and was there every step of the way to keep everything running smoothly! She even looked at my Pinterest page to help make our vision for our wedding day perfect!! And it was... way more beautiful than we could have ever imagined. Cellar One was perfect- our photographer went on and on about how many amazing shots she was getting, and all our guests have been so complimentary of how much fun they had and how picturesque the ceremony and reception were. It was amazing how extravagant and elegant it felt, considering that Natalie kept the total cost within our budget! This is truly an all-inclusive option, and Michael and I got to feel all the excitement and involvement of planning a wedding without the stress. I'd recommend it to anyone. Everyone we ever worked with from Nashville Event Space was super professional and helpful, and we cannot say enough good things about Natalie!
---
Cellar One
Reviewed on

4/26/2015
Claire L
I truly recommend the Cellar One venue if you're looking for a downtown Nashville wedding - my guests described it as a romantic secluded spot right in the heart of the downtown fun. We also booked Randi Events for their planning services and reception coordination package. Our coordinator, Summer Jones, was able to provide excellent vendor recommendations throughout and helped us create a truly gorgeous ceremony and reception space. Unlike other vendors, Randi Events uses third parties for catering etc, so it is more difficult to get a fixed price cost going in. However, for me, it was not a big deal to manage the budget and it was fun and rewarding doing some of the project management myself, although Summer provided one point of communication, which made everything a lot easier. Summer helped with all aspects, including placing hotel blocks, the design board, the venue set up, vendor recommendations (officiant, photographers, DJ), etc. Overall, we thoroughly enjoyed our beautiful wedding at Cellar One. It was everything and more that we could have imagined.
---
Sarah Miller - Best Wedding Planner Ever!
Reviewed on

4/21/2015
Felice M
We were recently married on 3/28/15 at East Ivy Mansion in Nashville, TN. Randi Events - specifically Sarah Miller- was our wedding planner. To say she was AMAZING is an understatement. My husband and I both work in Corporate America. We value business partners that seek to provide the same type of service we are asked to deliver in our jobs. We found that and then some in Sarah. She was a creative visionary and a true professional. From our first meeting, she probed for what was important to us and also shared things we hadn't thought about that SHOULD be important to us. She guided without being intrusive and shared balanced wisdom without being preachy. She had an amazing vision for our wedding based on our feedback and gave us multiple options for how we could bring that vision to life in a cost effective manner. We were able to partner with several great vendors based on Sarah's recommendation and the reputation of Randi Events. With all the professionalism, creativity, and relationships we enjoyed from working with Sarah, my greatest appreciation came from the empathy she showed me as a bride throughout the process. Wedding planning is a JOURNEY that will definitely cause volatile emotions. Sarah patiently walked me through any frustrations and candidly just took things from me to mitigate my stress level. She was always level headed and considerate irrespective of where I was at the moment. Those are invaluable attributes that may not mean much in your selection process, but will mean the world to you in the process. It's been 3 weeks and we still get compliments from friends and family that say our wedding was the most beautiful they've ever attended. I must admit, I agree with them! It's directly tied to Sarah and her ability to conceptualize and execute to something amazing. Even after the planning was done, she was with us every step of the way on the day of our wedding. If you are looking for the best wedding planner in Nashville, you need to start and END with Sarah Miller. She and the team at Randi Events will take great care of you and ensure your event is one that won't be forgotten!
---
Wedding at aVenue designed by Randi Events!
Reviewed on

4/09/2015
Liza H
Sarah Ann Miller (of Randi Events) was the coordinator and designer of our wedding and rehearsal dinner/welcome reception and she and her team did the MOST amazing job I could have imagined. Our wedding ceremony and reception were held at aVenue. I came in with a few ideas of how I wanted everything to look and she took it all, added her own ideas, and came up with the most beautiful and thoughtful designs and decor, and all of the vendors she chose were fantastic. It was all just stunning, our guests couldn't stop talking about how wonderful and magical everything looked on both nights. Sarah went above and beyond the call of duty so many times, anything that we wanted, she would make it happen, and things that I thought I might need to do myself she always responded with a "Don't worry, we've got it covered". The day of both events ran incredibly smoothly, everything was planned out down to the minute, and we didn't have to think about anything, we just let Sarah, Grey, and Ellen handle it all. The three of them are so delightful, sweet, and caring, and I was so happy and felt so lucky to have them coordinating our wedding!
---
Very Happy Bride!
Reviewed on

11/17/2014
Jilian M
My wedding reception was at aVenue on October 18, 2014. Ellen was our event planner. She did such a wonderful job capturing our vision! Everything was absolutely wonderful and magical!! My husband and I could not have asked for more! And the compliments from our friends and family keep on coming! Thank-you Ellen and Randi Events!
---
The MOST MAGICAL evening
Reviewed on

11/03/2014
Natalie R
My husband and I were married on October 12th, and we chose aVenue for our reception space. When Bobby proposed to me last November, I will admit that I had absolutely no idea what I was I was doing as far as planning a wedding goes. I was not the kind of little girl to ever dream about my wedding dress, what flowers I would carry, what our first dance song would be... I always knew I would find the love of my life and get married, but everything else just stayed on the back burner. We both knew we wanted to have the ceremony outside at Shelby Park (because we LOVE Shelby Park and he proposed to me there). But when it came time to decide on a reception space for our 150 guests, I was beyond overwhelmed with my options here in Nashville. aVenue was the very first space we decided to check out, and we immediately knew that this was the PERFECT place for our reception. The exposed brick, uplighting, and natural wood flooring is absolutely stunning, and there wasn't much that we needed to do in order to create a beautiful space. But enough about the building itself! You can all take a look at the photos to see for yourselves how beautiful it is. What I can't stress ENOUGH is how amazing Randi Events is as a whole. The wedding coordinator assigned to us was Julia Page, and she was, hands down, the BEST part of our experience with aVenue. From the very beginning, Julia was on the same page with both of us about the decor, logistics, etc. I don't even know how many other clients' weddings she was juggling at the same time, but I will say that she constantly made us feel like we were her only couple. She handled all of the logistics with the vendors (including those for Shelby Park!), she was little miss Speedy Gonzalez when it came to answering our emails, and she was at our beck and call the day of the wedding. There was not one moment in the whole process where I did not feel taken care of. Most important of all, Julia is just such a lovely person -- both inside and out. She went above and beyond to make our wedding day perfect and magical. This is coming from the bride who had absolutely NO idea what she was doing going into this whole process. Thank God for Pinterest, family and friends, and people like Julia Page. Looking back on the whole process, there is not one thing I would change about our wedding. Choosing aVenue for our reception was absolutely the right decision, and I will forever hold this space (and its people) near and dear to my heart. Thank you SO so much!!
---
the aVenue & Sarah Ann!
Reviewed on

10/25/2014
As parents of the bride (our only daughter), we couldn't have been more pleased with our event designer Sarah Ann and the aVenue! Our daughter lives in Nashville and we live in Georgia, so the long distance was challenging. We couldn't have done it with out Sarah Ann! We searched for vendors, design ideas etc through the internet, and Sarah Ann pulled everything together for us. Her knowledge of all the players needed to pull this wonderful event together was outstanding. Feeling a bit nervous two months out, we had our meeting with Sarah Ann and her words," I got this", were the best the parents of the bride could hear. And she had it! She magically made it all happen. Our guests repeatedly told us how wonderful the wedding was, how beautiful everything turned out! I highly recommend to everyone, the Randi event team, their facilities (rehearsal dinner at cellar one was outstanding too) and Sarah Ann! Stuart & Larkie Kourajian
---
Sarah Ann Miller is AMAZING!
Reviewed on

10/24/2014
brianna k
I know Randi Events assigns randomly your event designer but if you have the chance to request a designer I HIGHLY suggest you ask for Sarah Ann! From the moment we took our first tour (which was actually given by Natalie) of aVenue we felt taken care of. Then when we met Sarah Ann for the first time she made me feel welcome and valued. She immediately started talking with "we's and us's" which I appreciate because it was a joint effort to make this special day exactly what we wanted. I had a lot of ideas but was not always good at explaining it but Sarah Ann was actively listening and would respond in a way that let me know she was getting me. She would then bounce ideas out and we would go from there. I appreciate when working with someone on a project especially on an event as big and important as a wedding when people come with ideas too. Sarah Ann did just this but didn't take over so that I felt like it wasn't our wedding anymore. I consistently felt like it was a our wedding and Sarah Ann was there to make it perfect (which it was!). During the planning process I knew she was planning lots of other events at the same time but everytime we would talk I felt like she had only ever been working on our wedding. Towards the end of the process we were starting to get over budget but Sarah Ann understood this and helped us find was to cut back but still keeping the feel and look of the wedding we wanted. Sarah Ann was amazing (I hope I have made that clear) but Randi Events was too! They help you find the all the vendors you need and help in setting up those meetings. They have recommendations and when you talk to those vendors they ALL love working with this event space/company. We loved them so much we also had our rehersal dinner at Cellar One. Of course Sarah Ann was our designer and it was PERFECT! She did such an amazing job working with my mother in law to find the most perfect look and feel to that night. I loved that Sarah Ann was also designing this because she knew me and helped to keep the theme of the weekend the same. The day of the wedding the space was PERFECT! Our vision came to life and I literally would not change a thing about our day! Sarah Ann made us feel, again, taken care of and like a King and Queen! When planning a wedding you NEED a planner/designer and Randi Events provides that for you! Their space venues are amazing and they make it your own!
---
Excellent!
Reviewed on

10/01/2014
Stephanie T
My wedding day was absolutely amazing! Sarah Ann did a fabulous job with the planning of the wedding! She helped with absolutely everything and was always available! It was truly the most amazing thing ever!
---
Perfect Wedding Venue
Reviewed on

9/22/2014
I can't say enough great things about this venue! I was able to tour two different venues before making my final decision! Once I had finalized which venue we were interested in we were assigned an event coordinator - Brittany - she is absolutely fabulous! They already have great vendors lined up for you to choose from who all do wonderful work and they coordinate as much or as little as you want! People kept asking if I was stressed about my wedding and I said well I'm not sure let me email Brittany and ask her if I should be...she really did everything!!! The day of was seamless (at least to me) they accept the vendor deliveries for the event, help flip the spaces if needed, and make sure everything runs smoothly! The decor was stunning and we had the best time!!! The venues are beautiful and can be transformed into whatever your interests are - it was great paying just one invoice!!! Greatest day of my life!
---
Cellar One
Reviewed on

9/09/2014
Kyle M
From the initial meeting to the final event, the professionalism and hospitality shown by the staff of Nashville Event Space was exceptional. They were so easy to work with and provided a space that was unbelievable. The night of the event was what we wanted and expected....an event that we would never forget and fun for all of our guests. I highly recommend Nashville Event Space. They are the best in the business!
---
aVenue- ABSOLUTELY AMAZING
Reviewed on

8/26/2014
Marian B
My experience with Nashville Event Space was phenomenal from the very beginning! I never felt like my questions weren't answered and the girls we worked with were always very good at keeping us informed through the whole process. Because I am not a very creative person and a TERRIBLE planner I was really worried that our coordinator (Sarah Miller) was going to have a hard time working with us because I didn't have many ideas. So on our first meeting when I walked in panicking because I didn't really know how to explain what I wanted she blew me away by pulling out pictures of everything I was describing. Not only was Sarah amazing on our first meeting, but she made herself available at ALL times of the day. On our wedding day I didn't have to worry about anything. Even though Sarah told me I wouldn't need to go make sure everything was okay, being a paranoid bride I still went and everything was just as we'd planned it. We have gotten SO many compliments on our reception! I wouldn't change a single moment if I could. We are so grateful to everyone on the Randi Events team. There is no doubt in my mind that if you choose them you will love it too!
---
Sarah was absolutely amazing!!
Reviewed on

7/21/2014
Abi N
We recently had our wedding at aVenue on July 12th and it exceeded my expectations. Sarah Miller was our coordinator and she was beyond amazing! She handled just about everything for us and did an amazing job. She was alaways available when we had questions during the process (which was a lot), helped us remain within our budget, and was always so friendly. She truly took my vision and made it ten times better. I could have never done any of it without her. The event space is great because it really is a blank canvas that you can do so much with. Plus, the size and location was great for our guests. Everyone at Nashville Event Space was always very helpful and again, I cannot say enough about Sarah. She was there day off and helped with anything that we needed. She really made our wedding day go smoothly and everything was perfect.
---
Simply Amazing
Reviewed on

7/07/2014
Amy R
My husband and I eloped in 2013 and recently renewed our vows in front of our family and friends. We needed a venue that would accommodate a fairly small group but would be centrally located close to the airport and interstates, etc. Nashville Event Spaces could not have been a better choice for my husband and I. Ellen was able to perfectly blend our wishes represent our eclectic and off beat preferences with our desire to incorporate traditional elements. It was difficult for me to express my vision for our day, but she somehow took my descriptions and expertly created a memorable and perfect experience for everyone. True talent! I would definitely recommend Nashville Event Spaces to anyone planning a wedding or other event!
---
Practically Perfect in Every Way
Reviewed on

6/24/2014
David M
If Mary Poppins were an event planner, her name would be Julia Page and she would work for Randi Events! I cannot say enough great things about Julia, and the entire team at Randi Events. From the first moment Natalie showed us "aVenue," my daughter fell in love with the space. But we never imagined just how magical it would become for her wedding reception. Thank you , Julia -- everything was perfect! As the VP of a conference planning company in Virginia, my standards are high, but Randi Events and their team exceeded all expectations. Not only was the reception wonderful, but Julia made the process along the way easy ... indeed, it was enjoyable. Thank you Natalie, Randi and especially Julia, for making this special event as wonderful as we could have ever imagined. David Moretti F.O.B
---
Cellar One -- Great location!
Reviewed on

6/17/2014
Julia R
We had our April wedding at Cellar One. It was the perfect location for both the wedding and the reception. The majority of our guests were from out of town so this hidden gem downtown Nashville was great for the event. The courtyard outside and the unique brick reception area was something of our guests raved about. Brittany was great with helping us set up all the details which made the wedding so much more stress free. Everything went off without a hitch and we received nothing but compliments on our choice of venue.
---
FANTASTIC WEDDING AT AVENUE!
Reviewed on

5/28/2014
Audrey R
Our wedding at aVenue was the absolute best day of our lives. The space is gorgeous and versatile, allowing you and your wedding designer to create a wedding that is perfect for you. We had the good fortune of working with Sarah Ann Miller, although I'm sure that all of the designers working at Nashville Event Space are fantastic. Sarah was born to do this job. She is incredibly responsive, calm, thoughtful and professional. She knows exactly what needs to be done and was always a step ahead in the planning process. She and her team at aVenue took care of everything on the big day so that I could enjoy the special time with friends and family without an ounce of stress or worry. She was never too far away at the reception, making sure that the groom and I (as well as everyone attending the wedding) were well taken care of. I'll also say that Sarah is very talented in terms of design and creativity. I gave her *almost* full reign of the design and decor of the space - when I walked into aVenue on the day of my wedding I was floored by how beautiful and elegant everything was. If you ever have the privilege of working with Sarah, I'd encourage you to rely on her for both creative suggestions (I couldn't dream of anything more beautiful than aVenue on our wedding day) and vendor recommendations - our photographers, SheHeWe, and band, The Downtown Band, and our caterers, Chef's Market were her recommendations and they were absolutely phenomenal! Sarah is a fabulous person and wedding director - we couldn't be any happier with our experience! Thank you Sarah and Nashville Event Space!!
---
Fantastic Venue in the Heart of Downtown
Reviewed on

5/18/2014
Kimberly A
My husband and I had our ceremony and reception at aVenue and it was perfect! I worked with Sarah Ann Miller, one of the event designers, and she was amazing. The venue is a blank canvas which is great because you can design it to look however you want, however this can also be extremely overwhelming. Sarah did a great job of coming up with ideas by talking with us and she was able to capture our vision and bring it to life. We also had her run our day of coordination and she went above and beyond to make our wedding a fantastic event. The entire night ran smoothly and if anything went wrong, I didn't know about it! Weeks after our wedding, our guests are still talking about what an amazing time they had and how beautiful our venue was.
---
Perfect Venue, Perfect Planner, Perfect Day!
Reviewed on

1/28/2014
Jessica J
We had our wedding reception at aVenue on 1-18-14 and it was simply perfect in every way! We planned our wedding from out of state and absolutely loved working with Nashville Event Space/Randi Events. Our wedding planner Sarah Miller was AMAZING and made planning a wedding from so far away practically a breeze. Not only is she super organized and efficient, she has a true talent for wedding coordination and creative flare. She provided us with excellent vendor recommendations and is well connected in the industry. She is also very personable and took the time to listen to all of my ideas but more importantly, she knew the right questions to ask so that she could get the most accurate picture of what we needed and wanted out of our wedding. After speaking and meeting in person a few times, Sarah developed a design board (similar to a Pinterest board) for our wedding that displayed my ideas, colors, vibes, themes, etc better than I ever could have imagined or done on my own. She nailed it! Our wedding day went off without a hitch thanks to Sarah's detailed wedding timeline and organization at the rehearsal. My friends and family loved getting to know her as much as we did. Our reception was honestly the most beautiful event I have ever attended. The arrangements and decor were exactly what we wanted times a million and the vibe was perfectly "us". Additionally, our guests had a blast as the location is ideal in the heart of downtown and was convenient for those who were from out of state staying in nearby hotels. I strongly recommend Nashville Event Space/Randi Events for your perfect Nashville wedding!
---
Great space, even nicer people!
Reviewed on

12/13/2013
Avenue was the perfect space for our ceremony. My husband and I only had our ceremony here and then an outdoor reception later at a private farm. But the space is simple, yet beautiful. It easily accommodated my dream of having a candlelit ceremony even though it was at 3pm. We had chairs only down the middle and then a vintage rug just in front of the stage- then candles on the stage. I loved the fact that I entered the room from outside with the big doors opening. Everything went smoothly that day, I didn't have to worry about a thing- Sarah and Natalie were AMAZING to work with. Made everything so easy and they were just so sweet that I felt so grateful and lucky to have them included on our wedding day. THE BEST! The other spaces that this company has are gorgeous as well. The lower level of Avenue was perfect for the girls to hang out in before and the loft was a great space for the guys to wait. The rustic feel of the exposed ceiling and the brick wall gave me the easy feel I wanted. The sound and draping companies that they use were excellent as well. I would recommend this venue space and this company to anyone- in fact I have! Just love love love Sarah and Natalie. Very romantic and beautiful space. xoxo Blake and Rebecca Dunn
---
They Built a Venue for Our Wedding!!
Reviewed on

12/10/2013
I came to Randi at Nashville Event Space with a request to plan my wedding at my husband's family house. The property was where we wanted to have our reception but the land is on a hill/ridge/small mountain. Randi and her team created a tent that was a VENUE in and of itself. The tent required major engineering due to the uneven land. What happened next was beyond perfect. The tent was the BEST party space we've ever seen and much more than we had dreamed of having. While the tent was amazing, the complete party was the best party ever! The food was great (we wanted a Southern menu) and showcased our Nashville traditions. The decor was comfortable and compatible to a party. The band(s) were set up perfectly. Everything was beyond perfect! The service was impeccable. I was always able to reach Randi, Sarah and Ellen with the most ridiculous phone calls and they always made time for me. Sarah was with me through all the decision making processes and met with my parents anytime they requested. Upon entering the reception Randi was there to welcome my husband and me and the night flowed seamlessly. Randi and her team made sure that our families and my husband and me ate, had a reserved table and were comfortable. Sarah even had a pair of socks for my bare feet when I changed into my boots at the party! All the vendors were professional, nice, timely and wonderful to have around. By vendors, I mean the people that supplied the posh toilets to the electrical work to the security on the property, the caterers, to the driver of the get away car. Everybody involved was A-game. My husband and I, and our parents were truly overwhelmed by the job that Randi and her team did. The reception seemed like it would be impossible to pull off on the property at the beginning but they did it so much better than we could have imagined. I came to them with very little opinion on details such as color and decor. I had bigger details like a mariachi band, a southern buffet, a bourbon bar, a cigar area, a flowing movable space. I think allowing them to melt all our crazy wants into their vision allowed them to do what they do best. I trusted their judgment and artist ability, which allowed me to not be stressed about table clothes or what kind of tables to use. They did ALL of that and after getting to know me and my husband, they did all of that perfectly to our taste. It's been over a month now and everybody is still talking about our wedding. The best comments so far: "I want to live in your party tent!" and "I wish your wedding was like an amusement park so I could go like twice a year". I cannot recommend Randi and her team enough. Whether you're wanting to plan something in one of their venues (which I have been to and LOVED) or you want a totally customized space, I would choose Randi and her team over and over again. Lastly, on a very personal note: my mother had emergency the week of the wedding. I told Randi and within 24 hours, Sarah and a caterer showed up at my parents house with enough food for the family for the week. They did that out of the kindness of their hearts. This was the most personal touch they could have given us. It was so thoughtful and sweet and was a huge relief to my father, who was caring for my mother through that week. Once again....they are amazing!
---
Best wedding planners ever!!!!
Reviewed on

10/15/2013
Meg L
We had the most wonderful wedding experience imaginable. Randi events is amazing. We were blessed to have Julia Page and Ellen Thomas as our wedding coordinators. These girls are the dynamic duo! My daughter's wedding was in Nashville, and my husband and I live in Mississippi. Planning a wedding is difficult enough, but to be five hours away makes it even more difficult. Thank goodness we had Julia and Ellen. They recommended venues, florists, caterers, bands, and bakeries. They handled hotel room reservations, transportation, and the bridal breakfast. They listened carefully to every detail we wanted, and they made it happen. When I say this wedding was flawless... I mean flawless... And the most beautiful part about it, is that we just showed up! We didn't have to lift a finger!!! Completely stress free! They dotted every i and crossed every t... Without one ounce of hesitation, I would recommend Randi events.
---
If you think you don't need a wedding coordinator, you're wrong!
Reviewed on

9/23/2013
Katelynn S
After working in the event planning industry for more than 8 years, when it came to planning my own wedding with my husband who is also a veteran in the event industry, I thought..this will be a piece of cake! After 7 months of planning our wedding without a coordinator... we looked at each other and said okay we have most of this planned but who is going to actually make sure everything gets done?! That's where Randi came to the rescue with Sarah and Ellen! From experience I must say that one of the hardest tasks of wedding planning is picking up where someone else has left off! But these ladies handled it like pros! I was a bit nervous since a lot of the details were still in my head, but everything turned out the way I had imagined! They were seamless the day of and it was like they were not even there (exactly what I wanted that day, because even though I love them, I really wanted to spend more time with my husband and family than I did with the wedding coordinator):) I would recommend any of the Nashville Event Space/ Randi Event staff in a heart beat especially Sarah and Ellen.Thanks for helping to make our wedding day/night everything we had imagined and more!
---
Send Message