Home

Nicole Bridal & Formal
About this Vendor
The latest bridal and special occasion gowns.
Nicole Bridal & Formal is still a family owned and operated business, celebrating 39 years. Our success is due to our commitment in delivering top quality and service. We offer full services, from the first day of purchase, to your fittings, your bridesmaids, mother's gown; even day coordinating.
Details
Bridesmaid Dresses, Mother of the Bride Dresses, Wedding Dresses, Dresses, Alterations, Custom Designs, Fashion
Contact Info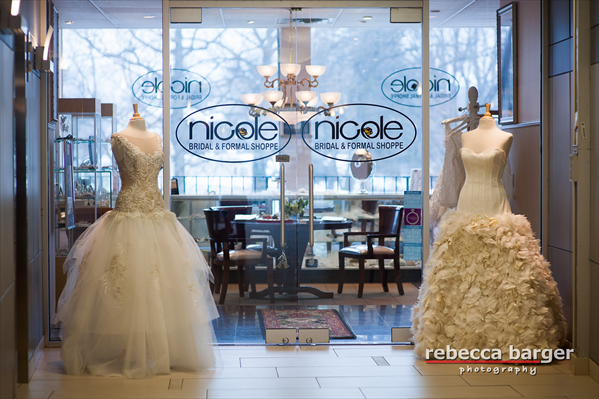 261 Old York Road, Jenkintown, PA
The Pavilion
Nicole is the BEST!
Reviewed on

9/25/2014
Leslie H
Nicole Bridal was the BEST bridal shop I found! I was looking for a specific Ian Stuart gown and called the few shops in the greater NJ area that carried the designer. Marina, Nicole's daughter, was very persistent in getting the dress to the store. She truly went over and beyond any other store I worked with! Although that dress was not the one I went with, she had other Ian Stuart gowns there for me to try on and I fell in love with the Antionette dress! I worked with Nicole and Marina for over a year, sent my bridesmaids there, and my mother and mother in law. They did everything they could to make all of the dresses perfect, which allowed all of us to be stress free during the whole dress process! The business is family owned and operated, and I am so happy with my decision to go with them! I would encourage anyone looking for an avant-garde, over the top, or classy dress to check out Nicole Bridal and Formal! Thank YOU Marina and Nicole for making my dress my DREAM dress and being SO professional always!
---
Like Family
Reviewed on

9/04/2014
Nicole S
I can not sing enough praises for Nicole Bridal & Formal. I have actually purchased two dresses from there, and each experience has been wonderful. Nicole and Marina work with you to find exactly what dress you are looking for. Their expert tailoring helps customize any dress to your specific liking, and they fit the dress to your body perfectly! Working with Nicole and Marina is like working with close family - every time I entered their bridal salon, I truly felt special and welcomed. I would never even imagine purchasing a wedding dress from any other place!
---
Warm & Inviting Bridal Shop - Top Quality!
Reviewed on

8/26/2013
Darcy D
I had the privilege of ordering my wedding gown from Nicole Bridal & Formal, and it was one of the best decisions that I made! Nicole and Marina were so warm and inviting, they made me feel like a queen every single time i stepped foot in their door. The quality of service was also impeccable. The alterations and changes made to my gown, were top notch. They also hand made my veil, which was stunning. Thank you to the Nicole Bridal & Formal team for making my wedding unforgettable. I will recommend you to any bride-to-be that I come across. Love, Darcy
---
Reviewed on

7/29/2015
Jamie B
Marina is the absolute best! She went above and beyond to ship in an Amy Kuschel gown from San Francisco for me to try on. She also brought me several other gowns to try as well and sat there with me through the whole process with my mom and then again with my maid of honor. She emailed me updates and when new gowns came in. Their alterations are all done by Nicole, Marina's mother, and they are in-house and affordable. I truly loved my experience at Nicole Bridal and I highly suggest checking it out if you are interested in the designers they carry.
---
Home of my dream dress!!
Reviewed on

6/28/2015
Taylor G
i wanted a Claire Pettibone dress and I live in Pittsburgh so we took a trip out during a trunk show. Found my dress and fell in love immediately. Scheduling appointments was so easy! And the alterations were perfect; my dress looked like it was made for me. I never wanted to take it off!! Would definitely buy from Nicole's again
---
Reviewed on

6/09/2015
Kristen N
If i could give Nicole Bridal more than 5 stars I would. Nicole and Marina were absolutely amazing. Always willing to answer any questions I had and were the absolute sweetest things. If you are looking for a quality with superior customer service you must come here. Nicole and Marina made my mom and I feel like family. I'll miss going to see them to chat!
---
Nicole Bridal is THE BEST!
Reviewed on

10/29/2014
My experience as a bride with Nicole Bridal was 100% FABULOUS!! I first learned of Nicole Bridal when my older sister found her beautiful dress there seven years ago. She was in love with her dress and Nicole and Marina. Once I got engaged, I immediately set up an appointment at Nicole Bridal. Nicole and Marina were attentive, supportive, thoughtful, and fun as they helped me find my perfect dress. Each dress I tried on was stunning – all of the dresses at Nicole Bridal are well-made and will make you feel like royalty. Once I found my dress, Nicole and Marina helped me with shoes and accessories – without their advice and guidance I never would have found a bridal style to match my personality. I always looked forward to our appointments at Nicole Bridal (even though it's 45 minutes from our house), because Nicole and Marina would meet us with smiling faces, great stories, and a dress that kept getting better and better. The shop is gorgeous, the selection is excellent, Nicole and Marina are experts, and once your wedding is over you will miss them dearly!
---
Family feelings….
Reviewed on

10/29/2014
Nicole Bridal was a wonderful, calm experience. From the time I walked in to the end of my journey, I felt like family. Marina & Nicole were very accommodating with my hectic work schedule; I loved my wedding gown and it fit perfectly after all the alterations were done. I would highly recommend!!
---
Great Quality and Amazing Service
Reviewed on

10/28/2014
My experience with Nicole Bridal was fantastic. They have a great selection of gowns along with truly fantastic service. The dress I chose was stunning and fit perfectly on my wedding day.
---
Loved my Claire Pettibone!
Reviewed on

10/27/2014
lindsay r
I found this shop when searching for a Claire Pettibone dress I wanted to try on and from the moment I called to our last visit this place is top notch! Marina and Nicole were so helpful with the whole process and we never felt pressured with about any aspect of the purchase. I ended up buying a completely different Claire dress then the one I originally wanted and absolutely loved it! I wish I could wear it again! This place is top notch and highly recommended!
---
AWESOME!
Reviewed on

10/27/2014
Jessica M
Nicole & Marina were amazing! I couldn't have found the perfect dress for my wedding without them. They helped from the dress to my hair accessories. Even with suggestions for shoes. Very friendly. I always looked forward to my appointments!
---
Nicole Bridal is the BEST!
Reviewed on

10/26/2014
Karen W
We discovered Nicole Bridal back in 2008 when my one daughter was looking for her bridal gown. She and I both bought our gowns there. When my youngest daughter was looking for her gown there was only one place to go and that was Nicole Bridal! Marina understood exactly what my daughter wanted and found the wedding dress of her dreams. I showed Marina the dress on line that I was interested in wearing and she was able to bring a sample into the store so I could try it on. This is a family owned business and the backbone of the business is Nicole! Nicole doesn't settle for anything less than perfection in her alterations. She makes sure the bride looks beautiful and that the dress is a perfect fit. They are so caring, you feel like part of their family. Nicole Bridal is a special place. They do not hesitate to take the extra effort to make sure your vision becomes a reality. For a wonderful experience when looking for your bridal gown, there is only one place and that is Nicole Bridal.
---
A Dream come true
Reviewed on

10/06/2014
Jenn y
I really don't even know where to begin! Nicole and Marina made my wedding dress dreams come true. Words cannot even explain how helpful they both were. From the moment we walked into the shop, we received their undivided attention. We never felt rushed or uncared for. Nicole and Marina listened to what I was looking for and made my dreams a reality. On my wedding day I felt like a princess. Nicole did an AMAZING job with all of my alterations; from ensuring the dress fit like a glove, down to adding buttons perfectly down the back of my dress. By the end of the dress process, I felt like Nicole and Marina were family. You will be in great hands at Nicole Bridal. Thank you so much for everything!!
---
Loved these ladies
Reviewed on

8/21/2014
Jan G
Marina and Nicole at Nicole Bridal & Formal were such an absolute pleasure to work with. I was drawn to them after finding that my heart was set on a Claire Pettibone dress that I found online and learning that they are one of the few places within my vicinity (NJ area) that carries CP. They were both so sweet and helpful and I would definitely recommend them if you are in the market for a wedding dress!
---
Best bridal salon!
Reviewed on

1/02/2014
Amy M
Nicole Bridal is THE place to go if you are looking for impeccable service, beautiful and unique gowns, and a friendly atmosphere. Marina and Nicole have an incredible way of making the whole wedding gown experience fun, not stressful. Gowns are simply gorgeous - check this place out!!
---
Wonderful
Reviewed on

10/24/2013
Carey M
I am so happy I found Nicole Bridal. After going to numerous bridal shops that made me feel terrible and ugly, I found Nicole Bridal. I definitely wish that had been my first stop. Nicole and Marina were amazing to work with. Nicole knew what I would look good in right away and the dresses she pulled were absolutely gorgeous. Amazing detail and quality. The tailoring process was easy and quick. Overall, they offer a warm, supportive atmosphere with amazing and very unique dresses. Highly recommended.
---
Amazing Bridal Shop
Reviewed on

9/26/2013
Emily B
Nicole Bridal is the best bridal shop, they give you personalized attention and service and they are so helpful throughout the entire process. The alterations were perfect and they have a large selection of bridal jewelry and accessories as well. I got so many compliments on my gown and the bracelet that I purchased for the wedding day. Definitely stop by to see what they have, you will not be disappointed!
---
Wonderful to work with
Reviewed on

9/15/2013
Ashlee J
Nicole and Marina made me feel comfortable right from the start! I loved how Nicole lead me into their bridal gown room and let me choose several dresses to try on. I loved the third dress and we bought it! They were fabulous to work with from start to finish - nothing was every too much trouble and they were instant to get back to us when we had any questions. And we did have Marina there at the wedding - she was great - holding my bouquet, fixing my dress, making sure we got all of the best shots. I would use them again and again! We also got bridesmaids dresses there - it was really easy and my one bridesmaid lives across the country!!
---
Fabulous Wedding Dress Shop
Reviewed on

8/27/2013
Tara N
Nicole and Marina are the most amazing people you will meet when you are going to find your dream dress. They welcome you with open arms and listen to what your style is to find that perfect gown. The gown I chose was a St. Pucci design and people back at home recognized its exquisite quality. This shop and its owners will meet every expectation you are looking for when shopping for your wedding dress!
---
Kindest women to work with!
Reviewed on

8/16/2013
Chelsea Z
I cannot say enough positive things about my experience with Nicole and Marina at Nicole Bridal. I originally went to Nicole because they carried a designer whose dress I really wanted to try on for my wedding. When I got there and tried on the dress, Marina informed us that this designer was having an upcoming trunk show, and she suggested we come back in a few weeks during the trunk show so that we could see more of the collection and get 10% off the dress if we bought it. We went back and I ended up falling in love with another dress by the same designer, which I purchased for my wedding day. Nicole and Marina were so kind and accommodating to me and my large family, and they let me come in and try on my dress for my friends and family whenever I wanted. Nicole also did the alterations on my dress and worked on it literally until the day before my wedding. The dress came out perfectly, and I cannot thank Nicole and Marina enough for all of their help and especially their kindness.
---
Wonderful!
Reviewed on

8/06/2013
Jaclyn M
Nicole Bridal treats you as if you area member of the family. They reassure you on your decisions and give you insight when you ask. I was kept up to date on accessory trunks shows that might go with my dress. They made sure that any change I made would turn out perfectly. I can't tell you how comfortable they made me feel. They are wonderful people.
---
Meredith
Reviewed on

8/03/2013
Meredith S
I simply cannot imagine my wedding had I not gone to Nicole Bridal. Nicole found my dream ballgown within ten minutes of my entering the store, and she was incredibly considerate of my budget needs. My subsequent visits the store were equally amazing. Nicole and Marina greated me each time as if we were long time friends. Nicole has an incredible eye for alterations and my dress fit me like it was custom made. My veil was gorgeous, and Nicole even sowed in my crystal hair comb so it became a part of the veil. Marina was with me on the day of my wedding, and the day would not have been the same without her. From the minute she arrived that morning until she left after the ceremony, Marina was there to keep me calm and centered, and my husband, parents and I were so greatful to have her there. Nicole Bridal, Nicole, and Marina are truly the best in the area and the industry.
---
Jenn
Reviewed on

7/31/2013
Jennifer W
Absolutely loved it here. Excellent service, warm people, and a gorgeous gown!! I would recommend Nicole's to anyone and everyone. Working with Marina and Nicole made the whole experience so easy and fun and my gown was all anyone could talk about at my wedding!
---
Marina and Nicole are amazing!!
Reviewed on

1/07/2013
Amanda L
This review is overdue, but my wedding in Aug '12 was so special and I have Marina and Nicole to thank for a big part of that! I felt so incredible in my gorgeous gown and I couldn't have wished for a better bridal salon to work with. My sister also used Nicole Bridal and Formal for her wedding gown in Sept '10, so when I got engaged, they were my first stop! I found a beautiful Rina Di Montella gown, but what was more special than just the dress, was the way they treat you. They become like family and they make you feel like your gown is the only gown they are working on. I would recommend them to all of the brides in Philadelphia, NJ, Delaware. Thank you Marina and Nicole!!
---
I can not say enough good things!
Reviewed on

11/04/2012
Helen D
Nicole Bridal was utterly fantastic! I found a picture of a dress online and was unable to find the name. I communicated with Marina via email. She found the dress I had found online and made a special order to get it in the store for me to try on. Marina answered emails day and night, and was so kind and helpful in person! The exact thing a nervous bride needs. When my dress arrived it was absolutely beautiful but needed some alterations which is where Nicole came in. Her alterations were beautiful, her bustle easy to work with, and again so friendly! Nicole Bridal did everything I could have asked for and more, worked with me with everything I needed, and even carried my gown to the car when I picked it up. What an amazing family business, everyone should go here for their wedding wear needs!
---
Send Message