Home

Nicolle Moshiri Photography
Details
Contact Info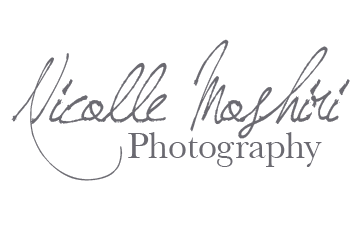 Wonderful Experience!
Reviewed on

12/13/2012
Sarah G
Our wonderful experience with Nicolle began with our very first meeting with her where we explained that there were a lot of moving pieces to our wedding day! We had a late afternoon wedding and were struggling to fit in family portraits, bride and groom photos, social time... Read More with the guests from our church after the ceremony and still make it on time to our dinner reception which was held at a separate location. Through Nicolle's help, we were able to put together an efficient timeline that had all the necessary components but still let our guests know that we appreciated their attendance! Nicolle not only made the planning a pleasure but she also pleasantly kept us on track on the wedding day so we didn't have to stress at all! She understood that we wanted to stay on time but that we also wanted to enjoy having the special people in our lives around us on such a special day! I was impressed with her demeanor the entire day and loved how she interacted with the bridal party and family members. One of my favorite moments of the day was when we went outside to take sunset photos and she handed one of her newest cameras to my brother-in-law, a photography student, and let him snap a few photos of us! It absolutely made his day and showed how Nicolle understands what a wedding day is truly all about..... family, fun and memories!
---
Wonderful
Reviewed on

10/30/2012
Jackie G
A stress free wedding photographer. Absolutely wonderful, professional, and really listens to what you want as the end result. Also, super orgnaized and the books that she does for the wedding and engagement pictures are lasting keepsakes.
---
Hard working!!!!
Reviewed on

10/30/2012
Little P
Although I haven't seen the pictures yet, I'm sure they will turn out beautiful. I've been to enough events were there was photographer to know when a photographer is going through the motions or working her a$$ off to get good shots, and Nicolle was working her a$$ off right up... Read More until we left in the limo. We really enjoyed working with her.
---
Couldn't be happier
Reviewed on

10/28/2012
Katie R
Where can I even begin to describe how wonderful Nicolle is? I give her a lot of credit for being one of the driving forces behind even getting our wedding on track! As a very nonchalant, maybe relaxed-to-a-fault kind of bride, I needed some guidance in getting our wedding to... Read More be what we envisioned. From our very first phone conversation, where she really got to know my husband and I, and learn about our style and expectations for the wedding, I knew she was going to be a great fit. We felt like she really kept our desires in mind the whole time and focused on what was really important to us. You can tell Nicolle creates a really unique experience for each couple. She helped us develop a realistic timeline for our wedding, making sure we had enough time to capture all of those great moments. When she visited the wedding site the day before the wedding, she even gave us some much-needed coaching for our photos. My husband and I can be a little awkward, and she made us immediately comfortable and relaxed, while also letting us make fun of ourselves by taking some goofy, "awkward" shots (some of my favorites!). The quality of the photography is unparalleled. I was amazed at how many beautiful and special moments she captured. She made everyone (bridal party, family, etc.) feel immediately excited and comfortable, setting us up for some great shots. Immediately after the wedding, we got some great preview shots and the "best of" on her blog within a few days (even during the holidays!), which was fantastic to see so quickly! I cannot say enough great things about Nicolle and how amazing she was throughout our entire wedding process and beyond. She has my highest recommendation. I hope we can work together again soon - maybe to create some great awkward holiday cards??? :)
---
Nicolle was AMAZING!!!
Reviewed on

10/25/2012
kathy s
QUALITY! QUALITY! QUALITY! From the moment I went to her webiste and checked out her previous work I knew her style was exactly what I wanted for my wedding! I had met up with several photographers for a period of 4 months prior to finding about Nicolle, and their work was... Read More beautiful but didnt quite have what I was looking for. Not only was she easy to work with, but also was professional throughout everything. There is absolutely no doubt about it, you can clearly see it in her work! Her work was nothing but full of QUALITY! Thanks to you Nicolle, my Husband and I can enjoy gorgeous Engagement & Wedding pictures of the Happiest Day of our lives! :)
---
Exceptional Photography
Reviewed on

10/25/2012
Ashley H
We could not be more pleased with the wedding photos we received from Nicolle. She met with my husband and me a few times before the wedding to understand our personal vision and style. She invested time into giving us modeling basics and photography tricks, and she also... Read More educated us on what could be fixed digitally, and more importantly, what could not. These small tips helped make our photos look like those out of a magazine. On our wedding day, Nicolle arrived promptly and in professional attire. She took the initiative to get the photos started and kept everyone on task. I was impressed with the way she noticed and fixed small details like an out of place piece of hair, or a ring that should be straightened. During the ceremony and reception, I didn't even notice Nicolle was taking pictures. She captured the day without interrupting it. The prints we ordered through Nicolle were phenomenal. The quality was outstanding, and every picture looked like a piece of art. She provided creative ideas for the finished photos, and even helped us create our album. Nicolle was a wonderful investment for our photographic memories.
---
Best Photographer ever!
Reviewed on

10/15/2012
Cecilia O
Nicolle is such an AMAZING photographer!! I am so happy that we found her! We have yet to see all of our wedding photos (just married a little over 2 weeks ago), but what we have seen, they are absolutely breathtaking! Cant wait to see all of our photos this weekend, I'm sure... Read More they are just as beautiful as the ones we have seen! Cant wait to use her again, maybe in the future for maternity/baby photos :) Thanks again Nicolle, you are amazingly talented!
---
So lucky we found her!
Reviewed on

9/16/2012
Rachel D
One of the most important vendors you will book for your wedding is the photographer. This is the person you are trusting to capture your memories for a lifetime! It is not a decision to take lightly and it can be very stressful to find the perfect fit. I could not have... Read More imagined a more perfect photographer for our engagement session and wedding! Nicolle was an incredible blessing through the entire process and made planning a wedding so much easier. From the moment we met Nicolle, my husband and I were put at ease by Nicolle's professionalism and her easy going personality. Our first meeting she wanted to get to know us as a couple so she could truly capture our personalities throughout the wedding process. Our engagement pictures and wedding pictures were absolutely amazing! Family and friends were blown away by the quality and uniqueness of Nicolle's photography. I never knew my wedding pictures could turn out so well! Nicolle gives you direction while taking the pictures, but at the same time she allows you to be creative and find your natural poses. During the entire process, Nicolle was in contact with me as well as the other vendors. She gave me great guidance during the wedding planning and her timeline for the day of the wedding made everything picture perfect. Our day was truly a fairytale and Nicolle played a huge part in that. If my husband and I stay in the Phoenix area, Nicolle will be our photographer for all of life's big moments! Don't look any further for a photographer-- Nicolle is a hidden gem and she will make sure your special day is everything you dreamed of and more!
---
Nicolle truly captured the story of our wedding!
Reviewed on

9/16/2012
Amanda T
From our engagement shoot to our wedding, Nicolle's professionalism put my husband and I at ease and she exceeded our very high expectations. Nicolle's style, eye for the smallest detail and ideas resulted in truly illuminating photos that we will forever cherish. On our... Read More wedding day, Nicolle was truly fantastic; she captured all of our must have shots, where she was able to put her creative touch to work. In addition, she made sure to take breathtaking, traditional family portraits, as requested by my mother. During the reception Nicolle was able to capture both intimate, as well as active shots without us even knowing she was there. To this day we continue to receive compliments from family, friends and strangers about the beautiful photos Nicolle took on our special day. She truly captured the story of our wedding! Nicolle was one of the best finds of our wedding and I would highly recommend her to anyone.
---
Nicolle Moshiri Photography
Reviewed on

4/04/2012
Rochelle R
Nicolle was absolutely wonderful overall! During our entire wedding process she took initiative in making sure the timeline of events was accurate and complete. She helped coordinate the actual event with the other vendors, and made sure everything ran smoothly. She made us feel... Read More sooo comfortable in front of the camera, and her creativity really took our pictures to a higher Level! All of our pictures captured the moments and emotions perfectly. We could not have asked for a better or more professional photographer! Thank you, Nicolle, for being a part of the most important day of our life!
---