Home

Oakwood The Greener Cleaners
About this Vendor
Very special care for your gown!
Our award-winning gown preservations include your personal inspection, museum-quality container, written guarantee. Restorations return vintage gowns to true color. Pressing for your wedding day and destination wedding kits for traveling with your gown. Endorsed by Association of Bridal Consultants
Details
Dry Cleaning + Preservation, Fashion Services, Fashion

Contact Info

Reviewed on

10/06/2017
Mychal B
Best Dry Cleaners EVER! I love walking into Oakwood The Greener Cleaners; first of all it is gorgeous! Hand painted works of art are throughout the store like a gallery, fun music is playing, and you are always greeted by a smile! I spent a lot of time in the store with their... Read More seamstress, Rima, and she was very patient and kind while helping me achieve my perfect look!! Thank you all so much for the wonderful experience!!
---
Reviewed on

10/18/2017
Kasey C
I am so glad a friend recommended Oakwood Cleaners! The staff is friendly and professional and took a real interest in me as an individual and how I chose my dress. Not only did they give me all the details about how the dress was cleaned and preserved but they guaranteed their... Read More work. The dress is beautifully displayed in a box that can actually be opened! I highly recommend Oakwood. They did a superior job and it is apparent that this is the norm for them.
---
Reviewed on

10/06/2017
Nancy M
Great owners, great to work with, highly recommended
---
Reviewed on

8/11/2017
Alyssa K
After taking hundreds of outdoor pictures before and after the ceremony, followed by a reception that saw at least a few spilled drinks, my wedding dress had seen better days. I brought it to Oakwood Cleaners a little more than a week after my wedding in November 2016. The... Read More bottom of the dress was heavily soiled (mud stains, grass stains, etc.) and I was worried that it would never look like it did the morning of my wedding. After close to eight months, I received a call saying that my dress was ready to be picked up. I was absolutely amazed when the associate opened the box: it looked brand new! It's almost impossible to tell that it's ever been worn. While it did take quite a long time to get my dress back (I was informed when I dropped it off that they were running on about a six-month turnaround, plus additional cleaning time for my heavy stains) and you'll need to be prepared for a pretty steep price tag, I believe that it was worth it. You pay for what you get, after all! Oakwood Cleaners took wonderful care of my dress and made it look fantastic once again! I would high recommend entrusting them with one of the most important pieces of clothing you'll ever own!
---
Reviewed on

5/21/2017
Halley H
This is for sure the place to take your wedding dress! Everyone was so friendly and great to work with. Not to mention they did a fantastic job cleaning and preserving my dress. It looks brand new! They do take some time to get your dress back to you, but it is totally worth... Read More the wait; as you can be assured they are going over every detail making sure it is perfect!
---
Reviewed on

5/07/2017
Haley Z
You must bring your dress to Oakwood to get preserved! They are so wonderful and I am so pleased with the quality of service provided. My sister in law let me wear her veil, and she also had it preserved at Oakwood 3 years before my wedding. It was in perfect condition!
---
Reviewed on

4/14/2017
Patty M
Oakwood managed to clean and preserve our family antique lace wedding veil which this time had been dragged over gravel roads and fields in Montana. I couldn't even tell it. The dress was in worse shape but saved by Oakwood. I also appreciate their getting it ready for me to... Read More take back up to Montana. Great job!
---
Reviewed on

4/07/2017
Veronica I
After my Nashville destination wedding, I dropped off my couture, extremely detailed and very large wedding dress for cleaning and preservation. Cleaning, repairing, and preserving the dress was a intense process. The people at Oakwood far exceeded my expectations. It came back... Read More absolutely perfect--as if had never worn it--in a gorgeous box inside a muslin bag; the dress itself wrapped in special tissue paper, with white gloves and a certification that the dress will not yellow. The people at Oakwood not only did an amazing job but were a pleasure to work with and went above and beyond for me. I coordinated with Rhonda from Miami before the wedding and she was able to recommend a dress attendant for me, who was invaluable. Rhonda then fedexed the dress back to me in Miami when they were done with it. I was very worried about my precious dress and Oakwood put me ease completely. I cannot recommend them highly enough.
---
Reviewed on

4/03/2017
Kathy C
Before: a vintage wedding veil which had never been cleaned/preserved After: a vintage veil which looked brand new! Oakwood the Greener Cleaners did an excellent job of cleaning my veil. Not only did all of the spots come out completely, you cannot tell the veil even had any.... Read More Miss Pat has a way of putting people at ease, their inspection, cleaning and preservation processes are explained thoroughly. An email was sent to me when the veil was finished saying how beautiful it looked. I was beyond delighted when I saw my veil! Our daughter will soon be wearing the veil in her wedding-how exciting! Thank you Oakwood Cleaners, I am so happy I found you when I did.
---
Reviewed on

3/05/2017
Mitchell D
After 19 years of marriage, my wife and I discovered that our son had opened the box that contained my wife's wedding dress and had damaged it. To make the matter worse, the dress contained a tatting on the veil, done by her 3rd great grandmother, that was also damaged.... Read More Irreplaceable and personal only start to describe how devastated she was. Here comes Oakwood cleaners to the rescue! They were not only able to get the staining off the dress but fix the veil! It took them a few months to complete the work, due to the delicate nature, but the dress is now back to its original beauty. My wife cried as she inspected the dress afterwards, a reaction worth every penny. I cannot thank Oakwood Cleaners enough for taking on this very difficult challenge and knocking it OUT OF THE PARK!! Pat was awesome to work with and I really felt she cared as much about the dress as my wife. I will not hesitate doing business with them in the future.
---
Oakwood Cleaners, Nashville
Reviewed on

7/26/2014
It is my pleasure to share my experience at Oakwood Cleaners (3 locations/Nashville metro) having the opportunity to observe a bridal gown cleaning and muslin preservation, a natural eco-friendly way to properly preserve wedding memories. The intake and approval process is so... Read More thorough that after thoroughly inspecting the gown for tears, rips, stains, spots, even pin holes from safety pins, etc., it is then hand-sketched highlighting any areas that the cleaning experts need to be aware of to achieve optimal success in cleaning the gown. During the muslin preservation process, the bridal gown specialist nets her hair and wears cotton gloves to prevent any body oils from being passed to the gown while it's being preserved. Oakwood Cleaners are true wedding gown specialists and experts. The intensive labor required is truly a labor of love and artistry above and beyond the science.
---
Meet The Manager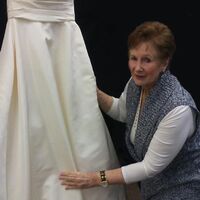 Pat
Pat is the customer service manager at Oakwood Cleaners, but more importantly she is the expert preservation artist! Pat will not only make sure your gown is taken care of down to the most impeccable detail but when it comes to preserving your memories she is an artist. She has a personal approach to each and every gown that is preserved and allows the design to dictate how she places it in your museum quality, acid free box. Most of our brides are brought to tears as the box is opened for viewing.