Home

Old Daley on Crooked Lake
About this Vendor
"Where Romance Lives"
If you are planning a wedding, you have to see our beautifully renovated historic event center, The Old Daley Inn on Crooked Lake. You owe it to yourself to take a personal tour! After you experience our unique and special venue, you will absolutely fall in love!
Amenities + Details
Amenities
Indoor Ceremony Area

Kosher Available

Liability Insurance

Liquor License

On the Water

Onsite Catering

Onsite Overnight Accommodations

Onsite Parking

Onsite Wedding Consultant

Outdoor Ceremony Area

Outdoor Reception Area

Outside Caterers Allowed

Site Fee

Tented Area

Valet Parking

Wheelchair Accessible
For more details about amenities, please message the Venue.
Banquet/Reception Hall, Mansion/Historic Site
Contact Info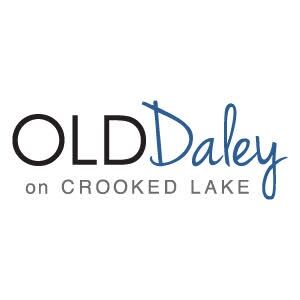 2339 State Route 43 & 66, Averill Park, NY
An Absolute Dream
Reviewed on

7/07/2013
Jess D
The Old Daley Inn on Crooked Lake was the absolute wedding venue of my dreams. Not only because the property is absolutely gorgeous and amazing both inside and outside, but also because the staff was incredibly easy to work with, accommodating, and pleasant. I had the pleasure to work with coordinators Kyla and Janice at different points throughout my planning process, and both were amazing and quick to respond to my many questions through emails and phone calls. My husband and I were married just over two weeks ago, on June 21, 2013, and our guests are still raving about how wonderful the food, service, and venue were. The property is also absolutely gorgeous, with many different spots for great wedding photos. It is as if it was out of a dream, and there are no hidden catches - it really is that wonderful. I don't have a single complaint about anything. From the moment I walked in to inquire about the place, to the moment I left after the wedding, I felt like the venue and staff completely exceeded the expectation of making my husband and I feel like the Old Daley Inn on Crooked Lake was our special place. We could not possibly have had a better experience. I don't usually write reviews for anything, but I had to share with other brides and grooms that if you are considering the Old Daley Inn on Crooked Lake as your wedding venue, you will not be disappointed. If I could give the place more than 5 stars I would, outstanding and exceptional!!
---
Everything we wanted and more!
Reviewed on

4/17/2013
Maura W
My husband and I only looked at one venue. As soon as we arrived at Crooked Lake and met Janice, we were sold. We had originally planned our wedding at the Old Daley Inn on Crooked Lake for October 27, 2013 but, after learning we were expecting in October, we decided to move the wedding up. Janice and her staff replied to us immediately and helped us put together our dream wedding in 45 days! Janice understood our budget and was sure that we were able to stick to it without feeling like we were missing out on anything. With a wedding and baby on the way, I thought I would be stressed; however, Janice and her staff were so attentive and detailed that I never once worried about how our day would turn out. Everything was perfect - the food, staff, set up. The Old Daley Inn staff made us feel like we were the only bride and groom they were working with. It is a terrific feeling to know that you are in great hands. We cannot thank them enough for helping us have our dream wedding!
---
Loved the Crooked Lake House
Reviewed on

9/13/2012
Crystal S
The team at Old Daley Inn at Crooked Lake is amazing. Janice is superb! She was always willing to answer my questions and made me feel really comfortable with the whole process. The venue itself could not be better. It is secluded (only you and your party will be there), the food is amazing and their is a free shuttle from the comfort inn at castleton on hudson to crooked lake for your guest (if you fill enough rooms). I was so happy with everything. I dropped off all of my table name cards, escort cards, and decorations 2 days before so I didn't have to worry about it on the day of and everything was as I imagined. The wedding packages also come with a great cake baker which makes things a lot easier as well. Thank you to the team at Crooked Lake- especially Janice- we loved having our reception with you!
---
Absolutely Incredible Venue!!!
Reviewed on

1/02/2015
The Old Daley Inn on Crooked Lake was the perfect place to have our wedding. We had been there for a fall wedding a few years earlier, and knew that it would be a great place for a winter wedding. The staff is amazing! We worked closely with Janice Keary and Elise Testo, and they were both wonderful! Elise was especially helpful in keeping us on track to make sure that we were doing everything we needed to for our big day! We couldn't have asked for better people to plan our wedding with. The food was phenomenal and the venue looked beautiful on the day of our wedding. We can't say enough good things about the Old Daley Inn and staff! I would recommend this venue to anyone who wants their wedding day to go perfectly, because ours sure did!
---
Such a perfect experience
Reviewed on

12/06/2014
Eliane H
A big thank you to Janice, Marty, Elise and all of the staff at the Old Daley Inn on Crooked Lake for making our wedding day absolutely perfect! The food was phenomenal and the staff was top notch. From our very first meeting to the very end of the reception we were made to feel welcome and like part of the ODI family. Elise took our ideas and our itinerary and made sure that we had absolutely nothing to worry about on our big day. There was not one single stressor for us or our families… everything was perfectly well taken care of. On top of the staff, the venue was gorgeous. The setting fit us and our families to a tee… a perfect mix of rustic and classy. A perfect spot for a perfect day. We heard many comments from our guests and wedding party after the reception: *the best food they've ever eaten at a wedding *a perfect spot for a wedding *setting was cozy and inviting *the staff and the service was great *everyone was super accommodating *Bride and Grooms suite were ideal *the snow and the lake made for a perfect backdrop for first look and portrait photos
---
My Dream Come True Wedding
Reviewed on

10/29/2014
Michelle G
Where to begin? I fell in love with Old Daley Inn on Crooked Lake immediately, even in the drab, dark days of mud-covered snowy winter. They are accommodating, reasonable, and can truly provide amazing food at the ideal, beautiful location. They listen and care about their clients and want them to be happy. I am thrilled with our wedding and would recommend this venue to anyone! My small bride advice is: be prepared there's little to no cell service there (might be a blessing!) and that glitches can happen at any wedding venue so read reviews carefully. Best wishes and thanks Crooked Lake!
---
I had an AMAZING wedding!!
Reviewed on

10/20/2014
Lisa K
The staff at the Crooked Lake House was fantastic. The venue is so beautiful!! I had a ceremony outside right on the water and then my reception inside in their beautiful ballroom. The food was amazing and Kyle (my assigned wedding coordinator) help make sure everything went off without a hitch. We didn't end up needing it because we lucked out with a nice day but they also have a really nice indoor space available if you need it. I really liked that you have the entire space to yourself on the day of your wedding. They have a great bridal suite upstairs where my girls and I spent the day getting ready. There is a room for the guys too and they all used it to get dressed before the ceremony. Another plus, my pictures are beautiful. There are so many great places to get pictures around the facility. I would totally recommend this as the perfect spot to get married!!
---
A Perfect Day!
Reviewed on

10/14/2014
Christa S
The Crooked Lake House is a spectacular and unique wedding venue - we couldn't have asked for anything better! My husband and I were just married there on 10/5/14 and the day was simply perfect. We worked with our event coordinator, Elise, who was just wonderful. She made the entire day carefree for us and she took care of every single situation with ease. Thanks to her and the rest of the staff, we were able to truly enjoy every moment of our special day. We'll never forget it!
---
Most amazing venue!
Reviewed on

10/14/2014
Courtney B
My husband and I had our wedding reception at the Old Daley Inn on Crooked Lake in October 2014. From the beginning, it has been wonderful working with this team of professionals! Marty, Janice and Elise were always available to answer questions and allowed us to tour the building on more than one occasion. The food/drink packages are reasonable and the food is AMAZING! We've had so many guests tell us that the food was spectacular - not your typical wedding food by any means. The venue itself is breath-taking - the fact that you have the entire venue for the night is wonderful. Our guests took advantage of this and mingled about when they needed a break from dancing. There is plenty of seating for your guests during cocktail hour, which is always a plus. The lake is picturesque and the ballroom is stunning. The wait staff were amazing - they continuously picked up after people and were very attentive to the needs of our guests. They made sure that everyone had what they needed and were prompt to bring out food. The bartenders did a fabulous job - drinks were delicious and the staff was quick to get drinks to thirsty guests. Overall, I cannot say enough about this venue. The staff and premises is top-notch. Very professional and are there to make sure your day is special and goes smoothly. I have recommended Old Daley Inn on Crooked Lake to several friends - if we could re-do our wedding, we wouldn't choose anywhere else for our elegant and spectacular reception! Thank you, Marty, Janice, Elise and staff, for making our night so memorable!
---
The Most Perfect Wedding Venue!
Reviewed on

10/07/2014
Kristen M
The Old Daley Inn on Crooked Lake was the absolute wedding venue of my dreams from day one before I was even engaged. As soon as my fiancé proposed, I had this venue booked within a week and it was the best wedding decision I ever made. The property itself is absolutely gorgeous as well as the building being truly one of a kind, filled with so much history and character! Throughout the whole year of wedding planning, our event planner Elise helped us every step of the way and made it all so easy! She was always so prompt to answer our questions and was willing to meet with us at anytime. The day of our wedding ran so smoothly and was pure perfection thanks to the staff at the CLH. From the moment we arrived to start getting ready in the bridal suite that morning, we were treated like royalty. This venue and staff completely exceeded our expectations and went the extra mile to make our special day the absolute best! And our guests can't stop talking about how amazing the food and service was! I can't say a negative thing about the CLH. We could not possibly have had a better experience. The Old Daley Inn on Crooked Lake is unlike any other venue and I will forever sing their praise!
---
Incredibly Helpful
Reviewed on

8/10/2014
Greg C
This is an absolutely beautiful venue. My wife fell for it right away, and I wasn't far behind. We were concerned up front about the cost, which is higher than some other venues in the area. However, the Old Daley Inn fees include planning, linens, alcohol service, every last delicious (holy cow SO GOOD) meal, on-site ceremony set-up with chairs, reception site, two separate areas for bars, parking... enough things that it cut our need for vendors in half. Their planners are absolute game-changers. We were only loosely in contact with ours (maybe 3 meetings? 4?) until the week of our wedding. She exceeded our expectations, particularly the day of the wedding when every last detail went off without a hitch. Any questions can be directed to their experienced and friendly on-site staff, and you can consider it done. The day of our wedding was entirely without stress regarding any of the services I listed above. If you ask me, that's worth its weight in gold. That, and the food is absolutely breathtaking. The tasting we had 7 months prior to the wedding was a great night, too! Definitely worth a look for anyone in the greater Albany area. Consider it for your indoor or outdoor ceremony. Only potential drawback is the distance from the Lakehouse to the hotels in East Greenbush. Lodging nearby would have been helpful, but a limo or shuttle service works out nicely, too.
---
Beautiful!
Reviewed on

5/18/2014
Becca L
Crooked Lake provides a beautiful setting and delicious food! Our friends are still talking about it! The venue itself is beautiful so there's really no need to spend a lot of time or money on other decorations.
---
It's Out of a Story Book!!!
Reviewed on

11/02/2013
Kristen E
The second we were walking around on our tour of the Crooked Lake House 1 week after our engagement we both knew we had to be married there! It's so beautiful outside and in and of course the high reputation of the food that Old Daley Inn provides is well known. We signed right then and there for our wedding October 20th, 2013. Working with our wedding coordinator, Elise Testo, was such a pleasure. She provided me with every tool I needed to plan my day and I never felt like I was all alone in the planning process. Every email I sent her was answered nearly immediately and she was always helpful and professional. On the day of the event, Elise and Marty Kearny and staff did an amazing job of trying to keep the little mishaps from me. My hair and makeup people left while I was doing our "first look" with the photographers, and unbeknownst to me, had not done my flower girl's hair. It wasn't until after the wedding I found out Elise herself had taken on the task of curling Becca's hair. Also, when my officiant didn't show they both sprung to action, Elise called the officiant (successfully) while Marty was already making calls to see how quickly they could get a back up there in case they weren't able to reach my officiant. Again, I knew nothing of this until after I was home from the wedding. Marty made sure I had a drink in my hand the entire time and Elise made sure everything ran smoothly for our day. I truly cannot tell you how hard these folks worked and most of which I probably still don't even know about! Our day was perfect, the venue is perfect, the staff is perfect. I truly felt like Cinderella at the ball!
---
Beautiful inside and out
Reviewed on

11/01/2013
Shannon R
Food was excellent and the planner was great. The place is absolutely gorgeous. They have food tasting events so you can sample the entrees and appetizers.
---
A Dream Come True
Reviewed on

10/17/2013
Michaela S
My husband I were married this past May at the Crooked Lake House. I grew up in the Averill Park area and therefore have always known the Crooked Lake House and its beautiful historic location inside and out. In the last few years the Old Daley Inn purchased the Crooked Lake House and both Janice and Marty have done a wonderful job with decor and improvements. This was very evident in our pictures which came out great! Our hope was to have the Ceremony by the lake however we felt comfortable with our rain plan, which we ended up having to use. The "Great Room" with its natural aisle way, stone fireplace, and hardwood floors made for great Ceremony pictures. The Oak Room with its lounge style and cozy feel was the perfect location for our Cocktail Hour. Although we did not have any of the appetizers our guests told us they were delicious! We had our Reception in the Grand Ballroom which was the perfect room to accommodate everything we wanted from the band to the number of tables for our guests to the bar to the dance floor. We worked mostly with Janice for the planning of the day. She took the time to explain the various packages to us and was super accommodating down to the details, even to ensure that our guests could have Guinness during the Cocktail Hour and Reception. My husband, parents and I attended one of the many tastings that are offered. We thought it was going to be a lot easier to decide on the menu options but everything was so delicious! We chose to have a seated dinner and all of our guests raved about the food. After trying the many cake options we decided to go with the Coccadotts option that was offered in our package. My husband and I didn't have to worry about anything the entire evening flowed and our guests had a great time!
---
Hidden Gem of Albany!
Reviewed on

10/15/2013
Nicole P
The Old Daley is a dream venue with an amazing team. Janice and Marty helped make my wedding day perfect. I cannot thank them enough. Two months after my wedding, I still have guests telling me how amazing the Old Daley is and how great their meal was. If you're looking for a venue with character in a beautiful setting the Old Daley is for you. I cannot say enough good things about this place.
---
Perfect Wedding Venue
Reviewed on

10/14/2013
Rebecca K
My husband and I were blown away by The Old Daley Inn from the moment we visited the property. The venue is absolutely stunning, the food was delicious, and the staff was so accomodating. In terms of the venue, there are few places that truly have both an indoor and outdoor ceremony option that are acceptable. The indoor option at the Old Daley Inn is beautiful. With a June 1 wedding, we thought we would be outside, but a humid 90 degree day changed our plans. The indoor option is beautiful and romantic. I worked with Janice and Elise. Both of them were extremely responsive and accomodating. I can't say enough good things about them. Overall, our guests raved about the beauty of the venue and the quality of the food. We coudn't be happier with our decision to have our wedding here!
---
Laura
Reviewed on

10/08/2013
Laura P
From the day we walked in to look at the venue we knew it was the location for us. The staff was flexible, accommodating, and fun to work with. The food was plentiful and delicious. It is a hidden gem!!!!!
---
Delicious!!!
Reviewed on

8/04/2013
Rebecca S
We had Old Daley cater our reception and the food was incredible! We did stations at our reception so we had a little bit of everything and people didn't have to eat just one thing. The guests still have not stopped talking about how great the food was. I couldn't be happier with Kathy and the staff at Old Daley. They had great ideas and were very helpful and accomodating.
---
Wedding Reception
Reviewed on

10/24/2012
Nicole K
The Old Daley Inn is in my opinion the most beautiful venue in the capitol region for a wedding. We got married in October just as the leaves were changing the the scenery was breathtaking. Beyond that the interior is a beautiful blend of rustic and modern and the venue is spacious yet cozy. They provide everything from linens to catering so it's really a one stop shop and the food is better than any other that I've had at a wedding. Our guests all raved about their meals and about how beautiful the venue was.
---
Dream Wedding
Reviewed on

7/13/2012
Kate H
I got married here two weeks ago and was absolutely thrilled with everything about it! First of all, the setting is amazing. It was always a great spot, with a beautiful oak bar in one room, a stunning stone fireplace in another large room (available for indoor ceremonies), and the gorgeous ballroom with nothing but huge windows showing off the grounds. The Old Daley Inn obtained ownership fairly recently and has done an incredible job with renovations and grooming, including adding a beautiful stone area for outdoor ceremonies. The place is in picture-perfect shape! The food was abundant and absolutely delicious. We asked for a special Italian-influenced menu and they were very accomodating, as well as did a fantastic job executing it. My guests were very impressed with both the venue and the food. The only advice I would give as the bride doing most of the planning myself, do not be afraid to go over details. And go over them again. And again. The people at Crooked Lake have lots of things going on (as all venues do) and there's nothing wrong with being over-cautious about how you want things. (Their cake person in particular is a little flaky. They use a great local bakery and my cake was gorgeous and DELICIOUS, but it did not have the decoration we had discussed.) In any event, my persistance paid off. Janice, their events coordinator was totally accommodating and a doll to work with, and on the big day everything was so perfect that all I had to do was sit back and enjoy! The staff was on top of everything, right down to knowing what my husband and I wanted to drink and bringing it to us at the start of the receiving line! I guess, to sum it up, I've never felt so taken-care-of in my life. Thanks to everybody at Crooked Lake, my husband and I were truly King and Queen for a day. Our parents and our guests were thrilled, and we have a glorious day of memories with pictures to die for on that beautiful lake!
---
Beautiful location, great food
Reviewed on

6/28/2012
Kate W
We had a great time at Crooked Lake. The setting was lovely and the food was great and plenty of it. We had a big drop off rate of guests so we had to add some things to our package to make their Saturday minimum, and they were very helpful in working with us to do that. The only thing I would say is they're not really equipped to do email. They don't have a lot of things in PDF or other electronic format and they don't respond to emails/phone calls very quickly (or sometimes at all.) This was somewhat frustrating as a distance bride; I think they are probably more used to people who are from the area and are used to doing things in person. But what they delivered was fabulous.
---
Yummy Food!
Reviewed on

6/14/2012
Rachel A
We had our wedding at our home, and chose to have Old Daley Inn cater. They arrived about two hours before the ceremony, and started cooking the ribs and other barbecue on site. Their staff set up a buffet, poured champagne, served and cut cake, and cleared tables after dinner. Their staff were friendly and helpful, they did not require anything from us, and they even saved me a plate of appetizers when I was getting pictures taken! One of the girls even set aside a take-away container of ribs for my husband because she saw how much he liked them. Our guests raved about the food. I highly recommend working with this company.
---
It's worth ALL the buzzzz!
Reviewed on

6/05/2012
Lisel R
Our wedding was May 19th. Getting married at the Crooked Lake House had been a dream of mine since I was a little girl, long before the Old Daley Inn owned it. Having eaten at their old restaurant years ago, before it closed, I knew that they were among the best around in the catering business. We found out about a month after we got engaged (May 2010) that they had purchased and were restoring the Crooked Lake House -- it was meant to be! It was every bit as beautiful as I had always imagined it would be and the staff lived up to all of our expectations. Janice was fabulous and so accommodating. I can't say enough to thank everyone at Old Daley Inn or to express how absolutely perfect our day was. I have heard repeatedly that our wedding was "the best wedding ever". I most definitely agree, and not just because it was mine. Amazing scenery, a gorgeous and historic building (read the story!), great food, impeccable service, a staff that genuinely enjoys what they do...every facet of the event was a dream come true. We wouldn't change a single thing. Thank you a million times over! - Mrs. Bee
---
I <3 ODI
Reviewed on

11/02/2011
Erin R
What a wonderful place to have a wedding. such a beautiful atmosphere inside and out! great for pictures. The staff was very accommodating. food, amazing.. there was plenty for our 285 guests and everyone raved! As the bride, the day was totally stress free.
---
Send Message