Home

Omega Sound & Entertainment
About this Vendor
Where the search for premier entertainment ends!
Details
Classical, Country, Disco, Folk, Hip-Hop, Jazz, Pop, R&B, Rock, Latin, World Music
MC Services, Recorded Music, Sound Equipment, Music
Contact Info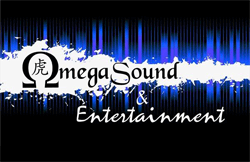 Proudly Serving, New Orleans, LA
Proudly Serving New Orleans & LA
Excellent Time
Reviewed on

7/27/2015
David Storm put on the best party we could have hoped for. He was a consummate professional and even assisted with sound for the ceremony when the venue came up short. He went above and beyond to make sure that I and my wife had the best day ever!!
---
He is da SHIZNITZ!!!
Reviewed on

7/27/2015
Amanda Jo Z
I love this guy. Too much fun, too much happy, great interpersonal and guest interactions, I can't say enough positive things. Seriously, I still have people telling me my music was the best of the recent weddings they had attended. Omega did a fantastic job of making a first dance for us. I say making because we both wanted very different songs, Alice Cooper and Coheed and Cambria. *Bam, instant mashup. Omega, David, is great and I'll be singing praises until we all get sucked up into some massive black hole. TOTALLY WORTH IT!
---
BEST. NIGHT. EVER!
Reviewed on

7/27/2015
David M
My wedding was a day I dreamed of for a long time and put a lot of thought into. I had the unique experience of having 3 of Omega's top DJ's all entertain at my wedding, Rusty, Chad, and Kevin! Each one of them is invariably different but equally amazing! A month after our wedding our guests are still amazed at their coordination and abilities! Like my title said...BEST. NIGHT. EVER!!! Thank you Omega!!!
---
Fantastic DJ!
Reviewed on

7/23/2015
Paula D
I got married May 24, 2014 and used Omega Sound and Entertainment for my reception. Rusty was a fantastic DJ to work with. He promptly responded to all of my emails and made the music selection process run as smoothly as possible. We got a lot of amazing pictures of our guests dancing at the wedding, so we know they enjoyed our DJ as well!
---
Music
Reviewed on

7/07/2015
Brandi G
The DJ himself was great. Really got the guests into it. But we spent hours upon hours choosing music and he maybe played 5 of the songs we chose.
---
So much fun!
Reviewed on

3/02/2015
Danielle W
DJ Kevin with Omega was our disc jockey for our wedding in February and he was alot of fun! When we left to take a few pictures, he said he would have the dance floor full by the time we got back- and he definitely did! Thank you DJ Kevin!
---
Such a blast!!!!
Reviewed on

12/08/2014
Christina s
David with omega sounds seriously knows how to get the party started! He was perfect for our wedding and it was the best time!! Everyone keeps telling me how he was a blast and that he played the best music!!! I would recommend for any event! So much fun!! Thanks again!!!
---
Professional and easy to work with
Reviewed on

11/26/2014
Layla F
We were assigned to DJ Chad. He was professional and well-spoken. Our guests had fun. I had many songs on my 'do not play' list and Chad stuck to it. I know for a fact that at least one song on the 'do not play' list was requested. He took requests (other than those on my list) and kept our guests excited. Omega Sound's website was very easy to use. I made regular online payments. I also really liked their online timeline and song request service. It was easy to use and really made me think about what music I did and didn't want to hear. Everything went very smoothly.
---
Angel/Christian at The Galvez in NOLA
Reviewed on

11/19/2014
There aren't enough words to describe the experience David Storm and Omega Sound and Entertainment created for our destination wedding at The Galvez Restaurant in The French Quarter. All of our guests commented on the fantastic musical selections that kept all of our guests dancing and the gorgeous lighting that set the mood. David kept the night flowing well with his professional but easy style on the mic as well. His attention to detail was second to none and every wedding would be lucky to have him at their wedding. We would be more than confident to recommend Omega to any type of event, anywhere, for any budget. We'd give anything to go back and relive the party Omega helped create for us. Thanks a million, David and staff!
---
Top-notch DJ
Reviewed on

10/30/2014
Victoria S
Omega Sound and Entertainment was our #1 choice for our wedding. Our preferred DJ (the groom's friend) was unavailable for our date, we were sad, but still convinced we wanted Omega. We were assured the DJ available, Kevin Martino, was a top notch DJ. We were excited to find out Kevin was willing to travel 5 hours from New Orleans to Shreveport, without charging us a travel fee. Instead of paying a travel fee, the company requested we pay for two nights for a hotel, which was fine. We were just glad we didn't have to pay a travel fee on top of that. The wireless audio system that was hooked up during the ceremony worked out perfectly, even though the ceremony space was down the hill from the reception space, where the DJ had all of his gear. The audio was clean with no interference, which allowed our guests to be able to hear and enjoy what was happening during the ceremony. During the reception, Kevin was top-notch. Having a really great dance floor was one of the groom's number 1 requests, and Kevin had no trouble keeping the dance floor full. He even played a salsa song as a special request from my hispanic family. My only complaint is a few things were skipped over when the DJ was announcing the different events, like my sorority song presentation, the groom's cake cutting, my maid of honor and matron of honor speeches ... which had me running over last minute to the DJ table to let him know. Now, full disclosure, that issue may be my groom's fault for not including it in the timeline that was submitted to the DJ, or the best man's fault for not hand delivering my timeline to the DJ. No idea. Either way, the DJ was quick to announce what I requested him to. Overall Kevin did a fine job of keeping the party going. I've been to more than 100 weddings as a wedding videographer and I'd have to say Kevin's work at my wedding was excellent compared to the dozens of work I've seen other DJ's do at weddings. Thanks Omega!
---
Fantastic!
Reviewed on

10/28/2014
Amanda W
Omega was reccomended to us by our venue, and we are so happy we went with it! Rusty was fantastic, and was able to capture our style of music perfectly. We had a few obscure songs for the first dances that we were worried about, but he was able to find them easily. One negative thing is that there was no response to any email sent to them before the big day. In order to get a response, I had to call (which is hard for me to do with my job). However that changed the week before; Rusty emailed me directly and we were able to iron out any concerns. Would absolutely recommend Omega--they made the night spectacular!
---
Kevin was AWESOME!
Reviewed on

10/23/2014
Lindsey R
My number one priority for our wedding was to ensure that our guests had a good time. Kevin made sure that happened! He went over and beyond our expectations! He was amazing! I cannot begin to express how pleased we were. Our guests are still talking about how much fun they had at our wedding!
---
Our Lovely Reception
Reviewed on

10/23/2014
Susan M
Our reception was small, but even for a small reception, the music that Chad played for us made it such a wonderful night. Chad and Omega Sound are the best. Chad is incredible, I am so glad that I was told by a co-worker about Omega Sound. Omega Sound and Chad I promise you are a GREAT chose for your wedding music or reception music. Chad called me to confirm all my music,at our reception he introduced himself, to let us know if there was anything we needed just to let him know. Omega Sound was another reason our reception was so special. Thank you Chad and Tammy. Sincerely, Susan and Shawn Hayes
---
DJ Chad
Reviewed on

10/20/2014
Lindsay F
DJ Chad was great!
---
Kevin was the best!
Reviewed on

10/13/2014
Margaret B
By the time Kevin called to confirm and go over our DJ needs, I was totally frazzled. I had serious decision fatigue and just gave vague requirements for what we needed. I was over making any decisions, but Kevin was a total pro. At our reception, he BROUGHT IT. Everyone was out on the dance floor (I was scared we'd end up having a reception where no one danced) and had a great time. He kept us on track, even though I refused to throw my bouquet or a garter. He was great. I can not say enough good things about this guy.
---
Life of the Party
Reviewed on

10/13/2014
Lauren W
The DJ for our wedding was Chad P. He was WONDERFUL! Everyone had a great time-- people were up and dancing the entire reception. He was really interactive with the crowd, and I loved how he would move around the dance floor instead of staying behind his equipment. We had over 175 people at our wedding, and everyone we have talked to has said how great our DJ was. I am so glad that I chose Omega Sound, especially Chad P, to be our DJ for our reception. He had great ideas for our reception and was so accommodating. I could not ask for more!
---
AN AWESOME EVENT!
Reviewed on

8/29/2014
Jonathan M
Omega Sound was great and DJ Chad made the night special for us! He was a great DJ that was entertaining all night and kept people on the dance floor having fun all night long! I would highly recommend for any event!
---
worth, worth, worth it!!
Reviewed on

8/27/2014
Lori H
It's true what they say... the only thing your guests will remember is the fun they had dancing (not the food or your gown) so definitely spend your money and efforts with the entertainment. The staff at Omega was professional and I am SO thankful to have been able to book them. Everyone I was in contact with was helpful and never acted bothered by our questions (thanks tammy!). Kevin did an excellent job with the entertainment at my wedding! You can tell that he genuinely loves what he does and that makes a big difference. Thanks Kevin and Omega!
---
Great experience!
Reviewed on

8/07/2014
Lauren B
Kevin was absolutely wonderful! I knew we were in good hands after our first phone call to go over our requests. He was very professional but fun and had everyone up dancing! He worked well with our venue coordinator to help everything stay on schedule. I'd absolutely recommend Kevin and Omega Sound to anyone looking for a DJ for their wedding.
---
Beautiful Wedding on the Bayou
Reviewed on

8/06/2014
Gina L
Kevin with Omega Sound was wonderful. He provided 12 uplights to decorate my reception area (Swamp Exhibit at the Zoo), and it really changed the "feel" of the room. He was entertaining, and I've had many guests comment on how much they liked him and the music. He knows how to read the crowd. I was very happy with Omega Sound, and would recommend them to everyone!
---
DJ Kevin Rocks
Reviewed on

7/27/2014
Kate G
An awesome playlist can definitely set the tone at a wedding. And "DJ Kra-Z" Kevin Martino killed it! He had 175 crazy people on their feet for hours, dancing and cheering. Across the board, the Omega folks were easy to work with and quick to respond. Kevin called us a few days before the wedding to discuss what type of music we like, as well as songs that should not be played. He did a fantastic job reading people and playing music that kept people of differing ages happy. From the first dance to the "best wishes" dance and the amazing last song that had everyone screaming at the top of their lungs, we could not compliment him enough. He definitely amped up the energy among the guests, which came in handy for the post-wedding second line. If you want the dance floor crowded all night, don't hesitate to hire Omega Sound and especially DJ Kevin for your wedding!
---
DJ Kevin
Reviewed on

7/19/2014
DJ Kevin was amazing at our wedding!! Before the big day you have a nice chat with him and he writes down all your favorite music (and not favorite), special songs, cues, everything. He also provided the uplighting for our venue. Since the ballroom for the reception is so large, the best way to decorate is lighting, and he set it up great! At the reception, he was very attentive and was looking for cues from me, like when we wanted to wrap up a certain song, or move onto the cake cutting. He really kept the flow going throughout the whole night, and nearly everyone staying til the very end because it was so much fun! He did a great job incorporating all genres and ages of music, which is difficult. Kevin is very friendly and easy to work with, and well worth the money for sure. He was very good at announcing things, like dont forget the photobooth, and were about to do the money dance. It was so fun for me because someone else was in charge of everything. Kevin is a definite must if the bride and groom want to have fun at the reception, and the parents can breathe easy!! Thanks for everything Kevin!
---
Eh
Reviewed on

7/02/2014
Kellie R
The website to submit music was not user friendly. I submitted over 4 hours of specific music, however, the dance floor cleared when the DJ decided to improvise and play rap/hip-hop and electronica (all music I told him to avoid like the plague). When I told him to change the song, his response was "I'm still learning." I'm sure I would recommend.
---
Nothing but FUN!!
Reviewed on

6/27/2014
Sara R
Rusty had everyone out on the dance floor. He played the songs we requested and kept it with songs we wanted and nothing we didn't want!! They also played the music during the ceremony out side and did a wonderful job!! Thank you Rusty and Omega Sounds!
---
Omega Sounds
Reviewed on

6/23/2014
Excellent vendor for the music. Everyone had a great time at the wedding and it was greatly due to the Omega Sound's DJ - Ricky!! I would highly recommend Omega Sound for your next function.
---
Send Message