Home

One Bridal Company
About this Vendor
On Location Bridal Beauty Experts
Award winning One Bridal Co ." Voted "the Best of the Best 2009, 2010, 2011, 2012, 2013 &, 2014 by brides themselves. At One Bridal Co we take the time to get to know your personal style. Are you traditional, modern or classic? As Bridal Stylists we'll translate YOUR vision in our bridal styling.
Details
Eyelash Extensions, Hair Stylists, Makeup Artists, Nails, Spas, Tanning
Contact Info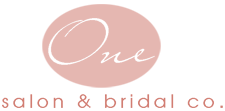 Just Wonderful!!
Reviewed on

4/18/2013
Kelli B
I spend the most time looking for vendors on the hair and makeup stylist. I seriously scoured websites for MONTHS. It was a large expense and I wanted it perfect. I looked over One Bridal Co. as one of the first vendors but was weary because the price was rather high. I later decided to do a trial for the wedding (1/12/13) and I completely changed my mind. Ami did my hair and makeup on both days (the trial and the wedding) and it couldn't have been more perfect. She listened to what I wanted and was open for my opinion. At the trial I decided that I wanted to do a half-up do for the ceremony and put it all up for the reception. Since they were at the same place (Hotel Baker in St. Charles, a few block from the salon) Ami offered to come to the hotel and put it up for me. I was planning on having one of my bridesmaids do it but this was much better. She came exactly on time when I needed her and put it up in a perfect style. I could not have been happier. There are a few aspect of a wedding that are worth the expense and your hair and makeup should be one of them. They are completely worth every cent. I had such a great experience.
---
the BEST!
Reviewed on

7/14/2011
Kari R
My bridal party, mom, and I loved everything about One Bridal Co.! Ami and her team were so great to work with for my May wedding! The team stuck to a schedule to get all 7 of us done on time, and we actually were done earlier than anticipated which took a lot of stress away from the day! We were all relaxed and had a blast getting beautified and pampered! The airbrush makeup is so worth it and felt light all day/night! Ami and I had a blast during the trial coming up with a modern side do that received so many compliments all night! Thank you for making us even more beautiful!!!
---
Perfect!!!
Reviewed on

7/14/2011
Melissa F
I absolutely loved working with Ami and her team!!! I knew after Ami did my hair and makeup trial she was the perfect person to work with on my wedding day! She did hair and airbrush makeup for my entire bridal party, we all looked amazing and had the BEST time hanging out before the ceremony. I highly reccomend Ami and her team for gorgeous hair and makeup and worry free service - they are amazing!
---
One Bridal Co. made it a perfect day!
Reviewed on

10/24/2014
Dawn T
My daughter (MOH) and I had our hair and make-up done at One Bridal Co. and we couldn't have been happier with the results. We loved the atmosphere at the salon and everyone was professional and fun. We brought pictures of hair styles to our hair & make up trials and we got the exact styles we wanted. My hair stayed put all day in July! Highly recommended.
---
Wedding transformation was complete!
Reviewed on

10/21/2014
Paty Ramirez at One Salon has been my daughter's and my hair stylist and color genius for over 12 years. With my eldest son's wedding on 10/18/14, my daughter and I would not trust anyone else with the task of making us look and feel our best for such a special day. Paty, as always, came through for us in a big way! She came in bright and early (7:30 a.m.!) to make sure we both had plenty of time to get our hair and makeup done and still leave us time to get dressed and head into Chicago for the wedding events! We were both very pleased with our hairstyles - my 26 yr old daughter chose to keep her hair long and curled, and Paty put mine up in a classic French twist. Paty air brushed our makeup, so we looked great and better yet, we felt beautiful! Our hair and makeup stayed fresh the entire day. Thanks again to Paty and One Salon! For a major life event such as a wedding, or for any day in between, you can't go wrong at One Salon and Bridal Company!
---
Great Experience
Reviewed on

10/15/2014
Christy B
Katie Phelps did an amazing job on my hair and makeup for my wedding day. She is talented and super accommodating - even running back to my venue (down the street from the salon) to do a few touchups after my ceremony. All of my bridesmaids that got services were also happy. It is a little pricey, but definitely worth it.
---
Great wedding hair and makeup!
Reviewed on

10/09/2014
Christine A
My maid of honor and I had our hair and makeup done for my wedding and we could not have been happier with the results. We both worked with Alexa, and she was awesome. We didn't come in with tons of ideas, so we just showed her a couple pictures and she took it from there. Everyone complimented us on how awesome we looked and our photographer told us our skin looked flawless in the pictures. I would definitely recommend One Salon and Alexa to anyone needing bridal services!!
---
Amazing!
Reviewed on

7/08/2014
Kelly G
I worked with Amy and Patty on this and they were amazing! I did the bridal package which included 2 facials and the hair/makeup trials. They traveled to our wedding location to do all the hair and makeup for the bridesmaids and myself. They were early and ready to go when all of us arrived. They kept us on time and even left extra supplies like Bobbie pins if there were any last minute fly aways. I highly recommend Bridal One for your wedding or event!
---
Absolute perfection!
Reviewed on

7/08/2014
I can't say enough wonderful things about Ami and One Salon. The hair...the makeup...flawless! We did a trial a few months before the wedding but at the last minute I changed my mind. The day of the wedding we scrapped it all and came up with the perfect hair and makeup to compliment my style. I felt comfortable and beautiful throughout the evening. Almost two weeks later and I'm still receiving compliments. Ami, I can't thank you enough!!!
---
I loved One Bridal Salon
Reviewed on

6/17/2014
Hilary S
Ami is amazing! She is so friendly and willing to please her clients! She takes her time and really cares about her work. I loved having her do my hair and makeup for my wedding and my bridal party looked amazing as well!
---
Patty did such a great job!
Reviewed on

6/11/2014
Haley J
As soon as we finished my hair and make up trial I knew this would be the place for myself and my bridesmaids to get hair and make up done. Patty was so great to work with and really listened to what each girl wanted done. We all looked amazing thanks to her!
---
Wedding Day Hair & Makeup
Reviewed on

6/10/2014
karin c
I recently used One Bridal Company for my wedding day hair and makeup and was thrilled with their talent and service. Ami and her team went above and beyond to make the day perfect for myself and the entire bridal party. It was great to have them come to the hotel and arrive with such positive energy (even at such an early time in the morning). I had done a trial with Ami before wedding day, but she somehow made my hair look even more amazing than I had remembered! The airbrushed makeup was perfect and lasted the entire day and night (over 12 hours). I generally don't wear a lot of make up, but Ami ensured I looked naturally beautiful as a bride that day. The number of compliments I received (and continue to get) on my hair and makeup from that day truly reflect the great job this team did. I can't say enough about how wonderful One Bridal Company is and highly recommend them for any wedding day needs!
---
Best option for on-location hair and makeup
Reviewed on

11/13/2013
Nicole D
One Bridal was a great choice from the limited salons that would come out to me the morning of my wedding. I loved their hair and makeup job. (Highly recommend their air brush and fake lashes!)It looked natural but gorgeous. Only reason I did not LOVE them was the price. I felt they were very expensive, charging me $90 for a trial hair/makeup, then $100 for bride hair and all the bridesmaids $80 each. Plus a bit extra for the travel. Originally they assured me they would send me three girls out to do hair for me, 5 bridesmaids, and 4 moms/grandmas/etc. as well as my makeup. However, I panicked a little when only two showed up! They assured me we would get it all done in time, but I was nervous. We were rushed, but managed to get it all done in 4 hours. I just wish the added stress was not a part of my morning! I would have loved more time to relax with my girls, but I can't complain about the finished product. Everyone looked spectacular!
---
The BEST!!
Reviewed on

10/03/2013
Ann W
The ladies at One Salon are the BEST!! They go with exactly what you are looking for and make it even better! I would recommend them hands down to any bridal party. I liked them so much that I will be coming to get my haircut from them as well :)
---
The Absolute BEST!
Reviewed on

9/25/2013
Courtney C
I have been going to One Salon for a very long time to get my hair colored and cut. Prior to getting married, I only had incredible things to say about everyone who worked here. If a color didn't come out exactly perfect, they would spend extra time fixing it to make sure I liked it. I had my hair done here for every homecoming, prom, and event through high school and college. Naturally, when I started planning my wedding, I knew I had to reach out to One Bridal Company (owned by One Salon) for my hair and makeup for the day of. The problem was that I was having a destination wedding in San Diego. However, One Bridal Company (Ami and Katie) had absolutely no hesitation in traveling to San Diego and helping make my day special by doing my bridesmaids, mothers, and my hair and makeup. Not only are the stylists extremely talented, but they add excitement, comfort, and laughter to any environment, which really helped on my wedding day! They traveled with all of the best tools and makeup. Everyone looked absolutely gorgeous and they followed their hair and makeup schedule precisely to make sure everyone was beautiful and ready on time. I can not thank One Bridal Company enough for making my wedding, and the months before so amazing, easy, and carefree. Before my wedding, I went in for my hair trial and thought I wanted to go with an up-do. Ami created the exact hair style that I wanted (I brought a picture to show her), and it looked stunning. The team suggested I take pictures at every angle to make sure I knew how it looked all around. This is when I realized I wanted to go a different style, I thought the up-do was too formal for my dress. The Bridal Company had absolutely no qualms about it. They insisted I do another trial, to ensure I would be the happiest I could be on my wedding day. We nailed it the second trial, which made me ecstatic about the upcoming festivities. One Bridal Company exudes professionalism, talent, and personality. They made my wedding day timely, helped around the bridal suite, and made sure I was at ease with everyone and everything about me. You can tell they have worked many weddings before because they were even able to handle different situations, without me even knowing they were happening. Thank you thank you thank you a million times and more for making me look and feel absolutely beautiful on my wedding day. My bridesmaids looked stunning, the mothers looked gorgeous, and I couldn't have been more blessed to have had such an amazing company helping and watching out for me. Thank you for making everything a breeze. I love this salon!
---
One Bridal Company
Reviewed on

8/27/2013
KRISTEE J
Katie did my hair and make-up for my wedding, and I could not have been happier. After my trial I had a few things I wasn't sure about, and she listened to my concerns and came to my wedding day with ideas about how to make the changes. The hair ended up being perfect!! Both my sister and I were so happy with our hair and make-up. I felt beautiful, and I have never seen my sister look more gorgeous! Katie had a very sweet personality and was very calming on what can be a stressful day. The services are a bit expensive, but the convenience of having Katie on-site, and her beautiful work were worth it if you can fit it in your budget.
---
Love Ami!!!
Reviewed on

8/07/2013
Lindsey B
I used One Bridal Company for my wedding on August 2nd 2013. I was referred to Ami, the owner, by my wedding coordinator. I called and spoke with Ami to schedule a trial. She was very accomodating with my schedule. I'm a little OCD, so I had sent her pictures of hair and makeup styles I wanted. During the trial, we went through the pictures and asked me specifically what I liked about each one. I had tons of fun getting to know her and she nailed the looked I wanted on the first try. I gave her a deposit that same day for the wedding. On my wedding day, Ami and an assistant stylist were on time and ready to go. They got to work right away on the moms, aunts, and bridesmaids. Ami did my hair and makeup and spent tons of time making sure everything was just right. the best part is Ami came back right before the reception and styled my hair a different way that I thought would be easier for me to dance in. I loved everything they did and I would recommend them to anyone.
---
Ami is the perfect vendor!
Reviewed on

5/21/2013
Stephanie L
This review should be the easiest I have had to write yet somehow I am at a loss for words to adequately explain how phenomenal Ami's talents are. From the first initial consultation to the time we said goodbye on my wedding day I felt comfortable and confident in her services. She listened to my desires and made changes to meet the goals as needed. On the morning of my wedding she made me feel so relaxed. The bridal hair was perfect and makeup was flawless. Hair/make up is not something I take lightly in my everyday life and had thoroughly done my research for bridal services prior to meeting Ami--once we chatted, it was a done decision. I highly recommend Ami Christiansen for bridal beauty services.
---
Perfect Company that caters to you!!!!
Reviewed on

5/16/2013
jill l
This company is so perfect! They come to you on your wedding day! No worrying about anything besides having your hair dry and a little moisturizer on your face! The come to your suite or your house wherever you are getting ready! These girls are amazing! They ask what you want or what you are expecting what you want to look like. I am the bride and I don't think I've ever looked more beautiful than Christy made me on my wedding day, plus 3 other women who did all of my bridesmaids, my mother, grandmother, Aunt. A ton of people! They kept to the timeline and when I needed to be ready and got it done. We all got false eyelashes! Had all our makeup airbrushed and it stayed all day! I looked just as good at 2am as I did at 10am when they did it for me! They are really personal and fun to talk too, they made my morning on my special day extra special. They even gave me my lip gloss so I could reapply all day long! So sweet! If you are thinking about using a service like this for your big day, I would recommend One Bridal hands down! A+ girls! Thank you for everything!!!! SO glad I found you on theknot.com
---
"wowza" for the talented hands!
Reviewed on

5/09/2013
Mary A
Tanisha and Katy are fabulous artists! I am so happy that they were part of my wedding day. They came early with pleasant smiles on and a peaceful ambiance. I knew we were in good hands. We all loved our makeup and hair as well as our stylists! I highly recommend them.
---
Amazing Hair and Makeup!!
Reviewed on

4/09/2013
Janet A
We had hair and airbrush makeup done for our daughter's wedding by One Salon & Bridal Company. Taisha and her team of Becky and Katie were amazing!! This is a team of true professionals. They arrived to our home early, immediately set up and started working. We were so relaxed that it felt like we were just chatting and having a party. All nine people turned out beautifully. We had so many compliments during the entire day on our hair and makeup. Without hesitation, I would highly recommend Taisha, Becky and Katie from One Salon & Bridal Company for your wedding hair and airbrush makeup. As a mother of the bride, I never felt so beautiful as I did on the day of our daughter's wedding. Thank you Taisha and team.
---
Absolutely Fantastic!
Reviewed on

12/31/2012
Ashley Y
Ami (the owner) and Katie came out to our hotel the morning of my wedding and did my hair / make-up, and hair for all four of my bridesmaids and my flower girls. They were prompt and extremely efficient in keeping us on schedule, and everyone's hairstyles were exactly what they wanted and looked amazing! I did the airbrush makeup and my hair and make-up stayed put from 10am all the way until we got back to our hotel at 2am, even through 2 hours of pictures in windy downtown Chicago. We all received complements all day on our hairstyles and it was such a relief to be able to trust that my hairstyle and make up would stay put and have one less thing to think about throughout the day. They were both very patient, including with two very young flower girls, and really took the time make sure that we were getting exactly the hairstyle we wanted. I really wanted to wear my hair curled, but my curls always fall flat within a few hours. Ami really went the extra mile to make the hairstyle I wanted work for me and even squeezed me in for a last minute second trial so that I could be sure that the hairstyle was going to work before my wedding day. I highly recommend Ami and her team – they are professional, organized, fun and a true pleasure to work with. They bring the same level of excitement and thorough service to every single wedding, as opposed to making you feel like you're just another wedding on their calendar, and will make sure that you feel 100% confident with your hair and make-up on your wedding day.
---
Looked and felt gorgeous!
Reviewed on

12/15/2012
Kristin L
I am so happy we decided to use One Bridal Company for my November 10, 2012 wedding. We had Tai and her team come to the house and do make for me, my six bridesmaids, my mother and one of my grandmothers. They were so great! Each of the girls had drop dead gorgeous hair and makeup. They all had different styles, but each girl still looked like herself. The airbrushing was such a treat! It feels like you're not wearing makeup at all. None of our makeup smudged or ran all day long! It was great to have one less thing to worry about. Tai and her team were efficient and did such an amazing job on everyone. We all looked fabulous and felt so pampered! I would use One Bridal Company again for hair and makeup, and recommend them to any bride wanting to look and feel their best!
---
Amazing hair and make-up!
Reviewed on

8/19/2012
Trevor G
Ami and her team did a fabulous job! This is the third wedding we have used One Bridal Company because we love their work. They are very easy and fun to work with! They provided suggestions on different looks and were very helpful in the process. Everyone looked amazing, and more importantly they were happy with the outcome! I would highly recommend them! Thanks!
---
Perfect!
Reviewed on

9/01/2011
Melissa D
I used One Bridal Company, who traveled to the home the bridal party and I were staying and they came in to do all of the girls hair, they all did such a great job and all of the girls looked beautiful! I highly recommend them for your wedding, it was perfect! Thanks Tai, Katie and Beckie :)
---
Send Message