Home

Organic Beauty Salon & Spa
About this Vendor
Organic Beauty at it's best!
Don't stress on your Special Day! Let us help you create that picture perfect hair style and flawless makeup application. Visit our website and call today for more information!
Details
Beauty Group Bookings, Hair + Makeup Trials Available, Hair Stylists, Airbrushed Makeup, Eyelash Extensions, Makeup, Makeup Artists, Nails, On-Site Hair + Makeup, Facials, Massage, Waxing, Spas, Spray Tan, Beauty
Reviewed on

5/24/2017
Ellen R
I am so happy to have gotten to work with Angela and her team for wedding hair and makeup. We booked Angela last-minute after other plans fell through, and she wasted no time in helping me set up a trial, nail down the details for the day, and get everything ready. She is an... Read More excellent communicator, very friendly, and easy to work with. She and one other stylist traveled to our ceremony site to do hair for 7 and makeup for 4 the morning of the wedding. They worked tirelessly from 8:30am until we were all ready at 2. My favorite thing about Angela is how much we communicated about my "look." I usually wear no makeup at all, so I wanted to go for a natural look so that I could feel like myself. Angela tried out a few different options at my trial so that I could really find out what worked best for me (not necessarily what works best for other brides or what is recommended in magazines). I learned a lot from her, too! I would absolutely recommend Organic Beauty for any brides in the Madison area. Thanks for everything!!
---
Reviewed on

4/16/2017
Kate R
Organic Beauty is wonderful! I had a trial with them and was able to see how my hair and makeup might look. On my wedding day I had a few changes to my makeup and had a few requests with my hair and Angela was able to work with me for whatever my needs were. She traveled to... Read More Milwaukee and came to the hotel we were staying at and my bridesmaids and I were able to relax while getting ready. I was very pleased with the outcome; my makeup lasted, my hair stayed in place and we all looked so beautiful. Highly recommended!!
---
Amazing People! Amazing Service!
Reviewed on

11/09/2013
Autumn
Anglea and her troop of assistants were amazing to work with and are all very talented! Angela was originally only supposed to do our hair but that changed when the woman who I had signed to do the make-up turned out to be a flake. Luckily, Angela and her team are great at... Read More both! Everyone was very impressed with how they did their make-up and hair (and they go through 9 women in a matter of a few hours)! They also travel; it was so much more convenient that they came to our wedding venue as it was in the middle of nowhere (and only charged us a very minimal travel fee). Both their products and their service are top notch!
---
Reviewed on

9/15/2017
Diana D
Angela was awesome! I booked her because she was able to come out to our home to help me and my bridesmaids get ready AND she was able to do hair AND make up! She was so great to work with, and even though I live out of state, was able to do my trial the week of and it was no... Read More big! She totally listened to what everyone wanted and did a great job executing! I thought she was very professional and talented! Couldn't have asked for better service and would definitely recommend her to all in the market for bridal hair and make up!
---
Reviewed on

8/16/2017
Ali C
Organic Beauty Salon and Spa was marvelous on my wedding day. They made each of my girls look absolutely flawless and captured the exact look I was going for. Leading up to the day Angela was very easy to work with and just a very kind, professional, and easy going person to... Read More work with. If you are looking for flawless hair for your wedding day, I highly recommend Organic Beauty Salon & Spa. Thank you so much again!!
---
Reviewed on

7/19/2017
Nicole F
Love love love how my hair and makeup turned out! They were able to take my picture and transform it into a natural, beautiful look for my wedding. I had 8 bridesmaids, 2 mothers, 1 grandma, and an officiant who all needed hair and makeup done and they were able to get us done... Read More all within our timeline without rushing! They also came to the venue to do our hair and makeup which made it a very stress free process. Highly recommend!!
---
Reviewed on

6/09/2017
Megan M
I had an unfortunate experience with Angela at Organic Beauty Salon & Spa. Originally, in April, we agreed that Angela would come to my wedding venue and provide hair/make-up services. When one bridesmaid and the mother of the groom backed out of their services needed in May,... Read More Angela stated "it wouldn't be worth it" for her to come to the venue to render the amount of services we needed. Fine. We agreed we would come to her salon at 8am, which we changed to 9am, the day of the wedding to have everything done. I sent my signed contract to Angela. In June, 4 months before my wedding, Angela emailed me asking if we would be willing to come to the salon at 7am for our services because 2 other "larger" wedding parties wanted to come in at 10am. I don't know about you, but waking up that early on my wedding day didn't sound very good. I called Angela, very upset, stating that would not be ideal. When I said to Angela that it seemed like all she cared about was money, she stated "Well, this is a business." Angela was willing to break my contract with her, to make more money. In the end, I told her I would not be needing her services. My experience with Angela was very stressful and upsetting. It was very difficult to find another hair/make-up artist 4 months away from my wedding. Even if her brides look amazing, I would not recommend using Angela due to her being unprofessional and only caring about money.
---
Reviewed on

10/24/2016
Alexa N
Ang does fantastic work! My hair and makeup was done beautifully! I love Ang and referred my sister to her. Thank you for making me feel gorgeous.
---
Reviewed on

10/12/2016
Leah K
I had the absolute best experience with Organic Beauty Salon & Spa. I contacted Angela when I was originally trying to find somebody in Wisconsin that could travel. Angela got back to me right away, and I was amazed with her prices. Compared to EVERYONE else she was beyond... Read More reasonable and all of her work looked too good to be true! I went in for a trial a month before my wedding and looked stunning! My mom was in tears! On the day of my wedding, she showed up 10 minutes before she even needed to be there to set everything up in our hotel room (with two other stylists) and began styling immediately! They finished everyone in my 8 person bridal party and three moms! Angela and her staff are so professional, and just plain fun to be around! I am so happy with how I looked and felt so confident all day (my bridesmaids said it was the best makeup they have ever had for an event!). Thank you Angela and all the staff at Organic Beauty Salon & Spa for making me feel like a princess!
---
Reviewed on

9/15/2016
Molly N
Angela did a fantastic job with my bridal (and bridesmaids) hair and makeup. She is an expert in the field and helped me explore new styles. I am so thankful for the work she did on my weeding day it was a completely stress free experience!
---
Jaclyn
Reviewed on

7/02/2015
Jaclyn P
Angela and her team worked with my wants and desires for the morning of. I was anxious because we had many heads to get done in a short amount of time. I was able to rest easy, she cruised through them with quality work. All of my bridesmaids loved their hair and makeup!... Read More I'd highly recommend their services in a (far too) expensive market like Madison.
---
Wedding Life Saver
Reviewed on

11/23/2013
I have already been going to Angela at Divine Body and Styles for the 7 years that I've lived in Madison after a recommendation from a trusted friend, so it was an easy choice for me to ask Angie and her team to do my (the bride), my bridal party, and mother's hair, manicures... Read More and pedicures, and facials. Even after knowing Angela, I was impressed with how she arranged everything. For manis, pedis, and facials, we just showed up, and she and her team created a fun, relaxing afternoon for us. And on the morning of my wedding, she showed up at our hotel room and managed to do all of our hair with time to spare. She even had suggestions for the photographer who was taking pictures of us getting ready! Plus, Angela had great tips for me before the wedding, such as wear to find jewelry and accessories for my hair, and how to keep my hair looking nice in an August wedding in a park on a 99ºF afternoon! I have really thick hair, and quite frankly, the fact that my hair still stayed beautiful all day and unfrizzed in my up-do is still pretty shocking. Of course, everyone commented on how beautiful my hair looked, which I realize is pretty common at your own wedding, but even as I look back at our pictures, I admire how lovely my hair looked and how perfect my French manicured nails look in the ring pictures. (Seriously, try out her French mani and pedi in Shallac...best in 3 states I've found). My stress level was greatly reduced having Angela at Divine Body and Styles take care of all of my wedding beauty needs. It's really wonderful to have someone who you know you can trust and is knowledgeable and talented on the morning of your wedding so that you and your party can relax and know that you will all look your best. I recommend her to everyone, and everyone that goes to Divine Body and Styles is really glad to have "found" her. So am I!
---
Wedding Secret Weapon!
Reviewed on

9/05/2013
Sierra B
Angela has been my hair stylist since 2009 so I knew I would be in good hands for my wedding in summer 2013. Luckily for me, Angela helped me pick a hairstyle shortly after I purchased my dress. From there we worked on growing my hair out a bit for the style as well as adding... Read More highlights prior to the wedding. On the day of the wedding, Angela met us at the hotel where the wedding party was staying. The three bridesmaids, the flower girl, my mom and I all got our hair done - and loved all of the styles! Angela was even able to squeeze in a last-minute hairstyle for our flower girl. I received so many compliments throughout the day and the style lasted from 7 am until 11 pm that night without a hair out of place. Thank you so much for making me feel like a beautiful bride on my wedding day!
---
Beautiful Hair and Make Up!
Reviewed on

7/18/2013
Katy W
Angela from Divine Body and Spa did a great job with my hair and make up for the wedding, (bridal party too!) She came to my house, was friendly, and made everyone look and feel beautiful. I continue to receive many compliments on my hair and make-up!
---
Meet The Owner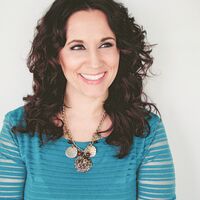 Angela Kowieski
Cosmetologist, Salon Owner, Cosmetology Instructor, Salon Wedding Coordinator Hello Brides to be! Let me know how I can help with all of your beauty needs on your big day.