Home

Our Lady of Cupcakes
About this Vendor
Our Lady of Cupcakes
Details
Contact Info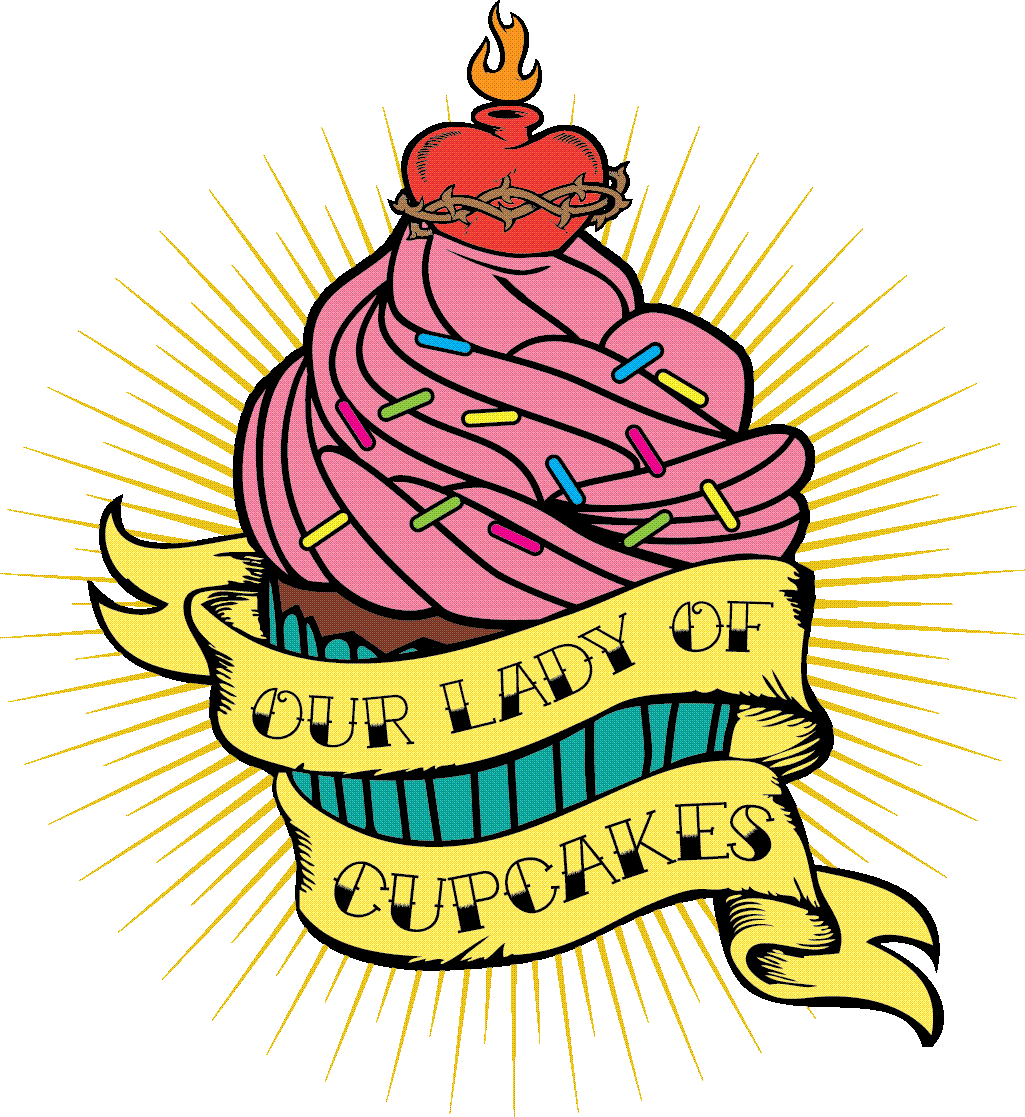 7132 East Mercer Lane, Scottsdale, AZ
Excellent & Unique
Reviewed on

1/10/2013
Regan S
KT and Our Lady of Cupcakes was fabulous for our wedding. BEST cupcakes in town, and we receive countless compliments on the flavors and display! I wouldn't have had our wedding cake any other way.
---
Best cupcakes ever!!
Reviewed on

7/12/2012
Jodi P
KT and Lisa are the best! They were able to give me exactly what I wanted for my wedding. Our wedding had a Luau theme and they were able to give me exactly what I wanted with the flavors they offered, the colors and the decorations. They even did a 6" top cake for us that had an edible plumeria lei on it. It was beautiful!! The flavors we had were the talk of the wedding, all of my guests were so impressed with how wonderful and fresh everything tasted. I sampled a couple other local cupcake bakers, one that was even on, and won Cupcake Wars, and I must say that KT and Lisa's cupcakes were so much better and their price was better also!! I will definitely be using them again in the future and have been telling everyone I know about them. You will not be sorry if you order from them, they are excellent!! Jodi
---
Absolutely amazing!!!!!
Reviewed on

7/05/2012
Jess P
These cupcakes are sooo good! We knew as soon as we did a tasting that these were the cupcakes for us. They work within whatever budget you have, which is really great! You can customize the cupcakes and change fillings and toppings for whatever you like. They did an amazing job and everyone made a mad dash for the cupcakes as soon as the cake cutting was over! They couldn't refill the table and tower fast enough! I wanted a cake that looked great, but more importantly, tasted great, and Our Lady of Cupcakes did that. We chose to do 3 flavors with 3 different designs. It was perfect!! I would highly recommend them to anyone looking for cupcakes or unsure of what they want. These ladies will help you find exactly what you are looking for!
---
Don't look any further!
Reviewed on

1/06/2012
Catherine M
We wanted to have cupcakes on towers as center pieces on the tables at our wedding, and from the very beginning KT and Lisa worked with us to make every detail of our vision a reality. Not only do their cupcakes taste phenomenal (try the chocolate with chocolate chip frosting), KT and Lisa are also very creative - and fully committed to ensuring the cupcakes LOOK exactly as you envision too. KT and Lisa worked with us to make sure every detail was perfect, from the flavors to the creative details, to the height and appearance of the cupcake stands. I just told them what we wanted and they delivered. Their customer service is impeccable and they are fast to respond to emails - no matter how small the question! Our guests raved about the cupcakes, and plenty of people took spares home in their pockets! I can't recommend Our Lady of Cupcakes enough - you definitely want them on your wedding team!
---
Beyond Excellent!
Reviewed on

12/20/2011
Stephanie W
I can't praise Our Lady of Cupcakes enough. I used them this weekend for my small, intimate wedding and I could not be happier. KT and Lisa were helpful through the entire process and will literally do anything they can to make sure you get exactly what you want. We went with a book theme, so I sent them a list of our favorite books and they then made small paper books, complete with dialogue inside, to be placed on top of the cupcakes! They turned out beautifully! They were, hands down, the centerpiece of the reception and everyone loved them. Also, besides appearance, they were absolutely delicious. They tasted fresh and homemade, weren't too sweet and each flavor tasted natural. We picked the Raspberry Beret, Pumpkin Spice and Triple Chocolate and all three were amazing. KT arrived on time, early even, and set up the entire tower like a boss. So, if you're looking for something tasty and personal that goes beyond the traditional wedding cake, use Our Lady of Cupcakes. You will not be disappointed!
---
Perfect From Start to Finish
Reviewed on

12/06/2011
Eshani O
To start, I was a little unsure of how cupcakes would work for a wedding- I'd never seen it done before. When KT and Lisa met up with us for a tasting, I was brilliantly surprised. Never had I thought that cupcakes tasted so good. As soon as they left, we'd decided to go with them. Throughout the following few months, we had changed our minds a couple of times on location, style, etc., and they were there to adjust as quickly as we were. On the day of the wedding, they showed up and setup the cupcake tower quickly and quietly, with an absolutely beautiful presentation. I highly recommend Our Lady of Cupcakes for any of your events.
---
Wonderful presentation and delicious cupcakes!!
Reviewed on

11/03/2011
Jennifer M
I cant say enough great things about these ladies. Before the wedding they met up with me and my mom and let us taste a few flavors. It was sooo hard to choose because they were all delicious! We of course ended up booking KT & Lisa that day! They kept in touch throughout the next few months and came up with a perfect vision of what we wanted. Fast forward to our wedding day..my expectations were exceeded. Of course the cupcakes were delicious! But I was also impressed by the beautiful presentation. You will not be disappointed with Our Lady of Cupcakes for your wedding, bridal shower, birthday party...etc. Thank you again KT & Lisa!!!
---
Perfect!
Reviewed on

10/19/2011
Nicole B
Our Lady of Cupcakes was absolutely wonderful to work with! Most importantly to me, I have severe food allergies to peanuts/tree nuts and it can be a huge challenge to find any baked goods that are safe for me to eat. This was a big anxiety producer for me when planning the wedding, as I wanted to be able to eat our wedding cake without being terrified of a possible reaction. I first came across Our Lady of Cupcakes and emailed them with my concerns. They addressed all of my concerns and were so incredibly accommodating with my allergies. They even went as far as researching manufacturers of all ingredients to make sure they were safe as well as ordering separate frosting tips for me to make me feel comfortable. I always felt so at ease and didn't worry once about eating the cupcakes. Not only are they accommodating with food allergies, but they also bake delicious cupcakes and decorate them beautifully as well! We were amazed at our tasting at how awesome these cupcakes were. At our reception, we had so many guests coming up to us telling us how much they loved the cupcakes and even our caterers, who have tasted many cakes, expressed their love for the cupcakes and said they would be recommending them to all of their future customers. We did not want traditional vanilla or chocolate cupcakes for our reception, so KT & Lisa asked us what our favorite desserts, flavors, etc. were so they could come up with creative flavors for us. We ended up with Tiramisu, Strawberries and Cream, Lemonade, and Banana Cream Pie. All of these flavors were beyond amazing. I can't wait to use Our Lady of Cupcakes again in the future! They will be the first ones I contact when the need arises :) I might even need to come up with a reason just so I can order more...
---
Just PERFECT!!!
Reviewed on

10/17/2011
Jackie J
I gave KT and Lisa my "vision" from a photograph I found on the internet, and they executed it perfectly!!! My cupcakes were visually appealing, but best of all, delicious!! If you are looking for a custom cupcake display on a budget that tastes great, they will surely deliver!! Thanks for making my wedding perfect!
---
Best Cupcakes Ever!
Reviewed on

10/10/2011
Lisa L
I do not even know where to begin. KT and Lisa were so accomodating from the very beginning. They are great at communicating via email and never left a question unanswered. They are the most cost effective cupcakes I could find and they offer the most customization. How could they be any more perfect? Well, their cupcakes are absolutely delicious and they come up with the most creative flavors. And...if you want them to create a new flavor for you they are ecstatic. My husband and I got married and our colors were black/jade with peacock accents. KT and Lisa came up with wonderful decorating ideas such as rice paper peacock feathers and stamping cupcakes with embossed peacock feathers. As for the flavors we had chocolate and vanilla cupcakes (which sound plain but these girls know how to make even the plainest flavors exquisite!) And they based two other cupcakes on mine and my husbands favorite desserts. Banana cream pie for me and lemon meringue for my husband. Our guests loved all of the flavors! Also, they decorated our cupcake tower beautifully and arranged the cupcakes perfectly! I could go on and on about the wonderful service that they provided but it basically comes down to a few things. If you are looking for friendly, accomodating, organized, and honest cupcake people as well as cost effective, completely customizable, DELICIOUS cupcakes then you can not go wrong with KT and Lisa or Our Lady of Cupcakes!!!!
---
Nobody Will Top These Girls!!!
Reviewed on

10/01/2011
sarah l
I can't say enough good things about this vendor. Kate & Lisa were both so helpful during the design process and helped me create a beautiful, classy dessert table...exactly the way I had envisioned it. Their cupcakes are literally the best I've tasted. EVER. They offer a ton of unique flavors and every single one we tried was ridiculously good. We ended up going with 4 different flavors (Strawberry Shortcupcake, Peanut Butter Cup, Lemonade and Breakfast Club) & had 200 cupcakes total, along with a 6inch cutting cake. It was a big order but they executed the whole thing perfectly, from start to finish. Their pricing is extremely reasonable for the quality of the cupcakes and service they provide. Literally countless guests came up to me, my family & husband throughout the night to ask about the cupcakes & compliment us on how yummy they were. I'm beyond happy that I chose this vendor over some of the more "commercial" shops. They're obviously very passionate about this business and pour their heart & soul into it. They helped to make my wedding day over-the-top gorgeous and decadent. I HIGHLY recommend Our Lady of Cupcakes. Do yourself a favor & check them out before you settle for anyone else! I promise you, their pricing, service & product quality will be hard to say no to.
---
Love Our Lady of Cupcakes!
Reviewed on

6/07/2011
Lindsey F
I have used Our Lady of Cupcakes to cater two graduation parties, so it was a no-brainer when it came time to plan my wedding dessert. Katie and Lisa not only know how to cater appropriate to the theme of the event, but they actually helped take the vague ideas I had of what I wanted, and turned it around and gave me a tangible theme that I adored. I even ended up sharing the style board they created for me with the other wedding participants and vendors to guide them with our theme and colors. Their cupcakes are not only beautiful, but delicious - my wedding guests could not stop complimenting the yummy customized Pirate's Booty and Raspberry Beret cupcakes that adorned our beautiful wedding cake tower. Katie and Lisa arrived with plenty of time to assemble the tower, and they charged extremely reasonable rates. I will definitely be using Our Lady of Cupcakes again in the future!
---
Amazing Cupcakes- Couldn't have asked for more!
Reviewed on

4/28/2011
Rebecca L
I was so incredibly happy with my cupcakes and cupcake display from Our Lady. Lisa and Katie were amazing to work with. When they say customization- they truly mean it! These girls can make anything. While we did an assortment of 4 flavors, our main flavor was the Raspberry Beret and it was to die for! I got so many compliments from my guests- they wanted to take some home with them! The girls showed up on time to set up the display and it looked gorgeous! I will definitely use Our Lady again.
---
Send Message