Home

Our Shop of Stillwater/Our Shop Too of Crystal
About this Vendor
MOTHER'S SALE AT STILLWATER AND CRYSTAL
June 8th-20th MOTHER'S SALE! Go to our website for details. OUR SHOP in Stillwater has the largest selection of mother's dresses in the area. OUR SHOP TOO in Crystal has an alteration department. Call 651-351-1087 (Stillwater) or 763-533-4228 (Crystal) to make your appointment TODAY!
Details
Bridesmaid Dresses, Mother of the Bride Dresses, Wedding Dresses, Alterations
Contact Info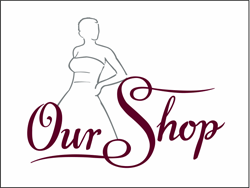 214 Main St S, Stillwater, MN
Thank you, Thank you, Thank you!!!
Reviewed on

9/23/2013
Jill S
The first day my Mom and I went into Our Shop we didn't have an appointment made. It was a Saturday and it was busy, but the staff were so friendly and encouraged me to try on dresses even though we didn't have an appointment. The staff let me pick out the dresses I thought I would like, but also encouraged me to try on a few dresses they thought would look great on me. One dress in particular I was very hesitant about because I really didn't think it would look good on me. The staff member told me she thought it would look gorgeous on me. This dress was on the manikin and the staff member took the time to take it off the manikin for me to try on. The dress she took off the manikin ended up being my WEDDING DRESS!!! I went to several other wedding dress stores within the Twin Cities and none of them compared to Our Shop. The staff made me feel so special and happy. They also never rushed me! In addition, one day we went into the store and they were still helping us 1 hour after they had closed for the day! We were so impressed with the staff and their products that we ended up purchasing my Mother's dress, all of the groomsmen and groom's attire. I went back to the store on several occasions to try on jewlery, shoes, headpieces/ veils etc. and during each visit I was treated with respect. In the future, anytime I hear someone is getting married, I will be recommending Our Shop in Stillwater, MN as the bridal shop to go to!
---
A-M-A-Z-I-N-G
Reviewed on

9/20/2013
kaci h
Our Shop was so helpful when shopping for the "perfect" gown. I had shopped at a few other places, but when I came to Our Shop, I was happy to see how helpful the bridal consultants were and the amount of respect they have for the gowns. I feel that if you are going to be showing that much respect to the sample gowns, think of how they will be treating your NEW gown! I was also very happy with how much patients they had with me. I felt like bridezilla coming in 3 separate times to make a final decision, but everyone there was so kind and made sure I made the right decision (SO HAPPY WITH MY DECISION). Not many places will give you that kind of service! I would recommend "Our Shop" to anyone looking for service, quality and a fair price!
---
The Experience of a Lifetime
Reviewed on

9/18/2013
Sari G
I'm definitely not the typical bride who has dreamed all these glorious ideas in my head. I went in just to try on dresses with my mom and instantly felt like I was part of more than just a bridal shop, more like family. I didn't have an appointment and wasn't planning on buying but that didn't stop them. Carol gave me her full attention and the second dress I tried on became the one. It's a very complicated dress and my many visits for alterations were nothing less than the first experience. They are helpful welcoming and genuinely interested in who you are as a bride. I will recommend them to any future brides I know!
---
Completely Remodeled!
Reviewed on

5/26/2015
Betsy S
I was so happy when I received my wedding dress from Our Shop 2! The store is completely remodeled from when it was The Bridal Store. I was one of the bride's who's money was taken from the previous owner. I was so worried after I heard what the previous owner did with our money, I was worried I wasn't going to get the dress of my dreams. The new owner reassured me everything was going to be just fine and confirmed my dress was ordered. I picked it up and sure enough everything was just fine! When I walked into the newly remodeled store I was shocked. It looks nothing like the old store. It's so beautiful and clean. Fresh paint, new carpet, the dresses are displayed perfectly and you have to take your shoes off at the door. The young woman who helped me put on my dress was so nice and she took the time to stay with me. I had my dress on for a while and she didn't seem annoyed or anything. The entire staff was so nice and welcomed us in. My mom and I were the only ones in the store that Thursday afternoon so they all were able to help us. I would recommend anyone to make an appointment and look at the selection of dresses they have. The store is so classy and elegant. I am so happy I was able to work with Our Shop 2 in Crystal, MN. Thank you to everyone who works there and helped me with the dress of my dreams!
---
Best. Shopping. Trip. Ever.
Reviewed on

4/28/2015
Amy G
Let me start this off by saying that I am not a shopper. I don't like shopping, rarely do items fit right, I feel bad and I'd rather just not do it. So you can imagine how I must have felt anticipating shopping for my wedding dress! I wanted to look forward to the day so badly but in the back of my mind, all I could think of is "how are these dresses going to look on me???" I was so nervous! Enter Our Shop Too. They were so easy to work with and very accommodating. Jess listened to my likes and dislikes and by the 3rd dress, I said yes to the dress. A day that I thought was going to be a disaster really turned into such a wonderful experience and a memory that I will never forget! I highly recommend Our Shop Too in hopes that you will have a great experience like I did.
---
Our Shop!
Reviewed on

2/19/2015
Brooke M
I just said yes to the dress at Our Shop Too located in Crystal, MN. I have nothing but good things to say about this store! The service was fantastic, patient and very helpful. Staff did great at staying within my budget and suggesting dress options based off of what I liked or disliked. Also had a wide variety of dresses to choose from! I would definitely recommend looking at Our Shop Too when you are looking for wedding dresses or bridesmaid dresses!
---
Amazing Experience
Reviewed on

1/09/2015
Bonnie B
Our Shop was the first stop on my wedding dress shopping tour. If I could replicate the experience for all brides I would! Beanee was so helpful and genuine in assisting with my search for the perfect dress. She was directive but also let me do my thing; perfect balance! She helped me in and out of all the dresses which made the experience so much more effortless and fun for me. The shop itself has fantastic lighting and great space for modeling all the dresses. Lastly, the staff were never pushy and didn't pressure me to purchase that day which I really appreciate because no one needs to be rushed into choosing their wedding dress! Thanks so much for a fabulous experience!
---
Great service, beautiful dress
Reviewed on

11/11/2014
Angie L
I shopped around a few places for a wedding dress and Our Shop was by far the best experience. They don't overbook, it's a great atmosphere, they let you go through the dresses and pick which ones you'd like to try on, the set up is nice and fun for your family and friends to enjoy and the employees could not make it more fun to try on dresses! I found my perfect dress here and it was a reasonable price and I could not be any happier!
---
Amazing experience
Reviewed on

10/29/2014
Amanda V
I went to Our Shop after finding them online. I had previously gone to another bridal shop and was not impressed. Our Shop was an experience I am very happy I now have. I personally worked with Beannie who is absolutely fantastic! They are very knowledgeable and helpful. They truly made the once in a lifetime experience that I was looking for. The people are amazing and the service is superb! If you are looking for a great bridal experience, Our Shop is the place to go!
---
Incredible Experience! Thank you Our Shop!
Reviewed on

10/27/2014
Robyn Z
I initially went to Our Shop over six years ago with my sister to shop for her wedding dress, which she ended up getting from there. When it came time for me to shop for my own wedding dress Our Shop was top on my list. I had been to 3 other appointments and was ending the day at Our Shop. I was extremely tired by this point and I thought I had found my 'perfect' gown earlier in the day so my initial thoughts going into the appointment were I either need to be blown away or not like anything. And needless to say I was blown away! Our Shop has a huge selection of dresses and they are so unique compared to other shops. My consultant was Trish and she was amazing!I was her last appointment for the day and I did not feel rushed or pressured once throughout my appointment. I pulled 6 dresses and the 2nd dress was THE ONE. Trish made sure I felt comfortable in the dress whether I was sitting, walking, etc...She took the time to explain alterations thoroughly with me, accessorize the gown and really soak it in the moment. As we were wrapping up the final details with Trish and the owner, Carol, they both seemed genuinely excited for me and want me to send them pictures of me on my wedding day in the gown. It is extremely heart-warming to see how much Carol and her team of consultants respect their dresses and clients. Most wedding shops and consultants treat you like a number and you're in and out without an after thought. I would highly recommend Our Shop to anyone looking for their wedding dress and will definitely be going back to shop for Bridesmaids and Mother of the Bride dresses! Thank you Our Shop!!
---
Great experience!
Reviewed on

10/27/2014
jessica l
Our shop was amazing! I had already thought I found the dress at the wedding shop however there were a few concerns with the dress. As a bride and only daughter I wanted that approval and special reaction from my mom. I felt defeated and unsure what to do. The wedding shop was very busy and overwhelming to me so to think I had to go grow that again have me anxiety. My mom found Our Shop online and called to schedule an appt and told them our situation. My mom called me instantly after and said we have to try the store because the lady on the phone was so nice and comforting and had a totally different feel then from the wedding shop. We went on a Friday and it was way more relaxing and at ease! I felt very comfortable and not rushed. Beanee(hope I spelt your name right!) was awesome and listened to what I wanted.... We picked some dresses off the rack together and each dress I tried on she listened to what I like and didn't like on each one. To make this short I found THE DrESS and I cannot wait to wear it on my wedding day!
---
From Bridesmaid to Bride
Reviewed on

10/26/2014
My first experience at Our Shop was bridesmaid dress shopping for a wedding I was in. This past spring I worked with Beanee, who made my dress search so much fun! She listened to what the bride and I were hoping to accomplish, asked great questions, and ultimately helped make the dress selection process an easy one. She has an infectious personality and I could tell she truly cared about our experience. Another reason why I liked working with Beanee is because she was very conscious of my budget and helped us find options that were in my price range. Beanee and Our Shop left such a fantastic impression, I knew I had to go back to find my own wedding dress. Fast forward to fall and I was back at Our Shop. Located in downtown Stillwater, it's the perfect destination to spend a day with your mom, bridesmaids, or anyone involved with your dress hunt. The shop itself is in a historic building with lots of charm. The bridal room is so pretty - I felt like a princess looking through all of the beautiful dresses. My guests were able to relax while I worked with Beanee to try on my selections. We had a blast trying on different styles. I really didn't know what I was looking for when I first arrived but Beanee is so knowledgeable and knew exactly the right questions to ask. It was a very fluid process. Every once in a while I would make a comment or offer feedback and she would run to the racks with an idea and find exactly what I was thinking. Beanee is very intuitive and ended up finding THE DRESS, which I never would have thought of myself. I couldn't have asked for a better experience! You can bet I'll be back with my own bridesmaids for their dresses. Thank you to Beanee and Our Shop!
---
I finally found my dress!
Reviewed on

10/25/2014
Natasha R
I had such a wonderful experience at Our Shop! The staff was friendly and knowledgable. LaTona helped me and was amazing! The store is such a clean, inviting place. I would definitely recommend them to any bride!
---
Nothing Less than FABULOUS!
Reviewed on

10/21/2014
Jenny A
Wow... Where shall I begin? I just first off have to say that Our Shop in Stillwater MN is Hands down the best shop I have ever been to for Wedding Gowns. The ladies at this shop were all amazing and they take very good care of their dresses! They take a lot of pride in their store! They have a wide variety of very beautiful bridal gowns to pick from, as well as bridesmaid dresses, tuxes, and mother dresses! I do recommend scheduling an appointment as did I to ensure that I would have plenty of time to try on gowns for my big day! My sales lady was Kathy and she was amazing! She actually took her time to listen to what I wanted and you could tell she truly cared about me as a client. I was at other shops and they really treated me as a $ sign. I was not pressured into making a purchase on my first visit as it takes time to really think about what you just saw yourself in! On my first appointment Kathy was able to spend 3 very generous hours with me and I am truly grateful for that. Other shops that I was at were pushing you out the door as fast as they could just to make a sale. After I left Our Shop on my first appointment I knew I was going to purchase my dress from them! I just had to decide which dress was "The Dress to say Yes to"! I scheduled a 2nd appointment and Kathy even made a special point to come in on her day off to help me again!!! Can I say WOW!!! Not many people would do that! Needless to say, I did purchase my dress on my second visit and I can not wait for my dress to arrive in a few months for my wedding next fall! I have spent countless hours dreaming about "my dress"! Thank you Our Shop oh so Very Much for all of your help! It has been a blessing from the start and I can not wait to bring my bridesmaids in to try on dresses! God Bless you All!
---
Our Shop in Stillwater, MN
Reviewed on

10/21/2014
Shari A
Our Shop is a wonderful Bridal Shop. It is above and beyond all the other shops we went to. Kathy was the most amazing lady. All of the ladies were great. All had many compliments and helpful suggestions. We were there when it wasn't busy with several bridal parties. Love that. Kathy did a beautiful job helping my daughter find the perfect dress and accessories. Also met the store owner and she was outstanding. She has a wonderful staff working for her. Can't wait to go back in for my mothers dress and the bridesmaid dresses.
---
great place
Reviewed on

10/20/2014
Amanda S
This place was wonderful. The staff there is so nice and really takes the time to work with you. They take really good care of their dresses too. The owner is very nice and the shop is clean and well cared for.
---
Small business, anything but small selection!
Reviewed on

10/10/2014
Amanda K
To say I am picky might be a bit of an understatement. I tried on almost 200 engagement rings before picking the right one. I probably tried on 100 wedding dresses. I kept looking for the dress that didn't look like everyone else's and was in my price range. I was also looking for a very bridal experience where I didn't just feel like a number at the bridal salon. I worked with Mary at Our Shop. She was fabulous. She took such good care of everyone who came with me to try on dresses. I absolutely love many dresses there but finally was able to decide on a beautiful one! I am so excited to get married in it!
---
Highly Recommend Our Shop - Aunt of the Groom
Reviewed on

10/08/2014
I was looking for a dressy pant suit for my nephews wedding. I looked at several stores including the Wedding Shops of St. Paul, and was very frustrated with the options. The staff at Our Shop was on top of everything. They quickly ascertained the type of outfit I was looking for. They were friendly, and very concerned I find the outfit I not only looked great in but was also comfortable in. I have received many compliments on my pantsuit. I have recommended the Our Shop located in Stillwater multiple times. Thank you so much staff of Our Shop.
---
Our Shop in Stillwater, MN
Reviewed on

8/27/2014
Denise E
Our Shop carries Rina DiMontella dresses so I decided to take a drive to Stillwater and see what they had for me. As the Mother of the Bride, I wanted to find the perfect dress. BEANEE was there to assist me and I cannot begin to describe how special the experience was! Our Shop takes fabulous care of their garments so, if you need to purchase something off the rack, you know it has been taken care of. BEANEE took fabulous care of me! She assisted in picking out dresses and also assisted in helping me get them on and off (believe me, it isn't always easy)! It was the first shop that I stopped at so I wanted to make sure I found the perfect dress so I also shopped in Minneapolis/St. Paul. Wow. No comparison! The other shops did not have anywhere near the selection that Our Shop had and no one assisted in helping me! I will be heading back to Stillwater to pick out the perfect dress, thanks to BEANEE, CAROL and everyone else who made my experience so wonderful!!! They even had Kenny from Rina's staff help out in making sure I could try on the dress of my dreams. He is my new BFF! Future MOB/MOG, check out Rina DiMontella at Our Shop. You won't be disappointed! I only wish I had more children so I could have this experience again...and again...and again...
---
Don't bother going anywhere else, just come here first!
Reviewed on

8/08/2014
Alexandra E
My mom found Our Shop online while preparing for my sister's wedding. We are from Canada but she drove down and found her mother of the bride dress (it was stunning!) She raved about the service and experience, it was just like on Say Yes to the Dress! When I got engaged a year later we planned our trip to Minneapolis to find my gown. Stupidly we booked several appointments all over Minneapolis prior to getting to Our Shop in Stillwater. All I can say is the frustrations of my other experiences allowed me to appreciate Our Shop even more! Carol is one of a kind! As soon as you enter you know you are in the right place. The service is amazing, they are knowledgeable, the dressing rooms and mirrors are perfect, its everything you want in a dress shopping experience. As a non-shopper at the end of my rope on dress hunting they made the experience fun, exciting and in the end I picked my dream dress. Carol and her team were amazing and I cannot recommend them enough! Thank you thank you thank you!! Alexandra & Carolyn Erickson
---
Perfect Fit
Reviewed on

8/01/2014
Alisha B
Before shopping at Our Shop, I had gone to many other bridal boutiques in the Twin Cities. From the moment I stepped into Our Shop I had the best service compared to any other store. I felt they had a wonderful selection of dresses, friendly staff, and a clean store (all the dresses were stored in bags, hand wipes are used prior to trying on dresses to ensure hands are clean/oil free, and they give you a net to wear over your face to avoid make up and oils getting on the dresses when slipping them over your head). I was able to pick out dresses I liked and able to determine my budget. After trying a few dresses on, my wonderful consultant had a good understanding of what I was looking for and was able to pull beautiful dresses while respecting my budget. When I found the "one" there was no sales pressure to buy my dress the same day. I didn't want to take my dress off- so I ended up ordering my dress the same day anyways. I am looking forward to getting the rest of the wedding parties attire at Our Shop. I did go during a weekday morning so I did have the place to myself which helped the experience that much better! I would recommend Our Shop to anyone!
---
The Dress
Reviewed on

10/15/2013
Kaitlin S
When first walking in I was told that my price point would be hard to work with and that was a little bit nerve-wracking. We ended up looking at the discontinued dresses that had been pulled from the floor and we found the dress! I loved how they kept them so well preserved, so even though I ended up buying a sample dress no one would have ever known since they were cared for so wonderfully
---
Nice and Easy
Reviewed on

10/14/2013
Lindsey B
I purchased my dress at Our Shop and they really make the whole experience painless. The people there were so nice and helpful. I loved my dress!
---
Everything I dreamed of!
Reviewed on

9/30/2013
Jessi B
I love everything about this place! It was a dream!! The people there are so helpful and know what they are doing!! We found my dress (bridal gown) Mother of the bride and also all of my bridesmaid dresses here!
---
Best bridal/formal wear shop I have ever been to!
Reviewed on

9/05/2013
Brittany
I went and searched all over in the twin cities area and my best experience by far was at Our Shop in Stillwater. It was recommended to my mom through a friend at work and I am so glad we went. First of all they take very good care of their dresses. Everyone must take their shoes off before going back and brides must wash their hands before touching the dresses. They also have guards to make sure that makeup is not getting on the dresses, etc. The staff is very friendly and helpful. I actually found a couple of dresses that I loved and they (along with my mom and dad) helped me try different things that really helped narrow it down. When I had finally found one they went in the back and discovered that they had the same dress in ivory (which I wanted) in my size, never before tried on. It was perfect and just needed to be hemmed and bustled, plus I got it for a steal. I had to travel back there a couple of times for alterations but every time it was a wonderful experience. You can tell that the staff really does love what they do. I never felt that they tried to pressure me into an up-sell either. I would recommend Our shop to anyone in need of a bridal gown or other formal wear.
---
Send Message