Home

OwlTrain Productions
About this Vendor
Real Wedding Documentaries
We cater to you 100%. We will provide as much or as little input on your wedding video as you want. It's all about you.
Contact Info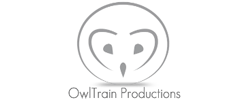 200 Meadow St. SE, Live Oak, FL
Professional and Easy to work with
11/10/2012
Demetria K
Jared was super nice and very easy to work with. He was always quick to respond to any questions or requests and he captured everything without getting in the way.
---
Awesome!
4/21/2012
Darrius D
I enjoyed every moment of my day as a result of OwlTrain Productions. Jared and his wife showed up to each my wife and I rooms seperately but on time. The video work that they compiled and edited was great. I cannot believe how well things went... It was truly a blessing from God when OwlTrain was sent our way, I would recommend them to anyone
---
The Best!
6/15/2012
Shady V
Jared and Rebekah----I am so very happy OwlTrain Productions videoed our precious Shady's wedding. You captured the day with all the special touches we could only hope for when planning for the event. When I first viewed the highlight video I was amazed that you not only captured the important moments, but also the 'feeling and heart' of the day. You were always in the right place at the right time! Your artistry in editing is wonderful. I thank you again from the bottom of my heart for your exceptional work! Stephanie VanMatre (Mother of the bride:)
---
Awesome!
5/26/2012
Angela H
Jared and Rebekah were amazing! They captured my day perfectly. I was so pleased with my final video and it was very timely. The music they added was just perfect and definitely flowed and went with our personality. Loved it!
---
The BEST in the Business!!
6/24/2011
Elisabeth C
AH! Owltrain is the BEST and I mean the BEST videographers I have ever had the honor of working along side. As a wedding photographer you come to know those who will make a wedding what it truly ought to be for a bride, and in my opinion that is magical! I knew as soon as Travis proposed, I knew who I wanted for photography and how I wanted my flowers, what I wanted my cake to look like and the kind of shoes I wanted to be wearing on my special day. Soon after we became engaged I met Jared and Rebekah through a work related event. I knew instantly that they were among those "special" people who would make any bride's special day "magical". As soon as I found out it was possible for OwlTrain for film my wedding, I was insanly excited!! Jumping up and down in the kitchen of my parents home, I resembled a child on her first trip to Disney world to meet the Princess! I knew from that moment that every dream of mine was about to come true. My wedding day was PERFECT!!! Looking back, I would not change one thing! I love OwlTrain! As both a wedding photographer and bride, OwlTrain, comes at the VERY top of my list of recommendations. I think everyone should invest is such a precious aspect of their wedding day or special event!
---
"My Movie Stars!"
5/01/2011
AMYE C
My daughter, Katherine and her husband, Justin were married on May 1st, 2011. I have been contemplating on how to condense all of the oustanding acclimations for OwlTrain Productions into a paragragh. I will start with that one of the most awkward issues with being filmed is the obvious feeling of another person [always] in the room. Jared and Rebekah somehow managed to capture every minute of our weekend without us even realizing they were with us. We were able to be completely relaxed and be ourselves while having the luxery of all of the specical moments being recorded forever. Katherine and Justin chose to have a destination wedding and so therefore very few of our close friends and family were able to attend. Which means having this video is invaluable! And I cannot begin to tell of all of the rave reviews from all of the audience. I am a photographer myself and therefore am very particular about detail and I just have to say, that every time I would look up Jared and/or Rebekah would be two steps ahead of me. They didn't overlook one single, little shot. After realizing this, I was able to loosen up and enjoy the wedding. Oh and then they had the video and photographs to us in record time. And I have to say that the video was literally one of those that we laughed and cried all at the same time. They caught such special, sentimental moments within our family and of the couple. And then in the very next scene they would also snare the funniest characters of the wedding party. And it was such a thrill to receive the package in the mail, OwlTrain designed the cover with a picture of Justin and Katherine. They looked like movie stars! I have to make a confession that I have known Jared since he was a small boy and he was one of those kind of kids that there was never any doubt that he was destined for perfection. And then upon meeting Rebekah, I not only knew that she was the perfection that Jared deserved but that they together would do great things. OwlTrain Productions is founded on integrity, detail and perfection. It will be one of the best investments you will make.
---
An Awesome Company for the Complete Experience!
6/18/2011
Sarah C
OwlTrain Productions was the best investment I made when planning my wedding. Jared and his wife are not only talented, but they were fun to be around on my special day. They were with us all day, Jared was with Dustin, and Rebekah was with me from the time I started getting my hair done. They did not leave until we did. They were fun, and they made everyone very comfortable. I forgot I was even being filmed! I got the biggest package, and I am so glad I did. Ladies, you really don't remember your big day so be smart and get it all on film! Also, the videos that OwlTrain Productions put together absolutely blew me away. They made our day look like a fairy tale, which it was! I am so proud of all my videos I can't stop telling everyone about them, and watching them over and over again. I am so glad that I will have these special memories for the rest of my life. I can relive my day with my husband over and over again. All I can say is OwlTrain Productions is the best, and if you are getting married you would be crazy not to take advantage of such talent that can make your day, and memories that much more special! Thank you Jared and Rebekah!
---
Amazing!
5/14/2011
Megan G
A-M-A-Z-I-N-G!!! OwlTrain is easy and fun to work with. They made the planning process a breeze, THEN they made the wedding day FUN! The finished product made me laugh, cry, and most of all -- it was exactly what I wanted...GREATER than I imagined, atcually! I saw one of their videos on their facebook page and contacted them. They traveled all the way to Montgomery from Florida and didn't think twice about it. The day of the wedding they were there before me and left the reception after I did. "We film until it's perfect" he said -- and that's exactly what they did! The DVD and DVD cover I got in the mail took my breathe away -- it was beautiful! Words cannot express how awesome OwlTrain was to work with. I chose their Moonlight package -- and it was worth every penny! They were a perfect addition to my wedding day and it's because of them I will be able to share this perfect day with friends and family who couldn't make it that day -- and hopefully one day our children. Oh! And their social networking speaks for itself. The days leading up to our wedding they had facebook posts talking about how they were "excited to come to Montgomery for Joel and Megan's wedding." Made me feel so special! AND, not only did they have the video ready in a flash, they put it online so I could post it to my page and share it with whomever I wanted. They worked with me in every way possible to make my day exactly what I wanted it to be -- perfect. Thank you Jared and Rebekah -- you two make OwlTrain hoot! :)
---
OwlTrain is TOP NOTCH!!!
1/15/2011
Tiffany B
OwlTrain is AMAZING! We were lucky enough to have them spend our wedding weekend capturing so many precious moments. They are professional, caring, and really make every second count. They are behind the scenes, know what to ask, where to be, and what to say. Our wedding video is something we will cherish for the rest of our lives thanks to them. We had no idea what a great thing we were doing by asking them to film our wedding and produce our video, but are so thankful we did! I cannot think of one thing I would have had done differently. We cannot begin to thank OwlTrain enough for the commitment to capturing our once-in-a-lifetime weekend. Not only did we get a video of our wedding, but our family, friends, and most important people in our lives got to be a part of it. WE LOVE OWLTRAIN!!!!!!
---
Send Email